January 05, 2023
Salafi-Jihadi Movement Weekly Update
The Salafi-Jihadi Movement Weekly Update is produced by the Critical Threats Project (CTP) at the American Enterprise Institute with support from the Institute for the Study of War (ISW). 
This brief provides regular analysis of the global Salafi-jihadi movement, which includes al Qaeda, the Islamic State, and affiliated and associated groups worldwide. The Salafi-jihadi movement is an "ideological movement that holds that it is a religious obligation for individual Muslims to use armed force to cause the establishment of true Muslim state governed under a Salafi interpretation of shari'a." The product distills open-source information to assess Salafi-jihadi groups' campaigns and related security and political issues in Africa, the Middle East, and South and Southeast Asia. 
This brief will also cover the Afghan Taliban and associated groups. The Taliban is a Deobandi religious movement stemming from the Hanafi legal school of Sunni Islam and separate from the Salafi movement. The Taliban movement maintains close ties with many Salafi-jihadi organizations, however.
Subscribe
To receive the Salafi-Jihadi Movement Weekly Update via email, please sign up here:
Maps
---
Previous versions of static maps are available in our past publications.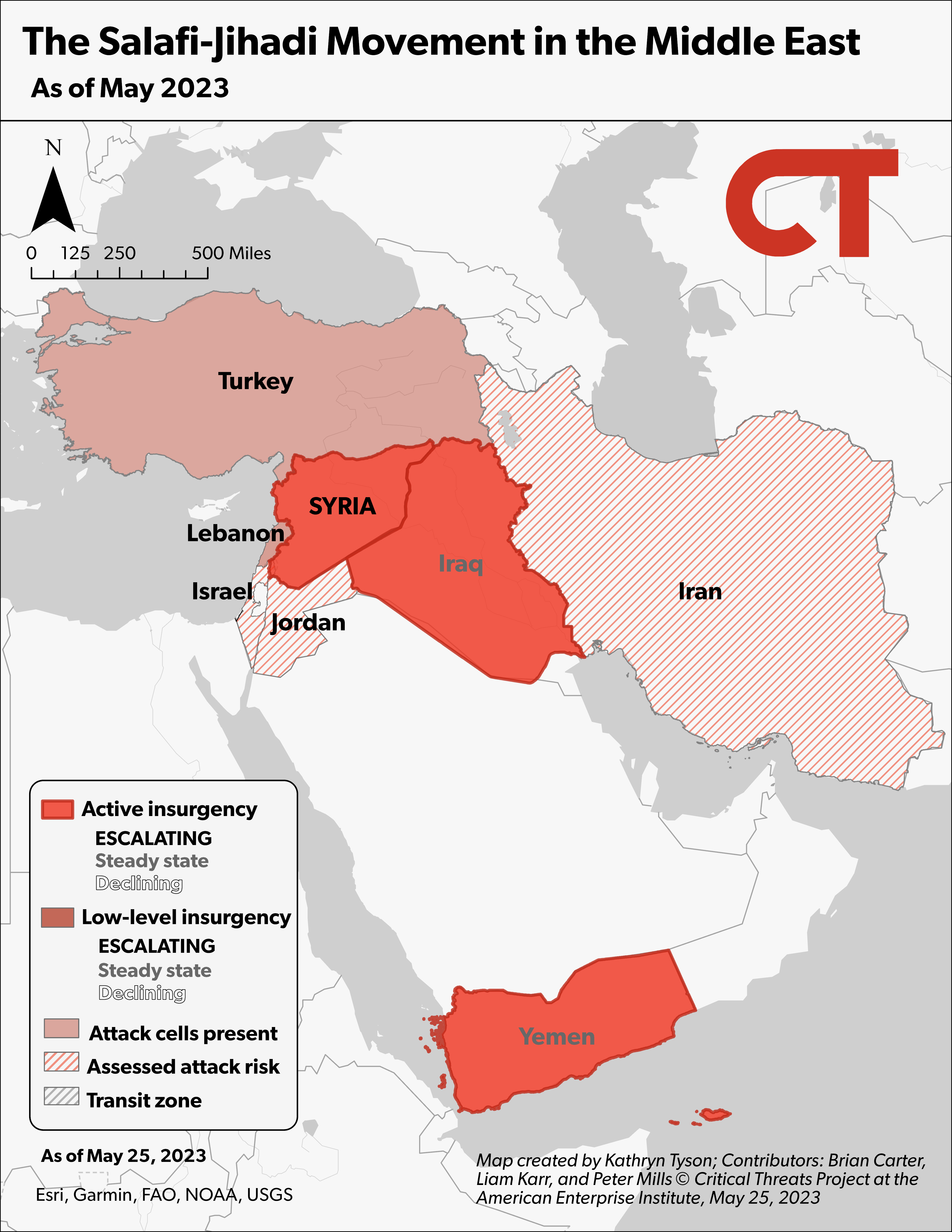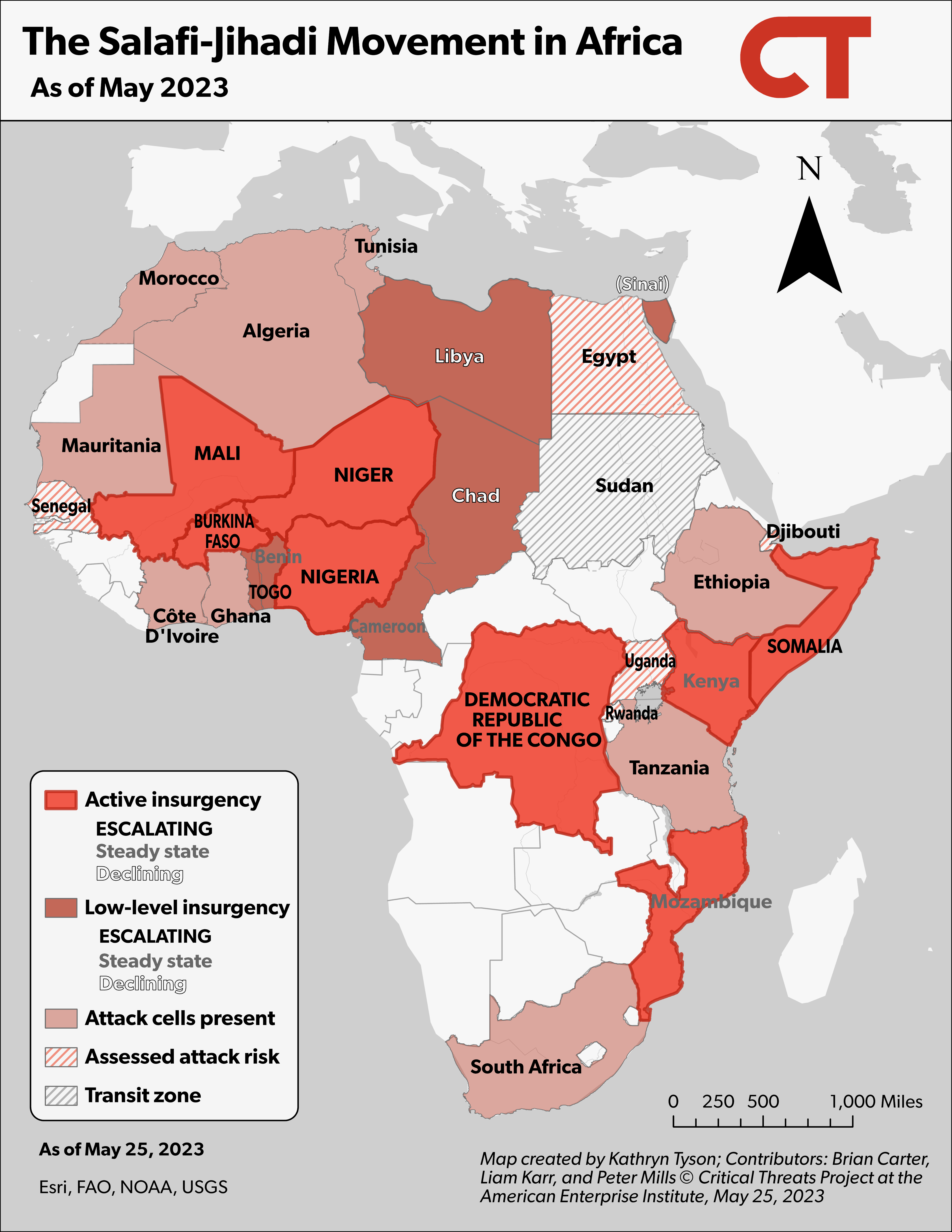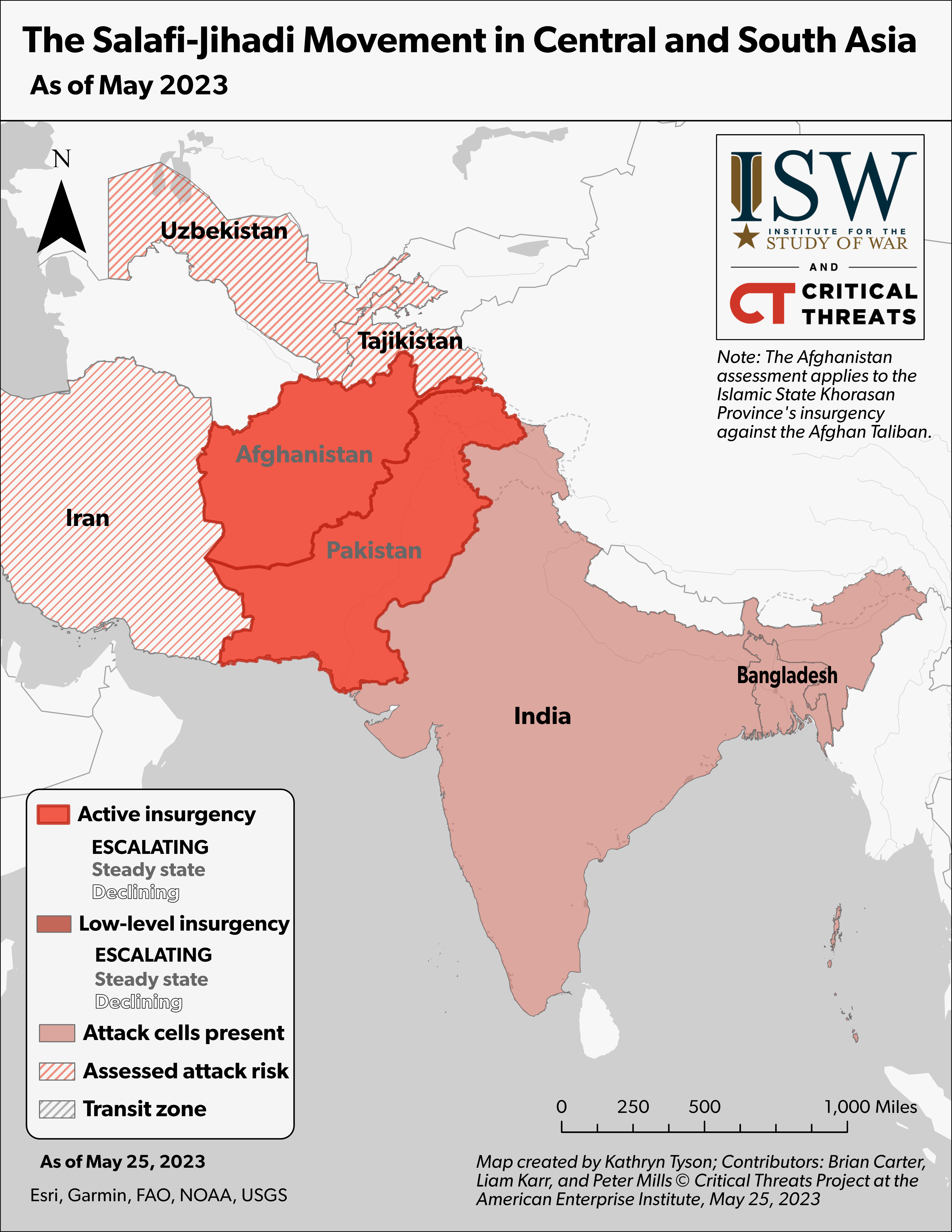 Additional maps specific to each region are available here.
Recent Updates
---
Iraq and Syria. ISIS is attempting to reconstitute itself and rebuild its capabilities in the areas surrounding Baghdad, but it is likely to succeed only north of Baghdad, where local conditions are more advantageous to the group. ISIS can generate local support north of Baghdad by appealing to communities threatened by abuse and harassment from Iranian-backed Iraqi Shi'a militias, which have threatened to commit sectarian cleansing against Sunni communities. ISIS attempts to rebuild its capabilities south of the city are enfeebled by long, third-rate supply lines through unpopulated desert. ISIS cells south of the city also suffer from bad operational security and a lack of local support.
Somalia. Somali-US drone strikes targeting al Shabaab leadership may temporarily weaken the group's capabilities but will not disrupt al Shabaab's regional threat. The al Shabaab network will continue organizing regional attacks from its havens in southern Somalia in the absence of effective Somali ground operations that degrade the group's havens regardless of who is overseeing its activity. The lack of flood-prevention efforts in central Somalia despite international funds for such projects is a microcosm of how government mismanagement will continue to present al Shabaab opportunities to undo the few military setbacks it suffers.
Mali. Al Qaeda-affiliated militants have escalated its rate of attacks in western Mali since late 2022 to increase its revenue and support its campaign to degrade Malian lines of communication around the Malian capital. The militants may be trying to increase its ties with illicit networks in western Mali to strengthen its position in the area, which could create opportunities to spread its insurgency to neighboring countries in the future.
Afghanistan. The Operation Enduring Sentinel (OES) inspector general released the 2023 report for January–March 2023, which omits the threat Salafi-jihadi groups pose to US and Western interests in Afghanistan. The report's purpose is to highlight Salafi-jihadi threats to US interests outside Afghanistan and the US homeland, but these groups also challenge Western interests in the country. The report rightly describes how these groups have benefited from the US withdrawal from Afghanistan in August 2021.
Water shortages are driving increased tensions between Iran and the Taliban. Reduced water flow from Afghanistan to Iran will undermine Iranian regime stability. Iran is unlikely to escalate the crisis and risk destabilizing Afghanistan.
Iraq and Syria. ISIS is taking advantage of the seam between Syrian territory held by the regime and Syrian Democratic Forces (SDF) to evade counterinsurgent pressure and rebuild its insurgency. ISIS will use the seam and lack of coordination between counterterrorism forces to set conditions that will enable a rapid resurgence after a US withdrawal. US and SDF raids are successfully targeting ISIS planners, but these high-value targets will evade effective counterterrorism pressure by exfiltrating to central Syria, where US and SDF forces decline to conduct raids targeting ISIS due to regime presence. These planners will use safe havens elsewhere in Syria to plan new attacks.
Lake Chad. The recent increase in counterterrorism operations by regional forces in the Lake Chad Basin are unlikely to permanently weaken IS West Africa Province (ISWAP) because security forces cannot adequately sustain operations in the remote havens they are targeting. ISWAP is also fighting a rival Boko Haram faction, which will likely combine with the counterterrorism operations to temporarily weaken the group for several months. ISWAP will likely increase the rate and geographic scope of its attacks outside of northeastern Nigeria in response to the increased pressure. The resulting resource constraints and degraded support zones will likely proportionately degrade the regional IS support network in West Africa until ISWAP recovers.
Pakistan. Salafi-jihadi groups will likely try to exploit any banning or severe weakening of the Tehrik-e-Insaf Pakistan (PTI) party to recruit. The PTI has a stronghold in Khyber Pakhtunkhwa where Salafi-jihadi groups also have safe havens and attack frequently. The Pakistani military and government have arrested thousands of PTI leaders and supporters since Pakistan's widespread protests on May 9–10. Pakistan's interior minister has proposed banning the PTI. A PTI collapse would exclude the Khyber Pakhtunkhwa constituencies from mainstream politics and feed the Salafi-jihadi narrative that democratic governance is bound to fail.
Iraq and Syria. ISIS is expanding its support zones in the Middle Euphrates River Valley (MERV) despite falling attack claims. The US mission in Syria claimed that Syrian Democratic Forces (SDF) clearing operations helped to cause falling attack claims, but the SDF often fails to hold terrain following operations, which allows ISIS presence to return. ISIS will use these areas to plot complex attacks against detention facilities. US-led targeted raids against planners for these attacks are insufficient because ISIS is a decentralized, networked organization that does not have a single point of failure. It can reconstitute planning cells.
Somalia. The Somali Federal Government (SFG) has improved security around Mogadishu since February. Al Shabaab has not conducted a mass casualty attack in the Somali capital since late February, after conducting three such attacks between November 2022 and February 2023. The SFG's central Somalia offensive has likely degraded al Shabaab's support zones and lines of communication north of Mogadishu that they previously used to support attacks in the city. The SFG has also deployed new Ugandan-trained soldiers in the capital that are degrading al Shabaab's access to sensitive parts of Mogadishu. Al Shabaab is also likely giving priority to attacking Somali forces farther south to preempt the SFG's planned offensive in southern Somalia, which is contributing to the decrease in attacks in the capital.
Sahel. The Islamic State affiliate in the Sahel is on course to eclipse its strength at its prior peak in 2020. The group has restrengthened across multiple fronts in the Burkina Faso, Mali, and Niger tri-border area since the French drawdown in northern Mali in 2022 and is a threat to US personnel and interests in West Africa. Al Qaeda–linked militants have also increased attacks targeting civilians farther south in the northern regions of Benin and Togo. The Beninese and Togolese governments have responded with increased security measures, which are necessary to degrade the Salafi-jihadi insurgents' long-standing support zones in the area but risk exacerbating the grievances that drive local support for the insurgency.
Pakistan. Read CTP and ISW's latest Salafi-Jihadi Movement Update Special Edition on the Protests in Pakistan below.
Unrest may continue in Pakistan despite efforts by the Pakistani government and former Pakistani Prime Minister Imran Khan to deescalate the protests. The Pakistani Supreme Court ruled on May 11 that the government's arrest of former Prime Minister Imran Khan on May 9 was illegal, while Khan separately urged calm from his supporters on May 11.[i] CTP observed two protests in Pakistan on May 11, down from 24 protests on May 10, but the Pakistani government continued to target former Pakistani Prime Minister Imran Khan's Pakistan Tehrek-e Insaf (PTI) to suppress its protest movement. Pakistan has also arrested thousands of PTI supporters and several senior PTI leaders, and clashes between the PTI and Pakistani security forces have killed and injured dozens of protestors.[ii] An anonymous senior Pakistani official told CBS News that at least eight people had been killed in the protests, but the PTI says the number of killed is in the dozens, which could fuel continued or renewed protests.[iii] The poor economic and political conditions that led to the current crisis persist and may worsen as Pakistan begins to prepare for elections in October.[iv] Khan and his PTI supporters and the Pakistani security establishment remain at odds, and the recent round of protests will exacerbate this situation.
Pakistani military deployments to major cities will cause commanders to shift their focus away from addressing the threat Pakistan faces from Tehrik-e Taliban Pakistan (TTP) if the deployments protract. The TTP is already attempting to exploit the protest movement and discredit the Pakistani state. A senior TTP commander commended the protests and urged TTP fighters to take the current "opportunity" to attack the military on May 11.[v] The commander also incited protesters to take up arms.[vi]
The crisis resulting from the arrest of former Pakistani Prime Minister Imran Khan and the eruption of violent protests against the Pakistani military is deepening. Hostility between Khan's Tehrik-e-Insaf Party (PTI) and the Pakistani military is causing PTI protesters to deliberately target military and police infrastructure across Pakistan. Demonstrators set fire to multiple police stations in Islamabad and exchanged small arms fire with Pakistani security forces outside the Frontier Corps' headquarters in Peshawar on May 10.[i] Relations between Imran Khan and the Pakistani military have deteriorated since at least late 2021 when Imran Khan refused to approve senior Pakistani military appointments.[ii] Khan claimed that the Pakistani military and United States helped to remove him from office after an April 2022 vote of no-confidence, and separately accused Pakistani Inter-Services Intelligence Major General Faisal Naseer of an assassination attempt against Khan in November 2022.[iii] PTI supporters burned down Naseer's home on May 10.[iv]
The Pakistani government may choose to expand its crackdown against the PTI in response to attacks on the military, which could exacerbate the protests and open new security gaps that Salafi-jihadi groups could exploit. Pakistani security forces arrested high-level PTI leaders, and the Pakistani cabinet discussed declaring a state of emergency on May 10.[v] The Pakistani prime minister called PTI protesters "terrorists" on May 10, suggesting the Pakistani government is preparing to crack down on unrest further.[vi] Pakistani military deployments to suppress protests on May 10 will constrain Pakistan's ability to counter the Salafi-jihadi threat. The Pakistani military deployed to assist local security forces with quelling protests in Balochistan, Islamabad, Khyber Pakhtunkhwa, and Punjab Provinces.[vii] Pakistan's military capacity is already limited, and the government announced military expenditure cuts on April 26.[viii] The deployments could further delay a nationwide counter–Tehrik-e-Taliban Pakistan campaign which Pakistan's chief of army staff announced on April 7.[ix]
Violent protests erupted across Pakistan after the arrest of former Pakistani Prime Minister Imran Khan on May 9.[i]  These protests targeted Pakistani military facilities and institutions across Pakistan. Protesters stormed the Pakistani Army's General Headquarters in Rawalpindi and the regional parliament building for Khyber Pakhtunkhwa Province in Peshawar. Protesters also burned the IV Corps commander's residence inside the military cantonment in Lahore. Protests against the Pakistani military are uncommon and represent a decline in public trust in the Pakistani military and state institutions.[ii] Khan accused the United States and Pakistan military of a conspiracy to remove him from office after the Pakistani parliament voted him out of office in April 2022.[iii]  Khan and his Tehrik-e-Insaf Party (PTI) led several large-scale marches across Pakistan against the government to protest the vote of no confidence in 2022.[iv] Unknown attackers attempted to assassinate Khan in November 2022, leading to three weeks of widespread protests by PTI supporters who demonstrated outside military and government sites.[v] Protesters did not storm military and government sites during the unrest in November 2022.[vi]
The Pakistani security establishment's decision to suppress these protests will constrain its ability to address the multiple security threats currently facing Pakistan. The Pakistani government deployed security forces, banned public gatherings in Islamabad, Punjab, and Balochistan Provinces, and cut internet access to quell the protests.[vii] These actions will present new opportunities for the Tehrik-e-Taliban Pakistan (TTP) and the Islamic State's provinces in Pakistan. Salafi-jihadi groups in Pakistan have strengthened since the Afghan Taliban rose to power in August 2021.[viii] Islamic State branches in Afghanistan and Pakistan--the Islamic State Khorasan Province (ISKP) and Islamic State Pakistan Province (ISPP)--maintain attack zones across large swaths of territory in Pakistan, including in diplomatic areas in Pakistan's capital Islamabad.[ix] The TTP, an umbrella organization of anti-Pakistani state militant groups, has increased attacks and expanded the scope of its operations since 2021.[x] Afghan Taliban and Pakistani security operations have degraded IS groups in recent years. However, these groups continue to exploit gaps in security to attack and leverage widespread discontent with the Pakistani state to recruit.[xi] Pakistani security service focus on suppressing unrest will likely distract Pakistani commanders' attention from operations against Salafi-jihadi groups, especially if the unrest continues, and could offer dangerous opportunities for those groups.
May 4, 2023, 10:00 am ET
Iraq and Syria. The Turkish raid on an alleged ISIS safe house in northwestern Syria on April 28 likely killed an ISIS leader, but not the "caliph." The US Defense Department said it "could not corroborate" Turkey's claims that the raid killed the "caliph."[i] The continued targeting of ISIS leadership is helpful, but it fails to address the group's ability to embed itself within local populations. ISIS could leverage opportunities in US-backed Syrian Democratic Forces (SDF)-controlled areas to cultivate relationships with local tribes opposed to SDF governance. The SDF approach to governance is counterproductive and causes resentment among local tribes.
Sudan. The al Qaeda and Islamic State networks in Africa will likely seek to use the Sudan conflict to improve their position on the continent. Numerous inmates escaped from a prison in Khartoum city beginning on April 22 amid clashes between Sudan's two warring factions. Al Qaeda and the Islamic State have previously used conflicts elsewhere in Africa to improve their position on the continent.
Pakistan. Tehrik-e-Taliban Pakistan (TTP) militants based in Afghanistan continue to direct TTP activities in Pakistani cities far outside of TTP's recent attack zones. Police arrested two TTP militants for extortion in Karachi on April 26. Police said that TTP leadership in Afghanistan directed the militants to extort Pashtun traders. Pakistan will be unable to counter the TTP as TTP leadership continues to provide support from Afghanistan. Pakistan will also be unable to weaken the TTP in Pakistan as the TTP grows its attack capabilities and Islamabad cuts its military expenses.
Afghanistan. A former Taliban official close to Taliban Minister of Interior and Haqqani Network leader Sirajuddin Haqqani called on Taliban supporters in Europe and America to kill critics of the Taliban government. This official claimed the Taliban already had volunteers in Europe and America who could be organized to carry out assassinations of Taliban critics. A stated intent to establish networks to facilitate Taliban-ordered assassinations abroad presents a direct threat to critics of the Taliban—including US and European citizens.
April 27, 2023 | 10:00 am ET
Iraq and Syria. ISIS activity in Syria increased in the first quarter of 2023, in contrast with statements by the commander of the US-led counter-ISIS coalition, who that ISIS attacks in Iraq and Syria had "decreased dramatically."[i] ISIS attacks increased in the Syrian desert since 2022. ISIS attacks in northeastern Syria did decrease, but the decrease is likely due to the group's prioritization of central Syria. ISIS's continued ability to maintain support zones in Syria means that it remains a risk to Iraq's hard-won stability, especially due to Iraq's inability to successfully destroy ISIS support zones in rural areas.
Sahel. Overstretched security forces cannot contain al Qaeda–linked and IS-affiliated militants across Mali. Al Qaeda–linked militants have very likely established new support zones in central Mali despite increased counterterrorism efforts. The group is likely using these havens to support attacks on security forces in central and southern Mali—including the region surrounding Mali's capital. Security forces are also unlikely to disrupt IS-affiliated militants growing support zones in northeastern Mali as they give more priority to the challenges in more politically sensitive areas of central and southern Mali.
Somalia. Al Shabaab suicide vehicle-borne improvised explosive device (SVBIED) attacks are continuing to pose a significant long-term threat to Somali counterterrorism efforts in north-central Somalia. The SVBIED attacks are exacting unsustainable human costs on US-trained Somali special forces and will undermine crucial local support for the Somali government. Al Shabaab will continue to halt Somali forces and exact an unsustainable human cost, barring improved Somali tactics or a second front that diminishes al Shabaab's ability to concentrate its resources.
April 19, 2023 | 10:00am ET
Global Movement. The Islamic State is strengthening and expanding globally. US operations targeting senior leaders in the Islamic State's network temporarily disrupt the organization and its affiliates but fail to slow its expansion. The Islamic State is pursuing multiple military campaigns in Syria, where it takes advantage of poor counterinsurgency forces and rural sanctuary. The group is also strengthening in the Sahel, where it has effectively neutralized Malian army forces and al Qaeda–affiliated adversaries in northeastern Mali.[i] US Central Command assesses that the Islamic State affiliate in Afghanistan could conduct an attack targeting the West within six months, pointing to the inadequacy of US counterterrorism strategy in Afghanistan.[ii]
Iraq and Syria. ISIS is strengthening and expanding across Syria despite US raids targeting ISIS senior leadership. US raids eliminating senior leaders planning external attacks are good, but they are insufficient to defeat ISIS. The ISIS insurgency in central Syria is strengthening after successfully transitioning from defensive to offensive operations. ISIS is not a network of limited and ineffective sleeper cells, but rather a decentralized network of insurgents executing the early stages of a well-organized insurgency.
Sahel. Islamic State militants in the Sahel are strengthening their control over northeastern Mali. IS expansion in this area threatens US interests and personnel in neighboring Niger. IS core is likely using its global network to help its local affiliate appeal to civilians and set conditions to consolidate territorial control in northeastern Mali. Al Qaeda's local affiliate, the Malian army, and Wagner Group are unlikely to undo IS's gains in this area. The attempted coup in Sudan is also creating opportunities for the global Islamic State and al Qaeda networks to strengthen their influence in the region—and attack US personnel, in a worst-case scenario.
Pakistan. The Pakistani military is incorrectly defining the target of a nationwide military campaign against the Tehrik-e-Taliban Pakistan (TTP). Pakistan is overemphasizing the Afghan nationalities of TTP fighters to deflect blame and pressure the Afghan Taliban to target TTP sanctuaries in Afghanistan. Pakistan is unlikely to target these sanctuaries because Pakistani proxies are also located in some of these areas.
Afghanistan. The Taliban conducted operations to clear poppy fields in remote areas of eastern Afghanistan, which led to violent clashes that killed several local civilians. Islamic State Khorasan Province (ISKP) will likely exploit these operations to rebuild its traditional support bases in eastern Afghanistan. The Taliban continues to conduct poppy-clearing operations even though these operations risk increasing support for anti-Taliban groups.
April 12, 2023 | 10:00am ET
Iraq and Syria. ISIS is executing a decentralized military campaign in northeastern Syria to destabilize the Syrian Democratic Forces (SDF). ISIS strategic communications provide guidance for operational and tactical commanders implementing the campaign. ISIS's campaign design assumes military success will gain the support of local populations by delegitimizing the SDF as a security provider while lengthening the conflict to create time for ISIS to set conditions for the return to the "caliphate."
Somalia. The Somali Federal Government's (SFG) inability to escalate multiple fronts against al Shabaab could allow the group to repel renewed Somali offensive operations in central Somalia. Insufficient local support and the absence of expected regional troops are preventing or delaying the SFG from expanding additional fronts in central and southern Somalia, which will allow al Shabaab to concentrate its resources on the active Somali forces more effectively. Outreach to clans in central Somalia or the arrival of Kenyan or Djiboutian troops in Somalia could enable the SFG to increase operations on another front.  
Pakistan. A large-scale campaign against Tehrik-e-Taliban Pakistan (TTP) is unlikely to model previous Pakistani counterterrorism campaigns that helped contain the TTP between 2007 and 2014. The decentralization of the TTP, the Taliban takeover of Afghanistan in 2021, and increasingly complex political conditions may limit the effectiveness of any potential campaign.
Afghanistan. Recent Taliban operations targeting Islamic State Khorasan Province (ISKP) are targeting its ground lines of communication (GLOC) into Iran. Iran may be conditioning closer trade ties with the Taliban government on the Taliban giving priority to targeting ISKP networks near the Afghanistan-Iran border.
April 5, 2023 | 10:00am ET
Iraq and Syria. The Iraqi Kurdish Peshmerga and Iraqi Security Forces (ISF) will likely remain unable to address coordination issues on the line of control between Iraqi Kurdistan and federal Iraq, likely enabling ISIS to continue its low-grade insurgency in Iraq's disputed internal boundaries (DIB). ISIS uses the unsecured areas between Iraqi Kurdistan and federal Iraq to enable attacks against urban areas, such as Kirkuk city, and to resupply its attack cells across eastern Iraq. The coordination issues between the ISF and Kurdish Peshmerga will likely continue indefinitely without a political solution to the DIB issue, as stipulated under the 2005 Iraqi constitution.
Burkina Faso. The Burkinabe junta has significantly increased drone strikes targeting al Qaeda and Islamic State–affiliated militants since late March 2023 to compensate for manpower capacity limitations and boost its popular support. The drone strikes may temporarily degrade the insurgents' support zones and their ability to organize large-scale attacks on Burkinabe forces. However, both groups will likely adapt to continue attacks, and the junta's use of drone strikes will not address the inherent manpower shortage that constrains Burkina Faso's counterinsurgency operations.
Mali. Al Qaeda–linked militants have continued attacking Malian security forces in the region surrounding Mali's capital since it launched an offensive in the area in January 2023. The campaign demonstrates the militants' ability to sustain attacks in southern Mali and increases the likelihood that they have established support zones near the Malian capital. The group likely seeks to primarily discredit and undermine the junta's legitimacy with this campaign and will likely focus on military targets over civilian targets to achieve this goal. 
Afghanistan. The Taliban have conducted more raids targeting Islamic State Khorasan Province (ISKP) in Mazar-e Sharif, northern Afghanistan's largest city, over the past three weeks than in the rest of 2023 combined. ISKP is expanding to areas in northern Afghanistan where CTP has not previously observed ISKP activity. The Taliban supreme leader is planning to purge suspected ISKP sympathizers in the Taliban's ranks, which may reduce ISKP's ability to attack high-value Taliban targets. This purge risks further marginalizing non-Pashtun Taliban leaders and increasing support for anti-Taliban groups, including ISKP.
March 29, 2023 | 10:00am ET
Iraq and Syria. ISIS remains a viable insurgency in Syria that aspires to reestablish a territorial caliphate. The US presence in Syria enables the Syrian Democratic Forces (SDF) to maintain sufficient pressure to prevent ISIS's insurgency from increasing in strength rapidly, but deficiencies in the SDF's capabilities and a lack of coordination with counterinsurgent forces in regime-held Syria means the SDF is unlikely to be able to defeat ISIS. The SDF remains the most reliable counter-ISIS partner for the United States in Syria. The Syrian regime is incapable of containing ISIS and often tacitly allows ISIS resurgence in select areas.
Somalia. Al Qaeda's Somali affiliate al Shabaab has retained its vehicle-borne improvised explosive device (VBIED) capabilities in central Somalia, which could help it overturn recent counterterrorism gains. The group will likely continue manufacturing VBIEDs because Somali counterterrorism forces cannot adequately disrupt its supply chains and likely lack the capacity to degrade its havens in the area as the government gives more priority to opening a second front in southern Somalia. Al Shabaab will likely use VBIEDs to target and overrun vulnerable holding forces. Meanwhile, seasonal flooding in Somalia could affect the timeline and scope of the next phase of the Somali Federal Government's (SFG) offensive in southern Somalia.
Mali. An al Qaeda–linked shadow governor in northern Mali indirectly threatened to attack the US, UK, and EU countries, underscoring the transnational Salafi-jihadi threat emanating from the Sahel. CTP continues to assess that the al Qaeda–linked group in the Sahel is unlikely to pursue transnational attack targets in the West in the near future, although there are signs and past patterns that indicate this could change. The group's growing freedom in northern Mali increases its ability to host and support transnational attack cells, should it choose to pursue such aims.
Pakistan. The integration of new groups into the Tehrik-e-Taliban Pakistan (TTP) could foreshadow TTP attacks in high-population areas, which would likely have a more deadly and destructive effect and pressure the Pakistani military to respond. The TTP has increasingly integrated independent jihadi groups into its fold since December 2022. The groups likely have not previously played a major role in TTP, unlike TTP splinter groups that rejoined it between 2020 and 2021. However, the location in which the new mergers operate poses a challenge to the Pakistani government.
Afghanistan. The Taliban supreme leader removed the Taliban minister of finance, which may open new rifts in the Taliban's traditional support base. The Taliban supreme leader's efforts to form his own military forces may exacerbate concerns he is monopolizing power and further escalate Taliban government infighting.
March 22, 2023 | 10:00am ET
Iraq and Syria. ISIS increased attacks targeting a pro-regime tribe north of Deir ez Zor city, Syria, to drive a wedge between regime forces and tribal fighters in the area. ISIS is attempting to illustrate the regime's inability or unwillingness to support the tribe, which has had a troubled relationship with regime forces in the past. ISIS likely exploited the relief and replacement of regime forces north of Deir ez Zor city to increase its attacks, indicating the group's continued tactical and organizational expertise.
Democratic Republic of the Congo. The Islamic State has used its global network to rapidly grow its affiliate based in the Democratic Republic of the Congo (DRC). The group's growth demonstrates the danger the IS global network poses by enabling terror groups across Africa, and its regional aims threaten nearby US counterterrorism partners, which could jeopardize counterterrorism missions elsewhere in Africa. Diverging interests between regional security forces likely will prevent Congolese and Ugandan forces from containing or defeating the group. The shortcomings of regional and US efforts to degrade the group and the global IS network increase the likelihood this group will continue to strengthen its threat to US and African interests in central and southern Africa.
Pakistan. Pakistani government officials are attempting to use the security situation in northwestern Pakistan to delay elections for the foreseeable future. The governor for Khyber Pakhtunkwa province said on March 17 that the regional government will postpone provincial elections until Pakistan addresses the expansion of the Tehrik-e-Taliban Pakistan (TTP). Pakistan has held elections in this region during periods of significantly higher TTP activity, indicating that the postponement is due to political conflicts rather than the TTP threat.
March 16, 2023 | 10:00am ET
Iraq and Syria. ISIS is not defeated, and it will continue to plan attacks against Western targets while setting conditions for a resurgence in Iraq and Syria. The US Central Command (CENTCOM) commander highlighted the continued threat of ISIS efforts to break out prisoners from detention facilities in northeast Syria and sympathizers from internally displaced persons (IDP) camps. A US withdrawal—as suggested by a recent congressional resolution—would inadvertently improve ISIS's fortunes in Iraq and Syria, where it would focus on freeing veteran cadres and building support in rural areas. A US withdrawal would likely force the Syrian Democratic Forces (SDF) to deprioritize anti-ISIS efforts to counter Syrian regime and Turkish incursions into SDF-controlled areas.
Sahel: Ongoing infighting between al Qaeda and Islamic State–affiliated militants in the Burkina Faso, Mali, and Niger tri-border area that has surged since the French withdrawal from Mali in 2022 will likely increase local support for both groups. Ethnic tensions have played into the clashes and worsened human rights abuses against civilians, forcing locals to support a side for protection. The al Qaeda–linked faction will likely remain the dominant group in the region but be unable to eliminate the Islamic State militants. The resulting stalemate will likely become a self-feeding conflict that will strengthen both sides in the coming months and years.
Afghanistan. Islamic State Khorasan Province (ISKP) is expanding its attack operations in northern Afghanistan. An ISKP suicide bomber killed a top Taliban leader in northern Afghanistan on March 11. Repeated Taliban security failures indicate the Taliban is unlikely to be successful in containing ISKP's growth in northern Afghanistan.
Pakistan. The Tehrik-e-Taliban Pakistan (TTP) may launch a limited spring offensive on Pakistani security forces. The Hafiz Gul Bahadur TTP faction announced a spring offensive on March 12. Conflicting statements from TTP leadership on a spring offensive could be a result of the Afghan Taliban attempting to restrain the TTP after high-level talks between Pakistan and the Taliban. The TTP leadership's apparent halt of its spring offensive could lead to fracturing in the organization if the Hafiz Gul Bahadar faction carries out its own offensive.
March 8, 2023 | 10:00am ET
Syria. ISIS has increased its attacks in Syria's central desert since early February, likely to secure resources and ISIS supply lines between northeast and central Syria. The group focused on targeting civilians for economic gain in central Syria, while targeting regime and Iran-backed forces closer to the Euphrates River to maintain supply lines. The corresponding decrease in ISIS attacks in northeastern Syria is not due to counterterrorism pressure or the group giving lower priority to northeastern Syria, but instead may have been preparation for a major attack targeting detention facilities.
Somalia. The Somali Federal Government (SFG) will begin a major offensive targeting al Shabaab–controlled areas of southern Somalia in the coming months. The SFG will likely be able to contest significant portions of southern Somalia's Lower Jubba region during the offensive because it has competent and well-equipped clearing forces. It is highly unlikely that the SFG will penetrate the al Shabaab heartland in the neighboring Middle Jubba region, because of strong al Shabaab resistance. However, the offensive could still weaken al Shabaab and set conditions for future offensives by targeting al Shabaab logistical nodes in Lower Jubba. The SFG will likely struggle to hold newly contested areas in the long term because of a lack of adequate holding forces.
Afghanistan. Islamic State Khorasan Province (ISKP) may be shifting its attack pattern to increasingly target civilians associated with the Taliban government. The Taliban may respond to increased ISKP attacks targeting civilians by carrying out more aggressive counter-ISKP operations in suspected ISKP support areas. These Taliban counter-ISKP operations will likely cause significant civilian casualties. In the most dangerous scenario, this could foment further instability in Afghanistan and increase support for ISKP.
India. ISKP may be unable to replace its leader for India operations, Ejaz Ahangar, for several months. The Afghan Taliban killed the leader in Kabul, Afghanistan, on February 14. ISKP claimed two attacks in India in 2022 on March 4, possibly to highlight its capabilities and offset the effects of Ahangar's death on the group's recruitment from India. ISKP is likely overstating its role in these attacks to benefit its India recruitment.
March 1, 2023 | 10:00am ET
Iraq. Iran-backed Shi'a militants likely massacred unarmed Sunni civilians in Diyala on February 20. ISIS has not commented on the attack. Pro-Iran politicians accused ISIS of the attack, likely in an effort to obfuscate responsibility. The Iraqi Security Forces (ISF) arrested 18 suspects in the attack, though it is highly unlikely the Iraqi government will hold the perpetrators accountable. ISIS may use this attack to position itself as a protector of the local community. ISIS may do this by targeting local security forces, particularly Shi'a militias, to illustrate its capabilities to locals.
Afghanistan. Iranian security assistance may be supporting recent Taliban counterterrorism successes against Islamic State Khorasan Province (ISKP). Taliban forces killed ISKP's chief of military operations and the former leader of Islamic State Hind Province (ISHP) in Kabul on February 26 and February 14, respectively. ISKP operations may be hindered in the short run, but these killings are unlikely to have a decisive impact on ISKP over the long run.
February 22, 2023 | 10:00am ET
Iraq. The Iraqi Security Forces' (ISF) inability to defeat ISIS in the northern Baghdad Belts could allow ISIS to attack Baghdad itself. An ISIS attack against Baghdad would be a propaganda boon for the group, while possibly triggering sectarian violence and ISF command changes that could improve the group's position. The level of ISF pressure on ISIS in the northern Baghdad Belts is likely sufficient to disrupt ISIS attacks against Baghdad, though ISIS is attempting to undermine ISF cohesion in the area. ISF is unlikely to defeat ISIS without a major operation involving capable Iraqi Army forces. ISIS will continue to be able to resupply its attack cells and attack ISF forces in the northern Belts without a major counter-ISIS operation.
Sahel. Jama'at Nusrat al Islam wa al Muslimeen (JNIM) is likely consolidating control over rural areas of southeastern Burkina Faso. The group is likely using these expanded havens to increase activity in neighboring regions of Burkina Faso and the littoral states. A Burkinese overemphasis on military solutions without successfully addressing underlying social issues risks backfiring, inflaming local tensions that feed JNIM recruitment in the area.
Pakistan. The Tehrik-e-Taliban Pakistan (TTP) conducted its most deadly attack in Karachi in southeastern Pakistan since 2016, indicating an expansion of TTP attack zones and an increase in TTP capabilities in Karachi. Pakistani security forces will likely conduct counter-TTP operations in Karachi in the near term. Pakistan could strike TTP militants in Afghanistan in a less likely scenario. Pakistan continues to seek engagement with the Afghan Taliban on terrorism-related issues, and a Pakistani attack in Afghanistan could undermine discussions between the two sides.
February 15, 2023 | 10:00am ET
Somalia. Several large-scale al Shabaab attacks on military bases across Somalia highlight that Somali counterterrorism efforts have not weakened the group's attack capabilities. Meanwhile, al Shabaab is also well positioned to take advantage of a festering clan-based conflict in northern Somalia's disputed regions. A prolonged battle would reduce counterterrorism pressure on al Shabaab and Islamic State havens in northern Somalia.
Mali. The Malian junta appointed several pro-Russian figures to high-ranking military positions, indicating growing Russian influence over the Malian government. The junta could be planning to leverage Russian assistance in a northern Mali offensive in a highly unlikely but dangerous scenario. Any such offensive would likely increase links between militia groups and al Qaeda's Sahelian branch without having long-term success. 
Afghanistan. Taliban Minister of Interior and Haqqani Network leader Sirajuddin Haqqani issued a rare public criticism of the Taliban leadership, indicating escalating tensions in the Taliban government. Tension in the Taliban movement will continue to build but is unlikely to result in an intra-Taliban civil war in the short run. However, the Taliban supreme leader's unwillingness to compromise will alienate important Taliban leaders and raise the risk of fracturing the Taliban movement over time.
February 8, 2023 | 10:00am ET
Yemen. Escalating competition within the Yemeni government will reduce counterterrorism pressure on al Qaeda's branch in Yemen and allow the group to increase its influence in the country's south. Saudi Arabia and the United Arab Emirates (UAE) support different groups with divergent political objectives in Yemen, and recent Saudi efforts to arm a Yemeni ally may increase discord and infighting within the Yemeni government. This infighting will in turn draw Yemeni security forces away from managing the Salafi-jihadi threat in southern Yemen.
Somalia. A decrease in al Shabaab bombings in central Somalia likely indicates a lull rather than the end of the group's counteroffensive against the Somali government. Somali forces initiated an offensive to recapture al Shabaab–controlled areas in central Somalia's Galgudud and Hirshabelle regions in January 2023. Al Shabaab surged explosive attacks in January and early February 2023 in response. The group tends to launch explosive attacks in clusters, so the current decline in attacks may indicate preparations for a larger counterattack.
Mali. Al Qaeda's Sahel branch is taking advantage of the lack of counterterrorism pressure and state presence in northern Mali to position itself as the primary power broker in the area, including striking agreements with local groups that previously collaborated with French counterterrorism forces. Militants are simultaneously pressuring Mali's junta with increased attacks in southern Mali. Meanwhile, Mali's relationships with its foreign partners continue to deteriorate. The junta's pressure on the United Nations mission in Mali will likely push major contingents to withdraw in the near term, worsening the security vacuum that Salafi-jihadi militants will fill in the country's north.
Afghanistan. The Islamic State's Khorasan Province (ISKP) is isolating the Taliban government by targeting its diplomatic relations. This campaign has included both online propaganda and attacks on diplomatic facilities and foreign citizens in Kabul. ISKP attacks delegitimize the Taliban by targeting areas of Kabul that are meant to be highly secure, and the likely presence of ISKP informants in the Taliban government hinders an effective response. Internal tensions in the Taliban government will increase as its isolation and resourcing challenge grows.
February 1, 2023 | 10:00am ET
Iraq. The Islamic State in Iraq and al Sham (ISIS) likely made a strategic choice to decrease its attacks in some areas of Iraq to enable their use as transit zones. ISIS continues to use Ninewa province in northwestern Iraq to move supplies and personnel to support its attack cells in eastern Iraq. Iraq's government is attempting to limit ISIS movements, though Ninewa's geographic and demographic features challenge this effort. ISIS likely retains some access to rural Arab communities due to Yazidi-Arab tensions stemming from aftermath of ISIS atrocities and subsequent retribution attacks in the 2014-2017 period.
Somalia. The Islamic State is leveraging networks across multiple continents to sustain both new and established affiliates. A US military raid in northern Somalia killed a key ISIS facilitator in northern Somalia. This facilitator oversaw a sprawling financial and logistical support network from Somalia that coordinated trainers and funding to Islamic State affiliates in Afghanistan, the Democratic Republic of the Congo, and Mozambique. His death may temporarily disrupt these activities.
Afghanistan-Pakistan. The Tehrik-e-Taliban Pakistan (TTP) significantly escalated its attack campaign against the Pakistani state with a major suicide bombing targeting police in northwestern Pakistan on January 30. Conflicting TTP responses to the attack could demonstrate internal TTP divisions over strategy and ideology. These divisions, as well as tensions between the Afghan Taliban and the TTP faction that conducted the attack, could lead this faction to ally itself with the Islamic State's branch in the region. Afghan Taliban support for the TTP will continue to strain the Taliban's relationship with Pakistan and increases the likelihood of Pakistani military action against TTP havens in Afghanistan.
January 25, 2023 | 10:00am ET
Somalia. Al Shabaab continued a wave of suicide attacks against Somali forces, including its first major tactical victory in central Somalia, where it overran a base used by US-trained special forces. These attacks are retaliation against a months-long Somali Federal Government (SFG)–led effort to oust al Shabaab from its positions in central Somalia. The SFG may open a second front against al Shabaab in southern Somalia, but this effort faces more hurdles than the central Somalia campaign.
Sahel. Malign actors are exploiting security vacuums left by the French withdrawal from Mali and Burkina Faso. Al Qaeda–affiliated Jama'a Nusrat al Islam wa al Muslimeen (JNIM) has emerged as the only viable security partner for Tuareg communities facing Islamic State violence in northeastern Mali. This situation forces communities to partner with JNIM in self-defense, solidifying the groups' influence across northeastern Mali. JNIM is also active in Burkina Faso, where the country's military leaders recently ended a military deal with France and are seeking partnership with the Russian Wagner Group. Wagner's presence will increase violence against Burkinabe civilians, to the benefit of Salafi-jihadi groups—as it has in Mali since Wagner arrived in 2021.
Pakistan. The Tehrik-e-Taliban Pakistan (TTP) is increasingly taking control over terrain in Pakistan since ending a cease-fire with the government in November 2022. The TTP announced organizational changes in December 2022 to facilitate increased governance activities. TTP militants also attempted to collect taxes in Pakistan for the first time in over a year in late January.
January 18, 2023 | 10:00am ET
Syria. A potential Turkish military operation into northern Syria could draw the Syrian Democratic Forces (SDF) away from counter-ISIS efforts. The SDF commander is warning of an imminent Turkish incursion. Even a limited Turkish invasion would drain SDF resources and likely allow ISIS to accelerate its efforts to erode and replace SDF governance structures in eastern Syria.
Somalia. Anti–al Shabaab forces notched a significant victory in an ongoing offensive in central Somalia by capturing two logistical and financial hubs from al Shabaab. Al Shabaab has stepped up suicide attacks in response to the offensive, but its loss of these locations may harm its ability to sustain a counterattack over time. Al Shabaab's withdrawal from the captured towns likely indicates that it withdrew in preparation for a future counterattack, though there are also limited indicators that the group is losing bandwidth and morale.  
Mali. Al Qaeda's Sahel branch increased attacks near the Malian capital in a likely effort to undermine the legitimacy of the Malian junta, which has promised to increase security in the country. The uptick in attacks indicates that Salafi-jihadi militants likely have access to enduring havens in southwestern Mali, signaling a shift in the militants' ability to threaten Mali's government and largest city.  
Afghanistan. The Taliban government is conducting information operations to deflect blame for ongoing security failures. Taliban security measures have failed to prevent assassinations and Islamic State Khorasan Province (ISKP) attacks in major cities. A leaked Taliban Ministry of Defense document blamed Pakistan for the infiltration of ISKP fighters into Afghanistan. Poorly resourced Taliban border security forces will struggle to control the Afghan-Pakistan border and prevent ISKP cross-border movement.
January 12, 2023 | 10:00am ET
Syria. Deteriorating relationships between the Syrian Democratic Forces (SDF) and local communities will likely advantage the Islamic State in Iraq and al Sham (ISIS) as it seeks to expand its shadow governance in eastern Syria. Tensions have spiked over reported SDF human rights abuses in communities it suspects of harboring ISIS fighters in Deir Ezzor province. ISIS is likely taking advantage of the SDF's abuse of civilians by retaliating against the SDF to promote itself as an alternative, while also using threats and intimidation to recruit local allies.
Somalia. Al Shabaab, al Qaeda's affiliate in Somalia, is attempting to push back an effort by Somali government and local forces to oust the group from positions in central Somalia. Somali forces, with US support, have removed al Shabaab from several strongholds in central and south-central Somalia. Al Shabaab is retaliating with attacks intended to pin Somali forces in their positions and intimidate local militias. The group is likely not pursuing negotiations with the Somali government, despite media reports of talks.
Afghanistan-Pakistan. An escalating insurgency in Pakistan is straining relations between the Pakistani government and the Taliban-led government in Afghanistan. The Tehrik-e-Taliban Pakistan (TTP) has increased attacks in Pakistan since November 2022. The TTP has ties to the Afghan Taliban and maintains havens inside Afghanistan. The relationship between the Afghan Taliban government and Pakistan has deteriorated over the past few months due to increasing border clashes and the Taliban government's failure to reign in TTP attacks targeting Pakistan. The Pakistani government is now likely considering a renewed military effort against the TTP to include strikes in Afghan territory. The Taliban government will seek to avoid open military conflict with Pakistan but will remain either unable or unwilling to restrict TTP operations targeting Pakistan from Afghanistan.