January 05, 2023
Salafi-Jihadi Movement Weekly Update
This brief provides regular analysis of the global Salafi-jihadi movement, which includes al Qaeda, the Islamic State, and affiliated and associated groups worldwide. The Salafi-jihadi movement is an "ideological movement that holds that it is a religious obligation for individual Muslims to use armed force to cause the establishment of true Muslim state governed under a Salafi interpretation of shari'a." The product distills open-source information to assess Salafi-jihadi groups' campaigns and related security and political issues in Africa, the Middle East, and South and Southeast Asia. The Critical Threats Project (CTP) at the American Enterprise Institute produces this analysis with support from the Institute for the Study of War.
This brief will also cover the Afghan Taliban and associated groups. The Taliban is a Deobandi religious movement stemming from the Hanafi legal school of Sunni Islam and separate from the Salafi movement. The Taliban movement maintains close ties with many Salafi-jihadi organizations, however.
To receive the Salafi-Jihadi Movement Weekly Update via email, please subscribe here. Follow CTP on Twitter, LinkedIn, and Facebook.
Maps
Previous versions of static maps are available in our past publications.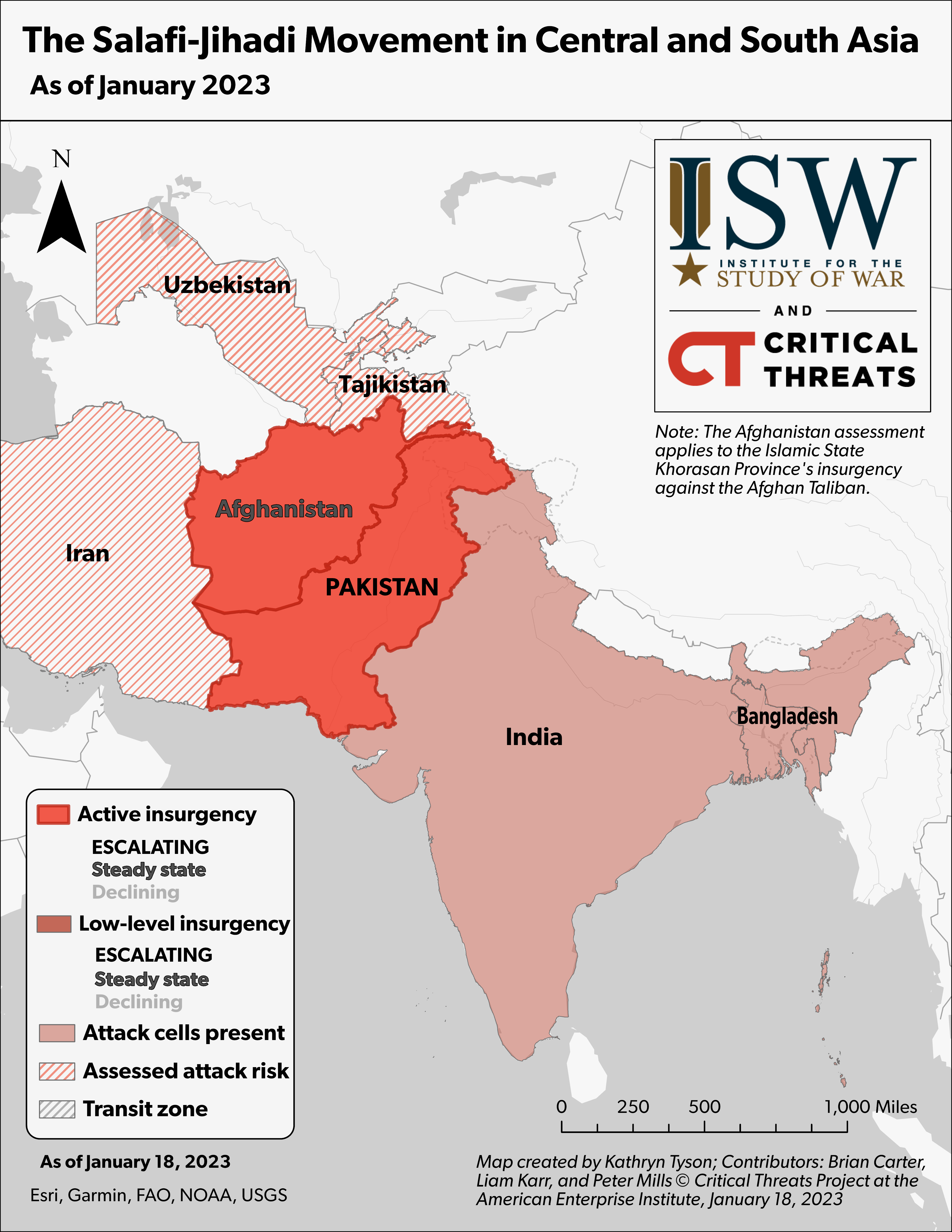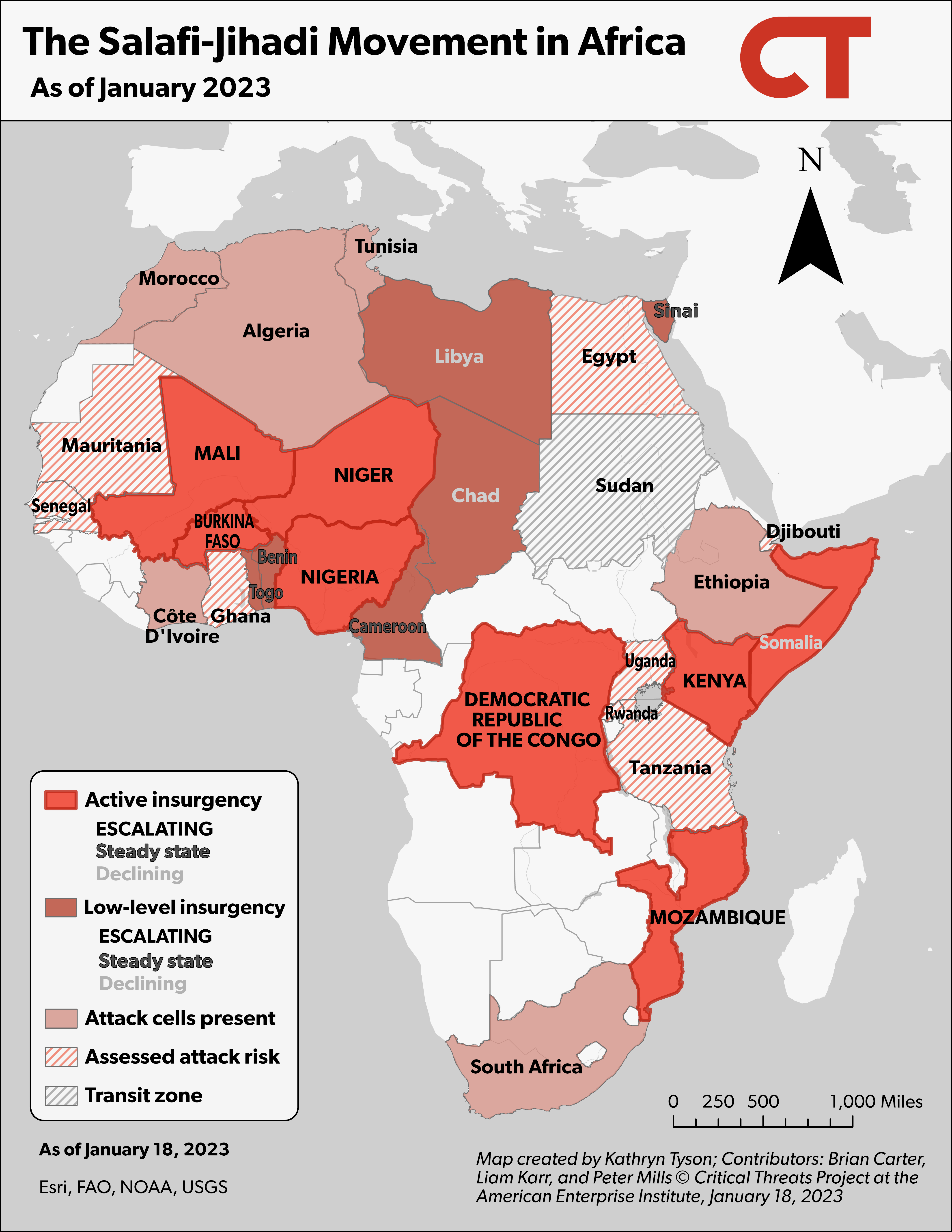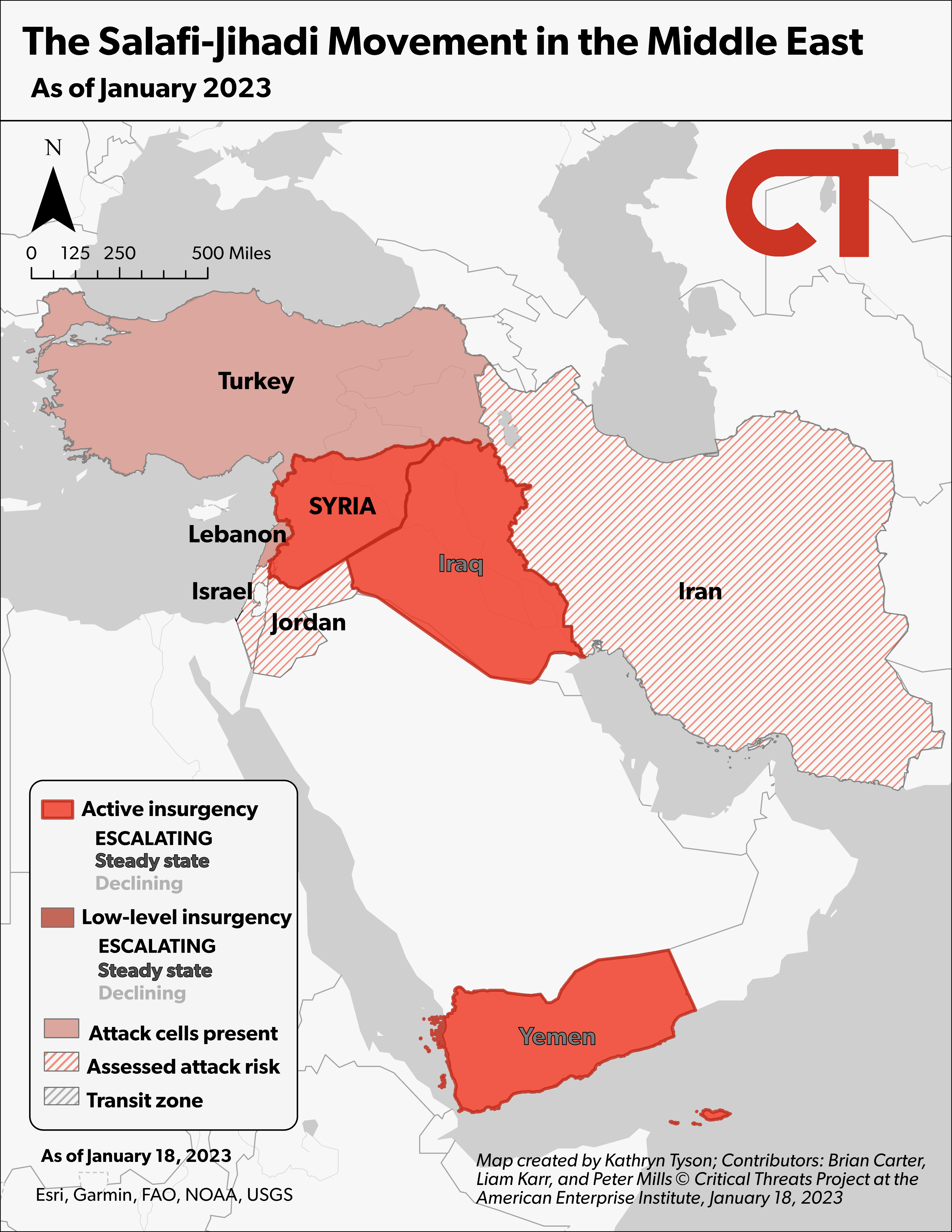 Additional maps specific to each region are available here.
The Salafi-Jihadi Movement Weekly Update is produced by the Critical Threats Project (CTP) at the American Enterprise Institute with support from the Institute for the Study of War (ISW). To receive the Salafi-Jihadi Movement Weekly Update via email, please subscribe here.
Recent Updates
January 25, 2023 | 10:00am ET
Somalia. Al Shabaab continued a wave of suicide attacks against Somali forces, including its first major tactical victory in central Somalia, where it overran a base used by US-trained special forces. These attacks are retaliation against a months-long Somali Federal Government (SFG)–led effort to oust al Shabaab from its positions in central Somalia. The SFG may open a second front against al Shabaab in southern Somalia, but this effort faces more hurdles than the central Somalia campaign.
Sahel. Malign actors are exploiting security vacuums left by the French withdrawal from Mali and Burkina Faso. Al Qaeda–affiliated Jama'a Nusrat al Islam wa al Muslimeen (JNIM) has emerged as the only viable security partner for Tuareg communities facing Islamic State violence in northeastern Mali. This situation forces communities to partner with JNIM in self-defense, solidifying the groups' influence across northeastern Mali. JNIM is also active in Burkina Faso, where the country's military leaders recently ended a military deal with France and are seeking partnership with the Russian Wagner Group. Wagner's presence will increase violence against Burkinabe civilians, to the benefit of Salafi-jihadi groups—as it has in Mali since Wagner arrived in 2021.
Pakistan. The Tehrik-e-Taliban Pakistan (TTP) is increasingly taking control over terrain in Pakistan since ending a cease-fire with the government in November 2022. The TTP announced organizational changes in December 2022 to facilitate increased governance activities. TTP militants also attempted to collect taxes in Pakistan for the first time in over a year in late January.
January 18, 2023 | 10:00am ET
Syria. A potential Turkish military operation into northern Syria could draw the Syrian Democratic Forces (SDF) away from counter-ISIS efforts. The SDF commander is warning of an imminent Turkish incursion. Even a limited Turkish invasion would drain SDF resources and likely allow ISIS to accelerate its efforts to erode and replace SDF governance structures in eastern Syria.
Somalia. Anti–al Shabaab forces notched a significant victory in an ongoing offensive in central Somalia by capturing two logistical and financial hubs from al Shabaab. Al Shabaab has stepped up suicide attacks in response to the offensive, but its loss of these locations may harm its ability to sustain a counterattack over time. Al Shabaab's withdrawal from the captured towns likely indicates that it withdrew in preparation for a future counterattack, though there are also limited indicators that the group is losing bandwidth and morale.  
Mali. Al Qaeda's Sahel branch increased attacks near the Malian capital in a likely effort to undermine the legitimacy of the Malian junta, which has promised to increase security in the country. The uptick in attacks indicates that Salafi-jihadi militants likely have access to enduring havens in southwestern Mali, signaling a shift in the militants' ability to threaten Mali's government and largest city.  
Afghanistan. The Taliban government is conducting information operations to deflect blame for ongoing security failures. Taliban security measures have failed to prevent assassinations and Islamic State Khorasan Province (ISKP) attacks in major cities. A leaked Taliban Ministry of Defense document blamed Pakistan for the infiltration of ISKP fighters into Afghanistan. Poorly resourced Taliban border security forces will struggle to control the Afghan-Pakistan border and prevent ISKP cross-border movement.
January 12, 2023 | 10:00am ET
Syria. Deteriorating relationships between the Syrian Democratic Forces (SDF) and local communities will likely advantage the Islamic State in Iraq and al Sham (ISIS) as it seeks to expand its shadow governance in eastern Syria. Tensions have spiked over reported SDF human rights abuses in communities it suspects of harboring ISIS fighters in Deir Ezzor province. ISIS is likely taking advantage of the SDF's abuse of civilians by retaliating against the SDF to promote itself as an alternative, while also using threats and intimidation to recruit local allies.
Somalia. Al Shabaab, al Qaeda's affiliate in Somalia, is attempting to push back an effort by Somali government and local forces to oust the group from positions in central Somalia. Somali forces, with US support, have removed al Shabaab from several strongholds in central and south-central Somalia. Al Shabaab is retaliating with attacks intended to pin Somali forces in their positions and intimidate local militias. The group is likely not pursuing negotiations with the Somali government, despite media reports of talks.
Afghanistan-Pakistan. An escalating insurgency in Pakistan is straining relations between the Pakistani government and the Taliban-led government in Afghanistan. The Tehrik-e-Taliban Pakistan (TTP) has increased attacks in Pakistan since November 2022. The TTP has ties to the Afghan Taliban and maintains havens inside Afghanistan. The relationship between the Afghan Taliban government and Pakistan has deteriorated over the past few months due to increasing border clashes and the Taliban government's failure to reign in TTP attacks targeting Pakistan. The Pakistani government is now likely considering a renewed military effort against the TTP to include strikes in Afghan territory. The Taliban government will seek to avoid open military conflict with Pakistan but will remain either unable or unwilling to restrict TTP operations targeting Pakistan from Afghanistan.