August 03, 2023
Salafi-Jihadi Movement Update Special Edition: Niger Coup—Wagner Group and an ECOWAS Intervention Threaten to Further Destabilize the Sahel
The Nigerien junta is unlikely to capitulate to international pressure to reverse its coup. Nigerien security forces detained Nigerien President Mohamed Bazoum and took control of the country on July 26.[i] Regional and international states and organizations have imposed sanctions and cut aid.[ii] ECOWAS, a regional political and economic bloc in West Africa, threatened to use force to undo the coup.[iii] The junta has doubled down on its coup by striking a deal with neighboring juntas to jointly defend against an ECOWAS intervention, arresting civilian officials, appointing military officers to leading government positions, and decreasing cooperation with Western partners.[iv]
The junta's opposition to ceding authority back to civilians will result in its international isolation and force the junta to seek auxiliary forces. The EU and US have already cut military cooperation with Niger, and the deteriorating relationship between the West and the junta will make current French and US deployments in the country untenable.[v] The Nigerien military would need to compensate for the loss of Western troops, supplies, and funding. The junta's most likely options would be strengthening civilian militias, like Burkina Faso did, or hiring the Kremlin-funded Wagner Group, like Mali did.[vi] Wagner financier Yevgeny Prigozhin has already advertised Wagner as an option for the new junta, and a Nigerien delegation traveled to Bamako on August 2 to request a "rapid deployment" of Wagner forces to Niger.[vii] However, CTP has previously assessed that Wagner Group likely lacks the capacity to deploy to Niger in the near future unless they redeploy forces already in Africa, and Russia's ambassador to Nigeria said Russia has no plans to use its forces in Niger.[viii] This scenario has become more feasible with the new alliance between Mali and the Nigerien junta given Wagner's 1,000-strong force in Mali.[ix]
Supporting civilian militias or deploying the Wagner Group will almost certainly increase human rights abuses and exacerbate communal tensions, which Salafi-jihadi groups will use to expand. Civilian militias in Burkina Faso and Mali and the Wagner Group in Mali have significantly increased the rate and severity of human rights violations against civilians.[x] The spread of such abuses would undo the progress the Nigerien government has made by limiting support for local self-defense groups.[xi] Nigerien initiatives to prioritize communal reconciliation efforts have led to numerous local peace agreements that have helped slow the Salafi-jihadi insurgency in Niger.[xii]
An ECOWAS intervention into Niger could happen and would be a most-dangerous scenario. Constraints on neighboring militaries put them in a poor position to support a long-term intervention or peacekeeping force. Nigeria faces a major multifaceted security crisis, while the Sudanese civil war has increased division in the ruling Chadian military.[xiii] The costs of intervening in Niger are also greater than previous ECOWAS interventions, such as in Gambia in 2017.[xiv] Niger is geographically larger with a stronger military, additional regional allies, and an ongoing internal conflict.[xv] Regional leaders have said they are still preparing for an intervention despite these costs.[xvi]
CTP is tracking the following indicators of a regional West African intervention into Niger:
Figure 1. Regional Reactions to Niger's Coup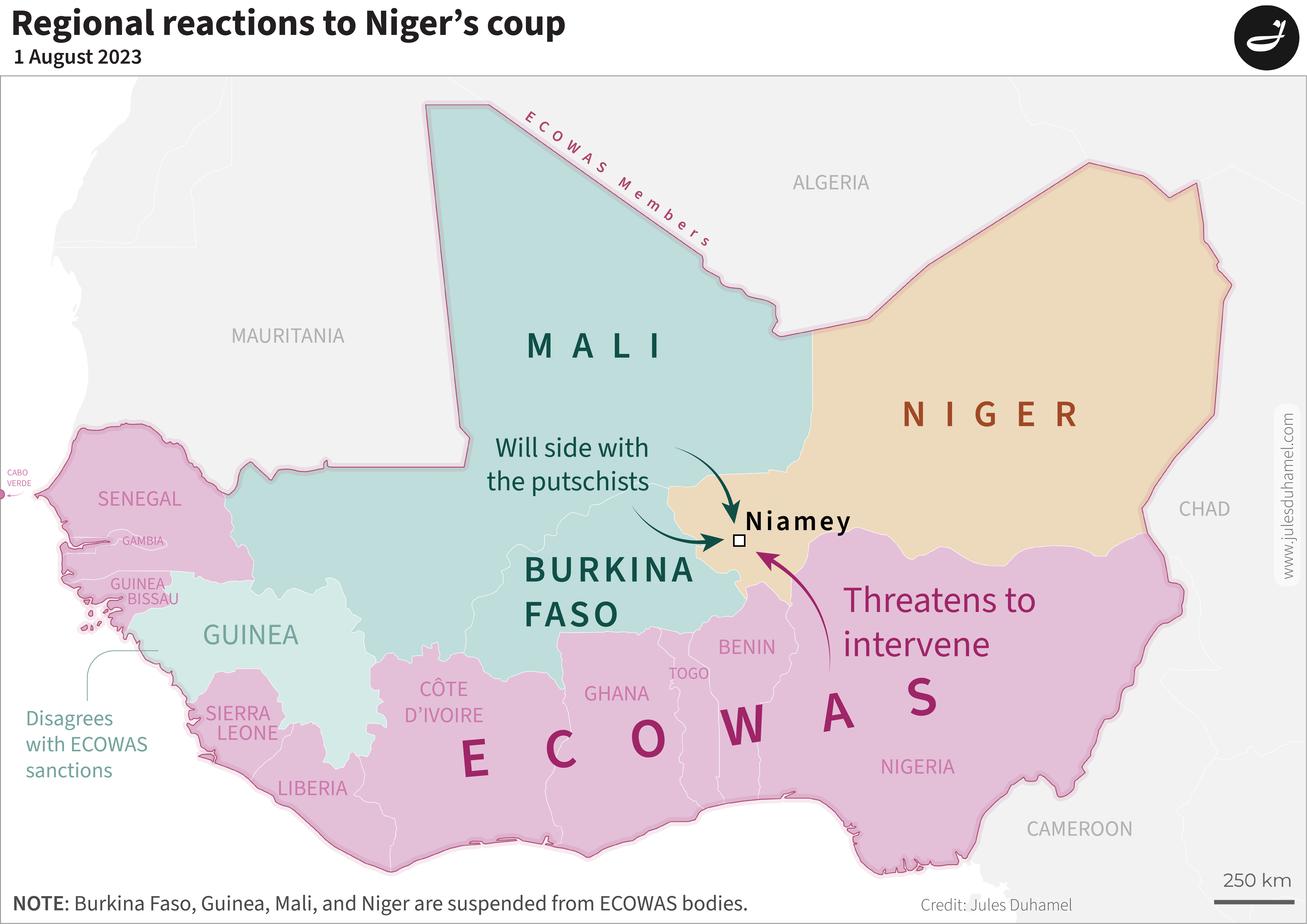 Source: Jules Duhamel.
An ECOWAS military intervention would create immediate opportunities for Salafi-jihadi groups to strengthen by significantly reducing counterterrorism pressure in West Africa as counterinsurgent forces prioritize each other over the insurgencies. Al Qaeda– and Islamic State–linked militants are active in peripheral areas of Niger that would not be priorities for security forces unless the intervention force included combating insurgents in its operational planning and mandate.
Al Qaeda associate Jama'at Nusrat al Islam wa al Muslimeen (JNIM) evicted several villages in southwestern Niger weeks before the coup and will be able to consolidate a foothold in the area that it can use as a rear base for operations in eastern Burkina Faso, Benin, or northwestern Nigeria.[xxvi] The Islamic State's West Africa Province will fill any vacuum in southeastern Niger to create rear bases that it can use to mitigate regional counterterrorism efforts focusing on its havens in northeastern Nigeria.[xxvii] The Islamic State's Sahel Province will also benefit from the lull in counterterrorism pressure in northwestern Niger to recuperate from setbacks that JNIM and French-supported Nigerien forces inflicted in July.[xxviii] These groups could also exploit any gaps that arise from Burkina Faso, Mali, and Nigeria diverting resources away from counterterrorism operations in their own countries.
Figure 2. Salafi-Jihadi Areas of Operation in West Africa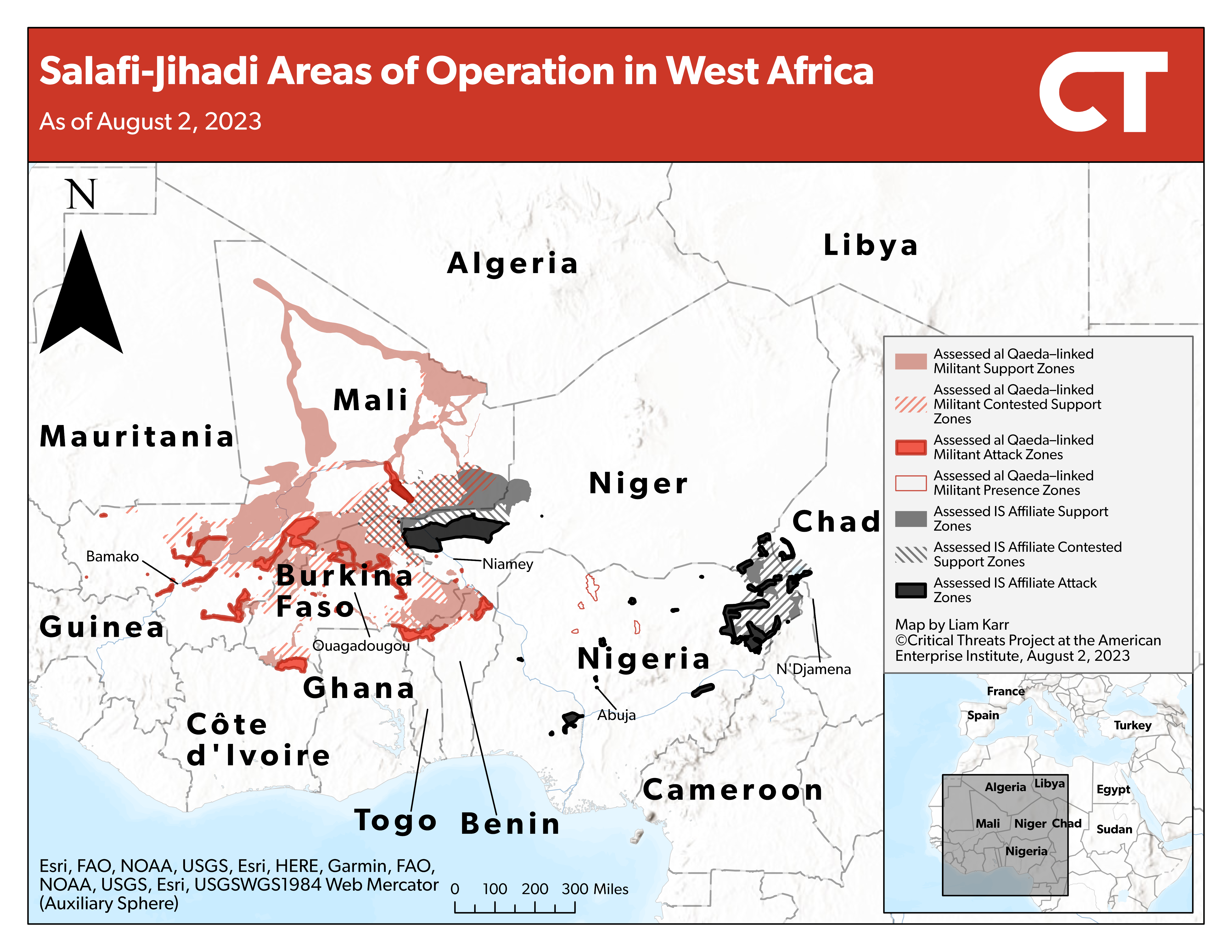 Source: Liam Karr.
An ECOWAS military intervention would likely worsen the security situation in Niger and the region in the long term, regardless of its outcome. Forcibly reinstituting President Bazoum would undermine his credibility and play into harmful narratives that France and the West are underpinning his administration.[xxix] A regional intervention would also weaken the Nigerien military unless the junta capitulates, creating a potential vacuum for Salafi-jihadi groups. Regional forces lack the capacity for a successful peacekeeping mission, and junta-backed auxiliary forces would be prone to human rights abuses, as earlier assessed. Burkina Faso and Mali entering the fighting on the Nigerien junta's side would further dilute their own capacity to slow the spread of Salafi-jihadi groups on their territory. A regional intervention also risks destabilizing probable contributor countries such as Nigeria or Chad, as previously stated, which would have significant consequences because of their large militaries and important roles in regional affairs.
Niger and regional powers could also come to a compromise involving the release of President Bazoum and a road map to restoring civilian rule. Regional mediation efforts have continued despite the rising tension between ECOWAS and the junta. The Chadian president separately met with the junta leaders and President Bazoum on July 30.[xxx] An ECOWAS delegation including a former Nigerian president and the religiously significant Sultan of Sokoto traveled to Niger on August 2.[xxxi] These discussions will give ECOWAS and the junta an off-ramp to avoid violence while still protecting their reputations. International sanctions have also caused widespread blackouts and will severely weaken Niger's economy, which make a negotiated settlement more likely by causing civil unrest or faltering support for the coup among the Nigerien security forces.[xxxii] A similar road map failed in Mali due to the army's heavy influence in the transition process, leading to a second coup that installed the country's current junta.[xxxiii] 
It is unlikely that a compromise deal would mitigate the fallout between Niger and its Western partners. The coup has emboldened anti-Western supporters, as shown by protesters attacking the French embassy and Niger's opposition party that supports the coup calling for detaining European civilians until all foreign troops leave Niger.[xxxiv] The junta has fed this anti-Western sentiment and directly criticized Niger's Western-backed counterterrorism approach.[xxxv] The United States must also cut all security aid according to US law until a democratically elected government retakes power.[xxxvi]
Figure 3. The Salafi-Jihadi Movement in Africa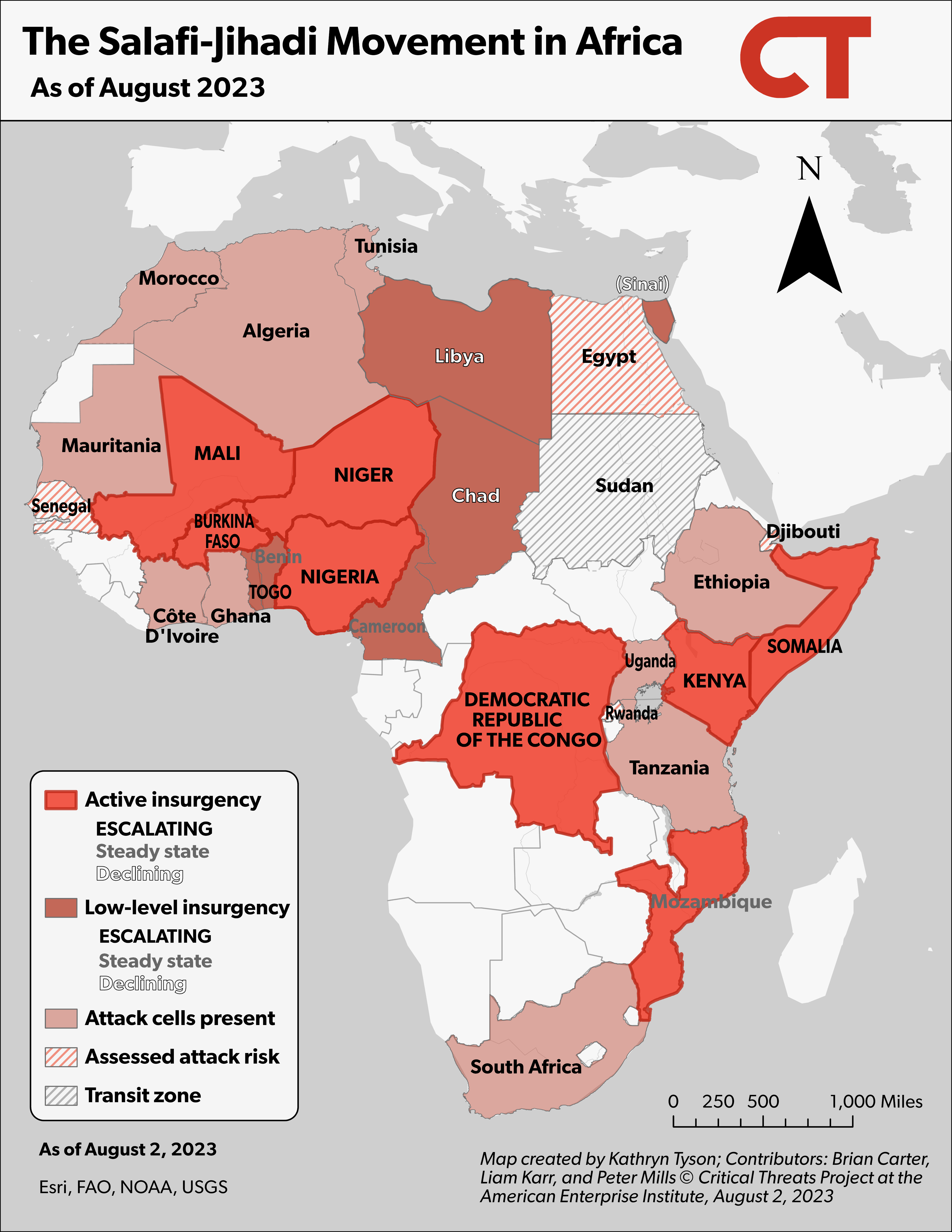 Source: Kathryn Tyson. 
View Citations