August 17, 2023
Salafi-Jihadi Movement Weekly Update, August 16, 2023
To receive the Salafi-Jihadi Movement Weekly Update via email, please subscribe here. Follow CTP on Twitter, LinkedIn, and Facebook.
Data Cutoff: August 16, 2023, at 10:00 a.m.
Key Takeaways:
Iraq and Syria. ISIS is conducting offensive operations in the central Syrian desert that are likely undermining the cohesion of pro-regime forces and enabling ISIS to maintain its momentum. Poor cohesion and coordination among Syrian regime forces will very likely limit their effectiveness in a counteroffensive. The regime's prioritization of expelling US forces from Syria over combating ISIS also will likely inhibit its ability to successfully roll back ISIS gains.
Niger. The Nigerien junta will likely expedite efforts to remove French forces from Niger due to France's strong support for the Economic Community of West African States (ECOWAS). The Nigerien junta may allow the United States to continue operating in Niger because the United States has been less antagonistic toward the junta.
Pakistan. Separatist insurgencies in southwestern Pakistan are worsening, which may prompt Pakistan to deploy additional troops to Balochistan. The deployment of troops to the region likely would further strain the Pakistani military's bandwidth against Salafi-jihadi groups, including groups linked to al Qaeda and the Islamic State.
Afghanistan. Islamic State Khorasan Province (ISKP) is a regional threat that exploits the Taliban's inability to secure the Afghan border. The Taliban likely lacks the ability to decisively defeat ISKP, which will allow ISKP to continue threatening neighboring countries. 
Assessments:
Iraq and Syria.  
Author: Brian Carter
ISIS is conducting offensive operations in the central Syrian desert that are likely breaking down the cohesion of pro-regime forces arrayed against ISIS in central Syria and enabling ISIS to maintain its momentum. CTP previously assessed that ISIS shifted from defensive to offensive operations in early 2023.[1] Limiting the regime's ability to counter offensive operations will enable ISIS fighters to better penetrate urban areas. Reports from opposition media suggest that ISIS attacks are degrading the cohesion of regime forces. ISIS also has momentum vis-à-vis regime forces and its decision to begin claiming attacks again, which indicates it perceives it is gaining strength. Regime operations in 2021 caused ISIS to slow its activity due to capability and its claims for reasons of operational security.[2] The increased activity points to reconstituted ISIS capabilities, which would give ISIS more faith in its ability to repulse future regime operations.
ISIS conducted three attacks between August 7 and August 10 that involved large ISIS forces, caused high numbers of casualties, or captured and established checkpoints. The group captured two National Defense Forces (NDF) checkpoints near Maadan on August 7 and then used a fake checkpoint to ambush another NDF patrol.[3] The NDF deployed forces on August 7 in response, but attacks continued operations nearby through August 13.[4]
Another ISIS force attacked a Fatemiyoun checkpoint near Shoula on August 7.[5] ISIS ambushed two 17th Syrian Arab Army (SAA) Division buses on August 10, killing at least 25 soldiers in the deadliest attack in central Syria since December 2020.[6] The regime responded with several limited clearing operations. ISIS attacked these regime efforts using improvised explosive devices on August 13.[7]
A regime-affiliated military source told pro–Syrian Democratic Forces (SDF) outlet NPA Syria that 17th SAA Division soldiers "left their weapons and [ran] away" in fear of ISIS during a clearing operation near Mazilah village, Deir ez Zor province, on August 13.[8]
Figure 1. ISIS Activity in Central Syria, July 1, 2023–August 16, 2023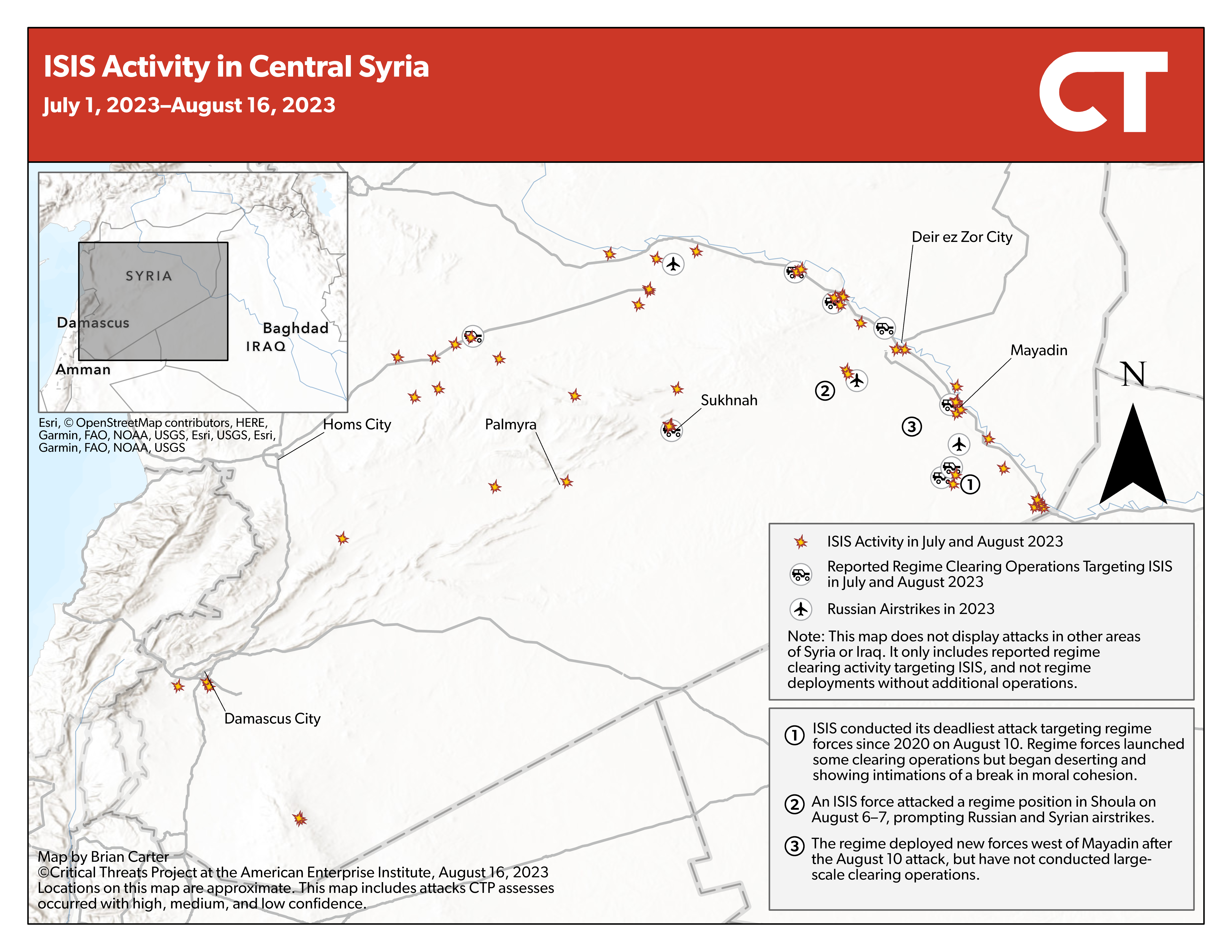 Source: Brian Carter.
ISIS believes that it has the initiative in central Syria and that the group is stronger than it has been since 2020. ISIS stopped claiming attacks in central Syria in December 2022 but resumed in June 2023. The group also said in July 2022 that it was purposely obfuscating its reach in central Syria by failing to claim attacks. ISIS has also massed large forces on at least two occasions in 2023 in central Syria and increased the rate of its attacks.[9] ISIS has conducted more attacks in central Syria in 2023 than in all of 2022.[10] It also is coercing limited support from the population. Anti-regime media reported that ISIS flew flags in Musarib, north of Deir ez Zor, and sometimes patrols at night in Sukhnah.[11]
Figure 2. ISIS Gains Momentum in Central Syria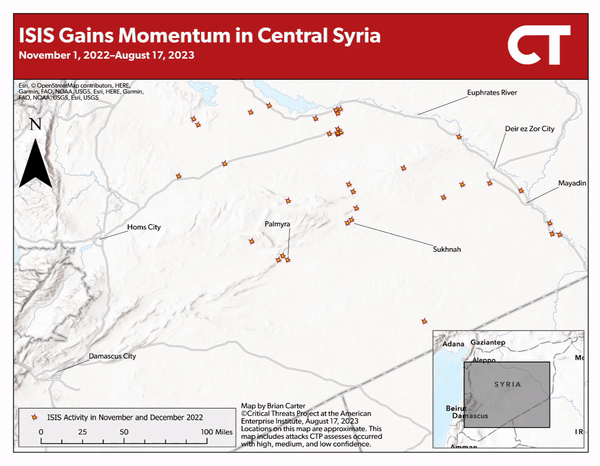 ISIS activity in central Syria has shifted from targeting regime patrols in the Syrian desert to raids and targeted attacks against the regime in semi-urban areas along the Euphrates. This suggests ISIS has strong support zones in the central Syrian desert that the regime is no longer threatening. 
Source: Brian Carter.
The regime may attempt to blunt ISIS's momentum with an offensive against the group. Regime forces launched a series of counter-ISIS operations in 2021 after an attack as deadly as the August 13 attack.[12] Regime forces deployed unspecified reinforcements to the desert west of Mayadin city but have so far failed to conduct clearing operations.[13] The 17th Division conducted at least one short clearing operation that resulted in desertions from the 17th Division.[14] A London-based Syria-focused outlet that frequently misreports information in the central Syrian desert claimed three Syrian divisions launched a large-scale combing operations, but no other outlets corroborated this report.[15]
Poor cohesion and coordination among regime forces will very likely limit their effectiveness in an offensive, however. Regime forces compete for smuggling routes, drug trafficking rents, and patronage, which inhibits their ability to effectively challenge ISIS in central Syria. The NDF in Mayadin is split between the 5th Corps and 4th SAA Division, and pro–5th Corps checkpoints do not communicate with those run by pro–4th Division elements.[16] This enables large-scale ISIS movements in the desert west of Mayadin because the NDF cannot coordinate to shore up gaps in its security.[17] These types of competition, as well as the lack of adequate supplies and resourcing for regime forces, contribute to poor cohesion among regime forces.
A pro-NDF Twitter account said on August 10 that the split in the Mayadin NDF between the 5th Corps and 4th Division undermines communication between the units.[18] The user said this enabled ISIS to conduct the attack targeting the 17th Division bus on August 11, which killed at least 25 Syrian soldiers and possibly as many as 40.[19]
Regime forces have also clashed with one another. Pro-opposition media outlet DeirEzzor24 reported that Islamic Revolutionary Guards Corps–backed militants raided homes belonging to the NDF and 4th Division in Albu Kamal district, Deir ez Zor, on June 4–5.[20] Tribes north of Deir ez Zor city also opposed the 4th Division deployment in their tribal territory, causing the 17th Division to replace the 4th Division there in March.[21] CTP assessed this relief in place provided ISIS an opportunity to expand attacks in the area.[22]
Opposition media reported on August 13 that regime forces at Shoula checkpoint, west of Mayadin, stole food from local civilians to make up for a lack of supplies from Damascus.[23] Fuel shortages in December 2022 fixed regime forces in Palmyra and Sukhnah, preventing them from rapidly reversing ISIS's capture of the unpopulated al Kawm Oasis in late November.[24] NDF units also intermittently refuse to enter the desert for fear of ISIS attacks.[25] A local journalist in Deir ez Zor reported that the rate of desertions from regime forces has increased dramatically in August 2023.[26]
The regime's prioritization of expelling US forces from Syria over combating ISIS will likely inhibit its ability to successfully roll back ISIS gains. The regime perceives the US presence as supporting ISIS cells, including the August 10 ISIS attack on the regime convoy.[27] This means that because the regime sees the US presence and ISIS as intertwined, the regime undertakes activities that distract it from actively combating ISIS, such as deployments against the line of control with the SDF.[28] This incorrect framing and threat perception leads the regime not to strike at the source of ISIS's strength in Syria, which is its ability to infiltrate populated areas from rural support zones. ISIS is already infiltrating populated areas.[29] Salafi-jihadi insurgencies draw their strength from local Sunni populations, and as ISIS increases its infiltration in populated areas, it will become harder to dislodge ISIS.[30]
Figure 3. The Salafi-Jihadi Movement in the Middle East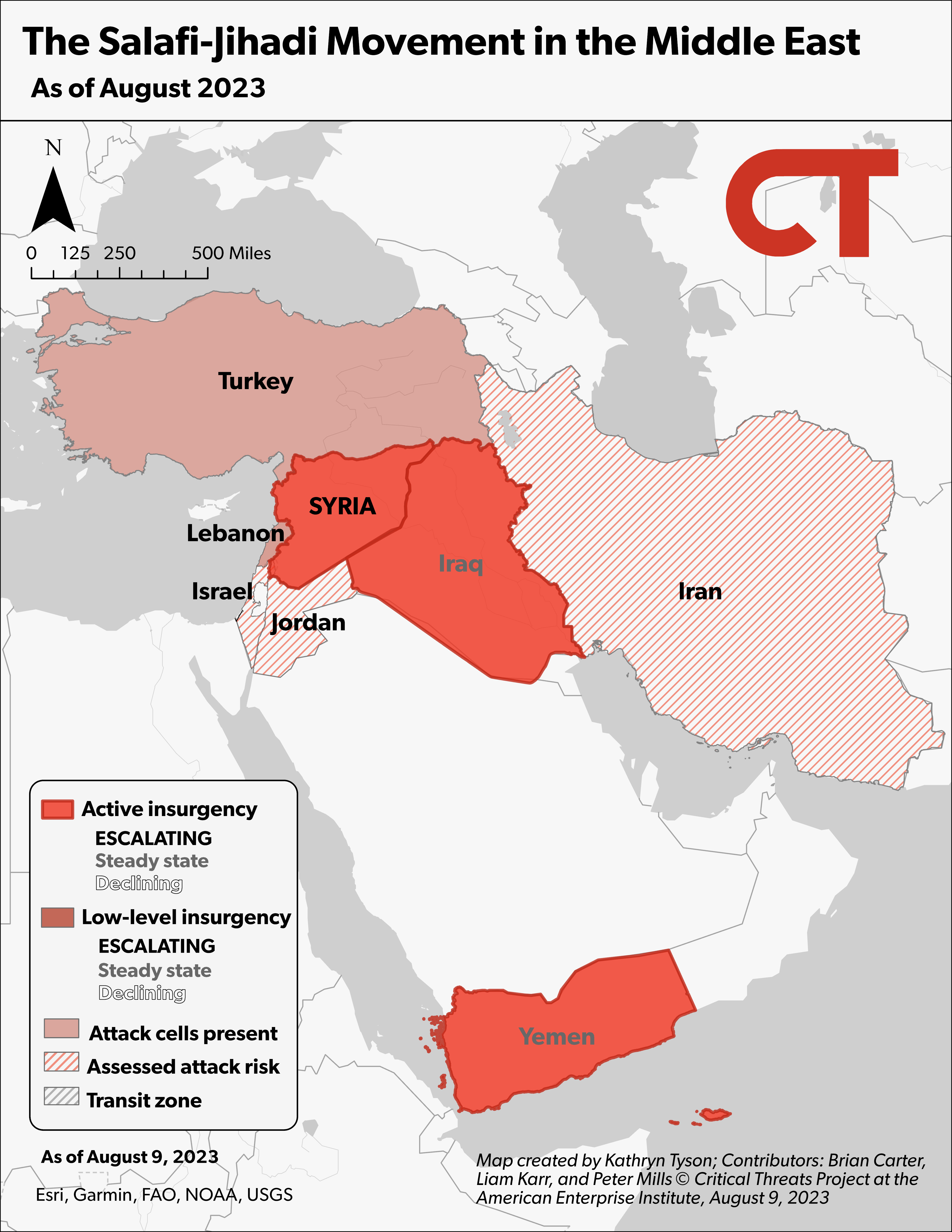 Source: Kathryn Tyson.
Niger.
Author: Liam Karr
The Nigerien junta will likely expedite efforts to remove French forces from Niger due to France's support for ECOWAS. The Nigerien junta is accusing France of supporting Salafi-jihadi groups and violating its sovereignty. It annulled its military agreements with France between August 4 and 9.[31] France politically supports ECOWAS's plans for a military intervention and is considering military support for ECOWAS.[32] Niger is following a similar model to that of the Malian junta, which used operating constraints and disinformation to delegitimize and gradually coerce France from Mali.[33] Niger's efforts have not reached the same level of hostility as Mali's efforts in 2021–22, when Mali's Wagner allies staged a false-flag massacre of civilians to pin on France.[34] Before the coup, 1,500 French soldiers in Niger worked with Nigerien forces to degrade Salafi-jihadist groups along the Nigerien-Malian border.[35]
France gave its "full support" to ECOWAS's decision on August 10 to mobilize a standby force to "restore constitutional authority in Niger."[36] French media reported on August 11 and 12 that France is considering providing military and logistical support for an ECOWAS invasion.[37]
Mali repeatedly accused France of violating its sovereignty in 2022, annulled its military agreements with France in May 2022, and accused France of supporting Salafi-jihadi groups in August 2022.[38] These developments occurred over several months, whereas the Nigerien junta has done all these things in a month.
The Wagner Group orchestrated a false-flag civilian massacre to discredit French forces in Mali in April 2022.[39] Wagner-linked social media accounts blamed France for massacring a dozen civilians in northern Mali and circulated pictures of the bodies. France released satellite images showing Wagner mercenaries moving the bodies and taking the pictures.[40]
The Nigerien junta may allow the United States to continue operating in Niger due to the more conciliatory US response to the coup. The United States has at least 1,100 personnel in Niger and a drone base that is crucial for regional intelligence, surveillance, and reconnaissance.[41] The junta has not sought to undermine or antagonize the US presence. The United States did not threaten the junta by supporting ECOWAS's decision to mobilize a standby force.[42] Some US actions post-coup, such as refusing to call for Nigerien President Mohamed Bazoum's reinstatement and direct negotiations with the junta, have legitimized the junta, which helps solidify its rule. The junta would interpret any US efforts to inhibit Wagner activity in Niger as a violation of its sovereignty, which would jeopardize this fragile status quo. The junta has already reached out to Wagner for a smaller and more limited deployment to protect the Nigerien capital.[43] The United States has sanctioned Wagner Group and several affiliated individuals and repeatedly pressured countries to cease work with the mercenaries.[44]
US President Joe Biden and Secretary of State Antony Blinken have condemned the detainment of Bazoum and called for preserving Niger's constitutional democracy. However, neither called for Bazoum's reinstatement.[45] US Undersecretary of State Victoria Nuland met with junta officials on August 7 to negotiate a peaceful end to the coup, which provides the junta with domestic and international clout.[46]
The United States sanctioned several individuals and companies connected with the Wagner Group's Africa operations on June 27.[47] The United States has also worked with other allies in 2023 to pressure military leaders in Libya and Sudan to cut cooperation with Wagner.[48] In January 2023, the US deputy representative to the UN also accused Wagner of increasing instability in West Africa.[49]
A Nigerien delegation met with Wagner officials in Mali on August 2 and requested the "rapid deployment" of Wagner forces to Niger.[50] A team of Wagner Group advisers and trainers met with junta officials in Niamey on August 5, and a prominent Wagner-linked milblogger claimed on August 6 that Wagner will send a limited deployment to Niamey to "protect the capital."[51]
Figure 4. The Salafi-Jihadi Movement in Africa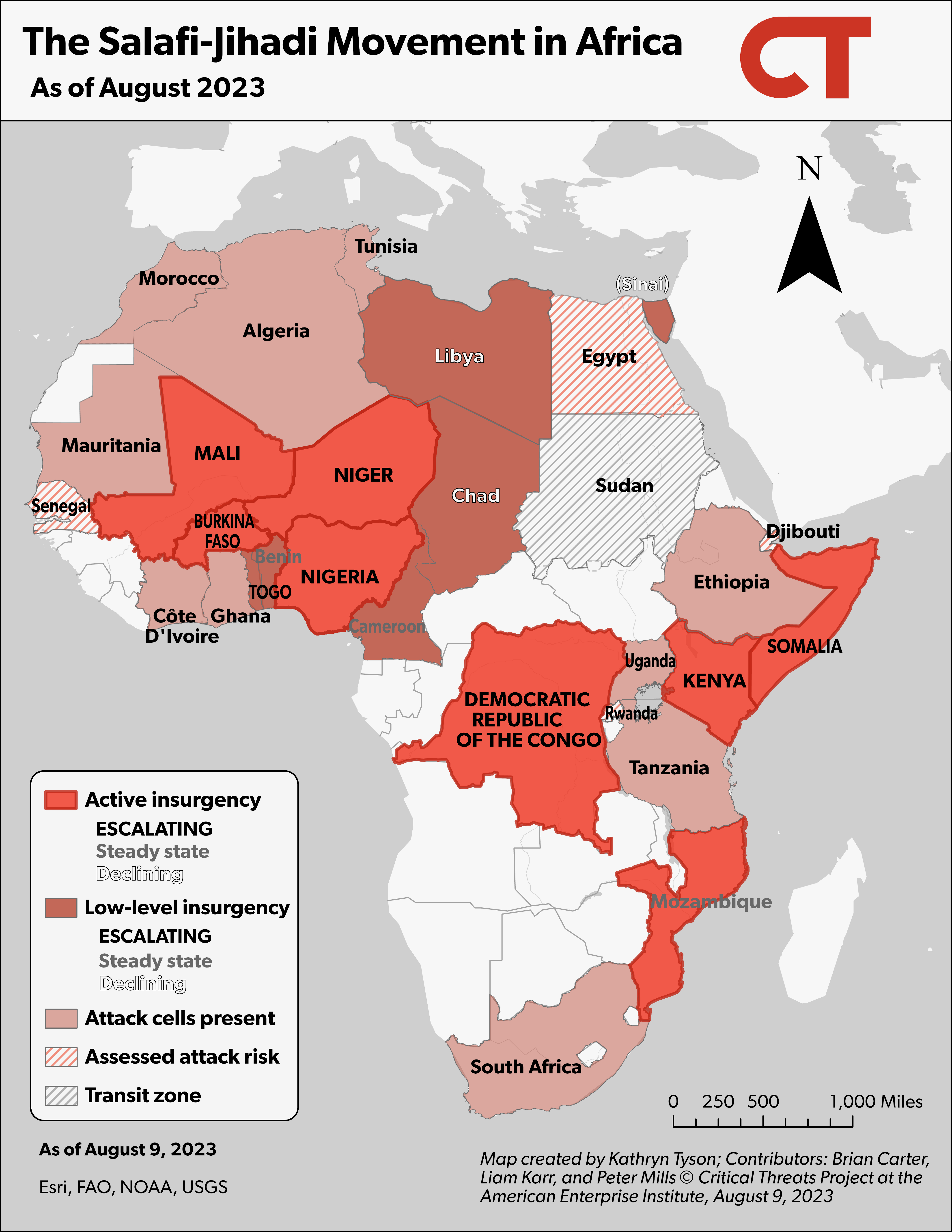 Source: Kathryn Tyson.
Pakistan.  
Author: Kathryn Tyson
Separatist insurgences in southwestern Pakistan are worsening, which may prompt Pakistan to deploy additional troops to Balochistan. The Balochistan Liberation Army (BLA), which has been part of a growing Balochi insurgency since 2018, attacked Chinese workers near a major Pakistani port on August 13.[52] China is pressuring Pakistan to stem these attacks, and Pakistan has historically redeployed troops to defend Chinese infrastructure on numerous occasions since 2016. Fatalities from Baloch separatist groups between 2010 and 2020 peaked in 2015. Casualties dropped by more than half in 2016 but have risen steadily since and doubled between 2019 and 2020.[53]
The BLA attacked a convoy of Chinese engineers near a major port in Gwadar in southwestern Pakistan on August 13.[54] The BLA is a Balochi militant separatist group that seeks an independent Balochistan. Recent BLA activities in 2023 have involved small-scale, direct-fire attacks on remote military checkpoints.
Pakistan generated a division and deployed them to defend Chinese infrastructure from attacks in Balochistan in 2016 and 2017.[55] Pakistan deployed thousands more troops to the area after major BLA attacks in 2019 and 2021.[56]
Pakistan is facing pressure from China to address these kinds of attacks. The Chinese government called on Pakistan to take action against the perpetrators of the August 13 attack and prevent similar attacks.[57]
The deployment of troops to the region likely would further strain the Pakistani military's bandwidth. Pakistan cannot contain multiple escalating insurgencies from the Tehrik-e-Taliban Pakistan (TTP), the ISKP, and other Baloch separatist groups. The Pakistani military is already facing resource limitations, and a deployment to Balochistan from northwestern Pakistan, where the TTP and ISKP operate, would further strain Pakistani bandwidth.
The TTP has tripled yearly attack numbers and renewed attacks in strategic areas in Pakistan since 2020.[58] The Afghan Taliban is actively supporting TTP attacks in Pakistan.[59] The Pakistani government has been unable to convince the Taliban to strike TTP safe havens in Afghanistan, suggesting the TTP will continue to grow.[60]
The Pakistani military is not containing ISKP in Pakistan either. The Taliban is ineffective against countering ISKP, which is having spillover effects into Pakistan. ISKP has escalated attacks in Pakistan since Taliban takeover in 2021, including a bombing that killed over 60 people including a local political leader on July 31.[61]
Afghanistan.  
Author: Peter Mills
ISKP is a regional threat that the Taliban are likely incapable of defeating. ISKP maintains safe havens in Afghanistan, which it uses to spread propaganda and support attack plots beyond Afghanistan.[64] For example, ISKP claimed an October 2022 attack at a Shi'a shrine in Shiraz, Iran, and Iranian state media accused IS of a second attack against the same target on August 13.[65] ISKP also seeks to expand its reach into central and southern Asia. ISKP conducted cross-border rocket attacks into Uzbekistan and Tajikistan in May and April 2022, demonstrating its ability to target countries in central Asia. The group also regularly attacks in Pakistan and is attempting to expand recruitment in South Asia.[66] ISKP tried to carry out attack plots on European targets in Istanbul, Turkey, in July, indicating ISKP seeks to conduct attacks beyond the region.[67] The Taliban claims it cooperates on counterterrorism with neighboring states, but this cooperation did not prevent ISKP attacks in Iran and Pakistan.[68] The Taliban has also failed to combat ISKP support zones in northeastern Afghanistan, indicating it will be unable to defeat ISKP in Afghanistan, despite a decline in ISKP attacks in Afghanistan.[69]
ISKP has both the intent and capability to threaten regional states. It also launched new propaganda channels targeting Uzbeks and Tajiks in early 2022 as part of an effort to increase recruitment and expand ISKP's presence in northern Afghanistan.[70] ISKP has also repeatedly used Tajik nationals to conduct terror attacks in Afghanistan.[71]
ISKP conducts most of its attacks in South Asia in Pakistan, but it is seeking to expand beyond Pakistan.[72] On July 31, the US Department of Treasury designated ISKP recruiters and fundraisers in the Maldives, and on August 1, India arrested ISKP operatives trying to build cells in Gujarat, India.[73]
The Taliban claims it shares intelligence with neighboring states on terror groups, but it has proven unable to disrupt plots. Taliban media claimed that Taliban intelligence shared information with Iran and Pakistan regarding ISKP attack plots in those countries before a major attack in Pakistan on July 30 and another in Iran on August 13.[74] The Taliban has not conducted operations to degrade ISKP support zones in northeastern Afghanistan, which will prevent it from defeating ISKP in Afghanistan and allow ISKP to continue plotting attacks beyond Afghanistan.[75]
Taliban border forces cannot secure Afghanistan's borders and are prioritizing non-Salafi-jihadi groups, which enables Salafi-jihadi groups freedom of movement in the region. The Taliban's border force is under-resourced and lacks the equipment and human capital to secure the country's borders. The border forces also have competing priorities, such as countering non-Salafi-jihadi anti-Taliban groups, which draw resources from their primary mission. The Taliban border forces also cannot effectively coordinate with their Pakistani or Iranian counterparts due to intermittent clashes. Salafi-jihadi groups, including ISKP, can exploit poor border security to maintain ground lines of communication into neighboring countries and conduct attacks. That Taliban border forces sometimes cooperate with Salafi-jihadi or other militant groups also contributes to the group's ability to move across Afghanistan's borders.
Taliban border forces in Badakhshan, northeastern Afghanistan, and Paktika, eastern Afghanistan, go months without being paid and in some cases lack basic equipment, including working vehicles and rifles, rendering them unable to effectively control the border.[76] Iranian officials complained in June that Taliban border forces are disorganized and inexperienced, complicating efforts to cooperate on border security.[77]
Taliban border guards actively cooperate with jihadists against neighboring states and prioritize non-Salafi-jihadi groups over ISKP. Taliban border guards in eastern Afghanistan cooperate with the TTP and engaged Pakistani army units after they fired on TTP militants trying to cross the border in 2022 and 2023.[78] Taliban border forces have also engaged in sporadic skirmishes with Iranian border guards.[79] Taliban border forces in northeastern Afghanistan prioritize countering local anti-Taliban groups, like the National Resistance Front, and do not track local Salafi-jihadi groups.[80] The Taliban does not recognize the border between Pakistan and Afghanistan, which further complicates the border guards' ability to stop cross-border movement. [81]
ISKP exploits the border to train recruits, conduct attacks in neighboring countries, and connect with IS branches in the Middle East.[82] ISKP maintains ground lines of communication into Iran, which connect with IS cells in Turkey and Syria.[83] ISKP also maintains cells in border areas inside Iran and Pakistan, which support attacks in those countries.[84] Iranian state media stated the Shiraz attacker received training from ISKP in Afghanistan before his attack.[85]
Figure 5. The Salafi-Jihadi Movement in Central and South Asia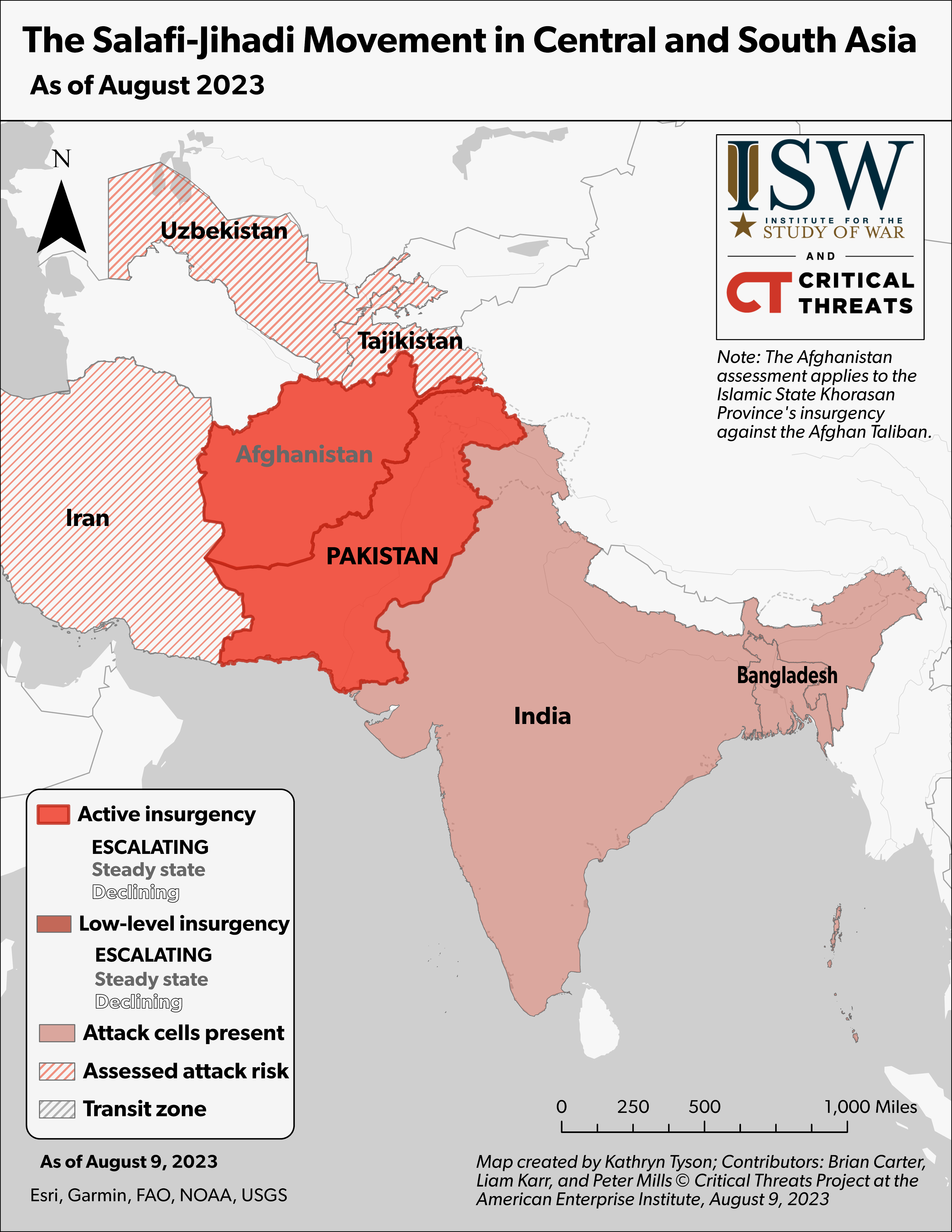 Source: Kathryn Tyson.
View Citations