August 11, 2023
Salafi-Jihadi Movement Update Special Edition: Niger Crisis—ECOWAS Mobilization Does Not Guarantee Invasion
The Economic Community of West African States (ECOWAS) activated and ordered the deployment of a standby force (ESF) on August 10 to reinstitute constitutional order in Niger, which increases the risk of a regional clash in the coming weeks. ECOWAS has continued to emphasize that it desires a negotiated compromise to restore democracy in Niger, but the junta remains mostly uncooperative.[1] The junta spurned overtures from the United States and a joint African Union–ECOWAS–United Nations delegation this week on August 7 and 8.[2] The Ivorian president threatened later that day that an intervention would begin "as soon as possible" once preparations and deployments were complete.[3] The junta's refusal to cooperate is leaving little room for compromise, and ECOWAS risks undermining its stability by not confronting the junta, increasing the risk that neither side finds a suitable off-ramp to the looming military conflict.
ECOWAS will likely assemble the bulk of its standby force in the next month. US intelligence officials said that French planners are cooperating with ECOWAS on finalizing deployment plans and that the Nigerien junta expects an intervention—if it happens—to occur before the end of August.[4] ECOWAS defense chiefs finalized invasion plans on August 4.[5] ECOWAS invaded Gambia in 2017 with a 7,000-strong force 30 days after placing standby forces on alert.[6] Gambia's small size and proximity to staging areas in Senegal eased some logistical issues in 2017. Troop-contributing countries are further away from staging grounds in Nigeria, and Nigeria is also much larger than Senegal. The ESF lacks the strategic airlift capabilities to mitigate these challenges, which will slow logistical preparation for the intervention.[7]
Nigeria remains the lynchpin for any potential military action and could follow through on the threat of military action if ECOWAS and the junta do not reach a compromise. Nigeria is the largest of all troop-contributing countries and will compromise the bulk of and stage the intervention force.[8] CTP previously assessed that domestic pressure from political and civil society leaders—especially in northern Nigeria—could derail an ECOWAS intervention. Nigeria is also facing a multilayered internal security crisis that has already strained its forces.[9] However, the Nigerian president has so far continued to press on despite these concerns. Nigeria has strong civil-military relations, and the military will act if the president orders.[10] The president risks undermining ECOWAS's credibility and his own credibility by not confronting the Nigerien junta. He explicitly stated on several occasions in early July—only weeks before the coup—that he would not tolerate coups as head of ECOWAS and that ECOWAS should strengthen the ESF mechanism to deter putsches.[11]
Niger will pose significant operational challenges for the ESF that did not exist in the 2017 Gambian intervention. Gambian forces never resisted the ESF, which outnumbered Gambian forces ten to one.[12] The Nigerien junta has had several weeks to build support for the junta within the military, consolidate control over the government, rally popular support, and seek additional allied forces.[13] These circumstances suggest that the Nigerien army will put up strong and organized resistance. Niger also has a military at least 35 times larger than Gambia's in 2017, nearly 10 times the population, and over 100 times more territory.[14] These factors will make military operations against Niger much more difficult by requiring more military force to defeat Nigerien and allied forces, control Nigerien territory, and police the population. It is unclear what size the intervention force will be, with numbers ranging from 5,000 to 25,000.[15] A force of 5,000 soldiers would indicate the ESF does not have the capacity for a successful intervention, and a 25,000-strong force would still be vulnerable and only on par with Niger's army.[16]
CTP continues to assess that an ECOWAS intervention would be highly costly and destabilizing for Niger and West Africa. An invasion would create immediate opportunities for Salafi-jihadi groups to strengthen by reducing counterterrorism pressure in peripheral areas of Niger and in other troop-contributing countries as counterinsurgent forces prioritize each other over the insurgencies.[17] CTP has repeatedly assessed with high confidence that al Qaeda– and IS-linked militants in the Sahel have been rapidly strengthening since French forces departed from Mali in 2022, and a regional war will only further bolster their position.[18] Many regional forces are already overstretched and facing their own internal crises, which increases the risk of creating further instability and opportunities for insurgents.[19]
Both sides could still reach a compromise during the weeks it takes the ESF to mobilize. ECOWAS continued diplomatic efforts during the buildup of the ESF in Gambia and is signaling it will do the same with Niger. The Nigerian president said at the ECOWAS summit on August 10 that diplomacy and dialogue would be the "bedrock" of ECOWAS's approach.[20] The junta received an ECOWAS delegation of prominent Nigerian traditional leaders on August 9.[21]
Some ECOWAS partners may be willing to accept a compromise that secures the release of Nigerien President Mohamed Bazoum and a transitional government to avoid military conflict while securing a pathway to restore democracy. The African Union repeatedly noted the importance of Bazoum's safety in its statement supporting ECOWAS on August 10. It did not mention returning Bazoum to power other than "supporting the decisions" adopted by ECOWAS, which has previously called for the junta to reinstate Bazoum.[22] The US president and secretary of state have separately condemned Bazoum's detainment and called for preserving Niger's constitutional democracy without explicitly calling for Bazoum's reinstatement.[23] The junta threatened to kill Bazoum if regional forces intervened, demonstrating his importance as a bargaining chip.[24] Fifteen of the 21 ministerial appointments the junta has made have been civilians, including its prime minister. These appointments set some foundation for the type of civilian-military transitional government that stakeholders have previously compromised on after other coups.[25] A similar road map failed in Mali due to the army's heavy influence in the transition process, leading to a second coup that installed the country's current junta.[26]
CTP is tracking the following indicators of a regional West African intervention into Niger:
Indicator: Troops amassing along the Nigerien border in Nigeria

Finding: CTP has not observed any troops from troop-contributing countries amassing along the Niger-Nigeria border.

Indicator: Troop or asset redeployments in likely troop-contributing countries
Indicator: High-level discussions on an intervention in Niger between the government and military leaders of participating countries or Western partners
Indicator: Widespread state-led evacuations of foreign nationals residing in Niger

Finding: China encouraged its citizens to evacuate Niger on August 7.[32]
Figure 1. ECOWAS Threatens Intervention to Overturn Nigerien Coup: Indicators of a Regional Intervention, August 7–11, 2023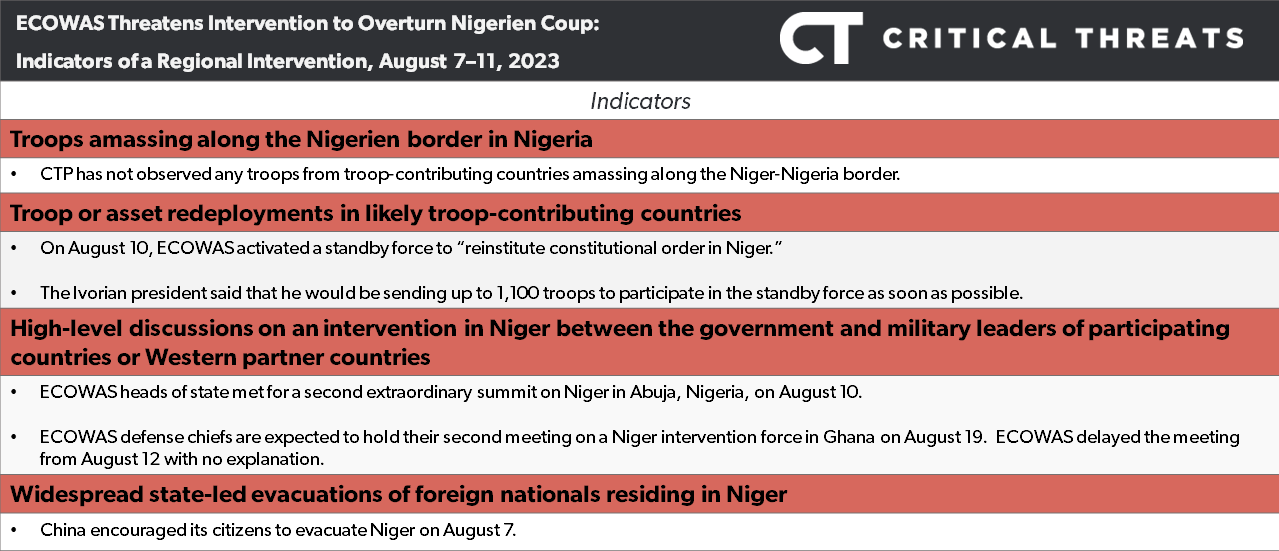 Source: Liam Karr.
CTP is tracking the following counter-indicators of a regional West African intervention into Niger:
Counter-indicator: Likely troop-contributing countries removing the threat of military action

Finding: CTP has not observed any new potential troop-contributing countries removing the threat of military action since the August 7 special update.

Counter-indicator: Internal dissent over supporting an intervention to Niger in troop-contributing countries

Finding: CTP has not observed any new internal dissent in troop-contributing countries since the August 7 special update.

Counter-indicator: Messaging emphasizing the primacy of diplomacy
Figure 2. ECOWAS Threatens Intervention to Overturn Nigerien Coup: Counter-Indicators of a Regional Intervention, August 7–11, 2023
Source: Liam Karr.
View Citations