May 09, 2023
Salafi-Jihadi Movement Update Special Edition: Protests in Pakistan, May 9, 2023
Data Cutoff: May 9, 2023 at 3:00 p.m. ET
Figure 1. Protests and Salafi-Jihadi Attacks in Pakistan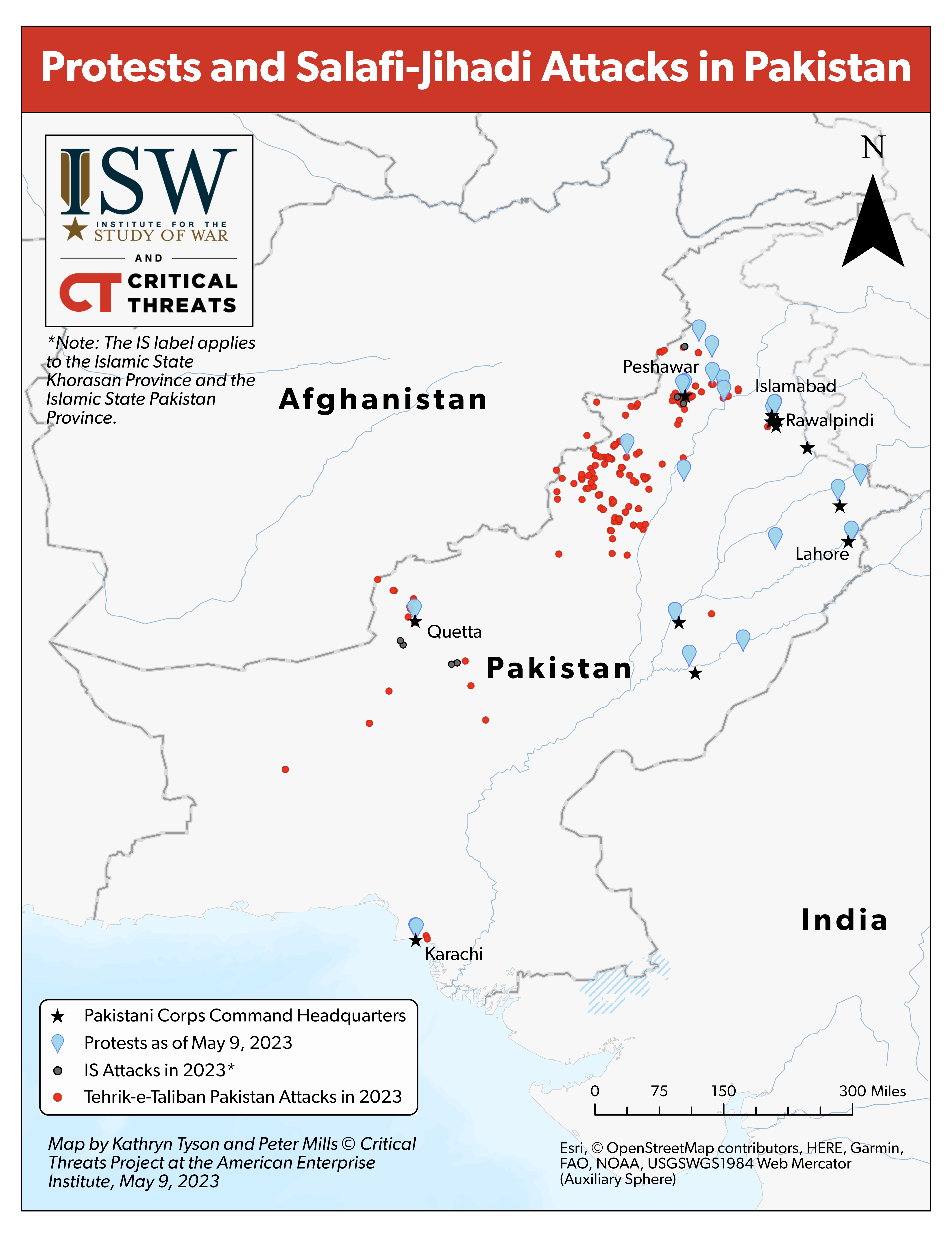 Source: Kathryn Tyson and Peter Mills.
Violent protests erupted across Pakistan after the arrest of former Pakistani Prime Minister Imran Khan on May 9.[i]  These protests targeted Pakistani military facilities and institutions across Pakistan. Protesters stormed the Pakistani Army's General Headquarters in Rawalpindi and the regional parliament building for Khyber Pakhtunkhwa Province in Peshawar. Protesters also burned the IV Corps commander's residence inside the military cantonment in Lahore. Protests against the Pakistani military are uncommon and represent a decline in public trust in the Pakistani military and state institutions.[ii] Khan accused the United States and Pakistan military of a conspiracy to remove him from office after the Pakistani parliament voted him out of office in April 2022.[iii]  Khan and his Tehrik-e-Insaf Party (PTI) led several large-scale marches across Pakistan against the government to protest the vote of no confidence in 2022.[iv] Unknown attackers attempted to assassinate Khan in November 2022, leading to three weeks of widespread protests by PTI supporters who demonstrated outside military and government sites.[v] Protesters did not storm military and government sites during the unrest in November 2022.[vi]
The Pakistani security establishment's decision to suppress these protests will constrain its ability to address the multiple security threats currently facing Pakistan. The Pakistani government deployed security forces, banned public gatherings in Islamabad, Punjab, and Balochistan Provinces, and cut internet access to quell the protests.[vii] These actions will present new opportunities for the Tehrik-e-Taliban Pakistan (TTP) and the Islamic State's provinces in Pakistan. Salafi-jihadi groups in Pakistan have strengthened since the Afghan Taliban rose to power in August 2021.[viii] Islamic State branches in Afghanistan and Pakistan--the Islamic State Khorasan Province (ISKP) and Islamic State Pakistan Province (ISPP)--maintain attack zones across large swaths of territory in Pakistan, including in diplomatic areas in Pakistan's capital Islamabad.[ix] The TTP, an umbrella organization of anti-Pakistani state militant groups, has increased attacks and expanded the scope of its operations since 2021.[x] Afghan Taliban and Pakistani security operations have degraded IS groups in recent years. However, these groups continue to exploit gaps in security to attack and leverage widespread discontent with the Pakistani state to recruit.[xi] Pakistani security service focus on suppressing unrest will likely distract Pakistani commanders' attention from operations against Salafi-jihadi groups, especially if the unrest continues, and could offer dangerous opportunities for those groups.
Protests in Pakistan, May 9, 2023:
Punjab Province
Lahore, Punjab Province
Notes: PTI supporters breached the Lahore military cantonment and burned IV Corps Commander's [xii] PTI supporters attacked Pakistani army patrols in Lahore.[xiii] Pakistani security forces fired on PTI supporters to clear them from the Lahore military cantonment and other sensitive military sites.[xiv] Central Military Hospital Lahore reported one civilian killed and 26 injured including 19 policemen, five military personnel, and three civilians.[xv]
Mianwali, Punjab Province
Notes: PTI supporters stormed a Pakistan Air Force base and set fire to a "dummy jet."[xvi]
Sialkot, Punjab Province
Notes: PTI protestors clashed with local Pakistani police.[xvii]
Multan, Punjab Province
Gujranwala, Punjab Province
Faisalabad, Punjab Province
Bahawalpur, Punjab Province
Hasilpur, Punjab Province
Notes: PTI supporters blocked roads and protested the detention of Imran Khan.[xxvi]
Rawalpindi, Punjab Province
Notes: Imran Khan supporters stormed the Pakistani Army General Headquarters in Rawalpindi. The General Headquarters is the main Pakistani Army headquarters.[xxvii]
Notes: PTI supporters protested against the arrest of Imran Khan in Faizabad Chowk, Rawalpindi.[xxviii]
Notes: PTI supporters demonstrated in front of an ISI headquarters in Rawalpindi. An Indian journalist reported the ISI fired warning shots at the demonstrators.[xxix]
Khyber-Pakhtunkwa Province
Peshawar, Khyber-Pakhtunkhwa Province
Swat-Mardan highway, Khyber-Pakhtunkhwa Province
Notes: PTI supporters burned an interchange and checkpoints on the Swat-Mardan highway.[xxxii]
Mardan, Khyber-Pakhtunkhwa Province
Notes: PTI supporters protested outside a recruitment center for the Punjab Regiment.[xxxiii]
Dir, Khyber-Pakhtunkhwa Province
Notes: PTI supporters protested against the Pakistani military and burned down a Frontier Corps' school.[xxxiv]
Chakdara, Khyber-Pakhtunkhwa Province
Banu, Khyber-Pakhtunkhwa Province
Khairabad, Khyber-Pakhtunkhwa Province
Notes: PTI protestors blocked road connecting Khyber Pakhtunkhwa and Punjab Provinces.[xl]
Sindh Province
Karachi, Sindh Province
Balochistan Province
Quetta, Balochistan Province
View Citations