November 02, 2023
Salafi-Jihadi Movement Weekly Update, November 2, 2023: Malian Junta Jeopardizes UN Forces While Clan Infighting Gives al Shabaab Opportunities in Central Somalia
Data Cutoff: November 2, 2023, at 10 a.m.
CTP has temporarily paused the Afghanistan, Iraq and Syria, and Pakistan sections of the Salafi-Jihadi Weekly Update to support the production of CTP's Iran Update, which is covering the Israel-Hamas war. This update will continue to cover the Salafi-jihadi movement in sub-Saharan Africa on a weekly basis in the interim.
Key Takeaways:
Mali. The Malian junta is hindering the ongoing UN withdrawal, which is making it easier for al Qaeda and Islamic State–affiliated militants to attack UN peacekeepers.
Somalia. Clan infighting in central Somalia will likely hinder the Somali Federal Government's (SFG) plans to remove al Qaeda affiliate al Shabaab from central Somalia and pose an enduring risk to stability in central Somalia.
Assessments: 
Mali.  
The Malian junta is hindering the ongoing UN withdrawal from Mali, which is enabling Salafi-jihadi militants to attack UN peacekeepers. UN forces expedited their withdrawal timeline from three bases in northern Mali's Kidal region, from mid-November to the end of October, after being caught in the cross fire between Malian security forces and Tuareg rebels.[1] The Malian junta has refused to allow the UN to send logistics convoys or flights to the bases, stalling the UN forces' withdrawal by preventing them from safely leaving with all of their equipment.[2] The junta seeks to delay the withdrawal to give Malian forces more time to backfill the UN so that the rebels do not seize the bases.[3] The junta's actions led UN forces to destroy military equipment they could not transport and withdraw by convoy through al Qaeda–affiliated militants' support zones to UN staging areas over 200–300 miles south.[4]
Al Qaeda's Sahelian affiliate Jama'at Nusrat al Islam wa al Muslimeen (JNIM) attacked UN forces that left the two smaller bases in the Kidal region on October 21 and 23 at least once over their nearly eight-day journey south.[5] JNIM has already attacked the over-100-vehicle UN convoy that left from Kidal town on October 31 three times within the first 48 hours of the convoy's departure.[6] The UN still has five more bases to close down before the end of 2023, including three in northern Mali, one in central Mali, and one in the capital.[7]
Malian forces have only backfilled one of the three bases in northern Mali. A contingent of Malian and Kremlin-funded Wagner Group auxiliary forces arrived by air at the UN base in Tessalit on October 13, nearly a week before the UN forces departed.[8] A large Malian-Wagner convoy that left from Gao for Kidal on October 2 was meant to take over the remaining two bases by the original UN withdrawal window in November, but it has stopped near the Gao-Kidal regional border since capturing a key crossroads town on October 7.[9] This pause and the expedited UN withdrawal allowed Tuareg rebels to take control of the remaining bases in Kidal town and Aguelhok.[10]
JNIM has attacked UN convoys in central and northern Mali at least seven times in October and 12 total times since UN forces began withdrawing from Mali in July.[11] An improvised explosive device attack on the Kidal convoy on November 1 injured eight UN peacekeepers.[12] Islamic State–affiliated militants have also attacked UN forces at least once since July.[13]
Figure 1. MINUSMA Withdraws from Northern Mali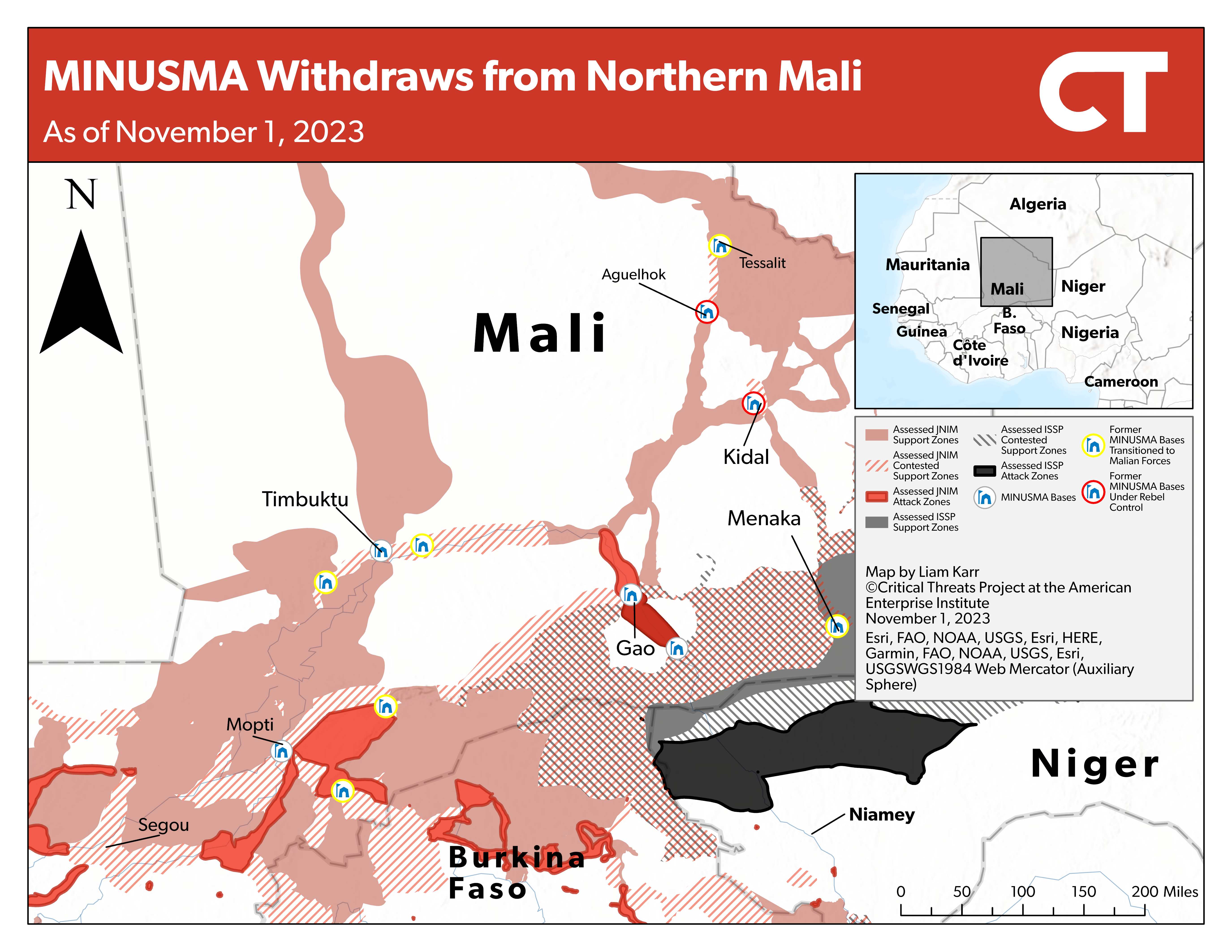 Note: "MINUSMA" is the United Nations Multidimensional Integrated Stabilization Mission in Mali. "ISSP" is the Islamic State's Sahel Province.
Source: Liam Karr.
Somalia.  
Contributor: Nate Schoonover
Clan conflicts will likely hinder the SFG's plans to remove al Shabaab from central Somalia and pose an enduring risk to the SFG's efforts without efforts to stabilize the relationships among clans. Clan conflict has broken out in two areas of central Somalia since October 21.[14] The infighting greatly diminishes the SFG's ability to launch offensive operations, as clan militias have been crucial to the SFG's offensive and the SFG put even more emphasis on clan militias' role in offensive operations after setbacks in August.[15]
Clan conflict also gives al Shabaab military and political opportunities to rebuild its influence in recently liberated areas of the country by distracting security forces and undermining local cohesion.[16] Rival clan forces have now clashed near recently liberated areas of central Somalia at least four times in 2023, indicating that fighting will continue to be an issue, barring significant efforts to reach political reconciliation among rival clan entities.[17] The SFG dispatched special police and intelligence forces on October 25 and November 1 to help quell the fighting.[18]
Two subclans from the larger Abgal clan have been involved in an escalating retaliatory cycle in the Adale district of the Middle Shabelle region since the beginning of October. One of the subclans burned down tents, which prompted the other to burn down homes in retaliation. The first subclan responded by raiding a village on October 21, killing at least four people.[19] Two rival Habar Gadir subclan militias also clashed over a territorial dispute near the outskirts of the Galmudug State capital, Dhusamareb, which killed seven people.[20] One of the clans retaliated by assassinating two businessmen of the rival clan on October 31.[21]
Local militia support has been essential to the SFG offensive in central Somalia since 2022. A lack of local support stalled operations targeting al Shabaab's remaining havens in north-central Somalia for several months after September 2022. Al Shabaab negotiated deals with the dominant subclans in some of these areas. Other subclans stopped supporting the SFG due to its use of drone strikes that risked harming innocent civilians and the SFG's perceived support for subclan rivals in the area.[22] The SFG has also relied on local clan militias to prevent al Shabaab from re-infiltrating liberated areas of central Somalia since 2022.[23] Clan infighting distracts these forces and provides opportunities for al Shabaab to exploit liberated areas both politically and militarily to re-infiltrate them.
Continued clan infighting would limit some militias' participation in the SFG's plan to give local militias the lead role in countering al Shabaab in central Somalia, because some militias would be too busy fighting each other or too distrustful to join a broader coalition with rival clans. Somali officials said the SFG would give local militias the lead role in the central Somalia offensive in early September, weeks after al Shabaab inflicted heavy casualties on government forces attempting to clear the remaining al Shabaab strongholds in central Somalia.[24] The SFG planned to do this by boosting local mobilization, paying local fighters monthly stipends, and eventually integrating them into the army.[25] The SFG has made little progress toward these goals, but the Somali president appointed the former governor of central Somalia's Hiraan region—who helped lead the initial mobilization of Hawadle subclan militias in 2022—as the head coordinator of local clan militias on October 29.[26] Any nonparticipation of local militias would undermine the manpower and local legitimacy of clan forces in affected areas.
Figure 2. Clan Infighting Creates Vulnerabilities near al Shabaab Contested Areas of Central Somalia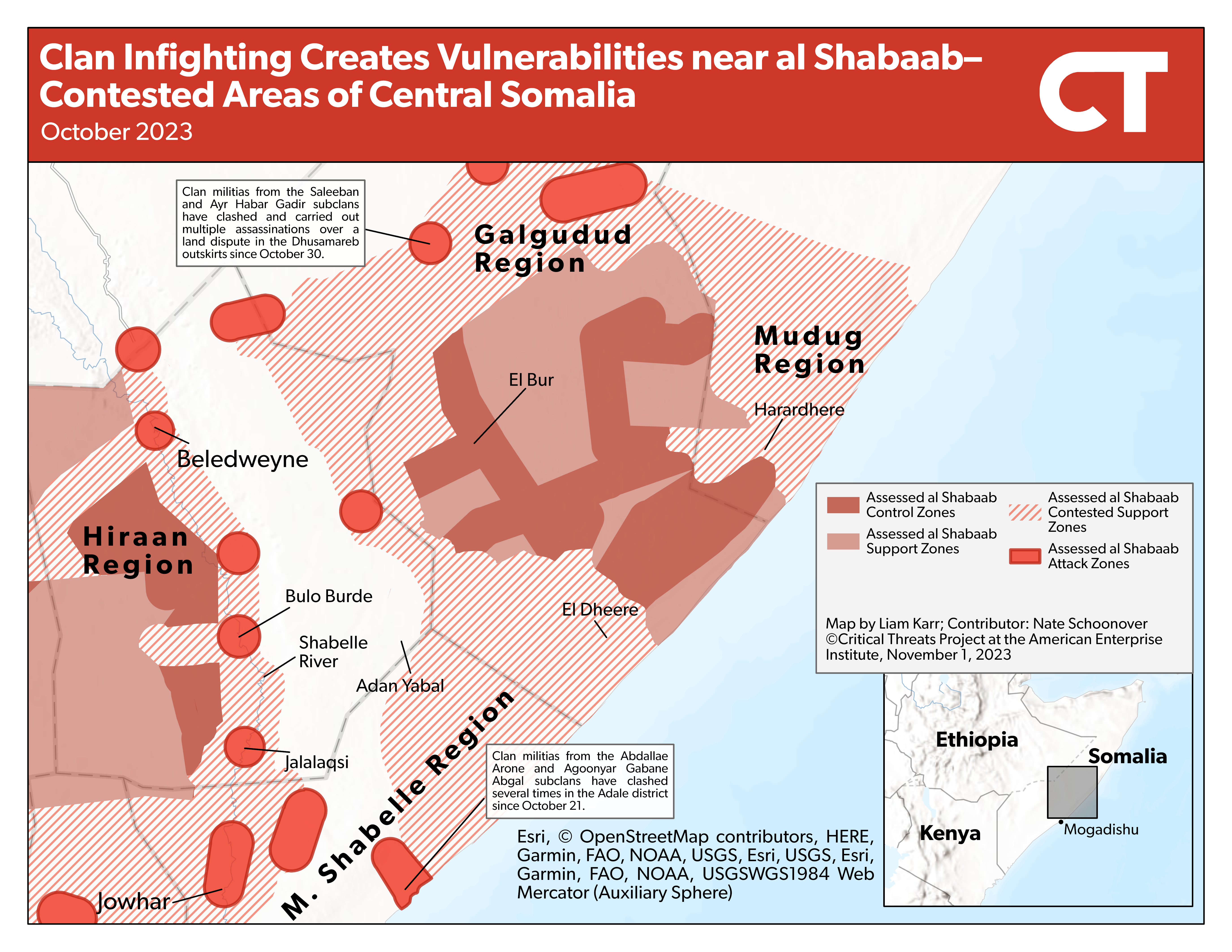 Source: Liam Karr.
View Citations