April 07, 2023
Salafi-Jihadi Movement Weekly Update, April 5, 2023
To receive the Salafi-Jihadi Movement Weekly Update via email, please subscribe here. Follow CTP on Twitter, LinkedIn, and Facebook.
Data Cutoff: April 5, 2023, at 10 a.m.
Contributor: Will Harvey
Key Takeaways:
Iraq and Syria. The Iraqi Kurdish Peshmerga and Iraqi Security Forces (ISF) will likely remain unable to address coordination issues on the line of control between Iraqi Kurdistan and federal Iraq, likely enabling ISIS to continue its low-grade insurgency in Iraq's disputed internal boundaries (DIB). ISIS uses the unsecured areas between Iraqi Kurdistan and federal Iraq to enable attacks against urban areas, such as Kirkuk city, and to resupply its attack cells across eastern Iraq. The coordination issues between the ISF and Kurdish Peshmerga will likely continue indefinitely without a political solution to the DIB issue, as stipulated under the 2005 Iraqi constitution.
Burkina Faso. The Burkinabe junta has significantly increased drone strikes targeting al Qaeda and Islamic State–affiliated militants since late March 2023 to compensate for manpower capacity limitations and boost its popular support. The drone strikes may temporarily degrade the insurgents' support zones and their ability to organize large-scale attacks on Burkinabe forces. However, both groups will likely adapt to continue attacks, and the junta's use of drone strikes will not address the inherent manpower shortage that constrains Burkina Faso's counterinsurgency operations.
Mali. Al Qaeda–linked militants have continued attacking Malian security forces in the region surrounding Mali's capital since it launched an offensive in the area in January 2023. The campaign demonstrates the militants' ability to sustain attacks in southern Mali and increases the likelihood that they have established support zones near the Malian capital. The group likely seeks to primarily discredit and undermine the junta's legitimacy with this campaign and will likely focus on military targets over civilian targets to achieve this goal. 
Afghanistan.  The Taliban have conducted more raids targeting Islamic State Khorasan Province (ISKP) in Mazar-e Sharif, northern Afghanistan's largest city, over the past three weeks than in the rest of 2023 combined. ISKP is expanding to areas in northern Afghanistan where CTP has not previously observed ISKP activity. The Taliban supreme leader is planning to purge suspected ISKP sympathizers in the Taliban's ranks, which may reduce ISKP's ability to attack high-value Taliban targets. This purge risks further marginalizing non-Pashtun Taliban leaders and increasing support for anti-Taliban groups, including ISKP.
Assessments:
Iraq and Syria.  
The Kurdish Peshmerga and ISF are unlikely to overcome coordination issues across the line of control between Iraqi Kurdistan and federal Iraq due to long-running territorial disputes, which is likely to enable ISIS to sustain its low-grade insurgency in eastern Iraq. ISIS retains support zones and freedom of movement in the vicinity of Iraq's DIB, areas that are disputed between Iraq's federal government and Iraqi Kurdistan. The 2005 Iraqi constitution stipulated these regions would be given to federal Iraq or the Kurdistan Region based on a popular referendum that did not occur.[i] ISIS has supply lines through these areas from Ninewa province into mountainous terrain in Kirkuk, Salah al Din, and Diyala provinces that are difficult for security forces to access and patrol.[ii] Mistrust between the Peshmerga and ISF—particularly in areas along the line of control where Iran-backed militias are garrisoned—undermines effective coordination between the forces.[iii] Political frictions between the two principal Kurdistan Regional Government parties that control different Peshmerga brigades may also impose bandwidth constraints on the Peshmerga.[iv]  
ISIS uses gaps between the Iraqi federal government and KRG lines of control to move people and supplies and stage attacks.[v] The gap between the Peshmerga and ISF is most pronounced between northern Kirkuk and Kifri, Diyala province.[vi] ISIS cells use this area to conduct attacks into Kirkuk city and harass locals. ISIS ambushed three Popular Mobilization Forces (PMF) fighters in central Kirkuk city on February 27 before engaging a Federal Police patrol that responded to the attack.[vii] The group also kidnapped and ransomed two shepherds and brutally executed a third north of Tuz Khurmatu in early March 2023.[viii] ISIS's ability to kidnap and then hide their victims suggests the existence of safe zones that are not permissible for ISF. Kurdish Peshmerga officials reported on March 3 that ISIS built "outposts" in mountainous areas north of Tuz Khurmatu, Salah al Din province, and Kifri, Diyala province.[ix] ISIS also redeployed an unknown number of fighters from Khanaqin, Diyala province to the Tuz Khurmatu-Kifri area on April 3.[x]
Figure 1. ISIS Activity in Iraq's Disputed Internal Boundaries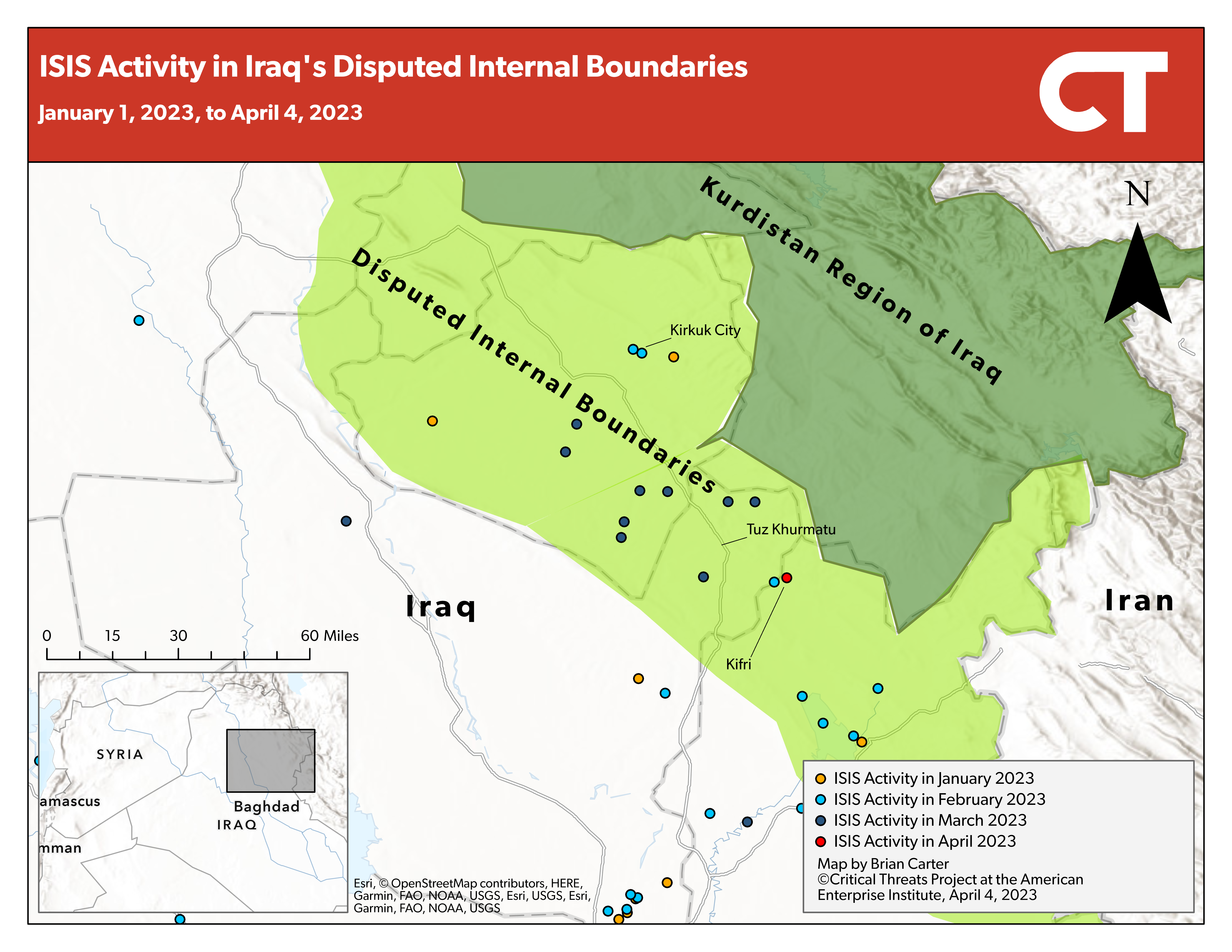 Note: Some of the locations on this map are approximate. CTP defines "attacks" as kinetic activity, including assassinations, armed assaults on military positions, executions, and bombings. "Activity" includes all forms of ISIS activity, including attacks, force movements, and reports of governance activity like zakat collection. ISIS does not generally report on these non-kinetic activities and does not claim all of its attacks.
Source: Brian Carter and the Institute for the Study of War.
Northeastern Syria. The SDF's Internal Security Forces (InSF) stated they repulsed a double suicide vest (SVEST) attack targeting an InSF headquarters in Al Nashwa neighborhood, Hasakah city, Syria, on March 31.[xi] ISIS claimed an attack on the same day in Al Nashwa neighborhood, but claimed the two fighters used small arms to engage an SDF position and did not mention the SVEST attack.[xii] The InSF published photographs of both dead fighters.[xiii]
The attack demonstrates the presence of a capable network of ISIS attack cells in northeastern Syria's urban centers. This most recent attack was only 2.5 kilometers from Al Sina'a prison, home to 3,500 veteran ISIS fighters and the site of a January 2022 ISIS prison break that freed up to 300 ISIS fighters.[xiv] ISIS likely retains a network of safe houses and informants that enable it to sustain its attacks and networks in Hasakah city. The SDF has repeatedly attempted to clear southern Hasakah city, most recently in March 2023.[xv]
ISIS previously attacked an InSF headquarters in Raqqa city in a double SVEST attack to free prisoners in December 2022.[xvi] The group did not advertise their intent to free prisoners during the attack, though opposition and SDF media cited ISIS prisoners as the attack's target.[xvii] ISIS said the December attack was revenge for the death of ISIS's so-called caliph in October 2022 and the ISIS supporters in Al Hol internally displaced persons camp.[xviii] ISIS aims to free prisoners to generate forces to escalate its insurgency against the SDF and Syrian regime.[xix]
For more on the risk of an ISIS resurgence and SDF capabilities, see Brian Carter's "Ending the US Presence in Syria Could Cause a Rapid ISIS Reconstitution and Threaten Core US National Security Interests."
Figure 2. ISIS Attacks and SDF Clearing Operations in Hasakah City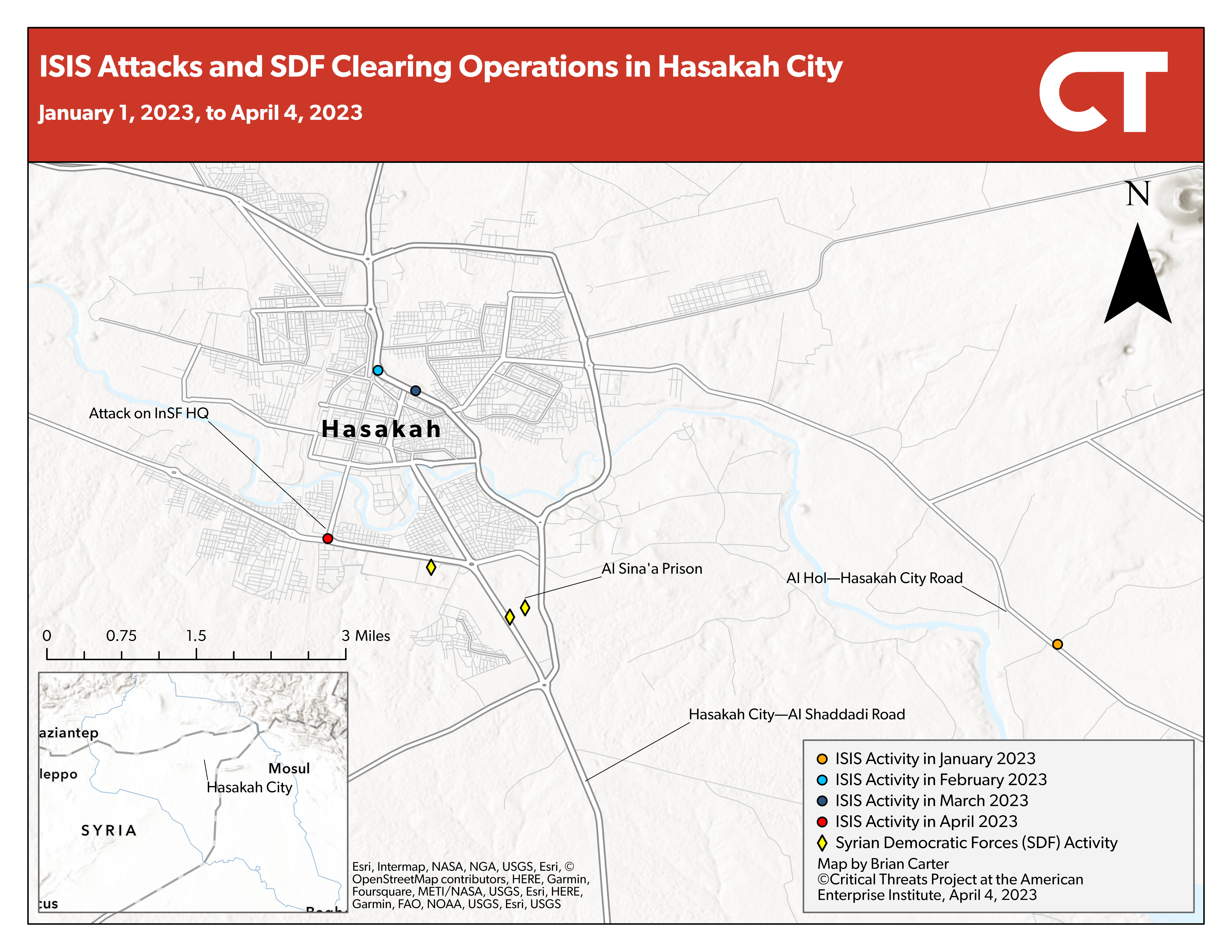 Source: Brian Carter.
Northwestern Syria. US Central Command (CENTCOM) killed senior ISIS leader Khalid 'Aydd Ahmed al Jabouri in a drone strike in northwest Syria on April 3.[xx] CENTCOM conducted the drone strike unilaterally. CENTCOM said Jabouri was responsible for planning attacks against Turkey and Europe and "developed" ISIS's structure in Turkey.[xxi]
Northwestern Syria remains highly permissive for ISIS senior en—dash leadership due to a combination of demographic and political factors. The Turkish-backed militants controlling parts of northwestern Syria recruit former ISIS fighters and host former ISIS commanders.[xxii] The presence of internally displaced persons in northwestern Syria makes it difficult for groups opposed to ISIS, such as Hayat Tahrir al Sham (HTS), to target ISIS.[xxiii] Locals cannot identify suspicious individuals for counter-ISIS forces because of the constant movements of people. HTS has conducted moderately successful counterterrorism operations against ISIS in HTS-controlled areas.[xxiv]
Figure 3. The Salafi-Jihadi Movement in the Middle East
Source: Kathryn Tyson.
Burkina Faso.
The Burkinabe junta conducted nearly three times as many drone strikes against al Qaeda and Islamic State–linked militants in late March 2023 as it did in the previous six months.[xxv] The junta has turned to drone strikes to compensate for manpower capacity limitations and to boost the junta's popular support. The drone strikes are targeting remote, rural areas on the periphery of the country to project force into insurgent havens that have little government presence outside of besieged towns.[xxvi] Government-controlled media has also heavily circulated videos of the strikes, which signals that the junta seeks to use the strikes to boost its popular support and demonstrate its competency to Burkinabe civilians.[xxvii] Several strikes provided military and symbolic value for the junta by targeting areas where al Qaeda–linked Jama'at wa Nusrat wa al Muslimeen (JNIM) and the Islamic State's Sahara Province (ISGS) inflicted heavy casualties on Burkinabe forces and civilians in February 2023.[xxviii] Burkina Faso conducted the drone strikes with Turkish Bayraktar TB2 drones and relies on Turkey for the missiles. Burkina Faso's defense expenditures are sufficient to cover the cost of the munitions.[xxix]
The drone strikes may temporarily degrade JNIM and ISGS support zones and havens where JNIM and ISGS have headquarters, affecting the groups' communications and ability to organize large-scale attacks.[xxx] The higher frequency of drone strikes will also make it riskier for militants to gather in large numbers, which will degrade JNIM's and ISGS's ability to stage large-scale ambushes on convoys and security installations.[xxxi]
Both groups are likely to adjust their operations to continue attacks on Burkinabe forces. The Islamic State's West Africa Province in Nigeria adapted to increased air pressure by moving in smaller groups and attacking more often, which enabled it to strengthen its control over rural areas where the army did not regularly operate.[xxxii]
The junta's use of drone strikes will not address the inherent manpower shortage that constrains Burkina Faso's counterinsurgency operations, which will likely allow the militants to continue relocating and returning to previously vacated areas.[xxxiii] Manpower capacity limitations have prevented Burkinabe forces from supplementing most strikes with timely and sustained ground activity.[xxxiv] The Burkinabe security forces only have 6,400 army members and 4,200 gendarmeries to secure the country.[xxxv] The junta has heavily invested in auxiliary militias to try and address the shortage, but the militias have limited training and have carried out human rights abuses that alienate citizens and feed the insurgency.[xxxvi]
Figure 4. Burkina Faso Increases Drone Strikes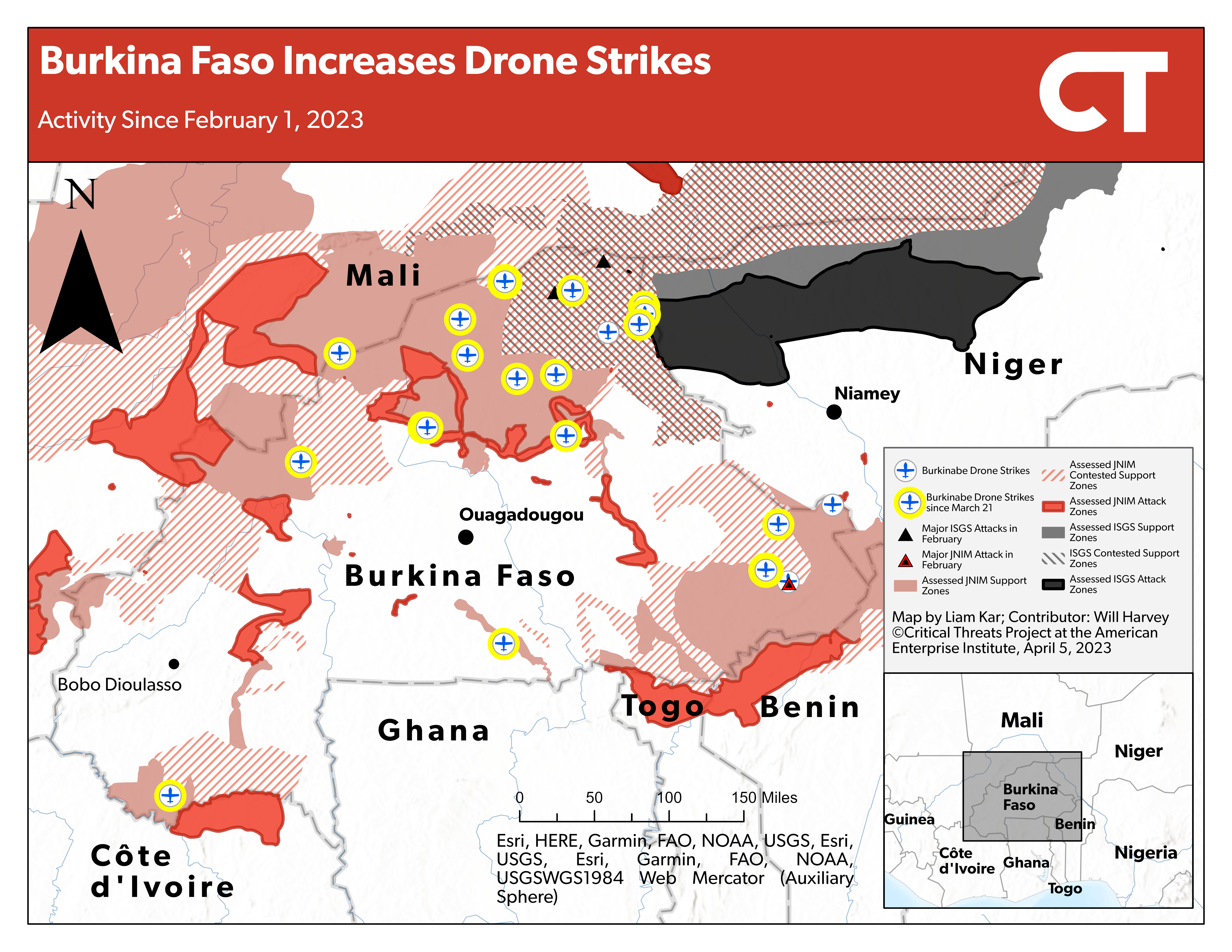 Source: Liam Karr.
Mali.  
JNIM has continued an offensive in the region surrounding Mali's capital that began in January 2023, demonstrating it has the ability to sustain attacks in southern Mali.[xxxvii] JNIM attacked Malian security forces eight times in January along the main roads leading to the Malian capital after only attacking once in the area in last quarter of 2022.[xxxviii] The group has largely continued this rate and target pattern through February and March.[xxxix]
JNIM's ability to sustain this offensive raises CTP's confidence in the assessment that the group has likely established support zones in the Koulikoro region, north of the capital.[xl] JNIM militants had previously concentrated their activity in Koulikoro in the northeast part of the region since 2018 and had relative freedom of movement there by early 2022.[xli] None of the attacks in 2023 have been in this area. JNIM has instead increased attacks around the town of Nara in north-central Koulikoro, which indicates the group has established havens in northeastern Koulikoro that it is using to stage attacks.[xlii] Unverified social media claims also say the group has refuges in forested areas in southeastern Koulikoro that it is using to orchestrate attacks on roads east of the capital.[xliii]
CTP continues to assess that JNIM primarily seeks to disrupt lines of communication in southern Mali and discredit the Malian junta with this offensive. Many of the attacks have targeted security forces in towns along the roads to the Malian capital.[xliv] This pattern demonstrates a concerted effort to challenge security forces' ability to travel throughout the region. JNIM has also regularly framed the proximity of several attacks to the capital as a challenge to the junta's authority and a sign of the junta's failure to contain the group.[xlv] This argument undermines the junta, given that its legitimacy is rooted in combating the Salafi-jihadi threat after it rose to power following successive coups that occurred after months of nonviolent protests over corruption and instability stemming from the Salafi-jihadi insurgency and other security challenges.[xlvi]
JNIM is more likely to attack military targets than civilian targets as part of this campaign. JNIM has only targeted Malian security forces in southern Mali in 2023.[xlvii] JNIM's most recent large-scale attack in the area in July 2022 also targeted the major Malian army base in Kati.[xlviii] The group has threatened attacks in the capital in recent years but has not conducted any major terror attacks there since 2015.[xlix] This focus on Malian military targets is likely a conscious strategic choice by JNIM, as it realizes that high-profile attacks in areas with international populations could provoke an international intervention that has a net negative impact on its goals.[l] However, the US and European countries are unlikely to reengage militarily in Mali, given their poor relations with the junta and the French withdrawal in 2022. This reality could embolden JNIM to pursue more brazen attacks.[li]
Figure 5. JNIM Sustains Attacks Surrounding Mali's Capital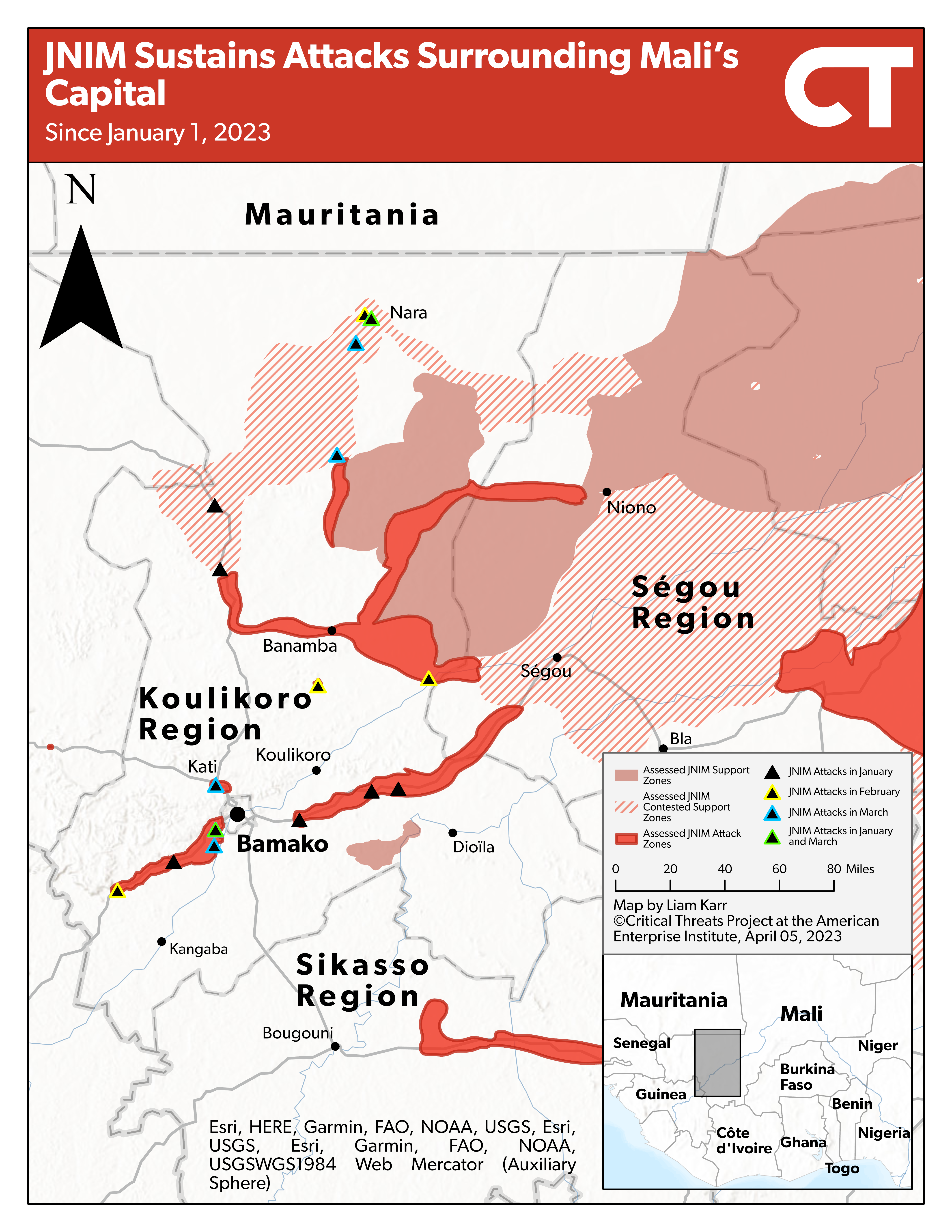 Source: Liam Karr.
Figure 6. The Salafi-Jihadi Movement in Africa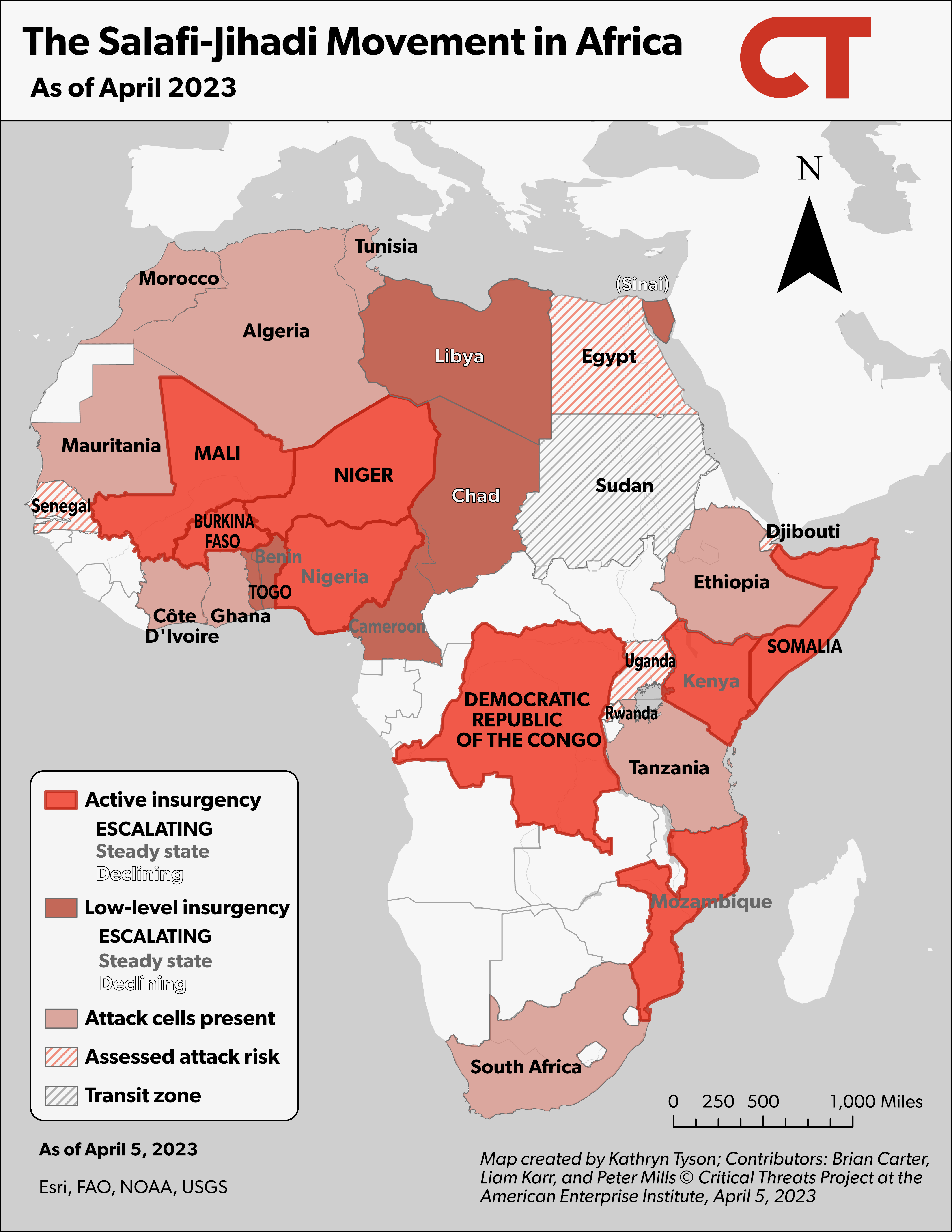 Source: Kathryn Tyson.
Afghanistan.  
The Taliban has conducted more raids targeting ISKP in Mazar-e Sharif, northern Afghanistan's largest city, over the past three weeks than in the rest of 2023 combined.[lii] The recent ISKP assassination of a senior Taliban leader and the former governor of Balkh may have contributed to the Taliban's decision to launch a crackdown on ISKP in northern Afghanistan.[liii] The Taliban conducted multiple simultaneous raids that killed ISKP leaders in Mazar-e Sharif on March 17 and March 26.[liv] The March 17 raid reportedly killed multiple Uzbekistan and Tajikistan nationals, suggesting ISKP's effort to recruit from Uzbekistan and Tajikistan is seeing some success.[lv] The March 26 raid reportedly killed a top ideologue and former interim leader of ISKP and an ISKP Tajikistan national in charge of bomb making and military training.[lvi] Not all Taliban raids may be killing ISKP militants. The former Afghan Republic Balkh governor claimed that Taliban raids were killing local civilians and calling them ISKP.[lvii] As CTP previously assessed, aggressive Taliban targeting of ISKP could result in significant civilian casualties, which ends up strengthening ISKP over time.[lviii]
The Taliban government is conducting information operations to support its counter-ISKP efforts that likely exaggerate the Taliban's recent success against ISKP. The Taliban intelligence service leaked an audio recording of ISKP leader Sanaullah Ghafari mourning the death of a top ISKP ideologue, saying "there [are] few ISKP leaders remaining."[lix] Former Afghan security officials reportedly confirmed the voice in the audio clip was Ghafari.[lx] Taliban spokesman Zabihullah Mujahid claimed the Taliban has imprisoned 1,600–1,700 ISKP militants and killed more than 1,100 since August 2021.[lxi] These numbers are more than ISKP's total strength as assessed by the United States and the United Nation's Security Council.[lxii] The Taliban has previously downplayed ISKP's presence in Afghanistan, at times outright denying the existence of ISKP.[lxiii]
The increase in Taliban raids may be due to ISKP's stronger position in northern Afghanistan. US CENTCOM commander Gen. Michael Kurilla testified on March 16 and March 24 that ISKP is stronger in 2023 than 2022 and could conduct attacks against US assets or interests abroad within six months.[lxiv] Taliban raids against suspected ISKP militants in Sheberghan, Jowzjan Province turned up weapons caches, including suicide vests.[lxv] ISKP has not previously operated in this area, but the presence of suicide vests could indicate it was preparing to conduct attacks there. This indicates ISKP is continuing to expand its presence in northern Afghanistan despite increasing Taliban pressure.
Taliban Supreme Leader Hibatullah Akhundzada is planning to purge suspected ISKP sympathizers within Taliban ranks.[lxvi] The Taliban deputy defense minister spoke about the need to remove anti-Taliban elements from the Taliban's ranks in early February and late March.[lxvii] Purging ISKP sympathizers could reduce ISKP's ability to penetrate Taliban security measures and conduct attacks on high-value Taliban targets. Suspected ISKP sympathizers purged from the Taliban may join ISKP, providing new recruits. The Taliban's marginalization of Uzbek Taliban commanders has previously led to protests and contributed to some Uzbek Taliban members joining ISKP.[lxviii]
ISKP may respond to increased Taliban pressure by undertaking an operational pause to rebuild its leadership and improve security for its commanders. In a most dangerous scenario, the Taliban's internal purge and increased marginalization of non-Pashtun Taliban members could provide an opening for ISKP to build support among local communities in northern Afghanistan. This would potentially help ISKP leaders avoid Taliban counter-ISKP operations.  
Figure 7. The Salafi-Jihadi Movement in Central and South Asia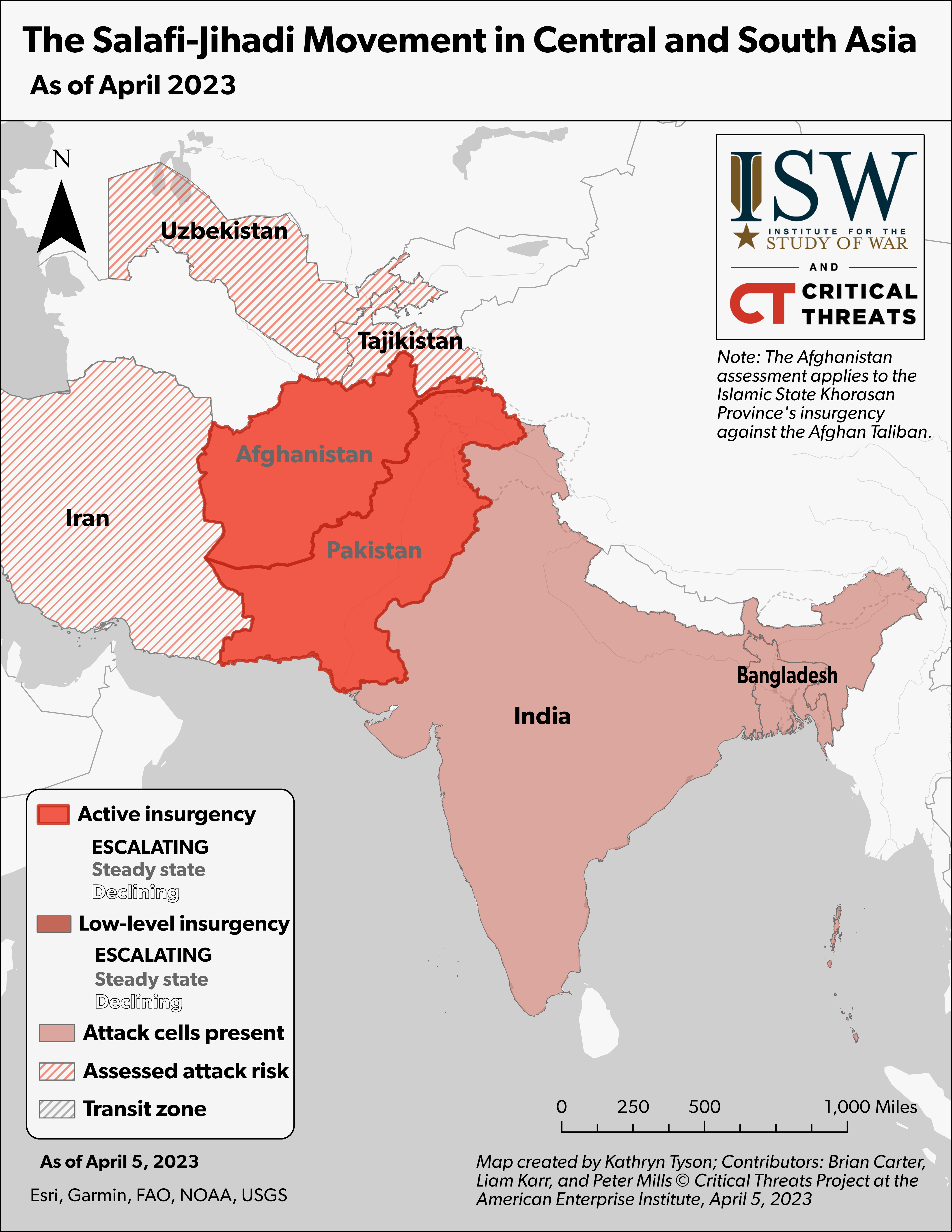 Source: Kathryn Tyson.
Figure 8. TTP Attacks and Pakistani Operations Against The TTP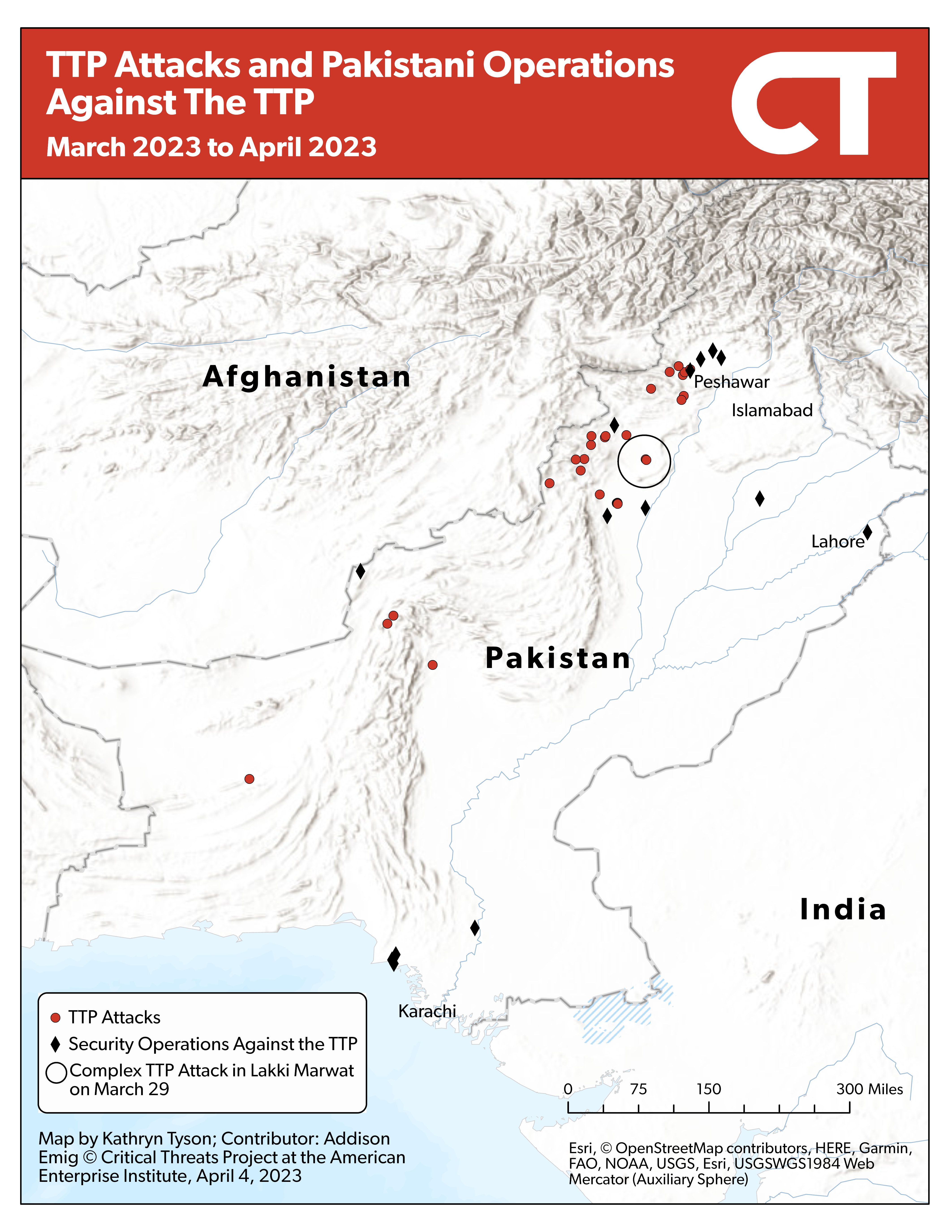 Source: Kathryn Tyson.
Other Updates
Pakistan. The Tehrik-e-Taliban Pakistan (TTP) killed a deputy police chief in a complex attack in northwestern Pakistan on March 29.[lxix] The TTP ambushed a police station and injured six police officials in Lakki Marwat. An improvised explosive device (IED) detonated on the deputy police chief's vehicle, killing the chief and three other officials on board.[lxx] The TTP frequently conduct small-arms assaults or IED attacks in the city, but the coordinated ambush and IED attack demonstrates a tactical complexity unlike recent TTP attacks in the area.
View Citations