August 03, 2023
Salafi-Jihadi Movement Weekly Update, August 2, 2023
To receive the Salafi-Jihadi Movement Weekly Update via email, please subscribe here. Follow CTP on Twitter, LinkedIn, and Facebook.
Data Cutoff: August 2, 2023, at 3 p.m.
Key Takeaways:
Iraq and Syria. ISIS targeted Shi'a civilians at Sayyida Zainab, southern Damascus city, in two separate motorcycle-borne improvised explosive device (IED) attacks on July 23 and 25, which may be the first in irregular but sustained ISIS attacks against urban centers in Syria.
Russia and Syria. Russia is continuing an information operation that aims to deflect responsibility for the increase in tensions between the United States and Russia and Syria. This information operation aims to make Syria a less permissible environment for US forces by further delegitimizing the US presence in Syria to a regional audience.
Niger. The Nigerien junta is unlikely to capitulate to international pressure to reverse its coup, which will result in its international isolation and could lead the junta to seek out the Wagner Group as a long-term replacement for Western support. The junta's obstinacy may also prompt an Economic Community of West African States (ECOWAS) military intervention, which is a most-dangerous scenario that would likely create vacuums for Salafi-jihadi groups to fill and spread regional instability.
Afghanistan. Islamic State Khorasan Province (ISKP) released propaganda addressing National Resistance Front (NRF) supporters to convince them to defect to ISKP, which is highly unlikely to be successful due to fundamental differences in ideology and strategic goals.
Pakistan. ISKP claimed a suicide bombing at a political rally for a conservative Islamist Pakistani political party linked to the Afghan Taliban, likely as part of ISKP's effort to build support zones in northwestern Pakistan. This was ISKP's deadliest attack since January 2023.
Assessments:
Iraq and Syria.  
ISIS attacked Shi'a civilians and militia members at Sayyida Zainab, southern Damascus city, in two separate motorcycle-borne IED attacks on July 23 and 25, which may be the first in sporadic but consistent ISIS attacks against Syrian urban centers.[1] These attacks were ISIS's second and third in Damascus since May, when it detonated a car bomb targeting regime police in northern Damascus.[2] ISIS maintains ground lines of communication into Damascus and other urban areas in Syria from its support zones in the central Syrian desert, from which it will retain the capability to conduct additional attacks in Damascus and other urban areas if these support zones are not disrupted.
Figure 1. ISIS Attacks in Western Syria in 2023
Source: Brian Carter.
Pro-regime forces often opt to prioritize key industrial, strategic, and religious sites in Syria over rural hinterlands. Russia's Wagner Group and its proxies launch limited operations into the desert around oil infrastructure, but they primarily aim to secure those sites over rural areas.[3] Shi'a religious sites are significant to Iranian-backed Shi'a counter-ISIS forces, while urban centers have greater strategic significance to the regime given their greater population density. The greater amount of Syria's population the regime controls, the greater the claim to legitimacy it has. Iranian, Russian, and Syrian forces often protect ground lines of communication in Deir ez Zor's urban belt, only launching limited excursions into the desert that do not secure territory.[4]
If sporadic but consistent ISIS attacks continue, the regime's choice to prioritize urban sites, such as Sayyida Zainab, over rural hinterlands may cause pro-regime forces to pull back from rural areas to protect urban ones. This would leave other rural areas, such as the central Syrian desert, more exposed and allow ISIS to further strengthen its presence there. Increased ISIS strength in the Syrian desert would allow it to sustain additional attacks into key regime urban areas, such as Damascus, Homs city, or Hama city. This line of effort aligns with ISIS attacks targeting the urban belt in regime-held Deir ez Zor, which would also cause regime forces to pull back to protect populated urban centers and leave rural areas exposed.[5] ISIS's strength in some areas of central Syria has already enabled it to strengthen its ground lines of communication with ISIS cells in southern Syria and protect ISIS leadership in the desert.[6]
The attack illustrates ISIS's view of its own strength in Syria and demonstrates the group's continued strength to its supporters and prospective recruits. ISIS has claimed four attacks in the central Syrian desert since June, suggesting it has enough confidence in its ability to sustain losses caused by pro-regime responses to ISIS activity.[7] The group previously did not claim attacks in the central Syrian desert, citing operational security.[8] The urban attacks in Damascus demonstrate the group's continued military success to prospective recruits and supporters, which is a core component to its military-focused insurgency.[9]
Figure 2. ISIS Lines of Effort in Central Syria, November 1, 2022-January 31, 2023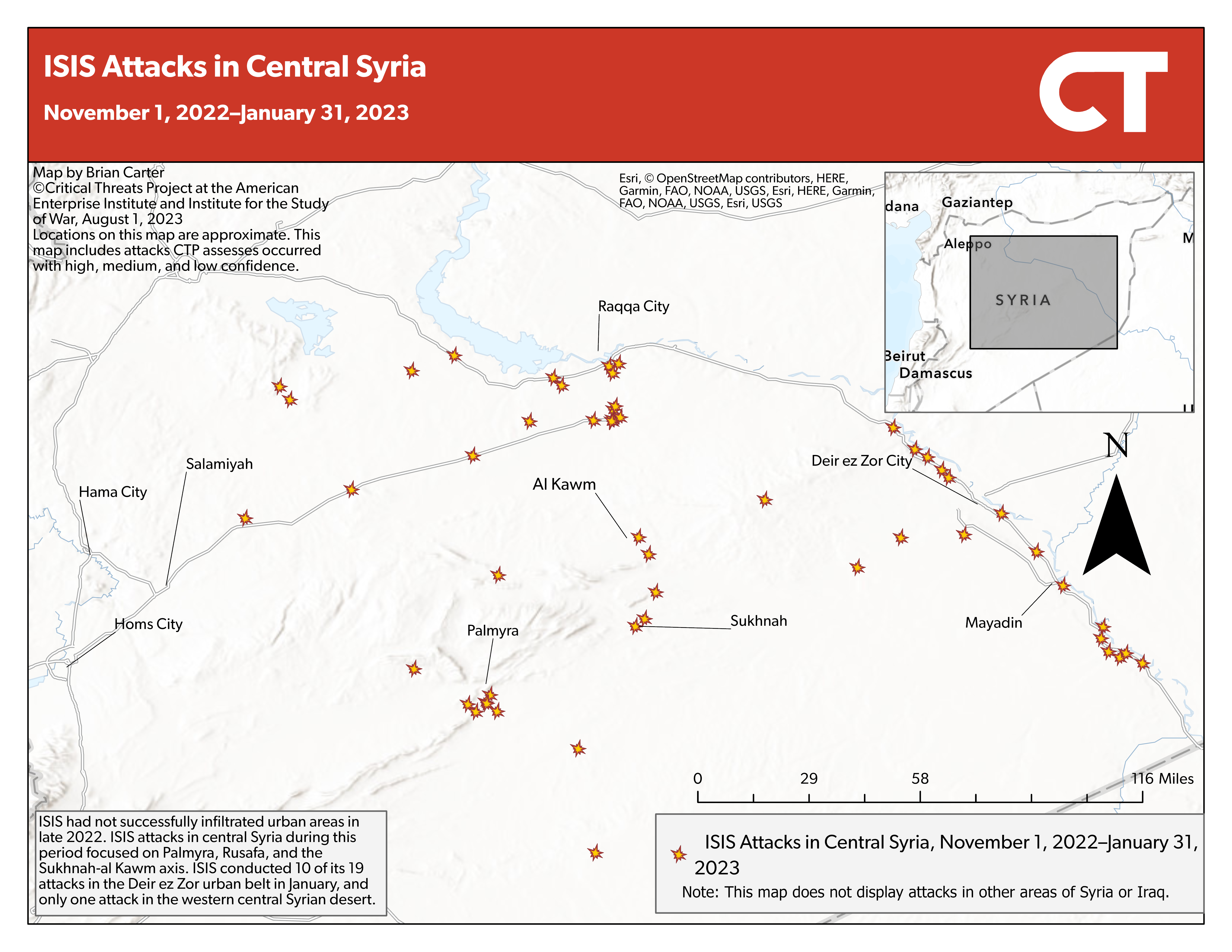 Source: Brian Carter.
Figure 3. ISIS Lines of Effort in Central Syria, February 1, 2023—April 30, 2023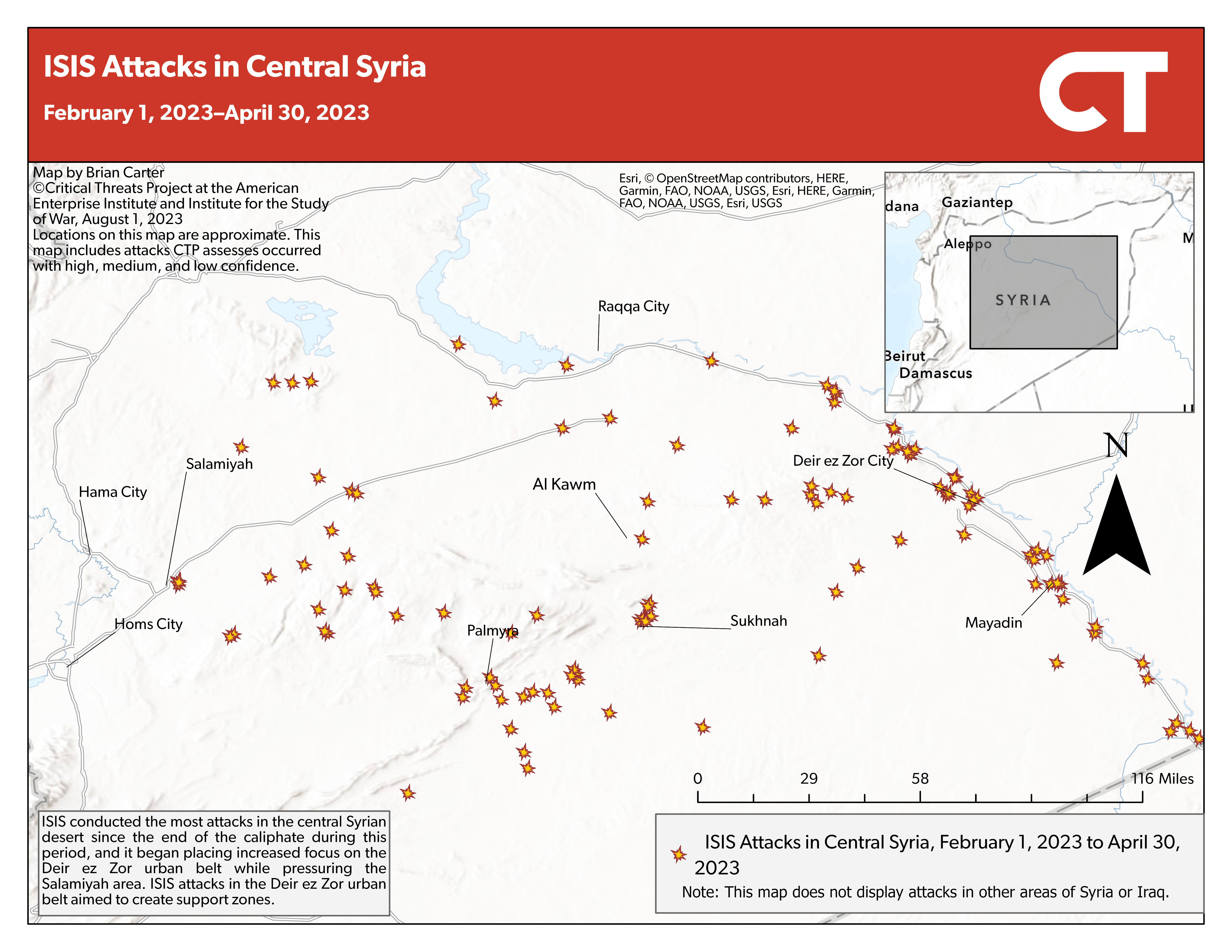 Source: Brian Carter.
Figure 4. ISIS Lines of Effort in Central Syria, May 1, 2023—July 31, 2023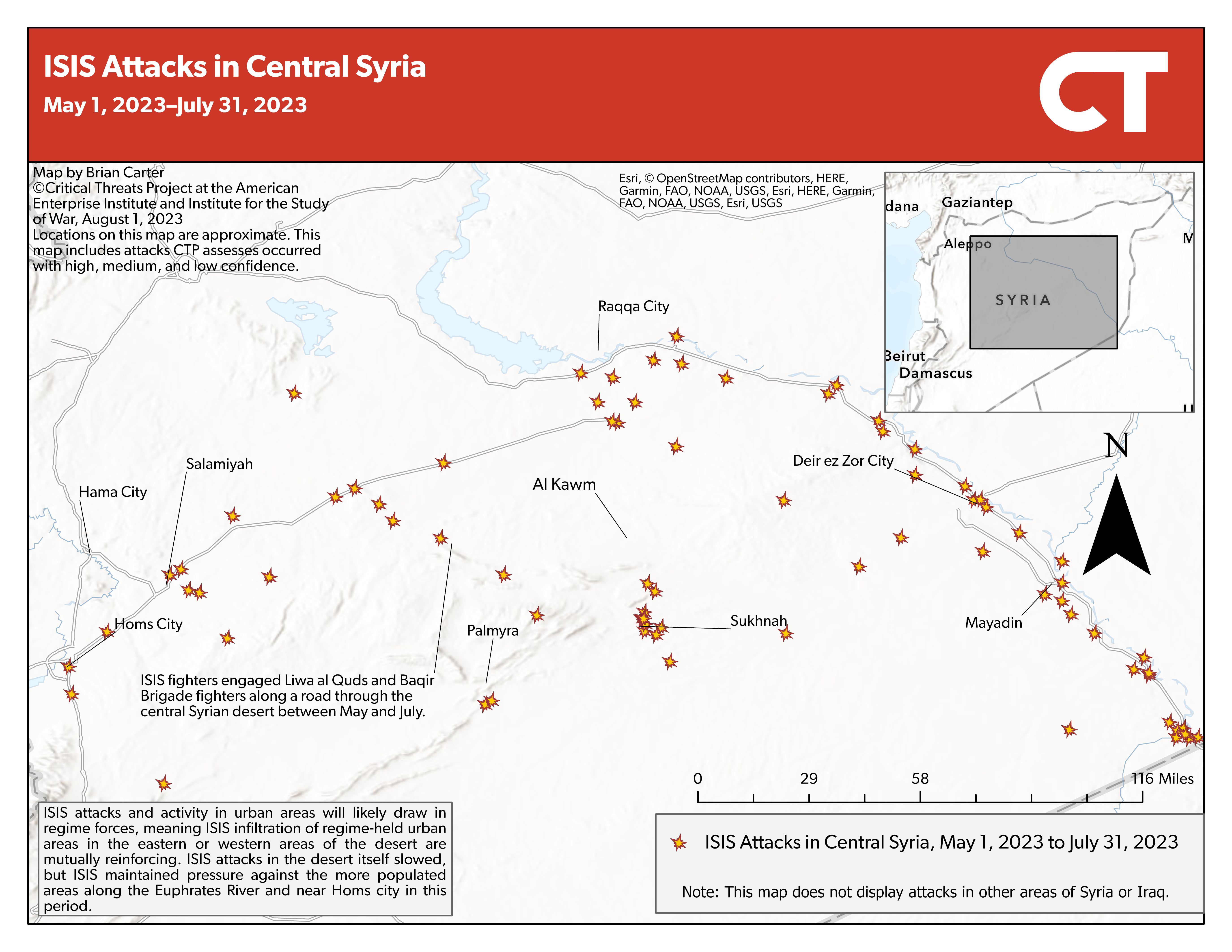 Source: Brian Carter.
The location, target, and pattern of ISIS activity in the western central Syrian desert also suggest ISIS is responsible for two attacks near Homs city, which indicates the group may be establishing attack cells in other urban areas. Central Syrian desert support zones are capable of sustaining attack cells in Homs, and ISIS forces have been pressuring regime forces east and southeast of Homs city in 2023.[10] The two attacks targeted high-ranking regime officers using IEDs.[11] ISIS did not claim these attacks, but ISIS commonly uses IEDs to target regime forces in central Syria.[12] CTP cannot discount the possibility that other armed actors, including former opposition forces, are responsible for this attack. The opposition was "reconciled" north of Homs in 2018, but reconciliation agreements brokered by Russia have seldom resulted in an end to fighting or insurgent activity.[13] Deraa, southwestern Syria, continues to see a major insurgency despite a reconciliation agreement.
The regime lacks the capability to roll ISIS back in the central Syrian desert, in contrast to a recent UN assessment that claimed "military pressure" has "contained" ISIS in central Syria.[14] The regime is capable of removing ISIS attack cells in Damascus and elsewhere temporarily, but its operations lack strategic and operational coordination and foresight. The regime has no cohesive campaign plan that would allow it to systematically and permanently defeat ISIS. Regime efforts are often reactive in the form of short-term clearing operations that do not hold ground and fail to prevent ISIS's return.[15] Large-scale ISIS clearing operations in 2020 and 2021 temporarily rolled back ISIS gains, but did not defeat the group.[16] ISIS conducted its largest number of attacks in early 2023 since the end of the territorial "caliphate" in 2018.[17] ISIS will continue to infiltrate attack cells into urban areas with the objective of intimidating urban and semi-urban populations, unless its support zones are disrupted.
Russia and Syria. 
Russia is continuing an information operation that aims to deflect responsibility for the increase in tensions between the United States and Russia and Syria. This information operation aims to make Syria a less permissible environment for US forces by further delegitimizing the US presence in Syria to a regional audience. Russian officials began increasing claims about US harassment of Russian aircraft in March, suggesting the Russian increase was an attempt to prevent the US from seizing the information initiative.[18] US officials began highlighting Russian aggression in Syria in March.[19] Russian officials are deliberately obfuscating their aggressive role in recent tensions by claiming that US aircraft are locking onto them, causing Russian aircraft to launch flares. Russian aircraft dispensed flares over a US MQ-9 Reaper drone conducting counter-ISIS missions—an air-to-ground mission—several times in July. An MQ-9 equipped for counter-ISIS operations would not be capable of locking onto Russian aircraft with air-to-ground munitions.
Russian air and ground aggression targeting US forces increases the risk of miscalculation or error, which could imperil the US mission in Syria. The United States in Syria aims to defeat ISIS alongside a coalition of 77 nations and with the legal backing of the United Nations.[20] US Central Command assesses that Russian aggression does not currently impede day-to-day US operations against ISIS, but the risk of escalation could inhibit the United States' ability to operate.[21] Russian overflights of US positions threaten the safety of US forces in Syria, because Russia is sharing intelligence gained in these flights with Iran.[22] Iranian-backed forces in Syria attack US forces there and would be capable of using this intelligence to increase the accuracy and deadliness of their attacks, should they choose to do so. 
Figure 5. The Salafi-Jihadi Movement in the Middle East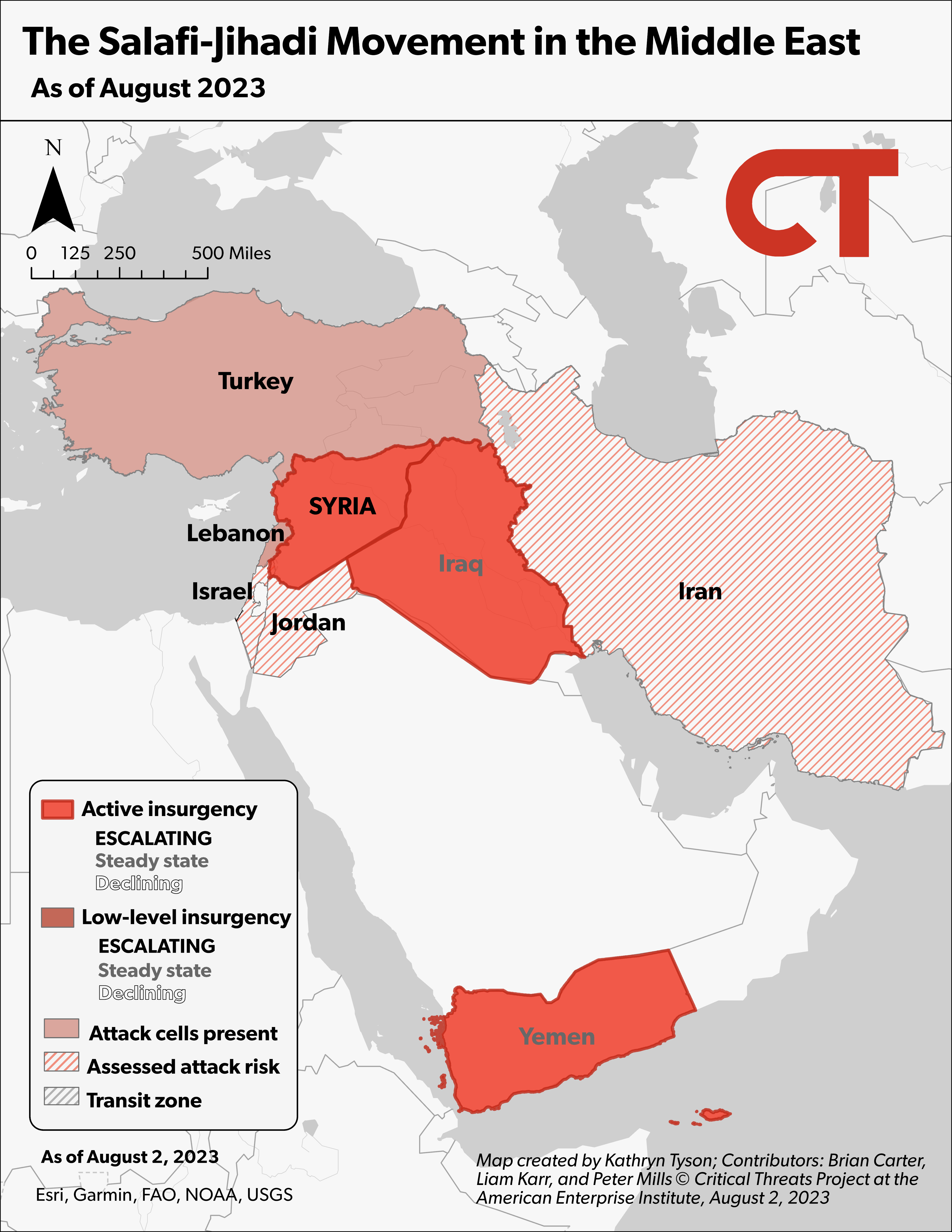 Source: Kathryn Tyson.
Niger.

  
The Nigerien junta is unlikely to capitulate to international pressure to reverse its coup. Nigerien security forces detained Nigerien President Mohamed Bazoum and took control of the country on July 26.[23] Regional and international states and organizations have imposed sanctions and cut aid.[24] ECOWAS, a regional political and economic bloc in West Africa, threatened to use force to undo the coup.[25] The junta has doubled down on its coup by striking a deal with neighboring juntas to jointly defend against an ECOWAS intervention, arresting civilian officials, appointing military officers to leading government positions, and decreasing cooperation with Western partners.[26]
The junta's opposition to ceding authority back to civilians will result in its international isolation and force the junta to seek auxiliary forces. The EU and US have already cut military cooperation with Niger, and the deteriorating relationship between the West and the junta will make current French and US deployments in the country untenable.[27] The Nigerien military would need to compensate for the loss of Western troops, supplies, and funding. The junta's most likely options would be strengthening civilian militias, like Burkina Faso did, or hiring the Kremlin-funded Wagner Group, like Mali did.[28] Wagner financier Yevgeny Prigozhin has already advertised Wagner as an option for the new junta, and a Nigerien delegation traveled to Bamako on August 2 to request a "rapid deployment" of Wagner forces to Niger.[29] However, CTP has previously assessed that Wagner Group likely lacks the capacity to deploy to Niger in the near future unless they redeploy forces already in Africa, and Russia's ambassador to Nigeria said Russia has no plans to use its forces in Niger.[30] This scenario has become more feasible with the new alliance between Mali and the Nigerien junta given Wagner's 1,000-strong force in Mali.[31]
Supporting civilian militias or deploying the Wagner Group will almost certainly increase human rights abuses and exacerbate communal tensions, which Salafi-jihadi groups will use to expand. Civilian militias in Burkina Faso and Mali and the Wagner Group in Mali have significantly increased the rate and severity of human rights violations against civilians.[32] The spread of such abuses would undo the progress the Nigerien government has made by limiting support for local self-defense groups.[33] Nigerien initiatives to prioritize communal reconciliation efforts have led to numerous local peace agreements that have helped slow the Salafi-jihadi insurgency in Niger.[34]
An ECOWAS intervention into Niger could happen and would be a most-dangerous scenario. Constraints on neighboring militaries put them in a poor position to support a long-term intervention or peacekeeping force. Nigeria faces a major multifaceted security crisis, while the Sudanese civil war has increased division in the ruling Chadian military.[35] The costs of intervening in Niger are also greater than previous ECOWAS interventions, such as in Gambia in 2017.[36] Niger is geographically larger with a stronger military, additional regional allies, and an ongoing internal conflict.[37] Regional leaders have said they are still preparing for an intervention despite these costs.[38]
CTP is tracking the following indicators of a regional West African intervention into Niger:
Figure 6. Regional Reactions to Niger's Coup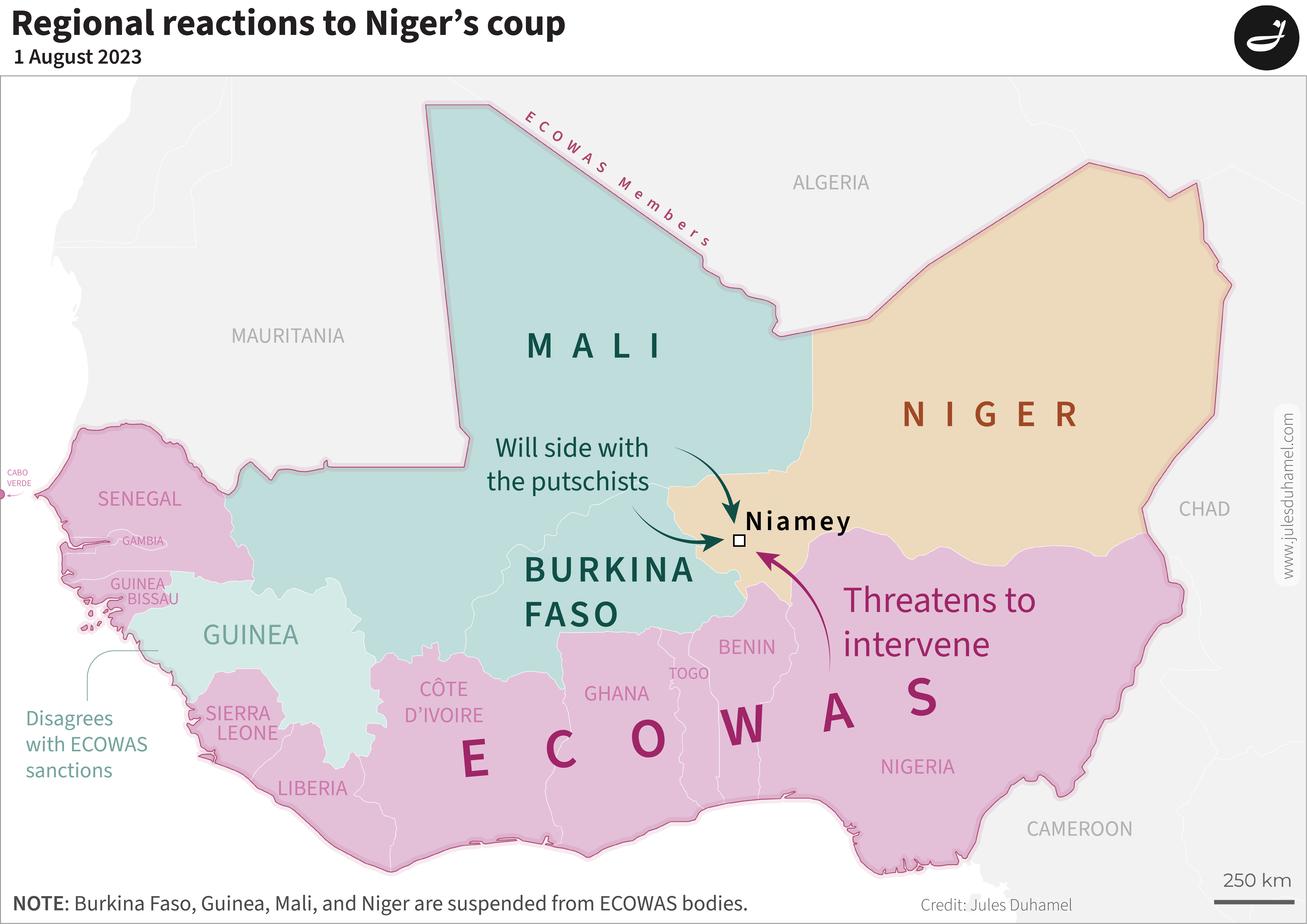 Source: Jules Duhamel.
An ECOWAS military intervention would create immediate opportunities for Salafi-jihadi groups to strengthen by significantly reducing counterterrorism pressure in West Africa as counterinsurgent forces prioritize each other over the insurgencies. Al Qaeda– and Islamic State–linked militants are active in peripheral areas of Niger that would not be priorities for security forces unless the intervention force included combating insurgents in its operational planning and mandate.
Al Qaeda associate Jama'at Nusrat al Islam wa al Muslimeen (JNIM) evicted several villages in southwestern Niger weeks before the coup and will be able to consolidate a foothold in the area that it can use as a rear base for operations in eastern Burkina Faso, Benin, or northwestern Nigeria.[48] The Islamic State's West Africa Province will fill any vacuum in southeastern Niger to create rear bases that it can use to mitigate regional counterterrorism efforts focusing on its havens in northeastern Nigeria.[49] The Islamic State's Sahel Province will also benefit from the lull in counterterrorism pressure in northwestern Niger to recuperate from setbacks that JNIM and French-supported Nigerien forces inflicted in July.[50] These groups could also exploit any gaps that arise from Burkina Faso, Mali, and Nigeria diverting resources away from counterterrorism operations in their own countries.
Figure 7. Salafi-Jihadi Areas of Operation in West Africa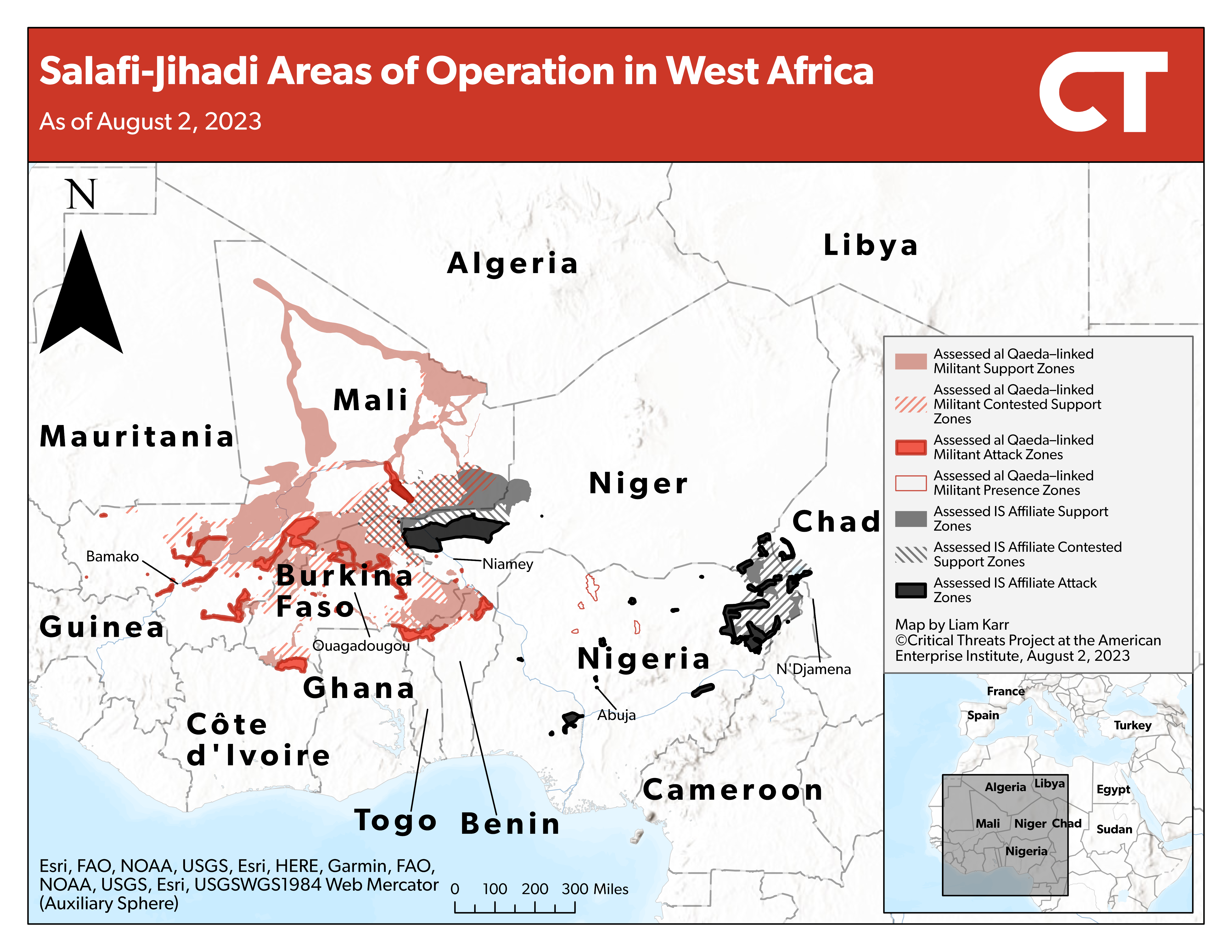 Source: Liam Karr.
An ECOWAS military intervention would likely worsen the security situation in Niger and the region in the long term, regardless of its outcome. Forcibly reinstituting President Bazoum would undermine his credibility and play into harmful narratives that France and the West are underpinning his administration.[51] A regional intervention would also weaken the Nigerien military unless the junta capitulates, creating a potential vacuum for Salafi-jihadi groups. Regional forces lack the capacity for a successful peacekeeping mission, and junta-backed auxiliary forces would be prone to human rights abuses, as earlier assessed. Burkina Faso and Mali entering the fighting on the Nigerien junta's side would further dilute their own capacity to slow the spread of Salafi-jihadi groups on their territory. A regional intervention also risks destabilizing probable contributor countries such as Nigeria or Chad, as previously stated, which would have significant consequences because of their large militaries and important roles in regional affairs.
Niger and regional powers could also come to a compromise involving the release of President Bazoum and a road map to restoring civilian rule. Regional mediation efforts have continued despite the rising tension between ECOWAS and the junta. The Chadian president separately met with the junta leaders and President Bazoum on July 30.[52] An ECOWAS delegation including a former Nigerian president and the religiously significant Sultan of Sokoto traveled to Niger on August 2.[53] These discussions will give ECOWAS and the junta an off-ramp to avoid violence while still protecting their reputations. International sanctions have also caused widespread blackouts and will severely weaken Niger's economy, which make a negotiated settlement more likely by causing civil unrest or faltering support for the coup among the Nigerien security forces.[54] A similar road map failed in Mali due to the army's heavy influence in the transition process, leading to a second coup that installed the country's current junta.[55] 
It is unlikely that a compromise deal would mitigate the fallout between Niger and its Western partners. The coup has emboldened anti-Western supporters, as shown by protesters attacking the French embassy and Niger's opposition party that supports the coup calling for detaining European civilians until all foreign troops leave Niger.[56] The junta has fed this anti-Western sentiment and directly criticized Niger's Western-backed counterterrorism approach.[57] The United States must also cut all security aid according to US law until a democratically elected government retakes power.[58]
Figure 8. The Salafi-Jihadi Movement in Africa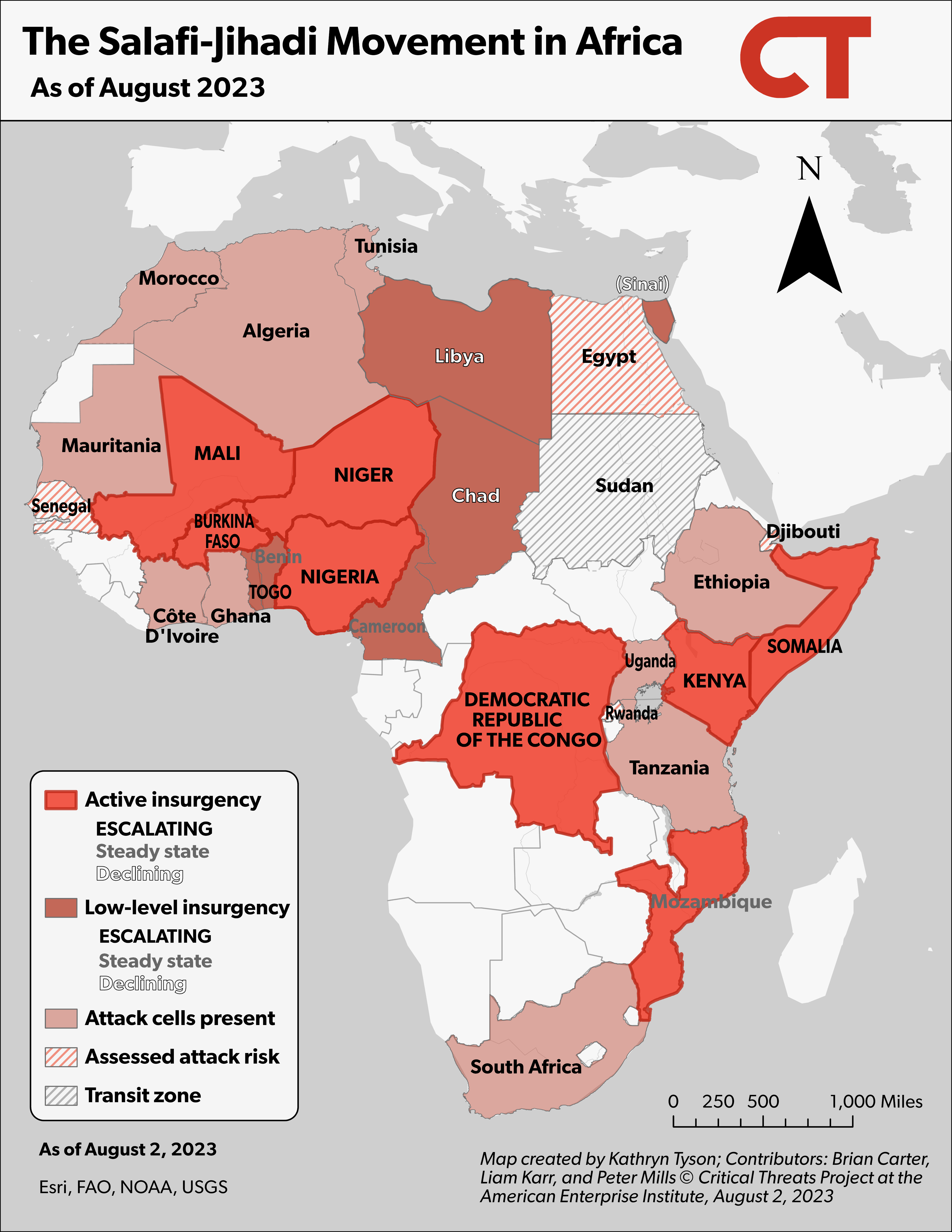 Source: Kathryn Tyson.
Afghanistan.  
ISKP is targeting propaganda at NRF supporters to convince them to defect to ISKP.[59] ISKP propaganda is trying to demoralize NRF supporters—by arguing the West has abandoned the NRF—and convince them to abandon Afghan nationalism and join ISKP in fighting the Taliban.[60] This is similar to ISKP propaganda efforts targeting Uzbeks and Tajiks, who make up the majority of the population in northern Afghanistan.[61] Both ISKP and the NRF operate across northern Afghanistan, including Badakhshan, Kunduz, and Takhar Provinces.[62] This effort is unlikely to succeed given the ideological differences between the groups. The NRF seeks a reestablished democratic state in Afghanistan, which is fundamentally different from the ISKP objective of a transnational caliphate.[63] CTP has not observed any cases of NRF members defecting to ISKP or supporting ISKP operations.
The Taliban will very likely use this ISKP rhetoric to support Taliban information campaigns that tie ISKP to the NRF to delegitimize both groups domestically and internationally. To undermine ISKP's claimed ideological purity, pro-Taliban social media accounts are framing ISKP as hypocrites for working with the NRF.[64] Taliban information operations claimed in May that the NRF supported ISKP rocket attacks against Tajikistan.[65] Taliban efforts to equate the NRF to ISKP also obstruct the NRF's efforts to gain international legitimacy.
Pakistan. 
ISKP claimed a suicide bombing that killed and wounded 180 people at a Taliban-linked conservative Islamist Pakistani political party rally in Bajaur, Pakistan, likely as part of an effort to build support zones in Bajaur that will gradually increase ISKP's control over the population.[66] ISKP condemned the conservative Islamist Jamiat Ulema-e Islam Fazl (JUI-F), the target of the attack, for their participation in Pakistani elections, support for Pakistani and Taliban counterterrorism operations against ISKP, and close ties to the Taliban movement.[67]
ISKP propaganda called on Sunnis and religious leaders to abandon democracy and join ISKP.[68] ISKP's leader previously wrote in July 2020 that ISKP should give priority to targeting ideological rivals and religious and tribal leaders who undermine ISKP's legitimacy in areas where ISKP has a strong presence.[69] Targeting ideological and political rivals allows ISKP to coerce support from the population and supplant its competitors. Coercing the population and supplanting competitors will allow ISKP to draw on greater support from the population, which it would use to conduct future attacks in Pakistan targeting local leaders, government forces, and religious rivals. This supports ISKP's overarching objective to undermine the Pakistani state's legitimacy and ability to provide security.
ISKP may conduct similar attacks to disrupt Pakistan's oncoming election season. Pakistani elections are scheduled to take place in October 2023.[70] ISKP has repeatedly attacked Pakistani political parties, particularly JUI-F, for participating in Pakistan's democratic elections.[71] ISKP attacks during Pakistani elections season would undermine Pakistani governance and its democratic legitimacy by undermining its ability to hold democratic elections in parts of northwestern Pakistan, where anti-government protesters were most prominent in May 2023.
Figure 9. The Salafi-Jihadi Movement in Central and South Asia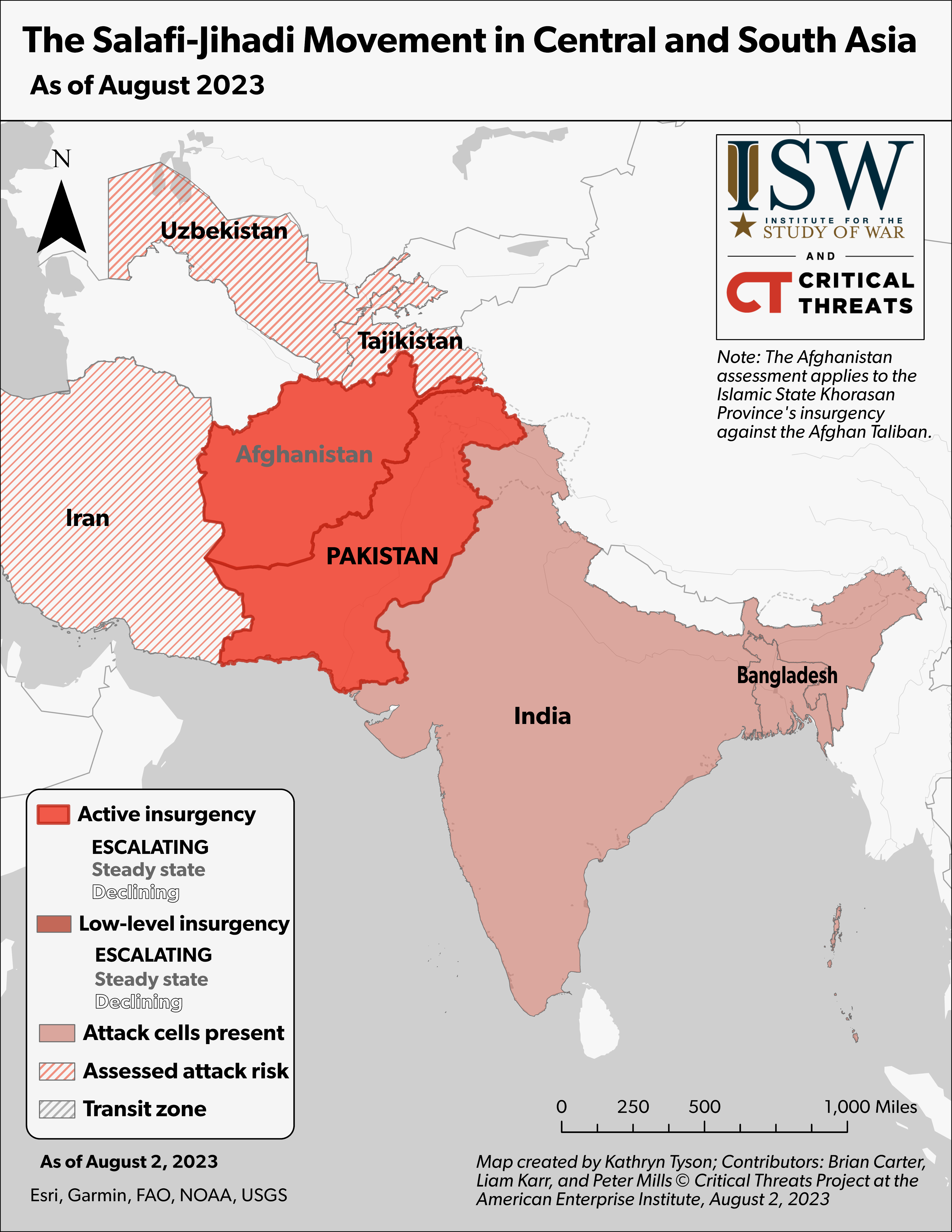 Source: Kathryn Tyson.
View Citations