September 08, 2023
Salafi-Jihadi Movement Weekly Update, September 7, 2023
To receive the Salafi-Jihadi Movement Weekly Update via email, please subscribe here. Follow CTP on Twitter, LinkedIn, and Facebook.
Data Cutoff: September 6, 2023, at 10 a.m.
Key Takeaways:
Iraq and Syria. CTP will publish a special edition on the fighting between the US-backed Syrian Democratic Forces (SDF) and anti-SDF tribal forces during the week of September 11. 
Pakistan. Rival Tehrik-e-Taliban Pakistan (TTP) factions met and demonstrated their first sign of reconciliation after eight months, which indicates the TTP is trying to reduce internal tensions. A TTP faction could defect to the Islamic State Khorasan Province (ISKP) as ISKP positions itself as an alternative to the TTP.
Afghanistan. The Taliban announced it signed major mining contracts, which could help stabilize the Afghan economy and improve the Taliban government's legitimacy domestically. Taliban expropriation of land to facilitate foreign mining contracts and Taliban infighting in northeastern Afghanistan could exacerbate security issues and hinder implementation of the contracts with Chinese firms, however.
Assessments:
Pakistan.  
Figure 1. The Salafi-Jihadi Movement in Central and South Asia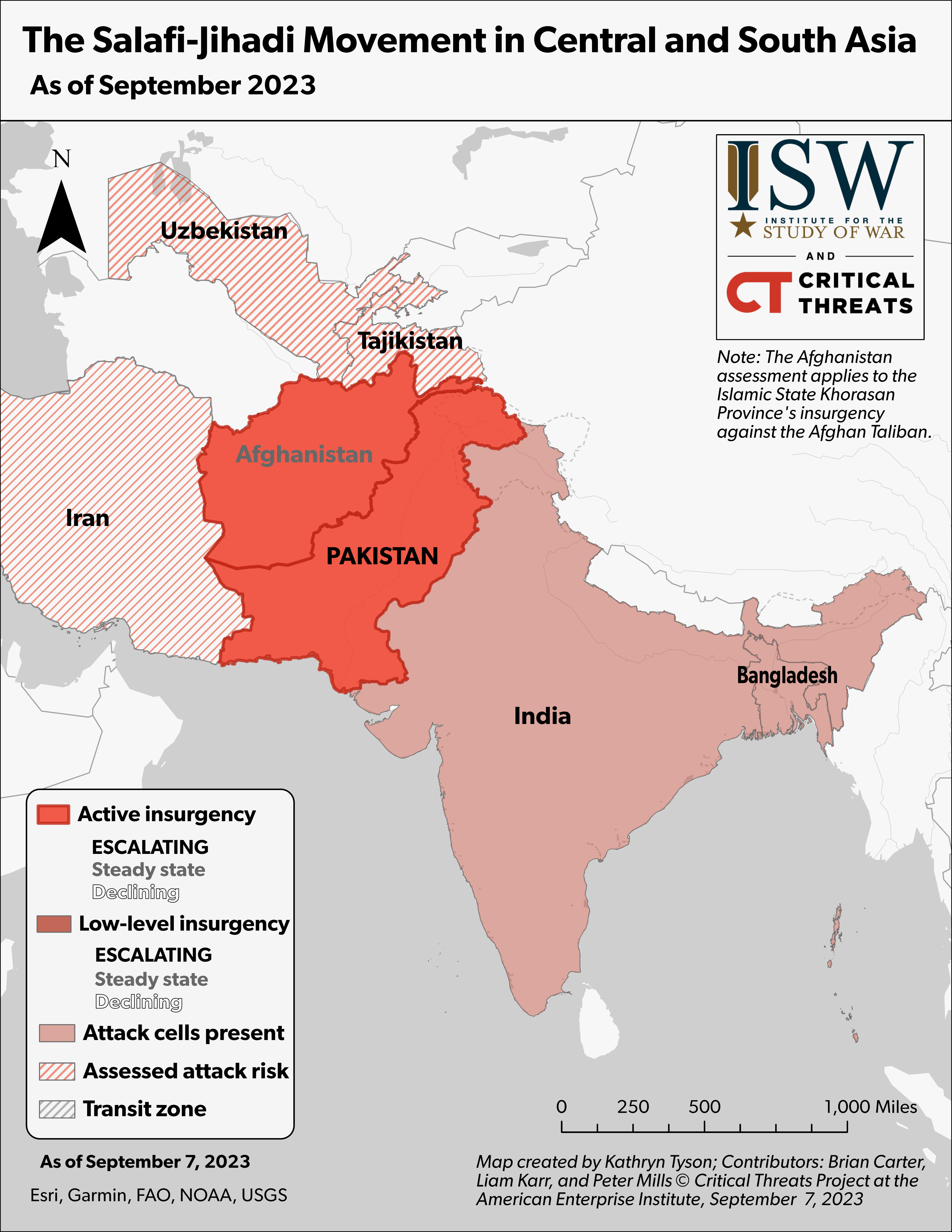 Source: Kathryn Tyson.
Author: Kathryn Tyson
Rival TTP factions met and demonstrated their first sign of reconciliation after eight months, which indicates that the TTP is trying to reduce internal tensions. A Jamaat ul Ahrar (JuA) leader met with a TTP shadow governor who has close ties to the TTP leader on September 5 to negotiate solutions to differences between the JuA and TTP leadership.[1] JuA is a hard-line faction of the TTP that defected from the group in 2014 over leadership disputes and then rejoined the group in 2020.[2]
TTP leadership has been in conflict with JuA since January 2023, but the TTP has resolved similar conflicts in the past.[3] The disputes will require negotiations but are not intractable. The disputes are based in the allocations of resources, appointments of group members, and isolated differences over ideology and strategy. The TTP is prioritizing internal unity, signaling that the TTP is inclined to reduce tension to prevent another JuA defection.[4] TTP's unification efforts are part of its efforts to model Afghan Taliban governance and reduce group infighting and fracturing.
TTP leadership criticized a major JuA attack on a mosque in a police headquarters in January 2023, which broke the TTP's code of conduct.[5] TTP leadership has also accused JuA of falsely claiming an attack by a TTP facade group, which is a group that is part of the TTP but publicly denies links to the TTP.[6] The disputes have led to a fracturing between the JuA and TTP. Four JuA commanders resigned from their posts in April 2023, and. TTP leadership dismissed a JuA commander in July.[7] Pro-Pakistan social media accounts suggest that TTP militants killed JuA leaders over these disagreements in June, July, and August.[8]
Solutions are available for the TTP and JuA to reduce conflict. The TTP agreeing to some JuA demands, such as appointing favorable JuA candidates to higher positions in the TTP or devoting more weapons or finances to JuA, would indicate the TTP seeks to reduce tensions. Further rounds of meetings would suggest the TTP and JuA are making progress on improving relations.
The TTP is giving importance to internal unity to centralize its various factions and reduce the possibility of fracturing. The TTP seeks to replicate the Afghan Taliban governance model in Pakistan by unifying Pakistan's various anti-Pakistan militant groups under one banner. The TTP began focusing on reintegrating splinter groups in 2020 and has gained over 30 mergers from across Pakistan.[9] The mergers have brought battle-hardened militants into TTP ranks and strengthened the TTP's foothold outside its Pashtun base in Khyber Pakhtunkhwa.
Figure 2. Conflict Between Tehrik-e-Taliban Pakistan Factions in 2023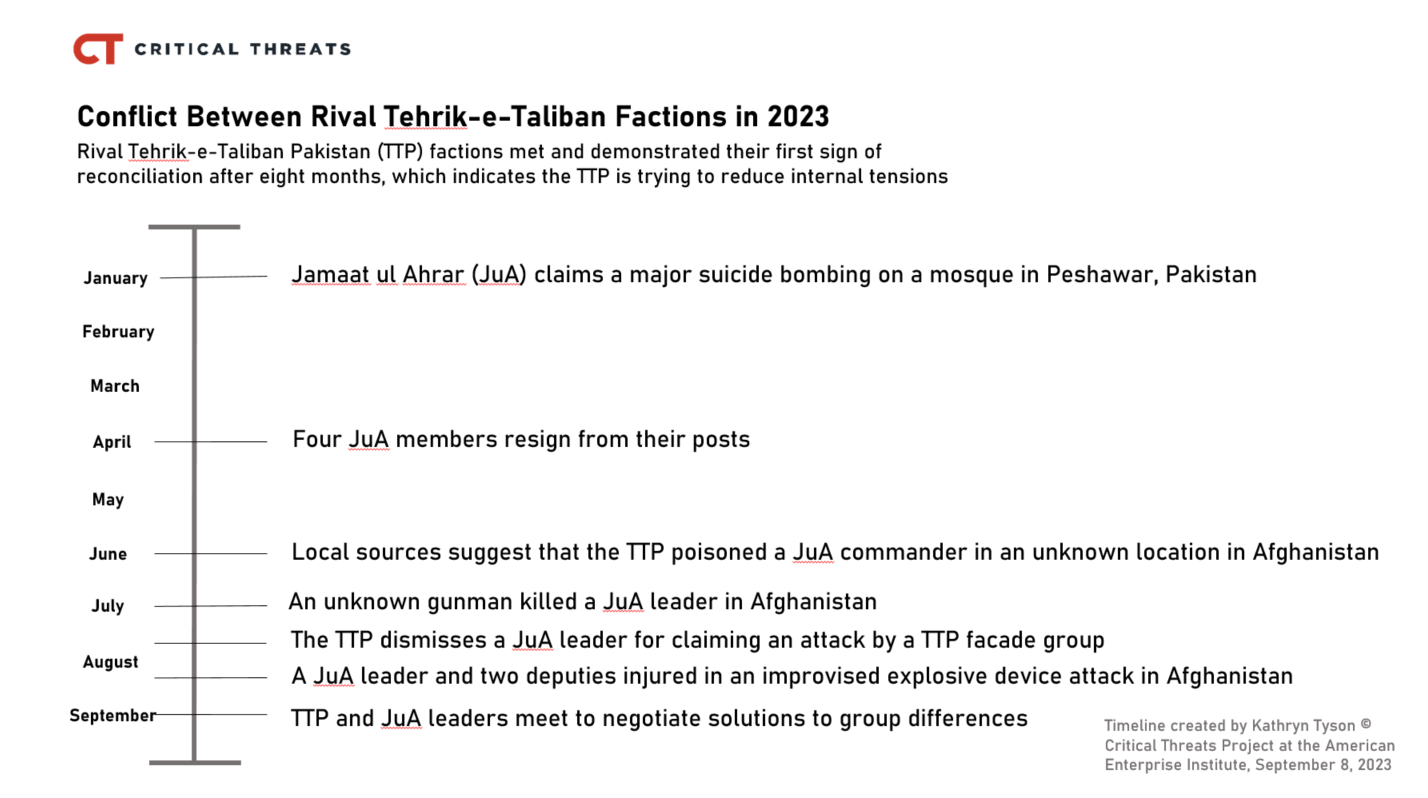 Source: Kathryn Tyson.
JuA could defect to ISKP as ISKP positions itself as an alternative to the TTP. CTP has previously assessed that JuA members could defect to ISKP again if internal TTP disputes worsen.[10] ISKP has increased attacks in Pakistan since 2015, but the TTP has not lost major splinter groups to ISKP despite these attacks and ISKP's attempted recruitment of TTP fighters. The TTP's efforts to centralize control has made it less susceptible to defections.
JuA split from the TTP in 2014, and some members defected to ISKP in the same year and participated in ISKP attacks in Pakistan between 2015 and 2018.[11] TTP defectors formed ISKP in 2015, and both groups continue to have shared social networks.[12]
ISKP has increased attacks in Pakistan since 2015 while continuing propaganda that aims to recruit TTP fighters.[13] ISKP carried out one of its most deadly bombing attacks since 2015 in July 2023.[14] These attacks position ISKP as an alternative to the TTP, but the TTP remains the deadliest and fastest growing threat to Pakistani security.[15]
Afghanistan.  
Author: Peter Mills
Figure 3. Taliban-Announced Mining Projects in Afghanistan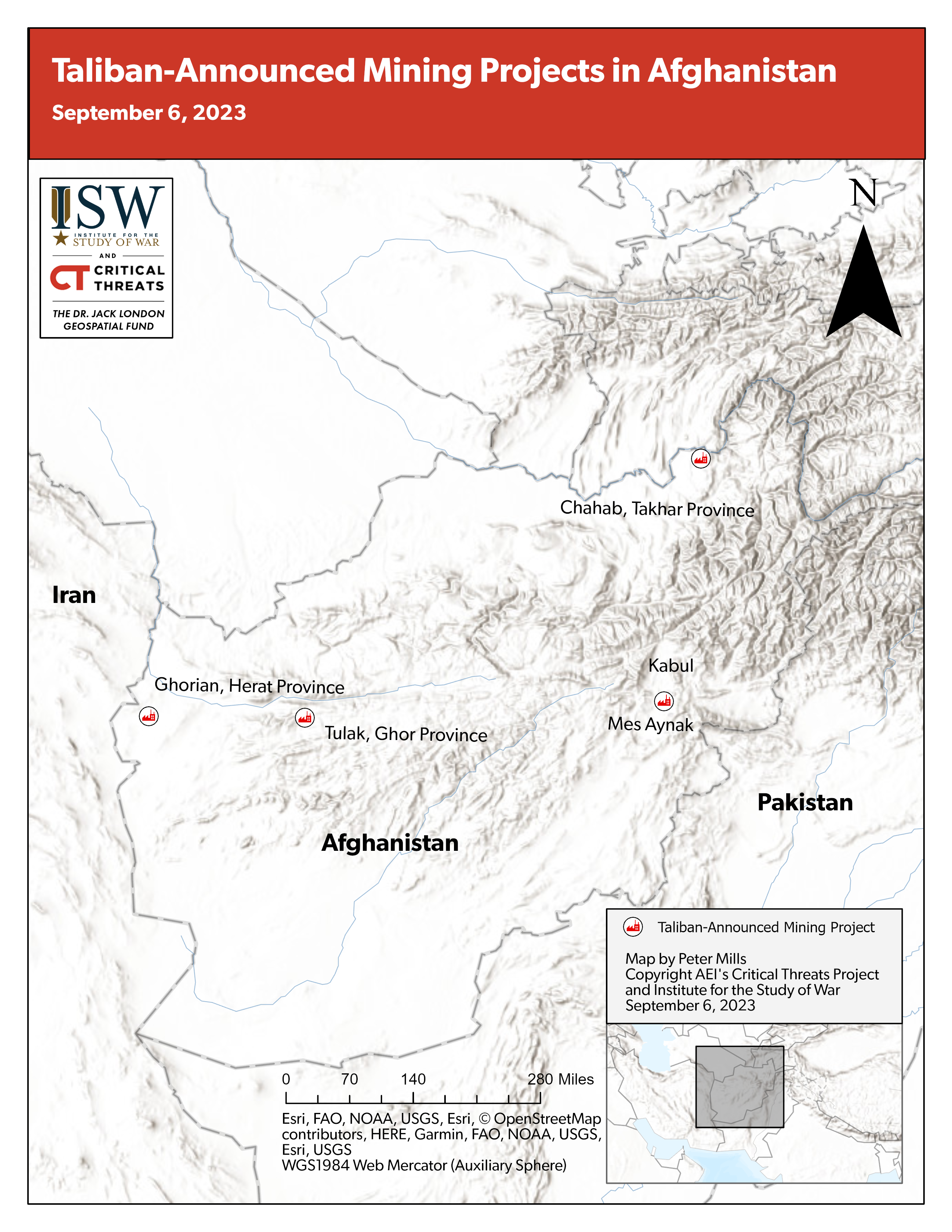 Source: Peter Mills.
The Taliban government announced it signed mining contracts valued at $6.7 billion, which could help stabilize the Afghan economy and improve the Taliban's legitimacy among the population. The Taliban government stated it signed the mining contracts with Afghanistan-based companies with ties to British, Chinese, Iranian, and Turkish mining companies.[16] CTP does not know which Afghan companies are slated to fulfill the contracts or the extent of their ties to foreign firms. This value of the mines is roughly equivalent to half of Afghanistan's gross domestic product. Executing the contracts would be a significant economic boon for Afghanistan, which has been suffering a severe economic crisis since 2021.[17]
The announcement did not include a timeline for implementing these mining projects, though previous agreements suggest that progress will be slow. A Chinese mining company acquired a 30-year contract for a large copper mine at Mes Aynak in 2008 but has still not begun construction of the mine as of September 2023.[18]
Four of the seven proposed mines are iron mines located in Ghorian district, Herat Province, in western Afghanistan along the border with Iran. The Taliban Ministry of Mines stated a mixture of Afghan, British, Iranian, and Turkish companies will invest more than $5 billion into these mines.[19] The Taliban awarded a gold mine in Chahab district, Takhar Province worth $310 million to an Afghan and Chinese company.
The Taliban government's deputy prime minister oversaw the announcement of the mining contracts. One of the contracts was awarded to a Taliban-backed state investment company, which he controls.[20] This suggests that some of this investment is merely a transfer of resources to Taliban leaders.
The country's failing economy is a major grievance among Afghans. Regime policies that lead to economic relief for the population would help the Taliban gain domestic legitimacy. Growing the economy would not resolve other Taliban policies that undermine the regime's legitimacy, such as banning both women's education and opium cultivation.[21]
Taliban efforts to facilitate mining projects with foreign companies could grow local support for anti-Taliban groups and worsen local security in northeastern Afghanistan. Anti-Taliban groups, including ISKP, operate in Takhar Province near the location of the gold mine in Chahab district. Taliban attempts to redistribute land away from locals, including to mining companies, has led to protests against the Taliban. Mining projects that expropriate locals' land would further exacerbate local grievances with the Taliban government. Economic investment into Afghanistan will not address local dissatisfaction with the Taliban's handling of the economic crisis when non-local Taliban commanders monopolize the profits and exclude locals.
ISKP carried out several attacks targeting Taliban commanders and personnel in Dasht-e Qala, Takhar, in September and October 2022. ISKP has a stated intent to attack China and attacked a Chinese-owned hotel in Kabul on December 12, 2022.[22]
On September 4, Taliban fighters suppressed local Uzbeks who protested on the same day that a Taliban-backed Chinese gold mining company was mining their lands in Dasht-e Qala District, Takhar Province.[23] Local Uzbeks and Tajiks also protested Pashtun Taliban officials attempting to redistribute their land in nearby Khaja Bahauddin, Takhar, in September and October 2022.[24] Taliban government efforts to redistribute locals' land, whether to support mining projects or for the benefit of Pashtun Taliban officials, can lead to protests and worsen local discontent with the Taliban.
Taliban infighting will likely worsen security problems in northeastern Afghanistan, including the area around the gold mine in Chahab district. Taliban factions in Takhar occasionally violently clash over control of mineral resources, such as local gold mines. Conflict between the factions undermines the Taliban's ability to guarantee security. Local Taliban commanders engaged in violent skirmishes over gold mines in Chahab district and neighboring Kalafgan district in March and April 2022.[25] The Taliban replaced local district governors of Takhar with Kandahari Pashtuns on August 30 in response to continuing anti-Taliban activity.[26] Pashtun Taliban commanders violently clashed with local Tajik Taliban commanders on August 31 and September 1, following this replacement of local commanders.[27]
Attacks by anti-Taliban groups have increased two to three times in July-August compared to the first half of 2023.[28] These attacks are concentrated in northeastern Afghanistan, including near China's planned gold mine in Chahab.
ISKP released a publication on August 29 that attributes a decline in attack claims to the ISKP leader's "strategic silence policy." This suggests that ISKP is attempting to downplay its strength in Afghanistan.[29] Islamic State used similar tactics in Iraq in 2004–06 as part of a military deception effort to help obfuscate its growing presence in Iraq.[30] ISIS stated in summer 2022 that it was not claiming certain attacks in Syria for operational security reasons.[31] ISKP's choice to not claim its attacks contradicts assessments that ISKP is declining in strength because the number of officially claimed ISKP attacks has declined over the past year.[32] CTP cannot discount the possibility that ISKP is refraining from claiming attacks to protect surviving cells after being depleted by Taliban counter-ISKP operations. The Taliban have conducted a number of raids targeting ISKP cells in Afghanistan in 2023.[33]
Figure 4. The Salafi-Jihadi Movement in the Middle East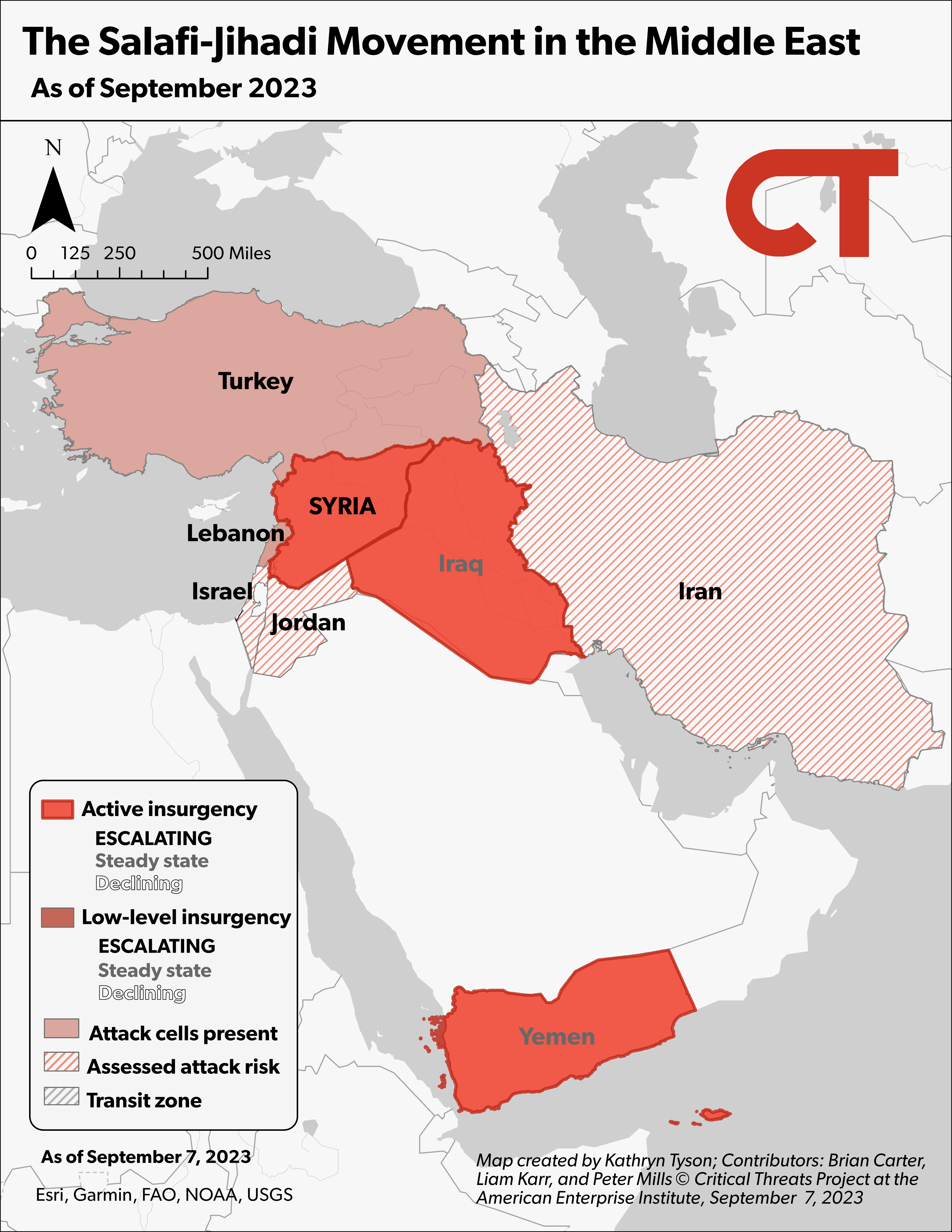 Source: Kathryn Tyson.
Figure 5. The Salafi-Jihadi Movement in Africa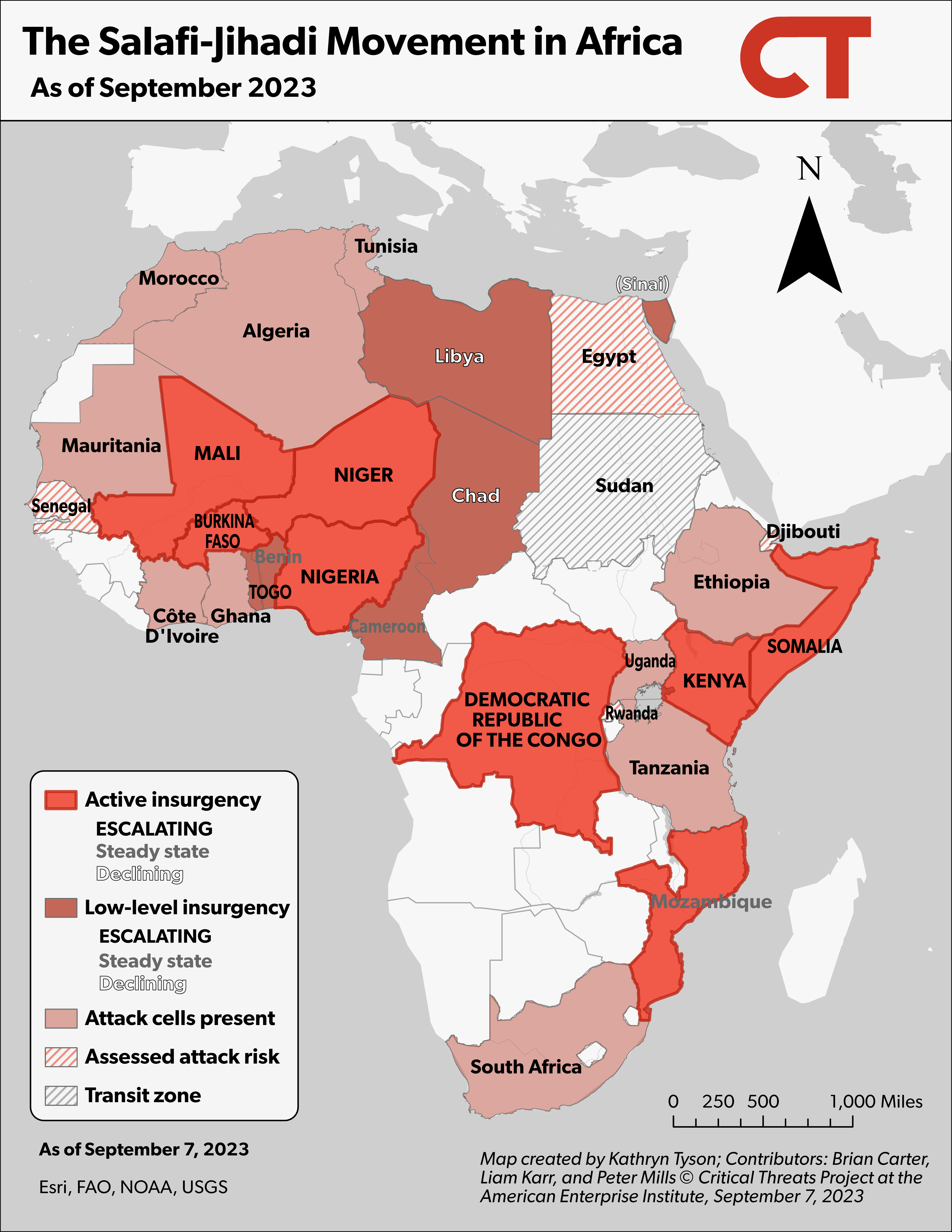 Source: Kathryn Tyson.
View Citations