Africa File
The Africa File is an analysis and assessment of the Salafi-jihadi movement in Africa and related security and political dynamics. 
Africa File: Terrorism's rising cost in Africa
[Notice: The Critical Threats Project frequently cites sources from foreign domains. All such links are identified with an asterisk (*) for the reader's awareness.]
To receive the Africa File via email, please subscribe here.
The economic cost of terrorism in Africa has skyrocketed in the past decade. Money that could be generating economic expansion and better lives for millions of people is being destroyed by insurgencies and hoarded by Salafi-jihadi groups, some with global goals. The most striking recent case is that of Mozambique, where an Islamic State–linked insurgency disrupted a multibillion-dollar natural gas project that was meant to underwrite decades of economic growth. Salafi-jihadi groups are depriving communities of resources across several African regions. For example, al Shabaab's tax revenues rival those of Somalia's national government. Read more here.
In this Africa File:
Sahel. France's president announced the upcoming end of the French counterterrorism mission in Mali. Al Qaeda's Mali affiliate stepped up attacks on local and international security forces. Salafi-jihadi groups traded blame for an unprecedented massacre in Burkina Faso.
Lake Chad. Boko Haram is fragmenting after the death of its leader to the benefit of the Islamic State's West Africa Province.
Somalia. Al Shabaab targeted military positions in Somalia's capital and in several regions where the group is making military advances.
Ethiopia. The Ethiopian government declared a unilateral cease-fire in Tigray region after Tigrayan forces recaptured the regional capital.
Central Africa. The Islamic State's affiliate in the Democratic Republic of the Congo conducted its first explosive attacks.
Libya. Rival administrations launched separate counterterrorism campaigns to compete for control of strategic areas in Libya's south.
Latest publications:
Mozambique. Emily Estelle traces the development of the Islamic State in Mozambique for Foreign Policy, arguing that "getting policies right in Mozambique could set a new and better precedent for the fight against Salafi-jihadi insurgencies in Africa in general." Read the piece here.
Mozambique. Emily Estelle and Jessica Trisko Darden updated the analysis from their February 2021 report on the Islamic State in Mozambique for Orbis. Read the article here.
Read Further On:
Figure 1. The Salafi-jihadi movement in Africa: July 2021
View full image here.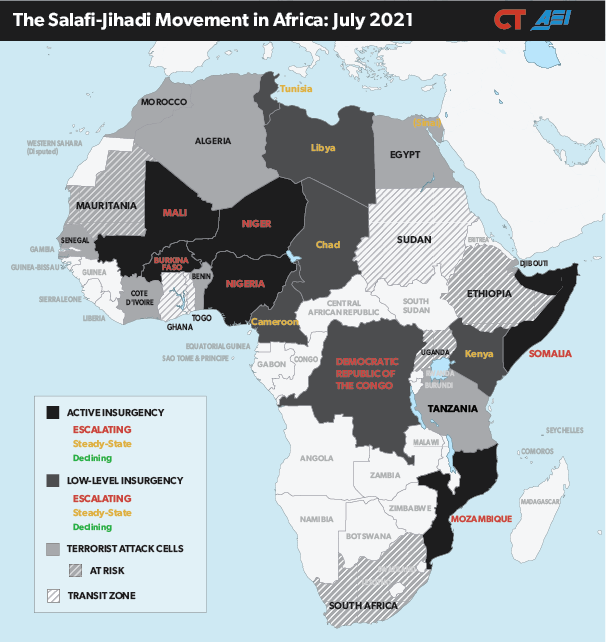 Source: Authors.
---
Overview: The Salafi-jihadi threat in Africa
Updated July 1, 2021
The Salafi-jihadi movement, which includes al Qaeda and the Islamic State, is active across Northern, Eastern, and Western Africa and is expanding and deepening its presence on the continent. This movement, like any insurgency, draws strength from access to vulnerable and aggrieved populations. Converging trends, including failing states and regional instability, are creating favorable conditions for the Salafi-jihadi movement's expansion. Meanwhile, counterterrorism efforts rely on the continued efforts of international coalitions, support for which is eroding, and on states and local authorities that have demonstrated an inability to govern effectively.
West Africa. The Salafi-jihadi movement has spread rapidly in West Africa by exploiting ethnic grievances and state weaknesses that include human rights abuses, corruption, and ineffectiveness. An al Qaeda affiliate co-opted the 2012 Tuareg rebellion in Mali and has continued to expand southward through the Sahel region into central Mali and the peripheries of Burkina Faso. An Islamic State–linked group is active in the same area, particularly western Niger and parts of Burkina Faso.
Sahel groups have not yet plotted attacks outside West Africa but have sought to drive Western security and economic presence out of the region while building lucrative smuggling and kidnapping-for-ransom enterprises. An al Qaeda–linked group in Mali is infiltrating governance structures, advancing an overarching Salafi-jihadi objective, and expanding into Gulf of Guinea countries. West Africa has become an area of focus for transnational Salafi-jihadi organizations, with rival jihadists now fighting for dominance in the Sahel. Meanwhile, political instability, particularly in Mali, threatens local and international counterterrorism efforts.
The Islamic State's largest African affiliate is based in northwest Nigeria—Africa's most populous country—and conducts frequent attacks into neighboring Cameroon, Chad, and Niger. Boko Haram and an al Qaeda–linked splinter group are also active in this region. The death of Boko Haram's longtime leader in May 2021 may lead to short-term intra-jihadist turmoil but will likely benefit the Islamic State's Nigerian branch in time.
New instability in Chad, whose longtime president was killed in April 2021, may lift pressure from Salafi-jihadi groups in both Mali and the Lake Chad Basin, where Chadian forces participate in regional counterterrorism efforts.
East Africa. Al Shabaab, an al Qaeda affiliate and the dominant Salafi-jihadi group in East Africa, is vocal about its intent to attack US interests and has begun to plot international terror attacks. The group enjoys de facto control over broad swathes of southern Somalia and can project power in the Somali federal capital Mogadishu and regional capitals, where it regularly attacks senior officials. It seeks to delegitimize and replace the weak Somali Federal Government—a task made easier by endemic political dysfunction, corruption, and an ongoing constitutional crisis. Al Shabaab's governance ambitions extend to ethnic Somali populations in Kenya and Ethiopia, and the group conducts regular attacks in eastern Kenya.
Al Shabaab is positioned to benefit from eroding security conditions in East Africa. Ethiopia's destabilization is already having regional effects, including weakening counter–al Shabaab efforts in Somalia. The drawing down of the US and African Union counterterrorism missions in Somalia will also reduce pressure on al Shabaab.
The Islamic State has also penetrated the region. Islamic State branches are now active in northern Somalia, eastern Democratic Republic of the Congo, and northern Mozambique, bordering Tanzania. The insurgency caused French company Total to shutter a multibillion-dollar natural gas project in northern Mozambique that was the continent's largest private investment. The Islamic State foothold in Mozambique also marks the Salafi-jihadi movement's expansion into southern Africa.
North Africa. Salafi-jihadi groups in North Africa are at a low point, but the fragility and grievances that led to their rise remain. The Arab Spring uprisings and subsequent security vacuums allowed Salafi-jihadi groups to organize and forge ties with desperate and coerced populations. The Islamic State's rise brought a peak in Salafi-jihadi activity in North Africa, particularly from its branches in Libya and Egypt's Sinai Peninsula. Counterterrorism pressure has weakened Salafi-jihadi groups across North Africa in the past five years.
The insurgencies in Libya and the Sinai are active but contained, and terrorist attacks across the region have decreased. Libya's political and security crisis will continue to create opportunities for Salafi-jihadi groups, and severe instability or collapse in any North African state would likely bring the Salafi-jihadi threat back to the surface.
West Africa
Sahel
France's president announced his intent to end Operation Barkhane, the French counterterrorism mission in the Sahel. French President Emmanuel Macron stated on June 10 that a more international effort will replace Barkhane, which involves over 5,000 French troops stationed in several countries. The operation's end date has not been announced, and Macron promised to provide more details by the end of June. Fifty-one percent of French people no longer support France's involvement in Mali. Ending the operation likely reflects domestic sentiment in the lead-up to 2022 presidential elections as well as the challenge posed by partnering with Mali's government, which recently suffered its second military coup in less than a year. Agence France-Presse reports that France may have sought to increase the number of UN peacekeepers deployed in Mali but was not able to secure the necessary funding before the UN mission's mandate was renewed on June 29.
An al Qaeda–linked group may expand its operations into Mauritania. The Macina Liberation Front (MLF), a component of the al Qaeda­–linked Jama'at Nusrat al Islam wa al Muslimeen (JNIM), *entered several Malian villages located near the Mauritanian border without resistance on June 24. The militants addressed the villagers and warned them against collaborating with Malian security forces. They also announced plans to establish sharia law in the villages and closed government-run schools. The MLF has been operating in nearby villages, most notably in Farabougou village, and is likely using resources gathered from these communities to advance north and along the border region.
Mauritania has been resilient against Salafi-jihadi activity despite its proximity to Salafi-jihadi safe havens in nearby Mali. Growing Salafi-jihadi activity in the border region may allow MLF militants to cross over into Mauritania, however, as the country continues to *suffer from COVID-19's economic and social effects as well as internal political struggles.
Figure 2. MLF activity in the Mali-Mauritania border region: June 24–30, 2021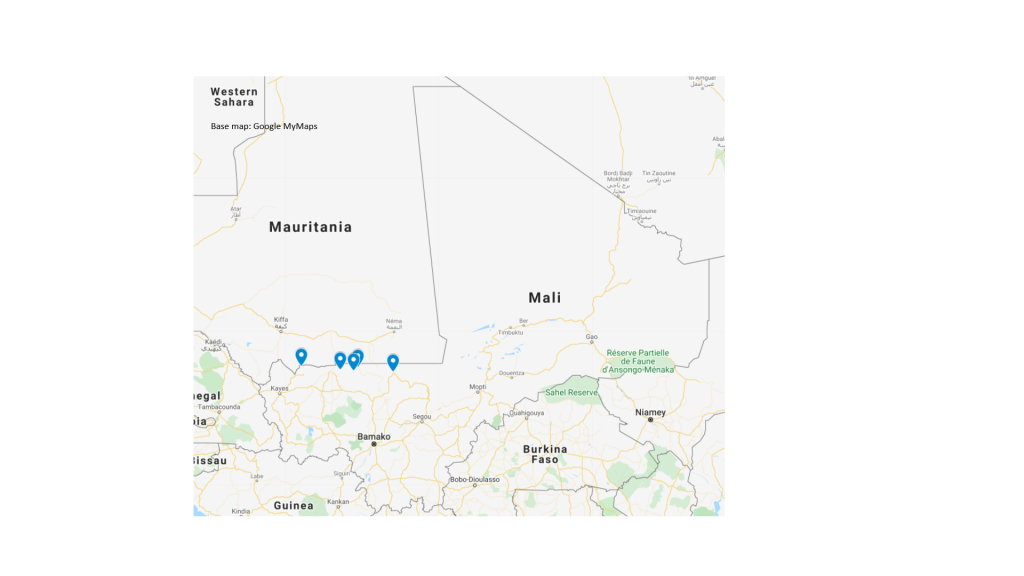 Source: Authors.
The emir of al Qaeda in the Islamic Maghreb gave his first speech since becoming the group's leader in November 2020.[i] Abu Yusuf al Annabi exhorted Muslims worldwide to support al Qaeda and emphasized that jihad is necessary to liberate Palestine. He reiterated other longstanding talking points, including calling on Malians to support JNIM instead of the Malian government or France.
JNIM stepped up attacks against security forces in Mali. The group is likely responsible for two attacks on Malian and international security forces on June 25. Militants detonated a vehicle-borne improvised explosive device (VBIED) at a temporary UN base near Tarkint in northern Mali, injuring 12 German peacekeepers and one Belgian. Militants also attacked an outpost and killed six Malian soldiers in central Mali's Boni village on June 25. JNIM is likely responsible for these attacks. JNIM has operated in Boni and Tarkint for years, including killing 15 Malian soldiers in its most recent attack in Boni. These attacks signal JNIM's ability to conduct simultaneous attacks in two separate locations.
Likely Salafi-jihadi attacks are wreaking serious harm on civilians in northern Burkina Faso and western Niger. Gunmen killed at least 130 civilians in northwestern Burkina Faso in the worst terrorist attack in the country's history on June 4–5. More than 7,000 people have since fled the area, which has fallen victim to armed groups competing for access to gold mining. The Burkinabe government reported that children and women participated in the attack. A Burkinabe news outlet *reported that the government spokesman named the group as "Moujai al Qaeda." JNIM condemned the attack and claimed it was not involved on June 8.[ii] An Islamic State publication accused JNIM of denying its responsibility for the massacre on June 24 and alleged that the incident had caused an internal rift.[iii] JNIM and the Islamic State's Sahel branch are competing for dominance in Mali and neighboring regions.
Attackers on motorbikes killed at least 10 people in western Niger on June 25. Islamic State militants have recently targeted civilians in the area.
 Lake Chad
Boko Haram is fragmenting after the death of late leader Abubakr Shekau. Boko Haram militant Bakura Modu, suspected to be the group's new leader, *confirmed Shekau's death in a video released on June 16. Modu claims that Shekau died as a martyr fighting against the Islamic State's West Africa Province (ISWA) led by Abu Musab al Barnawi. Boko Haram has lost several militants due to defections to ISWA, and the group has not conducted many attacks since Shekau's death. Militants still loyal to Boko Haram *recruited unemployed men in northeastern Nigeria after Shekau's death, indicating the group is looking for fighters after suffering defections to ISWA. Suspected Boko Haram militants *attacked Nigerien soldiers in Bosso in southeastern Niger on June 22.
Islamic State media is focusing on ISWA to highlight the group's success against rival groups and opposing security forces. Islamic State central media published a video on ISWA on June 25, the first video featuring this affiliate since February 2020. The video shows fighters discussing the West Africa Province's latest operations in Arabic, Hausa, and English, including an indirect reference Shekau's death. The video also features Boko Haram fighters pledging allegiance to the Islamic State and later participating in attacks against Nigerian security forces, indicating that defected Boko Haram fighters are already participating in attacks in the Islamic State's name.
ISWA is maintaining its dominance in northeastern Nigeria and will likely expand beyond its current area of operations. ISWA continued regular attacks against Nigerian security forces in and near Borno State. The group attacked police headquarters, killing at least four policemen, in Gujba, Yobe State, Nigeria, on June 22. ISWA *seized a Nigerian military base in Borno State's capital, Maiduguri, the following day. ISWA is also *fighting militants still loyal to Boko Haram in Sambisa Forest, Boko Haram's previous main hideout. ISWA will likely maintain the upper hand in the fight against Boko Haram given its larger number of fighters and greater resources.
East and Central Africa
Somalia
Al Shabaab, al Qaeda's affiliate in Somalia, is conducting large and frequent attacks on several fronts throughout Somalia. The group has benefited from a five-month pause in US airstrikes and political turmoil in Somalia that has drawn security forces' attention.
An al Shabaab suicide bomber attacked the entrance to a training camp attached to a Turkish-run military complex in Mogadishu on June 15. The attack killed at least 15 people and wounded many others. Al Shabaab promoted the attack with a statement accusing Turkey of extracting Somalia's wealth and participating in the exploitation of Muslims via its NATO membership.[iv] The group also warned parents against sending their sons to join Turkish-trained military units.
Al Shabaab is waging military campaigns against Somali security forces, including Turkish-trained *units, in the Middle Shabelle and Galmudug regions in south-central Somalia. The group *attacked a Somali military base with a VBIED on June 18 and claimed to *capture several villages in Middle Shabelle region throughout the month of June. Al Shabaab conducted another complex VBIED attack on a Somali base further north at Wisil in Mudug region on June 27.
Al Shabaab has also claimed capturing towns in other hot spots throughout the country, including in Lower Shabelle and Bay regions. The group claimed to seize *Warmahan in Lower Shabelle on June 6 and *Daynunay in Bay on June 9. Al Shabaab notably *occupied another town in Lower Shabelle region on June 22 after Ugandan African Union Mission to Somalia forces withdrew as part of a planned relocation.
Al Shabaab will continue attempts at territorial expansion alongside assassination attempts in the lead-up to Somalia's elections. Somalia's prime minister and the presidents of its member states announced an *election plan spanning July to October. Al Shabaab already uses violence to intimidate or remove officials. Both al Shabaab and the Islamic State issued competing claims of responsibility for a bombing that targeted Puntland's security minister on June 26.[v]
Ethiopia
The Ethiopian government announced a unilateral cease-fire in Tigray region, marking a major inflection in the eight-month conflict. The cease-fire declaration came just after Tigrayan Defense Forces (TDF)—the Tigray People's Liberation Front (TPLF) military wing— recaptured Mekelle, the regional capital, from the Ethiopian National Defense Forces (ENDF). The ENDF captured and had controlled Mekelle since the Tigray conflict began in November 2020. Mekelle's recapture is the TDF's most recent battlefield success in a recent series of advances in June. The TDF also expelled ENDF-allied Eritrean forces from Adwa, Axum, and Shire and now control those towns. TPLF spokesperson Getachew Reda rejected the government-ordered cease-fire and foreshadowed TDF plans to possibly pursue Eritrean forces into Eritrea and the ENDF into neighboring Amhara region.
The Tigray conflict reflects deep and unresolved political challenges reaching back decades. The TPLF led Ethiopia's ruling coalition until Prime Minister Abiy Ahmed came to power in 2018. Reconciliation between Abiy's administration and TPLF leadership has been elusive. The TPLF, which remained in control of Tigray regional state, held regional elections against the federal government's decision and attacked an ENDF base in Tigray in November 2020. Ethiopian federal forces launched an operation to take control of Tigray in November 2020. The conflict has taken a huge humanitarian toll, with around four million people in Tigray now at risk of starvation. Humanitarian assistance has struggled to reach at-risk areas in Tigray due to Eritrean and ENDF efforts to block access. The ENDF and Eritrean forces have also been accused of committing mass murders, sexual violence, and other human rights abuses against Tigrayan civilians.
The war will continue despite Abiy's call for a cease-fire. TPLF and TDF officials have stated clear intent to eliminate all threats to Tigray inside or outside of the region. The Ethiopian government also stated on June 30 that it could reenter Mekelle, seemingly contradicting its cease-fire declaration. The TDF will likely seek to capitalize on its recent military victories and push the conflict outside of Tigray, including into disputed territory on the Eritrean border. The expansion of the Tigray conflict will exacerbate the ongoing humanitarian crisis and could destabilize both Ethiopia and Eritrea, raising the risk of broader unrest or even state collapse. A worst-case scenario in Ethiopia would generate a vacuum that could be exploited by Salafi-jihadi groups such as al Shabaab, which has previously sought to expand into Ethiopia.
Central Africa
The Islamic State's Central Africa Province (ISCA) claimed its first suicide bombing in the Democratic Republic of the Congo (DRC). The group claimed responsibility for bombings at a bar and a Catholic church in Beni in northeastern DRC on June 27.[vi] The attacks injured at least two people. Another explosive detonated near a gas station the day prior.
The use of suicide bombing in DRC may also foreshadow the use of explosive attacks in northern Mozambique. ISCA has two separate branches—one in DRC and one in Mozambique—but there are connections between them, including Mozambican fighters present in DRC.
Fighting is ongoing between security forces and Islamic State–­­linked militants in northern Mozambique, where the multiyear insurgency has displaced hundreds of thousands of civilians. The Southern African Development Community recently agreed to send a military force to Mozambique, but the mandate, scale, and timing of the deployment remains unclear. The European Union approved a military training mission for Mozambique on June 30.
North Africa
Libya
 Rival administrations launched separate counterterrorism campaigns to compete for control of strategic areas in Libya's south. The Government of National Unity (GNU) and the Libyan National Army (LNA) deployed forces to secure the south after two Islamic State attacks. The GNU is Libya's internationally recognized transitional government and is based in Tripoli in western Libya. The LNA is a militia coalition that controls eastern Libya.
The Islamic State in Libya (IS-Libya) detonated a VBIED that killed at least two LNA-affiliated police officers in Sebha on June 6. The attack marked the first time IS-Libya used a VBIED in southern Libya. IS-Libya also claimed an ambush and improvised explosive device attack on LNA forces on June 14. The attack killed an LNA commander.
The LNA announced its southern counterterrorism *campaign on June 17. The LNA's 128 Brigade established a military zone near a Libyan-Algerian border crossing. An LNA media unit claimed it had closed the entire border on June 20. The LNA does not have the capacity to police the roughly 620-mile-long border, however. The GNU appointed a defected LNA leader from the LNA's 116 Brigade on June 17 to lead a new GNU southern security force, likely in an attempt to discredit the LNA and capture any local relationships that the former LNA commander had forged. The GNU issued an order prohibiting military movements without its approval on June 19. The LNA deployed the Tariq bin Ziyad Brigade, one of its most active units in prior campaigns, to replace the now GNU-led 116 Brigade in Sebha on June 23.
The 116 and Tariq bin Ziyad Brigade commanders are aligned with opposing tribes. GNU and LNA counterterrorism efforts may lead to militia clashes along political or tribal lines. IS-Libya may attempt to stoke these clashes with further attacks. Deteriorating security in southwestern Libya could also lift pressure from IS-Libya, which could seize the opportunity to rebuild strength through recruiting and money-making activities.
The LNA and GNU activity in Sebha may have also reflected power jockeying in the lead-up to an international peace conference. Leaders from Libya, Russia, Turkey, and the US, attended the Berlin 2 conference in Germany on June 23. Berlin 2 focused on advancing the December 2021 elections and the withdrawal of foreign forces and mercenaries. The GNU's foreign minister said international actors made major progress on the withdrawal of foreign forces. Evidence of foreign mercenaries leaving the country in the last six months is scarce, however. Berlin 2 also failed to specify new concrete measures to deal with mercenaries or the LNA.
---
[i] SITE Intelligence Group, "In First Speech as AQIM Leader, 'Annabi Champions Jihad to "Liberate" Palestine and Urges Malians to Support Fighters," June 25, 2021, available by subscription at www.siteintelgroup.com.
[ii] SITE Intelligence Group, "JNIM Disavows Massacre in Burkina Faso, Prays for Victims," June 8, 2021, available by subscription at www.siteintelgroup.com.
[iii] SITE Intelligence Group, "IS Accuses JNIM of Solhan Massacre in Burkina Faso Despite Denial, Distributes Printed Copies of Naba Newspaper in Afghanistan," June 25, 2021, available by subscription at www.siteintelgroup.com.
[iv] SITE Intelligence Group, "Shabaab Official for Banaadir Region Speaks on Camp TURKSOM Suicide Bombing, Portrays Turkey as Parasite," June 15, 2021, available by subscription at www.siteintelgroup.com.
[v] SITE Intelligence Group, "IS and Shabaab Give Competing Responsibility Claims for Blasts on Puntland Ministerial Motorcade," June 26, 2021, available by subscription at www.siteintelgroup.com.
[vi] SITE Intelligence Group, "IS Claims its 1st Suicide Bombing in DR Congo, Blast Inside Church," June 29, 2021, available by subscription at www.siteintelgroup.com.
View Citations