Africa File
The Africa File is an analysis and assessment of the Salafi-jihadi movement in Africa and related security and political dynamics. 
Africa File: Ethiopia crisis spreads beyond Tigray
[Notice: The Critical Threats Project frequently cites sources from foreign domains. All such links are identified with an asterisk (*) for the reader's awareness.]
To receive the Africa File via email, please subscribe here.
The civil war in northern Ethiopia is spreading and poses a serious risk to the stability of the entire country. Tigrayan forces crossed from Tigray into neighboring Afar region, weeks after recapturing Tigray's regional capital from Ethiopian federal forces. Tigrayan forces could severely disrupt the Ethiopian economy if they gain control of key road and rail lines in Afar that connect Ethiopia to the sea through neighboring Djibouti. The conflict is already fueling a dire humanitarian crisis in northern Ethiopia.
Widespread and persistent conflict in Ethiopia—home to Africa's second-largest population—would create opportunities for Salafi-jihadi groups, including Somalia's al Shabaab, which has tried and largely failed to gain a foothold in Ethiopia in the past. The Ethiopia crisis comes as al Shabaab wages offensives in Somalia and seeks to capitalize on that country's ongoing political dysfunction.
In this Africa File:
Ethiopia. Tigrayan forces advanced into a neighboring region and may soon threaten critical transit routes between landlocked Ethiopia and coastal Djibouti.
Somalia. The US military conducted the first drone strike in Somalia under the Joe Biden administration to support Somali forces countering al Shabaab advances in north-central Somalia.
Sahel. France's president announced a plan to end the French counterterrorism mission in Mali. Rising Salafi-jihadi violence in Burkina Faso caused mass protests.
Lake Chad. The Islamic State's branch in Nigeria is strengthening following the death of Boko Haram's leader.
Latest publications:
Africa. Salafi-jihadi insurgencies are costing Africa billions of dollars that should be fueling economic growth and better governance. Read Emily Estelle's analysis in AEIdeas here.
Mozambique. Emily Estelle traces the development of the Islamic State in Mozambique for Foreign Policy, arguing that "getting policies right in Mozambique could set a new and better precedent for the fight against Salafi-jihadi insurgencies in Africa in general." Read the piece here.
Mozambique. Emily Estelle and Jessica Trisko Darden updated the analysis from their February 2021 report on the Islamic State in Mozambique for Orbis. Read the article here.
Read Further On:
Figure 1. The Salafi-jihadi movement in Africa: July 2021
View full image here.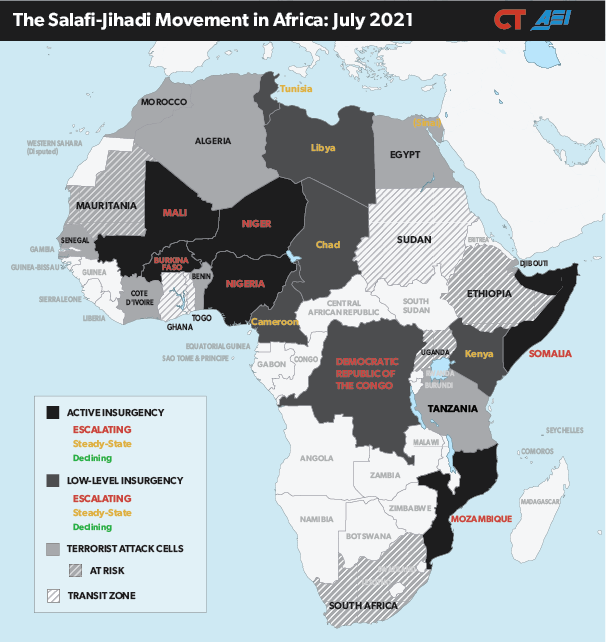 Source: Authors.
---
Overview: The Salafi-jihadi threat in Africa
Updated July 1, 2021
The Salafi-jihadi movement, which includes al Qaeda and the Islamic State, is active across Northern, Eastern, and Western Africa and is expanding and deepening its presence on the continent (Figure 1). This movement, like any insurgency, draws strength from access to vulnerable and aggrieved populations. Converging trends, including failing states and regional instability, are creating favorable conditions for the Salafi-jihadi movement's expansion. Meanwhile, counterterrorism efforts rely on the continued efforts of international coalitions, support for which is eroding, and on states and local authorities that have demonstrated an inability to govern effectively.
West Africa. The Salafi-jihadi movement has spread rapidly in West Africa by exploiting ethnic grievances and state weaknesses that include human rights abuses, corruption, and ineffectiveness. An al Qaeda affiliate co-opted the 2012 Tuareg rebellion in Mali and has continued to expand southward through the Sahel region into central Mali and the peripheries of Burkina Faso. An Islamic State–linked group is active in the same area, particularly western Niger and parts of Burkina Faso.
Sahel groups have not yet plotted attacks outside West Africa but have sought to drive Western security and economic presence out of the region while building lucrative smuggling and kidnapping-for-ransom enterprises. An al Qaeda–linked group in Mali is infiltrating governance structures, advancing an overarching Salafi-jihadi objective, and expanding into Gulf of Guinea countries. West Africa has become an area of focus for transnational Salafi-jihadi organizations, with rival jihadists now fighting for dominance in the Sahel. Meanwhile, political instability, particularly in Mali, threatens local and international counterterrorism efforts.
The Islamic State's largest African affiliate is based in northwest Nigeria—Africa's most populous country—and conducts frequent attacks into neighboring Cameroon, Chad, and Niger. Boko Haram and an al Qaeda–linked splinter group are also active in this region. The death of Boko Haram's longtime leader in May 2021 may lead to short-term intra-jihadist turmoil but will likely benefit the Islamic State's Nigerian branch in time.
New instability in Chad, whose longtime president was killed in April 2021, may lift pressure from Salafi-jihadi groups in both Mali and the Lake Chad Basin, where Chadian forces participate in regional counterterrorism efforts.
East Africa. Al Shabaab, an al Qaeda affiliate and the dominant Salafi-jihadi group in East Africa, is vocal about its intent to attack US interests and has begun to plot international terror attacks. The group enjoys de facto control over broad swathes of southern Somalia and can project power in the Somali federal capital Mogadishu and regional capitals, where it regularly attacks senior officials. It seeks to delegitimize and replace the weak Somali Federal Government—a task made easier by endemic political dysfunction, corruption, and an ongoing constitutional crisis. Al Shabaab's governance ambitions extend to ethnic Somali populations in Kenya and Ethiopia, and the group conducts regular attacks in eastern Kenya.
Al Shabaab is positioned to benefit from eroding security conditions in East Africa. Ethiopia's destabilization is already having regional effects, including weakening counter–al Shabaab efforts in Somalia. The drawing down of the US and African Union counterterrorism missions in Somalia will also reduce pressure on al Shabaab.
The Islamic State has also penetrated the region. Islamic State branches are now active in northern Somalia, eastern Democratic Republic of the Congo, and northern Mozambique, bordering Tanzania. The insurgency caused French company Total to shutter a multibillion-dollar natural gas project in northern Mozambique that was the continent's largest private investment. The Islamic State foothold in Mozambique also marks the Salafi-jihadi movement's expansion into southern Africa.
North Africa. Salafi-jihadi groups in North Africa are at a low point, but the fragility and grievances that led to their rise remain. The Arab Spring uprisings and subsequent security vacuums allowed Salafi-jihadi groups to organize and forge ties with desperate and coerced populations. The Islamic State's rise brought a peak in Salafi-jihadi activity in North Africa, particularly from its branches in Libya and Egypt's Sinai Peninsula. Counterterrorism pressure has weakened Salafi-jihadi groups across North Africa in the past five years.
The insurgencies in Libya and the Sinai are active but contained, and terrorist attacks across the region have decreased. Libya's political and security crisis will continue to create opportunities for Salafi-jihadi groups, and severe instability or collapse in any North African state would likely bring the Salafi-jihadi threat back to the surface.
East Africa

Ethiopia
The conflict in Ethiopia's Tigray region crossed into another region for the first time. The Tigray Defense Forces (TDF)—the military wing of the Tigray People's Liberation Front (TPLF)—launched an offensive against security forces from Ethiopia's Amhara region and remaining Ethiopian government forces in western and southern Tigray on July 12. The TDF then turned its focus east and invaded Ethiopia's Afar region on July 17, marking the first time that the conflict has crossed regional borders.
The TDF offensive is part of the TPLF's broader strategy to expel external forces from Tigray, reestablish prewar regional boundaries, degrade adversary military capabilities, and force the Ethiopian government to recognize the TPLF as Tigray's legitimate governing party. The conflict first began when the Ethiopian government intervened in Tigray in November 2020 after Tigrayan forces attacked a federal military base. The TDF turned the tide of the conflict in late June when it recaptured Mekelle, the Tigray regional capital, from Ethiopian federal forces in late June. The Ethiopian government initially declared a unilateral cease-fire while attempting to cut off access to Tigray.
The Ethiopian federal government has now rallied security forces from at least four regional states against the TDF. On July 13, Ethiopian Prime Minister Abiy Ahmed *called on all Ethiopian citizens to unite against the TDF and support the Ethiopian National Defense Force (ENDF) in all possible ways. Regional security forces from Oromia, Sidama, and the Southern Nations, Nationalities, and People's Region mobilized to join the ENDF-led fight in Tigray in response. Fighters from Amhara regional state have been active in Tigray throughout the current conflict.
The TDF's incursion into Afar could threaten key infrastructure that underpins the Ethiopian economy. Landlocked Ethiopia relies on rail and road lines that run through Afar into coastal Djibouti.
The expansion of the Ethiopian conflict increases the likelihood of international involvement. The Ethiopian and Russian governments signed a military cooperation *agreement on July 12, before the TDF's latest offensive. The agreement likely indicates Prime Minister Abiy's interest in soliciting state powers with better technology and more lethal capabilities that can bolster ENDF capabilities while also overlooking the alleged human rights abuses committed in Tigray by the ENDF and its allies. The Ethiopia-Russia agreement could presage support from either formal or informal elements of the Russian military, such as the Wagner Group, which has entered African conflicts in the Central African Republic, Libya, and Mozambique.
The humanitarian situation in Tigray is dire but improving. The latest UN report highlighted that Amhara security forces were blocking the flow of humanitarian supplies in western and southern Tigray in late June. The TDF now controls territory containing around 75 percent of the Tigrayan population, and access to previously denied areas is reopening. The fuel, food, water, and other hygienic necessities that that have made it to at-risk areas are depleting rapidly, however. More than five million Tigrayans (70 percent of the population) still need emergency food aid.
The war in Tigray will continue. The Ethiopian government and the TPLF are doubling down on the conflict. Both sides will likely seek new or additional external support. The conflict also includes Eritrea, whose forces joined Ethiopian federal forces in Tigray and suffered recent losses near their border as the TDF gained momentum. The Ethiopian conflict is on a dangerous trajectory that will destabilize the country and the Horn of Africa region.
Somalia
The US military conducted its first airstrike in Somalia under the Joe Biden administration. The July 20 drone strike targeted al Shabaab militants in *Mudug region in north-central Somalia. The militants were attacking members of the US-trained Danab Somali special forces (Figure 2).
Al Shabaab is waging offensives on two fronts in central Somalia. The Danab forces in Mudug are responding to an ongoing al Shabaab offensive. Al Shabaab is contesting control of several towns in southwestern Mudug region near the coast. The group launched a complex attack on a military base at Wisil in late June. Somali National Army (SNA) and al Shabaab forces *traded control of several villages in July.[1] Somali forces have escalated efforts to recapture towns from al Shabaab since July 12, when officials from Galmudug and Puntland states signed a joint agreement to counter al Shabaab in Mudug. The SNA claimed to *recapture several towns and announced plans for further operations into al Shabaab–controlled areas to the south.
Al Shabaab has also stepped up a long-running campaign to advance northward along the main highway connecting three regional capitals: Beledweyne in Hiraan region, Dhusamareb in Galguduud region, and Galkayo in Mudug region. The group has maneuvered northeast from Beledweyne since October 2018. This campaign began in earnest when tensions between the SNA and the Ahlu Sunnah Wal Jama'a militia led to violence in Dhusamareb in February 2019.
Al Shabaab has most recently escalated along this inland highway since February 2021. Militants attacked Dhusamareb at least seven times between February and April. The group has also been active in the area between Elbur and Dhusamareb and along the Galguduud-Mudug regional border since September 2020. More recently, the group *clashed with the SNA in a town along the highway 20 miles southwest of Dhusamareb on July 5.
Figure 2. Key locations in north-central Somalia: July 2021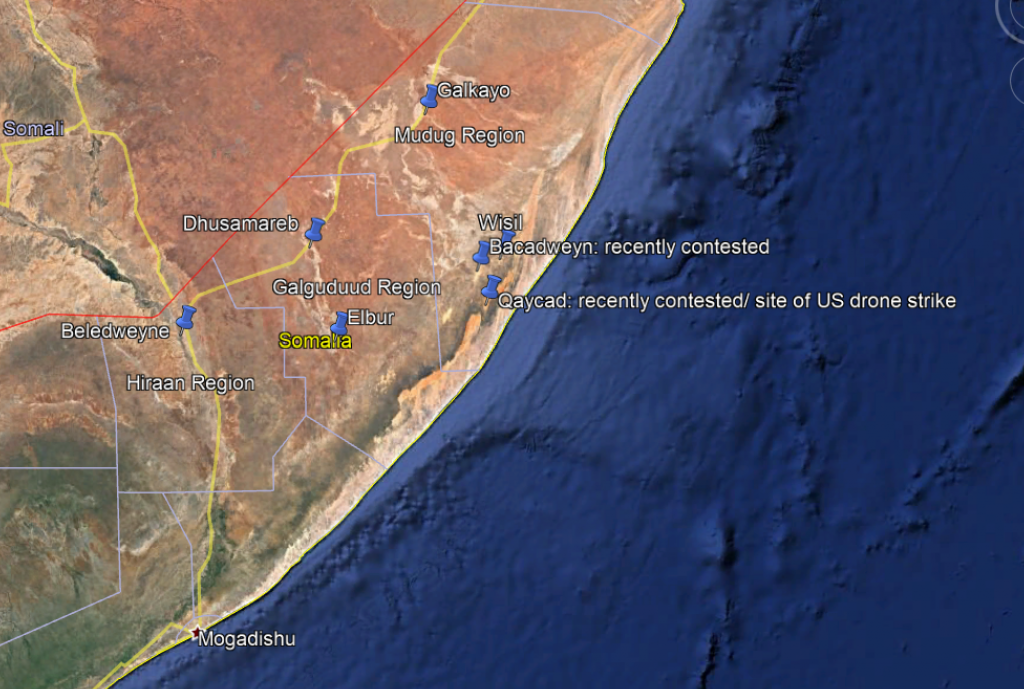 Source: Authors.
Note: This map shows selected contested locations, not all al Shabaab or Somali military activity.
Al Shabaab continued attacks in Mogadishu and will likely escalate in the lead-up to Somalia's elections. Suicide bombings on July 3 and July 10 targeted security officials in the capital. The ongoing attacks signal al Shabaab's capability to threaten Somalia's slate of national elections, which will be held between July and October following a drawn-out political crisis. Al Shabaab's leader called for Somalis to boycott the elections in an address released on the Eid al Adha holiday on July 20.[2]
West Africa
Sahel
France will end its counterterrorism operation in the Sahel by 2022. French President Emmanuel Macron announced on July 13 that Operation Barkhane will end in the first quarter of 2022. The French troop contribution will be halved and three military bases in Mali will be closed. European troops under the Takuba Task Force will replace the withdrawing French troops, with France's remaining troops acting as Takuba's "backbone."
Several Salafi-jihadi media releases targeted France. Al Qaeda– and Islamic State–linked groups operating in the Sahel region of West Africa seek to drive French presence and influence from the region. Al Qaeda–linked Jama'at Nusrat al Islam wa al Muslimeen (JNIM) released its first video since January 2020 on July 9 calling for Muslims to take up arms against Western countries, particularly France. The video framed the publication of cartoons of the Prophet Mohammed in France as part of a war on Islam. An al Qaeda media outlet released part of a documentary series on July 15 also castigating France for the republication of Prophet Mohammed cartoons in December 2020.[3] Al Qaeda's General Command had released a statement in early January 2021 calling on its supporters to boycott and attack French interests due to the cartoons.
Islamic State media also continues to promote its affiliate's activities in the Sahel. The group's July 14 al Naba newsletter mocked the June 28 Global Coalition to Defeat ISIS meeting in Italy and warned European countries to fear its expansion in the Sahel.[4]
JNIM is again calling on the Malian government to  exchange prisoners. JNIM released a video on July 16 showing captive Malian soldiers and calling for the release of imprisoned JNIM leaders.[5] JNIM released a French national and two other Europeans as part of a prisoner exchange with the Malian government in October 2020. The Malian government released nearly 200 JNIM and non-JNIM prisoners in return and possibly paid ransom. The video likely aims to initiate another prisoner exchange or ransom with the Malian government.
Mali's interim president survived an assassination attempt. Unidentified attackers attempted a knife attack on President Assimi Goita in Mali's capital, Bamako, after Eid al Adha celebrations on July 20. The president appeared on national television later that day to confirm his health. Goita was involved in both the August 2020 and the May 2021 coup d'état and was sworn in as the country's interim leader on June 7.
Unrest is rising in response to a spike in Salafi-jihadi attacks on civilians in Burkina Faso. Demonstrators massed in Burkina Faso's capital, Ouagadougou, in response to insecurity on July 3, calling on the Burkinabe government to alleviate the humanitarian crisis caused by increased Salafi-jihadi attacks. Gunmen killed at least 130 civilians in northwestern Burkina Faso in the worst terrorist attack in the country's history on June 4–5. President Roch Marc Christian Kabore dismissed his defense and security ministers on July 7 and took over as defense minister in an attempt to appease protesters. The security situation continues to worsen, however. JNIM militants have *closed off the roads to several villages throughout Burkina Faso, not allowing villagers to escape and limiting access to resources. Likely JNIM militants also attacked security forces and blockaded a village in eastern Burkina Faso on July 20.
Lake Chad
The Islamic State's West Africa Province is strengthening in the aftermath of the death of Boko Haram's leader. Islamic State's West Africa Province (ISWA) is cementing its control in Sambisa Forest, previously Boko Haram's main base and hideout. ISWA militants *established rules and taxes in Sambisa Forest on July 4, lifting a ban on fishing and farming activities. The group is taking over governance structures previously controlled by former Boko Haram leader Abubakr Shekau. ISWA's control of the region will provide the group with additional resources to strengthen and expand its presence in and beyond northeastern Nigeria.
ISWA may be expanding southward and targeting Christians in Nigeria's Adamawa state. ISWA claimed an attack killing 30 Christian civilians and militiamen in Adamawa state's Dabna village on July 8.[6] ISWA has conducted some *attacks in Adamawa in the past, but Boko Haram has historically been more active in the area. Boko Haram militants most recently *attacked in Adamawa on April 11. The recent ISWA attack claim may indicate that the group has absorbed some Boko Haram fighters that were active in this area. The Islamic State's al Naba newsletter has heavily promoted Boko Haram deaths and defections to ISWA since Shekau's death in a confrontation with ISWA in May.[7]
ISWA activity is increasing in Cameroon. Likely ISWA militants have conducted several attacks in villages in northern Cameroon since the beginning of July. ISWA conducted four attacks in less than two weeks in northern Cameroon, an uptick compared to ISWA's previous activity in the region. The Multinational Joint Task Force has repelled some of the group's attacks, but ISWA will likely continue operating in northern Cameroon due to its ability to return to its base across the border in Nigeria.
---
[1] SITE Intelligence Group, "Shabaab Claims 70 Casualties in Counter-Offensive in Mudug, Documents Enemy Casualties and Fighters Maintaining Control Over Areas," July 7, 2021, available by subscription at www.siteintelgroup.com.
[2] SITE Intelligence Group, "Shabaab Leader Discusses Obstacles to Somali Prosperity in Eid al-Adha Speech, Calls to Boycott Elections," July 20, 2021, available by subscription at www.siteintelgroup.com.
[3] SITE Intelligence Group, "Al-Qaeda Releases 1st Part of Video Documentary on Jihadi Reprisals for Insults to Islam, Vilification of France," July 15, 2021, available by subscription at www.siteintelgroup.com.
[4] SITE Intelligence Group, "IS Mocks Meeting of Global Coalition to Defeat It, Agrees Italy Should Fear Sahel Expansion," July 14, 2021, available by subscription at www.siteintelgroup.com.
[5] SITE Intelligence Group, "JNIM Releases Video of Captive Sub-prefects, Malian Soldiers," July 16, 2021, available by subscription at www.siteintelgroup.com.
[6] SITE Intelligence Group, "ISWAP Claims Killing 30 Christians and "Apostate" Militiamen in Attack in Adamawa," July 8, 2021, available by subscription at www.siteintelgroup.com.
[7] SITE Intelligence Group, "IS Details Events Leading to Boko Haram Leader Shekau Killing Himself Rather than Surrender," July 1, 2021, available by subscription at www.siteintelgroup.com.
View Citations