Africa File
The Africa File is an analysis and assessment of the Salafi-jihadi movement in Africa and related security and political dynamics. 
Africa File: Political conflicts create openings for Salafi-jihadi groups in Somalia, Mali
[Notice: The Critical Threats Project frequently cites sources from foreign domains. All such links are identified with an asterisk (*) for the reader's awareness.]
To receive the Africa File via email, please subscribe here.
Local and national political conflicts are creating opportunities for Salafi-jihadi groups to embed themselves into civilian populations in Africa. Al Shabaab, al Qaeda's East African affiliate, has escalated attacks in Somalia's capital in 2021 in a bid to delegitimize the government by delaying the steps required to resolve the current constitutional crisis. An al Qaeda–linked group in central Mali is capitalizing on efforts to end communal conflicts to increase its influence over civilians.
In this Africa File:
Somalia. Al Shabaab is attempting to exacerbate Somalia's political crisis.
Ethiopia. Eritrean forces are deploying to the ongoing fighting in northern Ethiopia's Tigray regional state. Forces from neighboring Amhara regional state claimed control of territory in Tigray.
Mozambique. Islamic State–linked militants expanded operations westward while sustaining a siege on a coastal town. The death of Tanzania's president, if it leads to lasting political instability, may create opportunities for increased Salafi-jihadi activity in Tanzania.
Libya. A new interim government took office. Security forces arrested an Islamic State commander in southwestern Libya.
Sahel. Al Qaeda–linked militants are exploiting efforts to end ethnic conflict to increase their influence over populations in central Mali. Islamic State–linked militants are likely responsible for the most recent attack on civilians in western Niger.
Latest publications:
Mozambique. Emily Estelle discussed the Islamic State–linked insurgency in Mozambique on BBC Newshour. Listen here. Estelle and Jessica Trisko Darden recently published a report on Mozambique, including a forecast and recommended policy response. Read the report here, and view the interactive graphic here.
Read Further On:
Figure 1. The Salafi-Jihadi Movement in Africa: March 2021
View full size image here.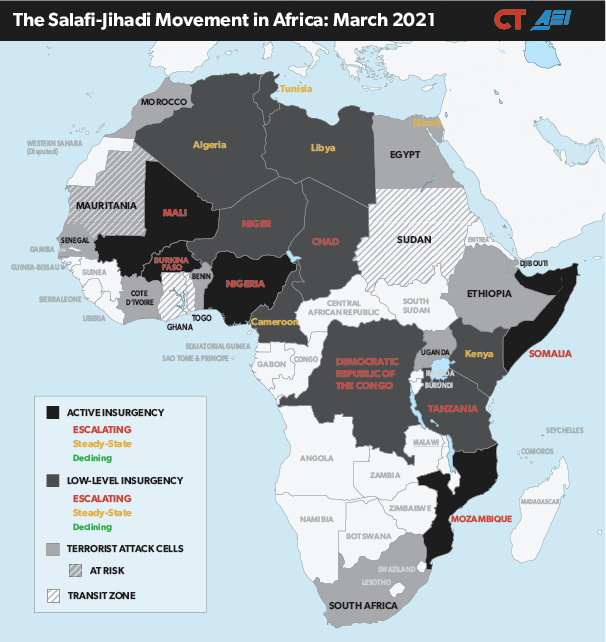 Source: Emily Estelle.
---
Overview: The Salafi-jihadi threat in Africa
Updated March 18, 2021
The Salafi-jihadi movement, which includes al Qaeda and the Islamic State, is active across northern, eastern, and western Africa and is expanding and deepening its presence on the continent. This movement, like any insurgency, draws strength from access to vulnerable and aggrieved populations. Converging trends, including failing states and regional instability, are creating favorable conditions for the Salafi-jihadi movement's expansion. Meanwhile, counterterrorism efforts rely on the continued efforts of international coalitions, support for which is eroding, and on states and local authorities that have demonstrated an inability to govern effectively.
West Africa. The Salafi-jihadi movement has spread rapidly in West Africa by exploiting ethnic grievances and state weaknesses that include human rights abuses, corruption, and ineffectiveness. An al Qaeda affiliate co-opted the 2012 Tuareg rebellion in Mali and has continued to expand southward through the Sahel region into central Mali and northern Burkina Faso. Sahel groups have not yet plotted attacks outside West Africa but have sought to drive Western security and economic presence out of the region while building lucrative smuggling and kidnapping-for-ransom enterprises. An al Qaeda–linked group in Mali is infiltrating governance structures, advancing an overarching Salafi-jihadi objective, and seeking to expand into Gulf of Guinea countries. West Africa has become an area of focus for transnational Salafi-jihadi organizations, with rival jihadists now fighting for dominance in the Sahel.
The Islamic State's largest African affiliate is based in northwest Nigeria—Africa's most populous country—and conducts frequent attacks into neighboring states. Boko Haram and an al Qaeda–linked splinter group are also active in this region.
East Africa. Al Shabaab, an al Qaeda affiliate and the dominant Salafi-jihadi group in East Africa, is vocal about its intent to attack US interests and has begun to plot international terror attacks. The group enjoys de facto control over broad swathes of southern Somalia and can project power in the Somali federal capital Mogadishu and regional capitals where it regularly attacks senior officials. It seeks to delegitimize and replace the weak Somali Federal Government (SFG)—a task made easier by endemic political dysfunction and corruption in Mogadishu. Al Shabaab's governance ambitions extend to ethnic Somali populations in Kenya and Ethiopia.
Al Shabaab is positioned to benefit from eroding security conditions in East Africa. Ethiopia's destabilization is already having regional effects, including weakening counter–al Shabaab efforts in Somalia. The drawing down of the US and African Union counterterrorism missions in Somalia will also reduce pressure on al Shabaab.
The Islamic State has also penetrated the region. Islamic State branches are now active in northern Somalia, the eastern Democratic Republic of the Congo, and northern Mozambique, bordering Tanzania, where its affiliate seized a Mozambican port in August 2020 that it still controls. The Islamic State foothold in Mozambique marks the Salafi-jihadi movement's expansion into southern Africa.
North Africa. Salafi-jihadi groups in North Africa are at a low point, but the fragility and grievances that led to their rise remain. The Arab Spring uprisings and subsequent security vacuums allowed Salafi-jihadi groups to organize and forge ties with desperate and coerced populations. The rise of the Islamic State brought a peak in Salafi-jihadi activity in North Africa, particularly from its branches in Libya and Egypt's Sinai Peninsula. Counterterrorism pressure has weakened Salafi-jihadi groups across North Africa in the past five years. The insurgencies in Libya and the Sinai are active but contained, and terrorist attacks across the region have decreased. Libya's political and security crisis will continue to create opportunities for Salafi-jihadi groups, and severe instability or collapse in any North African state would likely bring the Salafi-jihadi threat back to the surface.
East Africa
Somalia
Al Shabaab is attempting to exacerbate Somalia's political crisis. The SFG faces a surge in COVID-19 cases and an ongoing constitutional crisis. Disputes between the SFG and regional states have delayed elections past the February 8 expiration of President Mohammed Abdullahi Farmajo's mandate.
Al Shabaab is attempting to further delay elections by targeting government and security officials in Mogadishu. Al Shabaab has intensified attacks in Mogadishu since January as part of an ongoing campaign to destabilize and weaken the SFG. Militants conducted a suicide vehicle-borne improvised explosive device (SVBIED) attack targeting a restaurant popular with government and security personnel in Mogadishu on March 5, killing at least 20 people and injuring over 30 others. Al Shabaab *claimed the attack targeted security officials near a police station.
The group also fired *mortars near Mogadishu's international airport on March 9, the day leaders of several Somali federal states *planned to arrive in the capital for election talks with President Farmajo. Somali special forces most recently thwarted an al Shabaab SVBIED attack in Toratorow in southern Somalia's Lower Shabelle region on March 15 that was reportedly intended to target Mogadishu.[1]
Forecast: Al Shabaab will attack Halane base in Mogadishu in the coming weeks to exacerbate the SFG's constitutional crisis. SFG officials are due to meet with state leaders at the base, which houses UN and other international agency offices, at an unspecified date. (As of March 17, 2021)
A large prison break in northern Somalia is likely part of al Shabaab's broader effort to protect its weapons-smuggling operations. Al Shabaab *raided a prison in Boosaaso in Bari region in northern Somalia's Puntland State on March 5. Al Shabaab *claimed to release 400 prisoners, including individuals jailed for over 10 years.[2]
Boosaaso is Puntland State's largest city and the center of al Shabaab's illicit weapons trade. This prison break corresponds with reports since early December 2020 of security forces *intercepting bomb-making material in the port, and al Shabaab militants *smuggling weapons to the al Madow mountain range, which stretches into Bari region. The escaped prisoners may have fled to the mountains roughly 20 miles away from Boosaaso. Puntland State security forces have since claimed to kill 20 al Shabaab militants and recapture 87 prisoners.
Al Shabaab will attempt more prison raids across Somalia, while the SFG faces political instability. Al Shabaab has increased attacks in Mogadishu since January, primarily targeting security personnel in central Mogadishu. This increase also coincided with clashes between security forces and civilians in Mogadishu in mid-February over stalled elections. A senior al Shabaab leader *announced on March 7 that the group intends to free "unjustly" imprisoned members.[3]
Forecast: Al Shabaab will next attempt a prison raid in Mogadishu, where deteriorating security conditions favor the group. Al Shabaab attempted to raid Mogadishu's central prison, which reportedly holds the most dangerous of the group's militants, in August 2020. (As of March 17, 2021)
Ethiopia
Eritrean forces are deploying to the ongoing fighting in northern Ethiopia's Tigray regional state. Ethiopian federal forces claimed victory over the Tigray People's Liberation Front (TPLF) in November 2020 when they seized Tigray's capital Mekelle, but fighting has continued since. A Belgium-based nongovernmental organization reported on March 16 that Ethiopian federal forces are fighting the TPLF along three fronts surrounding Mekelle: north of the Tigray capital around Adigrat, west of Mekelle around Abiy Addi, and south of Mekelle.
The limited reporting also indicates that Eritrean forces sent reinforcements across the Ethiopian-Eritrean border into Tigray around March 15. The buses carrying the soldiers approached Maykinetal town, located on a road north of Abiy Addi, and Bizet town, located on a road west of Adigrat. Eritrean forces may be attempting to expand their presence around Abiy Addi following their takeover of the town around March 9.
Forces from neighboring Amhara regional state have claimed control of territory in Tigray. A spokesman for the Amhara regional government said regional officials are awaiting approval from Ethiopia's federal government to reincorporate disputed territories to Amhara State. Amhara regional forces have reportedly targeted ethnic Tigray and forcefully removed them from land in western Tigray at least since early March. Amhara regional officials are likely pressuring Prime Minister Abiy Ahmed's administration to reassign land to the Amhara region as a reward for Amhara regional forces backing federal troops throughout the conflict. Abiy relies on Amhara leadership and popular support while facing backlash among many other Ethiopian constituencies, including his own ethnic Oromo community. Amharan stakeholders also favor Abiy's aim to dismantle Ethiopia's federal system.
Mozambique
Islamic State–linked insurgents are advancing westward along the Mozambican-Tanzanian border while sustaining a siege on a coastal town. Militants *set up roadblocks in Nangade district in north-central Cabo Delgado province on March 2. The militants also burned homes in a village in the district on March 4, driving out residents. Several dozen customs agents *abandoned their posts in the district on March 7 following an attack.
The group is simultaneously besieging Palma, a town in northeastern Cabo Delgado, requiring government, business, and humanitarian actors to attempt to supply the town by sea. The ongoing attacks come as humanitarian organizations report on the beheadings of children as young as age 11.
The Mozambican government has repeatedly claimed progress against the insurgency. Recent *attacks around Nangade district suggest otherwise, however. The government has increasingly limited reporting on the insurgency, including by deporting journalists.
The US Department of State designated the Islamic State in Mozambique a foreign terrorist organization and sanctioned its leader on March 10. US Army Special Operation Forces began a two-month training program for Mozambican marines.
Tanzanian President John Magufuli died on March 17. The transition of power could create opportunities for increased Salafi-jihadi activity along the Mozambican-Tanzanian border or  inside Tanzania, particularly if political instability disrupts the function of the country's security services.
North Africa
Libya
The Libyan National Army (LNA) is conducting counterterrorism operations to maintain influence in Libya as the UN's peace process makes way for new leadership. The LNA arrested an Islamic State commander named Muhammad Milou Muhammad, also known as Abu Omar, in southwestern Libya's Ubari town on March 14. The targeted militant was responsible for coordinating operations in Libya and the Sahel and was close to the Islamic State in Libya's late leader, according to the LNA. A local *official in Ubari reported four air strikes in the city on March 14, but the strikes were not confirmed by official Libyan or international sources.
This arrest is a success for the LNA, which presents itself as a counterterrorism force to gain public and international support. The operation signals the continued Islamic State presence in the Fezzan as well as the LNA's efforts to remain the relevant security force in southwestern Libya, a sparsely populated region that houses key oil installations.
Libya's new transitional government took office, marking a hopeful step even as key questions remain unanswered. Libya's House of Representatives (HoR) approved the Government of National Unity (GNU) on March 10, clearing the path for GNU ministers to be sworn into office on March 15. The HoR *did not adopt some of the UN's Libyan Political Dialogue Forum's outcomes, contrary to UN demands, leaving ambiguity around key issues, including the relationship between the new administration and the armed forces. The GNU is tasked with organizing elections to occur in December 2021.
Forecast: The LNA will likely continue to conduct and claim counterterrorism operations to position itself to retain influence as the transitional process progresses. Increased counterterrorism operations may create an incentive for the Islamic State to emerge from its current dormant status to conduct small-scale retaliatory attacks. (Updated March 16, 2021)
Libyan militias and foreign militaries will attempt to exert influence through the interim government but may revert to violence should they assess they cannot secure their interests through political channels. (As of March 3, 2021)
Renewed fighting would lift pressure from Salafi-jihadi militants in southwestern Libya and could create opportunities for the Islamic State to emerge from its current dormant status. The current political process also creates an incentive for the Islamic State to attack if it retains the capability. The Islamic State in Libya has targeted state ministries in Tripoli during periods of potential progress as part of a larger effort to prevent the formation of a functional Libyan state. (As of March 3, 2021)
West Africa
Sahel
Al Qaeda–linked militants are exploiting efforts to end ethnic conflict to increase their influence over populations in central Mali. The pastoralist Fulani and the agriculturalist Dogon ethnic groups compete for access to land and water, and tensions between the two groups have at times led to armed conflict in central Mali. Violence between the Fulani and Dogon has escalated since 2015, when Salafi-jihadi groups, most notably al Qaeda–linked Jama'at Nusrat al Islam wa al Muslimeen (JNIM), began attacking the Dogon and fueling a cycle of retaliatory attacks. Salafi-jihadi militants have stoked the Fulani-Dogon clashes while presenting themselves as a potential security guarantor. JNIM has exploited local violence to gain access to local communities by promising protection and allying with vulnerable Fulani populations.
The environment in Mali has shifted to make negotiations a more viable tool for JNIM. JNIM participated in negotiations at a time when Mali's transitional government was promising to protect Malians from militant violence after the August 8 coup d'état. The Malian government released nearly 300 prisoners as part of a prisoner exchange with JNIM in October 2020. JNIM militants occupied and surrounded villages in central Mali's Niono region shortly after. The group has been participating in negotiations with Dogon armed groups and local leaders, most notably in Niono's Farabougou village. A majority-Fulani JNIM unit, the Macina Liberation Front (MLF), besieged Farabougou in October 2020, and the Malian Army has since *claimed to have liberated the town.
A shift toward rapprochement between the Dogon and Fulani now creates an opportunity for JNIM to consolidate its position in Niono. The MLF is acting as a stand-in for the Fulani community. Members of Mali's High Islamic Council (HIC), an independent religious body, facilitated a *cease-fire agreement between Dogon militias and MLF militants on March 14. The agreement states that residents of Niono will be allowed to move freely for one month and that the MLF will release a dozen prisoners. Dogon militias will in exchange allow Salafi-jihadi militants to enter and preach in Niono villages. The monthlong cease-fire is unlikely to last, as MLF militants clashed with Dogon militias in Niono's Dogofry village on March 15, one day after the cease-fire announcement.
MLF militants also demanded the removal of Malian soldiers from Farabougou. HIC members fear MLF militants will not comply with the cease-fire if Malian troops leave Farabougou, however.
Forecast: JNIM will likely remain in central Mali's Niono region to establish governance in an area where the group is already present. Negotiations will likely embolden JNIM to increase demands in future negotiations. If JNIM keeps its position in Niono, it will expand its reach into areas within Niono not under its direct control to establish a control base from which it can conduct attacks against Malian security forces elsewhere. (As of March 18, 2021)
The Islamic State is once again attacking civilians in western Niger. Armed gunmen killed 58 civilians in western Niger's Tillaberi region on March 15. The civilians were returning to their villages from a weekly market when the gunmen attacked the vehicles. The Islamic State in the Greater Sahara (ISGS) is likely responsible for the attack.
ISGS is present in western Niger and has been active in northern Tillaberi and the Niger–Mali–Burkina Faso border region for several years. The group has suffered from targeted counterterrorism operations and is likely conducting attacks to gain access to resources including vehicles and food. An ISGS attack killed more than 100 civilians in Tillaberi on January 2 during Niger's presidential election voting.
For more on ISGS's campaign in Niger, see the March 3 update.
Lake Chad
Lake Chad updates will resume in the next Africa File. See the March 3 update for an assessment of how the destabilization of northeastern Nigeria has led to an uptick in mass kidnappings of schoolchildren.
---
[1] "Shabaab Claims Suicide Bombing Thwarted Operation by Somali and Foreign Forces in Toratorow," SITE Intelligence Group, March 15, 2021, available by subscription at www.siteintelgroup.com.
[2] "Shabaab Claims Freeing Over 400 Inmates in Attack on Bosaso Central Prison," SITE Intelligence Group, March 5, 2021, available by subscription at www.siteintelgroup.com.
[3] "Shabaab Official Warsame Speaks on Bosaso Central Prison Operation, Vows More Raids to Come," SITE Intelligence Group, March 9, 2021, available by subscription at www.siteintelgroup.com.
View Citations