Africa File
The Africa File is an analysis and assessment of the Salafi-jihadi movement in Africa and related security and political dynamics. 
Africa File: Islamic State's Sahel branch ups activity amid Mali's political crisis
[Notice: The Critical Threats Project frequently cites sources from foreign domains. All such links are identified with an asterisk (*) for the reader's awareness.]
To receive the Africa File via email, please subscribe here.
Mali's political crisis may disrupt counterterrorism efforts to the benefit of Salafi-jihadi groups. Mali suffered its second coup in a year, causing key partners—including France—to suspend military cooperation. This disruption occurs as the Islamic State's Sahel branch rebounds after more than a year of clashes with its rival, al Qaeda's branch in Mali.
In this Africa File:
Sahel. An Islamic State affiliate resumed publicizing its activities in northeastern Mali. Likely Salafi-jihadi militants massacred civilians in Burkina Faso.
Lake Chad. The Islamic State's West Africa Province is strengthening in northeastern Nigeria and will benefit from the death of Boko Haram's leader.
Somalia. Al Shabaab launched an offensive against the Somali military north of the capital Mogadishu.
Libya. The Islamic State conducted an attack in southwestern Libya after a yearlong pause.
Read Further On:
Figure 1. The Salafi-Jihadi Movement in Africa: May 2021
View full image here.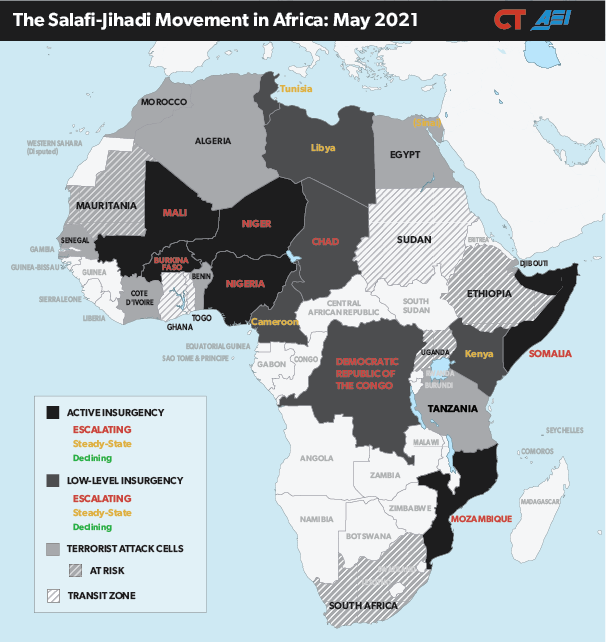 Source: Authors.
Overview: The Salafi-jihadi threat in Africa
Updated May 12, 2021
The Salafi-jihadi movement, which includes al Qaeda and the Islamic State, is active across northern, eastern, and western Africa and is expanding and deepening its presence on the continent. This movement, like any insurgency, draws strength from access to vulnerable and aggrieved populations. Converging trends, including failing states and regional instability, are creating favorable conditions for the Salafi-jihadi movement's expansion. Meanwhile, counterterrorism efforts rely on the continued efforts of international coalitions, support for which is eroding, and on states and local authorities that have demonstrated an inability to govern effectively.
West Africa. The Salafi-jihadi movement has spread rapidly in West Africa by exploiting ethnic grievances and state weaknesses that include human rights abuses, corruption, and ineffectiveness. An al Qaeda affiliate co-opted the 2012 Tuareg rebellion in Mali and has continued to expand southward through the Sahel region into central Mali and the peripheries of Burkina Faso. An Islamic State–linked group is active in the same area, particularly western Niger and parts of Burkina Faso.
Sahel groups have not yet plotted attacks outside West Africa but have sought to drive Western security and economic presence out of the region while building lucrative smuggling and kidnapping-for-ransom enterprises. An al Qaeda–linked group in Mali is infiltrating governance structures, advancing an overarching Salafi-jihadi objective, and expanding into Gulf of Guinea countries. West Africa has become an area of focus for transnational Salafi-jihadi organizations, with rival jihadists now fighting for dominance in the Sahel.
The Islamic State's largest African affiliate is based in northwest Nigeria—Africa's most populous country—and conducts frequent attacks into neighboring Cameroon, Chad, and Niger. Boko Haram and an al Qaeda–linked splinter group are also active in this region.
New instability in Chad, whose security forces are engaged in counterterrorism efforts in Mali and the Lake Chad basin, may lift pressure from Salafi-jihadi groups in both theaters.
East Africa. Al Shabaab, an al Qaeda affiliate and the dominant Salafi-jihadi group in East Africa, is vocal about its intent to attack US interests and has begun to plot international terror attacks. The group enjoys de facto control over broad swathes of southern Somalia and can project power in the Somali federal capital Mogadishu and regional capitals, where it regularly attacks senior officials. It seeks to delegitimize and replace the weak Somali Federal Government—a task made easier by endemic political dysfunction, corruption, and an ongoing constitutional crisis. Al Shabaab's governance ambitions extend to ethnic Somali populations in Kenya and Ethiopia, and the group conducts regular attacks in eastern Kenya.
Al Shabaab is positioned to benefit from eroding security conditions in East Africa. Ethiopia's destabilization is already having regional effects, including weakening counter–al Shabaab efforts in Somalia. The drawing down of the US and African Union counterterrorism missions in Somalia will also reduce pressure on al Shabaab.
The Islamic State has also penetrated the region. Islamic State branches are now active in northern Somalia, eastern Democratic Republic of the Congo, and northern Mozambique, bordering Tanzania. The insurgency caused French company Total to shutter a multibillion-dollar natural gas project in northern Mozambique that was the continent's largest private investment. The Islamic State foothold in Mozambique also marks the Salafi-jihadi movement's expansion into southern Africa.
North Africa. Salafi-jihadi groups in North Africa are at a low point, but the fragility and grievances that led to their rise remain. The Arab Spring uprisings and subsequent security vacuums allowed Salafi-jihadi groups to organize and forge ties with desperate and coerced populations. The Islamic State's rise brought a peak in Salafi-jihadi activity in North Africa, particularly from its branches in Libya and Egypt's Sinai Peninsula. Counterterrorism pressure has weakened Salafi-jihadi groups across North Africa in the past five years.
The insurgencies in Libya and the Sinai are active but contained, and terrorist attacks across the region have decreased. Libya's political and security crisis will continue to create opportunities for Salafi-jihadi groups, and severe instability or collapse in any North African state would likely bring the Salafi-jihadi threat back to the surface.
West Africa
Sahel
The Islamic State in the Greater Sahara (ISGS) resumed publicizing its activity in Mali. The Islamic State released photos in its weekly newsletter, al Naba, showing ISGS militants punishing three thieves under sharia law in the Gao region of northeastern Mali. ISGS arrested the men during a robbery attempt in late April and publicly amputated their right hands on May 2. The group also claimed to have killed five Christians at a fake checkpoint between Mali and Niger on June 1.[i]
ISGS has also increased its activity in Niger and Burkina Faso, indicating that it is recovering from losses suffered in clashes with al Qaeda–linked Jama'at Nusrat al Islam wa al Muslimeen (JNIM). ISGS began clashing with JNIM in late 2019 and fighting has continued since. The clashes have disrupted ISGS's activity in Gao region since September 2020.
ISGS appears to have either ousted or deconflicted with JNIM in parts of Gao region, where ISGS has been collecting tax from villagers in recent months. ISGS is also active in western Niger and claimed to kill 36 Nigerian security forces in two separate attacks on May 1 and May 4 in western Niger's Tahoua and Tillaberi regions.[ii] On May 3, the group likely killed 30 civilians in eastern Burkina Faso's Kodyel village near the Nigerien border, an area ISGS targeted in the past. ISGS has conducted several attacks in eastern Burkina Faso and western Niger since early April.
Likely Salafi-jihadi militants conducted a large-scale attack on civilians in Burkina Faso. Gunmen killed at least 130 civilians in Burkina Faso's Yagha province near the Nigerien border on June 5, marking the worst terrorist attack in the country's history. The militants targeted volunteer civilian defense forces, then attacked civilian homes and a market.
ISGS is likely responsible for this attack. ISGS has systematically targeted civilians in western Niger in recent months. JNIM, which also operates in northern Burkina Faso, denied responsibility for the attack in a statement on June 8 and has been quick to condemn attacks against civilians. It is also possible that one of JNIM's local units, which operate with some autonomy, may have conducted the attack without the approval of JNIM's central command. The denial comes at a time when JNIM is losing popular support to its main competitor, ISGS.
The uptick in ISGS activity is occurring as political unrest disrupts regional counterterrorism efforts in the western Sahel. Mali suffered its second coup in nine months on May 24. Mali's transitional Vice President Assimi Goita, who also led the August 2020 coup, seized the presidency after arresting interim President Bah N'Daw and Prime Minister Moctar Ouane on May 24. Both N'Daw and Ouane announced their resignation on May 26.
France suspended its joint military operations with Malian forces on June 3 because of the coup, pending clarification from the junta on the plan for political transition to civilian rule. The African Union and the Economic Community of West African States also *suspended Mali's membership until a civilian government is restored. Goita was sworn in as Mali's transitional president on June 6 and claimed he will oversee Mali's transition to civilian rule.
Lake Chad
Boko Haram leader Abubakr Shekau is dead. The Islamic State's West Africa Province (ISWA) attacked Boko Haram's camp in Sambisa Forest, Boko Haram's main hideout, in northeastern Nigeria's Borno state on May 18. ISWA militants reached Shekau and *demanded he pledge allegiance to ISWA. Shekau chose to detonate a suicide vest instead of joining ISWA. An audio recording released on June 6 confirmed Shekau's death. An ISWA leader sent "glad tidings" of Shekau's death and claimed Shekau killed himself rather than surrender to ISWA.
ISWA had already been building strength, and Shekau's death creates an opportunity for the group to cement its gains. Control of Sambisa Forest, a longtime Boko Haram stronghold, will provide ISWA with more hideouts and safe zones, offering the group greater protection against counterterrorism efforts. ISWA has been active elsewhere in and near northeastern Nigeria's Borno State, conducting *persistent attacks against security forces since December 2020.
ISWA is ultimately more dangerous than Boko Haram because it has a more effective strategy and takes steps to avoid alienating local populations. Shekau was notorious for attacking Muslim civilians and using girls as suicide bombers. ISWA has provided governance and embedded itself in the communities in which it operates, providing local communities with incentive to cooperate. The group also makes modest efforts to protect commerce and free movement in its territories. ISWA has embraced more violence toward civilians in recent years, potentially risking this strategy, but it has remained more focused on targeting security forces over civilians than Shekau's Boko Haram.
ISWA has conducted several attacks against security forces in Nigeria and Niger since Shekau's death. ISWA claimed to kill seven Nigerian security personnel and capture two others in an attack on June 4 in Borno State. The militants also attacked a Nigerien army post in southern Niger's Diffa town, killing an unknown number of Nigerien troops and capturing vehicles and weapons.[iii] The group has also been collecting zakat (religious tax) from villagers, including money, cattle, and crops, and has heavily promoted this collection in propaganda.[iv]
Somalia
Al Shabaab launched an offensive against the Somali National Army (SNA) in Somalia's Middle Shabelle region and may contest control of the regional capital, Jowhar. Al Shabaab killed five SNA soldiers in an ambush on Middle Shabelle's Raghe Ceelle district on May 19.[v] The group has launched several *offensives in and near Jowhar since. Jowhar is the Middle Shabelle region's administrative capital and lies on a major road about 50 miles north of Somalia's capital, Mogadishu. SNA forces *recaptured several villages outside Jowhar in February and al Shabaab may be attempting to regain control over the area.
North Africa
Libya
The Islamic State in Libya (IS-Libya) claimed its first attack since June 2020. An attacker detonated a vehicle-borne improvised explosive device (VBIED) at a police checkpoint in Sebha in southwestern Libya on June 6. The explosion *killed at least two police officers and injured four others. IS-Libya claimed responsibility for the explosion on the messaging app Telegram on June 6. The group claimed that the explosion killed four police officers affiliated with Khalifa Haftar's Libyan National Army (LNA). The LNA nominally controls Sebha and arrested an IS-Libya leader in March about 120 miles southwest of Sebha. IS-Libya has not claimed an attack since June 2020, when it conducted multiple attacks against the LNA.
The bombing may have been intended to worsen instability in Sebha. Clashes between rival security forces in Sebha have decreased since the newly formed Government of National Unity (GNU) took office in March. The GNU's *plans to dispatch security forces to Libya's southern border may reignite clashes, however. IS-Libya may exploit tensions between militias to attack security forces and conduct raids.
Libyan leaders may also use the attack to delegitimize their political opponents before national elections in December 2021. The LNA accused the Muslim Brotherhood of carrying out the June 6 attack, a common LNA refrain intended to delegitimize political opponents. The messaging is likely targeted at LNA rivals such as former Interior Minister Fathi Bashagha, an ally of Turkey with ties to Islamist militias, who has positioned himself to run in the elections.
---
[i] SITE Intelligence Group, "Sahel Division of ISWAP Claims Killing 5 Christians at Bogus Checkpoint Between Gao and Niamey," June 7, 2021, available by subscription at www.siteintelgroup.com.
[ii] SITE Intelligence Group, "ISWAP Claims 36 Deaths in Attacks on Enemy Troops in Niger's Tahoua and Tillabéri Regions," May 8, 2021, available by subscription at www.siteintelgroup.com.
[iii] SITE Intelligence Group, "ISWAP Captures 2 CJTF Members Near Damboa and Attacks Nigerien Military Post, Documents the Result of Each," June 7, 2021, available by subscription at www.siteintelgroup.com.
[iv] SITE Intelligence Group, "Naba 288 Exclusive Reports Activities of ISWAP's 'Zakat Bureau' in Lake Chad Region, Collection of 157K USD in 2 Months," May 28, 2021, available by subscription at www.siteintelgroup.com.
[v] SITE Intelligence Group, "Shabaab Claims 20 Kenyan Soldiers Killed in Ambush in Lamu County, 26 Casualties in SNA Ranks in Gedo," May 19, 2021, available by subscription at www.siteintelgroup.com.
View Citations