Africa File
The Africa File is an analysis and assessment of the Salafi-jihadi movement in Africa and related security and political dynamics. 
Notice: The Critical Threats Project frequently cites sources from foreign domains. All such links are identified with an asterisk (*) for the reader's awareness.
September 17 Briefing
Political transitions and civil war in North Africa are creating conditions for Salafi-jihadi groups, including al Qaeda and Islamic State affiliates, to recoup the regional losses they have suffered in recent years. Counterterrorism efforts have reduced Salafi-jihadi activity in North Africa significantly since 2015. These gains are vulnerable, however, as Libya's civil war continues to churn and Algeria, typically a security exporter, navigates a fraught political transition. The return of North African foreign fighters from Syria and Iraq will likely also contribute to a renewed Salafi-jihadi threat within and emanating from North Africa in the coming year.
Libya descended again into civil war in April. Prospects for a peaceful reconciliation are bleak as foreign powers arm rival factions. Salafi-jihadi militants are increasingly active in the seams of the conflict
Tensions are rising in Algeria, where military leaders are pushing for quick elections and cracking down on protesters to consolidate power. Protests have lasted for seven months and caused the ouster of Algeria's longtime president in April.
The upending of Tunisia's presidential race by outsider candidates reflects popular frustration and grievances that the post–Arab Spring government has failed to address. The country's young institutions will likely weather the electoral turmoil, but Tunisia faces deeply rooted economic challenges and simmering popular displeasure that threaten its longer-term stability.
A Salafi-jihadi insurgency is ongoing in Egypt's Sinai Peninsula. Egyptian President Abdel Fattah al Sisi, while still firmly in power, faces a new challenge from public corruption allegations.
Separately, the Salafi-jihadi movement is expanding rapidly in West Africa. An Islamic State affiliate is establishing a proto-state in northeastern Nigeria, where militants are capitalizing on the withdrawal of security forces. An al Qaeda–linked group is waging a cross-border campaign in Mali and Burkina Faso that is destabilizing several states and threatening neighboring nations.
Read Further On:
---
 

At a Glance: the Salafi-jihadi Threat in Africa
Updated September 17, 2019
Global counterterrorism efforts have passed their high-water mark and are receding. The US administration is pivoting toward the Russian and Chinese threats. The administration also seeks to withdraw American troops from Afghanistan, a course that will likely be delayed rather than altered by the breakdown of talks with the Taliban. However, the Salafi-jihadi movement continues to make gains in Africa, including in areas in which previous counterterrorism efforts had significantly reduced Salafi-jihadi groups' capabilities. The movement is positioned to take advantage of the expected general reduction in counterterrorism pressure to establish new support zones, consolidate old ones, increase attack capabilities, and expand to new areas of operations.
The Salafi-jihadi movement, including al Qaeda and Islamic State affiliates and allies, is on the offensive in Burkina Faso, on the counteroffensive in Libya, and stalemated in Mali, Somalia, and Nigeria. However, conditions in the last three countries favor the Salafi-jihadi movement rather than its opponents over the next 12–18 months.
Libya's civil war, reignited on a large scale in April, will continue to fuel the Salafi-jihadi comeback for at least the next several months, possibly allowing the Islamic State or al Qaeda to regain some of the territory they controlled before major operations against them from 2016 to 2019. The Islamic State's comeback in Libya is part of its global effort to reconstitute capabilities after military defeats, an effort that the group's leader, Abubakr al Baghdadi, sought to galvanize in a September audio message. Stalemates in Somalia and Mali rest on the continued efforts of international coalitions, support for which is rapidly eroding, and on local partners that have demonstrated their inability to govern effectively or establish legitimacy in the eyes of their people.
Amid these conditions, US Africa Command is shifting its prioritization from the counterterrorism mission to great power competition, a move also intended to reduce risk after a 2017 attack killed four servicemen in Niger. US and European powers aim to turn over counterterrorism responsibilities to regional forces of limited effectiveness — such as the G5 Sahel, which is plagued by funding issues, and the African Union Mission in Somalia, which is beginning a scheduled drawdown.
The Salafi-jihadi movement currently has four main centers of activity in Africa: Libya, Mali and its environs, the Horn of Africa, and the Lake Chad Basin. These epicenters are networked, allowing recruits, funding, and expertise to flow among them. The rise of the Salafi-jihadi movement in these and any other place is tied to the circumstances of Sunni Muslim populations. The movement takes root when Salafi-jihadi groups can forge ties to vulnerable populations facing existential crises such as civil war, communal violence, or state neglect or abuse. Local crises are the incubators for the Salafi-jihadi movement and can become the bases for future attacks against the US and its allies.
North Africa
The protracted battle for Tripoli, Libya's capital, is degrading security across Libya. The Libyan National Army (LNA) militia coalition, led by Khalifa Haftar, launched an offensive to seize Tripoli in April 2019. The LNA has not breached the city's defenses, however, and suffered a major setback with the death of key commanders on Tripoli's outskirts on September 13. Their deaths could cause the LNA to lose its position in Tarhouna, southeast of Tripoli, crippling the LNA's offensive in the aftermath of a similar loss in June.
The civil war is now spreading to additional fronts and destabilizing areas where Salafi-jihadi militants have been active. The LNA conducted its first airstrikes on Sirte and its environs on September 13. These strikes may have been intended to prevent anti-LNA forces from contesting the LNA's control of the Jufra airbase or lucrative oil crescent region. The forces that control Sirte were involved in the campaign to oust the Islamic State from Sirte in 2016. The Libyan civil war has also destabilized parts of the country's southwest, where the Islamic State and al Qaeda in the Islamic Maghreb are active. [For more on the Libya crisis and how it benefits Salafi-jihadi groups, see a recent Africa File.]
Forecast: A German initiative to reinvigorate the UN-led peace process in Libya is unlikely to succeed as Libyan factions recommit to military campaigns to secure their objectives. Anti-LNA forces may shift from defensive to offensive operations to press the LNA at a moment of weakness and possibly threaten LNA control of oil infrastructure in central Libya. Salafi-jihadi groups will strengthen in the seams of the conflict and will increase attacks in the coming six months. (Updated September 17, 2019)
Counterterrorism operations have limited the ability of al Qaeda– and Islamic State–linked groups to conduct attacks in Tunisia and Algeria in the past several years. Grievances that feed Salafi-jihadi recruitment persist in both countries, however, and the potential for instability that could galvanize the Salafi-jihadi movement remains. Tunisia, the lone democracy to emerge from the Arab Spring, has entered its second free election season but faces serious economic problems. Algeria's future is uncertain as entrenched elites face off with protesters who ousted longtime President Abdelaziz Bouteflika in April.
The Islamic State and al Qaeda in the Islamic Maghreb's Tunisian affiliate did not conduct attacks during the first round of voting. The Islamic State's Naba magazine urged Tunisian Muslims to boycott the presidential and legislative elections on September 12. The Uqba ibn Nafa'a Brigade celebrated the death of late Tunisian President Beji Caid Essebsi on July 26 and called on Tunisians not to "replace a tyrant with another tyrant." [For more on leadership attrition in the Uqba ibn Nafa'a Brigade, see the last Africa File.]
Forecast: Leadership losses will prevent the Uqba ibn Nafa'a Brigade from conducting an offensive attack during the Tunisian election season. Islamic State cells in Tunisia will attempt attacks in this same period and are more likely to succeed, but any attack will likely be unsophisticated.  (Updated September 17, 2019)
Outsider candidates advanced to the presidential election runoff in Tunisia, signaling an upending of the political system caused by popular discontent with current leadership. Previously unknown conservative lawyer Kais Said and media mogul Nabil Karoui, who is awaiting trial on corruption charges, won 18.4 and 15.6 percent of the vote respectively in a crowded field. The runoff vote and legislative elections will occur in October.
Forecast: Tunisia's institutions will weather the near-term electoral turmoil, and the election of a prime minister from an establishment party in upcoming legislative elections will limit the practical effect of an outsider president. The election of an outsider will not ameliorate Tunisia's economic challenges and may lead to increased popular frustration with the democratic process over time, possibly leading to unrest. (Updated September 17, 2019)
Algerian military leaders are pushing for December elections and increasing pressure on protesters to consolidate power. Interim President Abdelkader Bensalah announced presidential elections on December 12, following pressure from the military to quickly resolve the political crisis. The announcement follows a call by Army Chief of Staff Ahmed Gaid Salah — who wields significant power over the government — to set an election date. Interim Prime Minister Noureddine Bedoui will reportedly resign soon as a concession to protesters to facilitate elections. Algerian security forces have intensified crackdowns on protesters in recent weeks, including imprisoning a protest leader and restricting internet access.
Forecast: The political deadlock in Algeria is unsustainable and will reach a turning point in the coming months. Elections will likely occur and establish a puppet government while the military retains control. The elections will not resolve the legitimacy crisis and may lead to violent unrest, particularly if security forces crack down more aggressively on protesters and detain more protest leaders. These are potential flashpoints that could lead to violence between protesters and security forces, setting conditions for a full military takeover or an insurgency. (Updated September 17, 2019)
West Africa
A Salafi-jihadi insurgency is strengthening in the northeast of Nigeria, Africa's most populous country. The Nigerian government, despite repeated claims of victory, has ceded much of the remote northeast to militants, currently split into two main factions — the Islamic State West Africa Province (ISWA) and Boko Haram — which also operate across Nigeria's border in Niger, Chad, and Cameroon. The Nigerian state is preoccupied with other domestic security and political challenges and is unlikely to rectify the conditions that led to Boko Haram's formation and ISWA's growth.
The Nigerian Army has adopted a new strategy of retreating to "super camps" and leaving militants unchallenged in the countryside. The official strategy is intended to concentrate well-armed and mobile fighting forces in fortified positions from which they can rapidly respond to militant activity. In effect, soldiers are withdrawing to fortress-like positions and allowing militants — who are often better armed than the army — to conduct unchallenged attacks on towns in Borno State. ISWA temporarily seized Gubio and Magumeri, near Borno State capital Maiduguri, on August 22. The Islamic State featured these raids in a recent issue of its Naba magazine.
ISWA is establishing a proto-state. ISWA's focus on delivering governance in its areas of control has convinced some civilians that ISWA provides a viable alternative to the largely absent Nigerian state.
Forecast: The withdrawal of Nigerian forces to super camps will allow ISWA to expand its governance in Borno State. The Islamic State will use ISWA's proto-state as evidence of success as it seeks to recover from military losses in Iraq and Syria. (Updated September 17, 2019)
The Salafi-jihadi movement is expanding more rapidly in the western Sahel than in any other African region as communal violence and state fragility spread. (See Figure 1.) The movement's epicenter in this region is Mali. Salafi-jihadi groups are active in the country's north and have spread into the country's center, where ethnic-based violence has increased in the past two years. Neighboring Burkina Faso is destabilizing rapidly as Salafi-jihadi groups take root in its north and east. (Unchanged since August 13, 2019)
Al Qaeda in the Islamic Maghreb's Sahel affiliate is attempting to delegitimize an already struggling regional counterterrorism force. Jama'a Nusrat al Islam wa al Muslimeen (JNIM) is waging attack and media campaigns against the G5 Sahel Joint Force. Five countries (Burkina Faso, Chad, Mali, Mauritania, and Niger) formed the internationally backed G5 Sahel force in 2017 to coordinate against regional security threats, but the force has suffered from unfulfilled funding pledges and other setbacks. The leaders of the Economic Community of West African States members, Mauritania, and Chad held an extraordinary summit on the Sahel security crisis in Burkina Faso's capital on September 14. They pledged $1 billion over the next four years to fight Salafi-jihadi groups in the Sahel, but the viability of these pledges is unclear.
JNIM promoted attacks in Mali and Burkina Faso as a warning to West African leaders attending the summit. JNIM ambushed Malian soldiers in central Mali's Mopti Region on September 11 and condemned the soldiers as "invading" G5 Sahel forces. JNIM militants also conducted two simultaneous attacks in northern Burkina Faso's Soum province on September 12. The group called on West African leaders to stop committing their resources and troops to a French war.
Forecast: JNIM may attempt a spectacular attack on a G5 Sahel position or capital to punish its participants. JNIM destroyed the G5 Sahel headquarters in Sevare in central Mali in 2018, compelling the force to fall back to Bamako. (Updated September 17, 2019)
JNIM and other militants in Burkina Faso are attempting to take control of Muslim populations in the country's north by isolating vulnerable communities and destabilizing the country. JNIM's September 12 attacks caused military and police forces to flee, allowing militants to raid some communities and sparking panic in Djibo, the province capital. Militants also continued an escalation of attacks intended to isolate Sanmatenga province in the neighboring Centre-Nord region. [For more on the Salafi-jihadi insurgency in northern Burkina Faso, see last week's Africa File.]
Salafi-jihadi groups are also attempting to undermine the fragile disarmament, demobilization, and reintegration (DDR) process in Mali. Likely JNIM militants abducted 22 Tuareg former militiamen bound for the DDR process in Gao in northern Mali from a bus passing through the Mopti Region in central Mali on September 4.
Forecast: Salafi-jihadi militants will continue to take control of populations in northern Burkina Faso and may ultimately establish de facto governance in the area. Militants based in Mali or Burkina Faso will attack tourist or Christian targets in Gulf of Guinea countries in the next 6–12 months. (Unchanged since August 12, 2019)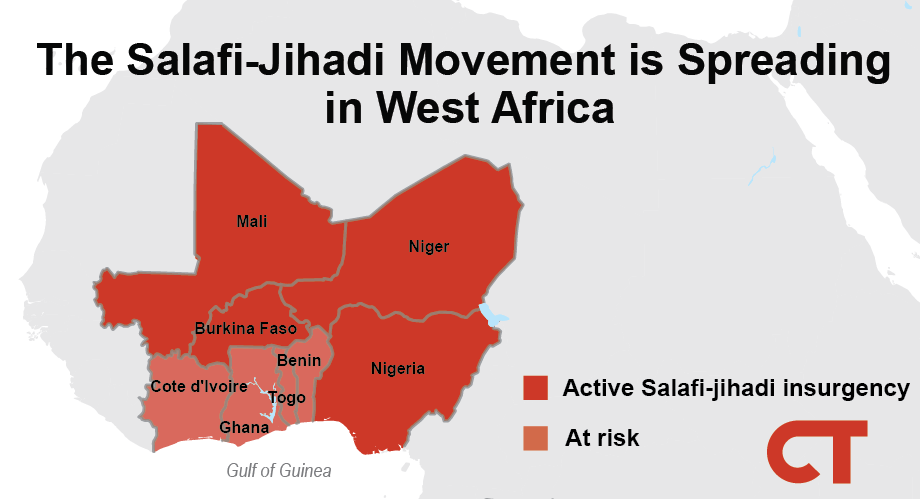 Figure 1. The Salafi-Jihadi Movement is Spreading in West Africa. Source: Critical Threats Project at the American Enterprise Institute.
East Africa
Africa's second most populous country, Ethiopia, faces mounting instability. A turbulent political transition is exacerbating the ethnic strife that gives Ethiopia one of the world's largest populations of internally displaced people. The country's security sector is fragmenting. Elections and the census in 2020 could trigger a wider conflict.
Ethiopia, which is one-third Muslim, does not have a significant Salafi-jihadi presence but is vulnerable to the movement's expansion. Ethnic violence provides an opportunity for Salafi-jihadi groups to forge ties with aggrieved populations. Neighboring Somalia is home to one of Africa's longest-running Salafi-jihadi insurgencies, and neighboring Sudan is a transit zone for militants. Ethiopians, particularly from the ethnic Somali minority, have joined Salafi-jihadi groups in Somalia since the 1990s.
The Islamic State may have established a cell in Ethiopia. Ethiopian authorities announced the *arrests of multiple Islamic State militants, including Syrians and Yemenis, in towns near the Kenyan and Somali borders in early September. Ethiopian Islamic State militants are present in Somalia but have not been arrested in Ethiopia previously. Ethiopian officials attributed the arrests to cooperation with Somali authorities, indicating that the detained militants had ties to Somalia. They may have been affiliated with the Islamic State in Somalia, a group of a few hundred fighters based in northern Somalia.
Forecast: The Islamic State will attempt an attack in Ethiopia in the next year. The group will attack Ethiopian Christians to exacerbate ethnic tension and appeal to Oromos and Somalis, two Muslim-majority ethnic groups. (Updated September 17, 2019)