Africa File
The Africa File is an analysis and assessment of the Salafi-jihadi movement in Africa and related security and political dynamics. 
Notice: The Critical Threats Project frequently cites sources from foreign domains. All such links are identified with an asterisk (*) for the reader's awareness.
October 1 Briefing
US airstrikes targeting the Islamic State in Libya and an al Shabaab attack on a US base reflect a broader strengthening of the Salafi-jihadi movement in Africa. A cluster of US airstrikes in southern Libya indicate that the Islamic State has increased its recruitment in conditions of growing conflict and grievance caused by the Libyan civil war. In Somalia, the al Qaeda affiliate al Shabaab attempted to breach a joint US-Somali base for the first time as part of its broader effort to repel foreign forces and collapse the Somali government.
The Salafi-jihadi movement, which includes al Qaeda and the Islamic State, will strengthen in East Africa in the coming year. A stalemate in Somalia is eroding in favor of al Shabaab. Salafi-jihadi groups based in Somalia are also attempting to gain a foothold in neighboring Ethiopia, where they could capitalize on increasing ethnic violence. A Salafi-jihadi insurgency in northern Mozambique will likely expand as authorities wage a harsh crackdown.
The conflict in Somalia is stalemated, but conditions are shifting in al Shabaab's favor. African Union peacekeeping forces in Somalia are drawing down and scheduled to leave Somalia by 2021. Regional and Somali political dynamics may already be accelerating the withdrawal of some of these forces. Al Shabaab seeks to expel foreign military forces to collapse the fledgling Somali Federal Government (SFG). The group's September 30 attacks on a US airbase and a convoy of EU military trainers in Somalia are part of this effort.
Salafi-jihadi groups are plotting attacks in Ethiopia, which has not previously suffered a high-profile attack on the same scale as neighboring Kenya or Somalia. Ethiopian authorities *arrested dozens of Islamic State and al Shabaab militants in September. Salafi-jihadi groups are targeting Ethiopia while grievances stemming from increasing ethnic violence and a fraught political transition provide new opportunities for Salafi-jihadi groups to deepen and expand their ties with Ethiopian populations. Ethiopia's human terrain includes cross-border populations that Salafi-jihadi groups have penetrated, most notably Somali communities.
Mozambican authorities are struggling to contain a Salafi-jihadi insurgency that includes an Islamic State–aligned element. A harsh crackdown on local populations will likely backfire and increase popular support for insurgents. Russian military support to Mozambique will likely enable this counterproductive approach.
Read Further On:
---
 

At a Glance: the Salafi-jihadi Threat in Africa
Updated September 17, 2019
Global counterterrorism efforts have passed their high-water mark and are receding. The US administration is pivoting toward the Russian and Chinese threats. The administration also seeks to withdraw American troops from Afghanistan, a course that will likely be delayed rather than altered by the breakdown of talks with the Taliban. However, the Salafi-jihadi movement continues to make gains in Africa, including in areas in which previous counterterrorism efforts had significantly reduced Salafi-jihadi groups' capabilities. The movement is positioned to take advantage of the expected general reduction in counterterrorism pressure to establish new support zones, consolidate old ones, increase attack capabilities, and expand to new areas of operations.
The Salafi-jihadi movement, including al Qaeda and Islamic State affiliates and allies, is on the offensive in Burkina Faso, on the counteroffensive in Libya, and stalemated in Mali, Somalia, and Nigeria. However, conditions in the last three countries favor the Salafi-jihadi movement rather than its opponents over the next 12–18 months.
Libya's civil war, reignited on a large scale in April, will continue to fuel the Salafi-jihadi comeback for at least the next several months, possibly allowing the Islamic State or al Qaeda to regain some of the territory they controlled before major operations against them from 2016 to 2019. The Islamic State's comeback in Libya is part of its global effort to reconstitute capabilities after military defeats, an effort that the group's leader, Abubakr al Baghdadi, sought to galvanize in a September audio message. Stalemates in Somalia and Mali rest on the continued efforts of international coalitions, support for which is rapidly eroding, and on local partners that have demonstrated their inability to govern effectively or establish legitimacy in the eyes of their people.
Amid these conditions, US Africa Command is shifting its prioritization from the counterterrorism mission to great power competition, a move also intended to reduce risk after a 2017 attack killed four servicemen in Niger. US and European powers aim to turn over counterterrorism responsibilities to regional forces of limited effectiveness — such as the G5 Sahel, which is plagued by funding issues, and the African Union Mission in Somalia, which is beginning a scheduled drawdown.
The Salafi-jihadi movement currently has four main centers of activity in Africa: Libya, Mali and its environs, the Horn of Africa, and the Lake Chad Basin. These epicenters are networked, allowing recruits, funding, and expertise to flow among them. The rise of the Salafi-jihadi movement in these and any other place is tied to the circumstances of Sunni Muslim populations. The movement takes root when Salafi-jihadi groups can forge ties to vulnerable populations facing existential crises such as civil war, communal violence, or state neglect or abuse. Local crises are the incubators for the Salafi-jihadi movement and can become the bases for future attacks against the US and its allies.
East Africa
Somalia
Al Shabaab separately attacked US and Italian forces in southern Somalia on September 30 as part of a campaign to expel Western militaries from Somalia. These attacks reflect al Shabaab's ability to coordinate sophisticated attacks but do not demonstrate a change in al Shabaab's capabilities or operational aims. (See Figure 1.) 
Al Shabaab attacked the US-Somali Baledogle Airbase north of Mogadishu with suicide vehicle-borne improvised explosive devices (SVBIEDs) and ground forces on September 30. Al Shabaab has *shelled the base before, but this was the group's first attempt to breach it with SVBIEDs—a typical al Shabaab tactic. The attack failed and did not kill any American or Somali soldiers.
Al Shabaab detonated an SVBIED targeting Italian military trainers outside a military base in Mogadishu shortly after the Baledogle attack. The SVBIED did not kill any soldiers but injured multiple civilians. Al Shabaab attacked Italian forces in the same area of Mogadishu in October 2018, killing three Somalis.

 
Al Shabaab aims to persist through a bloody stalemate in Somalia and wait out the withdrawal of international forces to overthrow the SFG. The main force containing al Shabaab, the African Union Mission in Somalia (AMISOM), is set to leave Somalia by 2021. AMISOM will transfer security responsibilities to SFG security institutions, which the US and several European and regional allies are working to develop. US military action in Somalia provides "time and space" for the SFG to develop this capacity. Al Shabaab conducts occasional attacks against the small US and European contingents in Somalia in an attempt to break those nations' support for the SFG.
Figure 1: Al Shabaab Attacks US Airbase and Italian Convoy in Somalia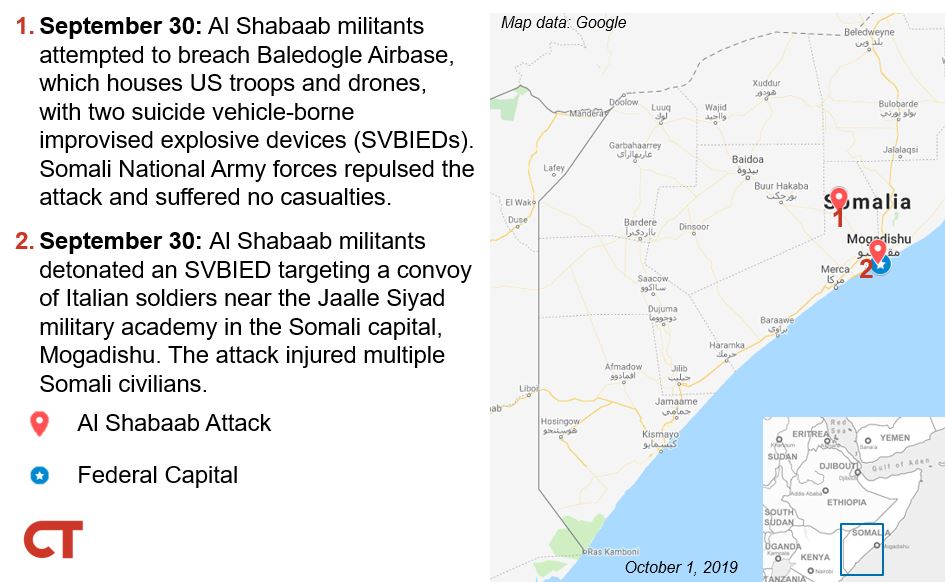 Djibouti's AMISOM contingent withdrew most of its forces from a district in central Somalia due to disputes with the local government. AMISOM forces withdrew from two of three bases in Jalalaqsi district, which lies on a strategic highway that connects Mogadishu to the Ethiopian border. Local police forces, which lack the training and resources of AMISOM, backfilled the Djiboutian forces. Many AMISOM contingents have tense relationships with the SFG or local Somali authorities. This has led some AMISOM units to unilaterally abandon their bases, reducing the effectiveness of the already overstretched force and creating opportunities for al Shabaab to expand its support zones.
Forecast:  AMISOM forces will not conduct significant offensives against al Shabaab in central Somalia over the next twelve months, allowing al Shabaab to maintain its support zones north of Mogadishu. Al Shabaab will surge attacks in Jalalaqsi district and may seize villages around the district center in the next two months. (As of October 1, 2019)
EDITORS' NOTE: CORRECTIONA previous version of this brief incorrectly stated that Umar had not given a speech since 2016.Al Shabaab released a rare speech by the group's emir on September 19, possibly to dispel rumors about his illness. Ahmad Umar aka Abu Ubaidah discussed multiple contemporary political developments, including regional elections in southern Somalia and an ongoing maritime boundary dispute between the SFG and Kenya. Umar's speech combined Salafi-jihadi narratives about the West's war on Muslims with nationalist rhetoric about Somali territorial integrity, which is characteristic of al Shabaab propaganda.
Ethiopia
Africa's second most populous country, Ethiopia, faces mounting instability. A turbulent political transition is exacerbating the ethnic strife that gives Ethiopia one of the world's largest populations of internally displaced people and creates opportunities for the Salafi-jihadi movement to spread. The country's security sector is fragmenting. Elections and the 2020 census could trigger a wider conflict. Increasing geopolitical competition in the Horn of Africa risks compounding Ethiopia's instability. 
Salafi-jihadi groups are planning attacks in Ethiopia as the country's political dynamics set favorable conditions for the Salafi-jihadi movement's expansion. Ethiopian authorities arrested dozens of Islamic State and al Shabaab militants plotting separate attacks in September. The Islamic State has never attacked Ethiopia, while al Shabaab has never successfully conducted a high-profile attack in the country.
Ethiopia is vulnerable to the Salafi-jihadi movement's expansion. Neighboring Somalia is home to one of Africa's longest-running Salafi-jihadi insurgencies and a *transit zone for militants, as are Sudan and Djibouti. Ethnic violence provides an opportunity for Salafi-jihadi groups to forge ties with aggrieved populations within Ethiopia's Muslim minority. Violence has increased during Ethiopia's political transition and the liberalization of its political arena. Elites have stoked ethnic tensions to retain power, and ethnonationalist hard-liners have gained influence.
The Islamic State planned its first attacks in Ethiopia. Ethiopian authorities arrested an Islamic State cell in the Ethiopian *capital, Addis Ababa, in September. The militants were likely affiliated with the Islamic State in Somalia, a group of a few hundred fighters based in northern Somalia. The group has not conducted attacks outside Somalia.
Al Shabaab may be planning to increase its operations in Ethiopia. Ethiopian authorities arrested al Shabaab militants who were plotting attacks separately from the aforementioned Islamic State cells. This may have been the first time that al Shabaab, which has previously attempted attacks in Ethiopia, sent *multiple attack cells to the country. The group has recruited Ethiopians, particularly from the country's ethnic Somali minority. However, Al Shabaab has conducted most of its external attacks in Kenya.
Some of the arrested militants were likely plotting attacks on Ethiopian Christians to stoke confessional tensions. The arrests occurred ahead of a major Ethiopian Orthodox holiday and disrupted planned attacks on religious festivals in Addis Ababa. Multiple Islamic State affiliates, including the Islamic State in Somalia, have attacked Christians to stoke religious tensions. Al Shabaab has also attacked Christians in Kenya, which is a Christian-majority nation like Ethiopia, to incite a crackdown on Muslims and drive support to the group.
Forecast:  Salafi-jihadi groups will conduct an attack in Ethiopia in the next year. Attacks will target Ethiopian Christians to incite backlash against Oromos and Somalis, two Muslim-majority ethnicities. Ethiopia's eastern Somali region may destabilize due to internal conflict over the next 12 months, facilitating the travel of Salafi-jihadi militants from southern Somalia to Ethiopia. (As of October 1, 2019)
Negotiations aimed at resolving a Nile dam dispute between Ethiopia and Egypt broke down. Ethiopia, Sudan, and Egypt held talks over the Grand Ethiopian Renaissance Dam for the first time in over a year on September 16. The talks ended without an agreement after Ethiopia rejected an Egyptian proposal to operate the dam. Egypt opposes the dam, which it fears will threaten its access to Nile waters and has considered military strikes in the past to prevent its construction. Ethiopia previously accused Egypt of supporting a 2017 attack on the dam by Eritrean rebels.
Forecast: Egypt will attempt to sabotage the dam's construction, possibly by sponsoring attacks against the dam by Ethiopian rebel groups. Egypt and Ethiopia will attempt to sway Sudan by competing for influence within its new regime, further destabilizing the country's fragile transition. (As of October 1, 2019)
Mozambique
Salafi-jihadi militants have waged an insurgency in northern Mozambique since 2017. Some of these militants operate under the banner of a new Islamic State affiliate in Central Africa that also claims attacks by an Islamist rebel group in the Democratic Republic of the Congo (DRC). Mozambican security forces are pursuing a heavy-handed response to the insurgency that will exacerbate local populations' grievances against the state, likely driving more support to the militants.
Russia may be enabling Mozambique's counterproductive response to the Salafi-jihadi insurgency. Russian aircraft reportedly began delivering military equipment to northern Mozambique in September shortly after Russia and Mozambique *signed security and energy cooperation agreements. Russia may seek access to natural gas fields in northern Mozambique. Russia may be training local security forces like it has in Sudan and the Central African Republic. Russian military support will likely encourage Mozambican authorities to continue their approach of collective punishment. Russia has taken or enabled this approach in Syria, Chechnya, and elsewhere.
[For more on Russia's campaigns in Africa, read "The Kremlin's Campaign in Africa" from the Institute for the Study of War.]
Forecast: Mozambique's Salafi-jihadi insurgency will spread within the north and spill into Tanzania over the next 12 months. Mozambican Salafi-jihadists will retain operational independence from Islamic State–linked militants in the DRC, but the groups will transfer certain insurgent tactics, techniques, and procedures and increase their media coordination. (As of October 1, 2019)
North Africa
Libya
A cluster of US airstrikes targeting the Islamic State in southwestern Libya indicates that the group has been recruiting in the seams of the Libyan civil war. US Africa Command conducted four strikes between September 19 and 29, including strikes near the cities of Murzuq and Sebha where civil conflict has concentrated. The strikes killed dozens of militants, including a senior Islamic State recruiter and a militant leader from eastern Libya. The targeting of groups of militants indicates that the Islamic State has been recruiting and reorganizing, and likely training, in southwestern Libya, while Libyan security forces prioritize the civil war. 
The protracted battle for Tripoli, Libya's capital, is degrading security across Libya. The Libyan National Army (LNA) militia coalition, led by Khalifa Haftar, launched an offensive to seize Tripoli in April 2019. The LNA has not breached the city's defenses, however. The civil war has destabilized parts of Libya where Salafi-jihadi militants are active, notably the far southwest. The Islamic State and al Qaeda in the Islamic Maghreb (AQIM) have havens and access to smuggling and trafficking routes in this region and have attempted to recruit from local populations.
Foreign involvement is prolonging the Libya conflict. Preparations have begun for a German initiative to reinvigorate the UN-led peace process in Libya, but Libyan factions have *continued foreign-enabled military campaigns to secure their positions before talks. Wagner Group, a Russian private military contractor, has begun to support the LNA on the Tripoli front line.
Forecast: The UN-led peace process in Libya is unlikely to succeed as Libyan factions and their foreign backers recommit to military campaigns to secure their objectives. The Islamic State may attempt an attack in the coming weeks to prove its continued strength but will otherwise reduce its activity for several months while recovering from the effects of the US strikes. The Islamic State will continue its recruitment efforts in southwestern Libya. (Updated October 1, 2019)
Tunisia
Counterterrorism operations have limited the ability of Salafi-jihadi groups to conduct attacks in Tunisia in the past several years. For example, militants failed to conduct attacks during the first round of voting in Tunisia's presidential elections in September despite threats. Grievances that feed Salafi-jihadi recruitment persist, however, and the potential for instability that could galvanize the Salafi-jihadi movement remains. Tunisia faces serious economic problems that its nascent democratic government has struggled to address.
Salafi-jihadi militants in Tunisia may be shifting to low-level individual attacks that require less coordination than past high-profile operations and bombings. A man fatally stabbed a policeman and injured a soldier in Bizerte in northern Tunisia on September 23. Officials deemed the attacker an "extremist." A similar attack occurred in Tozeur in southwestern Tunisia earlier in September.
Forecast: Leadership losses will prevent AQIM's Tunisian affiliate from conducting an offensive attack during the Tunisian election season. Islamic State cells in Tunisia will attempt attacks in this same period and are more likely to succeed, but any attack will likely be unsophisticated. (Updated on September 17, 2019)
West Africa
The Salafi-jihadi movement is expanding more rapidly in the western Sahel than in any other African region as communal violence and state fragility spread. The movement's epicenter in this region is Mali. Salafi-jihadi groups are active in the country's north and have spread into the country's center, where ethnic-based violence has increased in the past two years. Neighboring Burkina Faso is destabilizing rapidly as Salafi-jihadi groups take root in its north and east. 
Networked Salafi-jihadi factions are waging a cross-border insurgency that is degrading security in the area stretching from central Mali to central Burkina Faso. Militants conducted near-simultaneous attacks on bases of the Malian Army and the G5-Sahel joint force in central Mali near the Burkinabe border on September 30. These raids followed an uptick in attacks in northern Burkina Faso, notably in the Centre-Nord region where militants have sought to control access to lines of communication to the Burkinabe capital, Ouagadougou.
Multiple Salafi-jihadi factions are participating in these operations. Some sources attributed the September 30 base attacks in Mali to Ansar al Islam, a group operating mainly in northern Burkina Faso. Attacks of this scale are a shift for this group and reflect its overlap and cooperation with AQIM's affiliate Jama'a Nusrat al Islam wa al Muslimeen and the Islamic State in the Greater Sahara, both active in Mali and Burkina Faso.
Forecast:  Salafi-jihadi militants will continue to take control of populations in northern Burkina Faso and may ultimately establish de facto governance in the area. Militants based in Mali or Burkina Faso will attack tourist or Christian targets in Gulf of Guinea countries in the next 6–12 months. (Unchanged since August 12, 2019)