Africa File
The Africa File is an analysis and assessment of the Salafi-jihadi movement in Africa and related security and political dynamics. 
At a Glance: the Salafi-jihadi Threat in Africa
As of August 12, 2019
Global counterterrorism efforts have passed their high-water mark and are receding. This is suggested by rumors of an impending announcement of a US "peace deal" with the Taliban and a timeline for the withdrawal of American troops from Afghanistan, along with the announced US pivot toward the Russian and Chinese threats. However, the Salafi-jihadi movement continues to make gains in Africa, including in areas in which previous counterterrorism efforts had significantly reduced Salafi-jihadi groups' capabilities. The movement is positioned to take advantage of the expected general reduction in counterterrorism pressure to establish new support zones, consolidate old ones, increase attack capabilities, and expand to new areas of operations.
The Salafi-jihadi movement, including al Qaeda and Islamic State affiliates and allies, is on the offensive in Burkina Faso, on the counteroffensive in Libya, and stalemated in Mali, Somalia, and Nigeria. However, conditions in the last three countries favor the Salafi-jihadi movement rather than its opponents over the next 12–18 months.
Libya's civil war, reignited on a large scale in April, will continue to fuel the Salafi-jihadi comeback for at least the next several months, possibly allowing the Islamic State or al Qaeda to regain some of the territory they controlled before major operations against them from 2016 to 2019. The Islamic State's comeback in Libya is part of its global effort to reconstitute capabilities after military defeats, including the reemergence of a dangerous Islamic State insurgency in Iraq and Syria and the continued strength of the virulent Islamic State–Khorasan cell in Afghanistan. Stalemates in Somalia and Mali rest on the continued efforts of international coalitions, support for which is rapidly eroding, and on local partners that have demonstrated their inability to govern effectively or establish legitimacy in the eyes of their people.
The Salafi-jihadi movement currently has four main centers of activity in Africa: Libya, Mali and its environs, the Horn of Africa, and the Lake Chad Basin. These epicenters are networked, allowing recruits, funding, and expertise to flow among them. The rise of the Salafi-jihadi movement in these and any other place is tied to the circumstances of Sunni Muslim populations. The movement takes root when Salafi-jihadi groups can forge ties to vulnerable populations facing existential crises such as civil war, communal violence, or state neglect or abuse. Local crises are the incubators for the Salafi-jihadi movement and can become the bases for future attacks against the US and its allies.
August 13 Briefing
Islamic State– and al Qaeda–linked militants are resuming and expanding active insurgencies in Libya for the first time since 2017, benefiting from the ongoing battle for Tripoli and the associated destabilization of the country.
Conflict is a major driver of the Salafi-jihadi presence in Libya. The rise of al Qaeda–linked Ansar al Sharia after 2011 and the Islamic State in 2014–15 stemmed from conflicts that allowed Salafi-jihadi groups to either infiltrate fighting or operate in the seams between rival forces. The latest round of Libya's civil war, which began with the Libyan National Army's (LNA) attempted seizure of Tripoli in April, is having the same effect. A Salafi-jihadi insurgency is resuming in Benghazi, Libya's second-largest city, for the first time since 2017. The Islamic State has increased its rate of attacks in southwestern Libya since the Tripoli offensive began.
Libya's civil war will likely continue for months. Foreign support for rival forces is fueling the conflict. The combatants agreed to a limited cease-fire for Eid al Adha, the Muslim holiday marking the end of the hajj, on August 10, which is already breaking down. Fighting in the northwest has spread outside Tripoli's environs, and the southwest is also destabilizing. On the current trajectory, Libya will descend into an even more widespread conflict that will allow Islamic State– and al Qaeda–linked militants to reverse the losses they have suffered in recent years.
Read Further On:
---
North Africa
The protracted battle for Tripoli is causing security to degrade across Libya. The LNA, a militia coalition led by Khalifa Haftar, launched an offensive to seize Tripoli, Libya's capital, from forces aligned with the UN-backed Government of National Accord (GNA) in April 2019. The fight has stalled as foreign powers — notably the UAE, Saudi Arabia, Egypt, Sudan, Turkey, and Qatar — back Libyan proxies in a bid to shape the future of the Libyan state. The GNA and LNA agreed to cease hostilities in the capital area for Eid al Adha on August 10, but rocket fire targeting Tripoli's only functioning airport violated the cease-fire shortly thereafter. An LNA official announced on August 12 that the cease-fire will not be extended. The conflict is spreading throughout the northwest and increasingly destabilizing other parts of the country.
A Salafi-jihadi insurgency is beginning in Benghazi, the largest LNA-controlled city. Militants bombed a UN vehicle in the eastern Libyan city on August 10, killing several UN staff members. The attack is the second this summer, indicating that militants are reconstituting in the Benghazi area. A July 11 bombing targeted the funeral of an LNA officer. The LNA has largely secured Benghazi since 2017 after fighting a prolonged battle against Islamic State– and al Qaeda–linked militants. The LNA's attempt to seize Tripoli, which began in April 2019 and has stalled, is reducing its ability to maintain security in eastern Libya.
The Salafi-jihadi movement will likely expand in northwestern and southwestern Libya as the Tripoli conflict and instability spread. The Tripoli offensive has already created opportunities for the Islamic State to increase its rate of attack. (See Figure 1.)
Fighting in northwestern Libya is spreading outside Tripoli's environs. LNA and GNA forces traded air strikes on each other's bases in Misrata and Jufra on August 6 and 7.
Southwestern Libya, which the LNA seeks to control, is destabilizing. LNA forces entered southwestern Libya in February 2019 to establish local alliances and effectively surround anti-LNA forces in the northwest as a precondition for the April offensive on Tripoli. Backlash to the LNA has emerged in the southwest, notably in Tebu-majority areas. An LNA drone strike killed dozens of Tebu civilians in Murzuq (southwestern Libya) on August 4. Additional LNA units are now deploying to address the destabilization of the south, indicating that the LNA is struggling to maintain its position on multiple fronts.
The war is taking a financial toll on Libya's already failing governing institutions. The GNA increased its defense budget by nearly $30 million on August 6. This spending increase comes as instability threatens Libya's oil revenues. Oil exports fell to a five-month low in early August after the National Oil Corporation declared force majeure at the country's largest oil field. Several security incidents have disrupted oil production, particularly in the west, in recent months.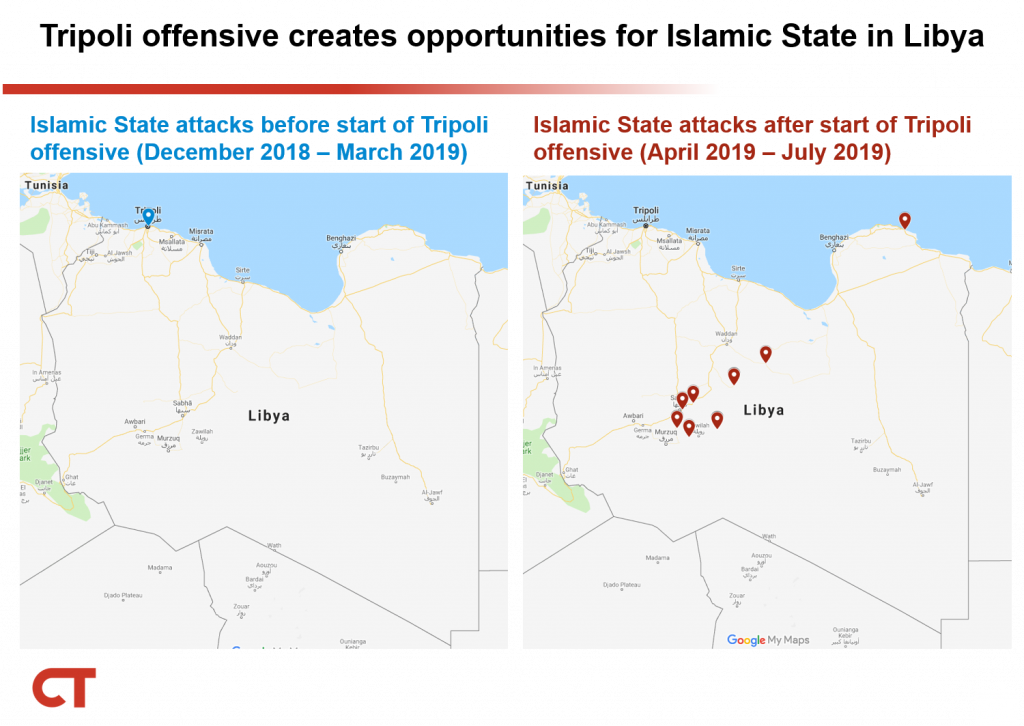 Figure 1. Tripoli Offensive Creates Opportunities for the Islamic State in Libya. Source: Critical Threats Project at the American Enterprise Institute
Forecast:  The current wave of civil war in Tripoli will continue for months and will spread to new areas, likely the southwest and center. A Salafi-jihadi insurgency will begin to destabilize Benghazi within the next year. Militants based in Libya, likely from the Islamic State, will attempt an attack on a neighboring country or Europe in this same period.  (As of August 12, 2019)
East Africa
The conflict in Somalia is largely stalemated, and attacks by al Shabaab and its adversaries are having little significant effect. However, the conditions supporting the stalemate are eroding in al Shabaab's favor. Local, regional, and international political dynamics are shifting focus away from counterterrorism efforts and creating new opportunities for instability that al Shabaab will likely exploit. (As of August 13, 2019)
Somali National Army and African Union Mission in Somalia (AMISOM) forces made operational gains against al Shabaab that will not significantly weaken the group or disrupt its ability to destabilize Mogadishu, Somalia's capital. US-trained Somali special forces and AMISOM troops seized the town of Awdheegle from al Shabaab on August 6, recapturing the fourth town in Mogadishu's southwestern environs since April 2019. (See Figure 2.) These operations are intended to deny al Shabaab access to terrain that it uses to support attacks in Mogadishu, which undermine the legitimacy of the Somali federal government (SFG). Al Shabaab has historically mitigated the loss of these towns by shifting its staging areas for attacks on Mogadishu to smaller villages. The absence of a holding force — a consequence of AMISOM's small size and corruption and infighting within the Somali forces — has prevented sustained gains against al Shabaab in this area.
Figure 2. Somali and African Union Forces Clear Towns Near the Federal Capital. Source: Critical Threats Project at the American Enterprise Institute
Al Shabaab is attempting to delegitimize elections in southern Somalia's Jubbaland state and may benefit from potential violence between rival Jubbaland militias. Al Shabaab uses its support zone in Jubbaland as its primary base of operations for attacks throughout Somalia and eastern Kenya. Al Shabaab conducted a rare attack in Kismayo, Jubbaland's capital, in July that targeted a meeting between Jubbaland officials and clan elders. The group has since publicized its efforts to deter clan leaders from voting. Al Shabaab's targeting of the elections occurs as tensions rise between current Jubbaland President Ahmed Madobe and his challengers, including militia commander Abdinasir Serar. Madobe's opponents have declared the Jubbaland electoral committee illegitimate and of their own committee, increasing the likelihood of a contested election and violence.
A suspected Kenyan air strike may have killed the leader of an al Shabaab unit that conducts attacks in Kenya. A strike targeted a ceremony for new recruits of al Shabaab's Jaysh Ayman unit in the town of Jamame in southern Somalia's Lower Jubba region on July 29. Jaysh Ayman has recruited foreign fighters, including an American, and was linked to the 2013 Westgate mall attack in Nairobi that killed 71 people, including multiple Westerners. The strike is rumored to have killed Maalim Ayman, the unit's leader. Ayman's death, if confirmed, would likely have a symbolic rather than operational effect on al Shabaab.
Forecast:  Al Shabaab will increase its attacks in Jubbaland over the next month to destabilize the state ahead of elections and expand its support zone in the Jubba River Valley. Al Shabaab will also increase operations in Galmudug State in north-central Somalia during the same period as the state prepares for its own elections and proceeds with a sensitive SFG-led reconciliation effort between rival political factions. Al Shabaab will sustain its attack pattern in and around Mogadishu over the next six months as AMISOM and Somali National Army operations in Lower Shabelle stall. (As of August 13, 2019)
West Africa
The Salafi-jihadi movement is expanding more rapidly in the western Sahel than in any other African region as communal violence and state fragility spread. The movement's epicenter in this region is Mali. Salafi-jihadi groups are active in the country's north and have spread into the country's center, where ethnic-based violence has increased in the past two years. Neighboring Burkina Faso is destabilizing rapidly as Salafi-jihadi groups take root in its north and east. (As of August 13, 2019)
Salafi-jihadi militants in Burkina Faso are advancing multiple lines of effort to isolate vulnerable Muslim populations in the country's north. A Salafi-jihadi insurgency has been spreading in Burkina Faso since 2016, beginning in the north and spreading to the east. Counterterrorism operations have checked militants' expansion into eastern Burkina Faso but have not slowed the insurgency's overall pace. Militants began an attack campaign targeting Christians in 2019 that seeks to displace Christian populations and discourage cooperation with security forces to isolate Muslim communities. Attacks on Christians have focused on northern Burkina Faso but may spread to the east, which suffered its first attack of this kind on August 4.
Salafi-jihadi militants may also be responsible for two attacks on bridges in the northern Soum province in the past month. These attacks coincide with an uptick in violence in the Centre-Nord province and may indicate that militants are taking control of lines of communication to increase their control over Soum and facilitate an advance toward the country's center.
Forecast:  Salafi-jihadi militants will continue to take control of populations in northern Burkina Faso and may ultimately establish de facto governance in the area. Militants based in Mali or Burkina Faso will attack tourist or Christian targets in Gulf of Guinea countries in the next 6–12 months. (As of August 12, 2019)
Representatives from rival ethnic groups signed a cease-fire that seeks to stabilize an area of central Mali where retaliatory communal violence has strengthened Salafi-jihadi groups. Representatives from the Fulani and Dogon armed groups signed a cease-fire on August 5 in Sévaré in central Mali's Mopti Region during a visit by Malian Prime Minister Boubou Cisse. Violence between the Fulani and Dogon in the Mopti Region has escalated since 2015, reaching its highest levels in 2018 and 2019 with large-scale massacres targeting civilians on both sides. Salafi-jihadi groups — in this case, al Qaeda in the Islamic Maghreb's affiliate, Jama'a Nusrat al Islam wa al Muslimeen — exploit local violence to gain access to vulnerable communities by promising protection.
Forecast:  Salafi-jihadi or other armed groups will spoil the cease-fire and reignite violence in the Mopti Region. The Malian government lacks the means to enforce a cease-fire in central Mali. In this environment, Salafi-jihadi groups will continue to capture the support of vulnerable populations to establish an enduring base in the area. (As of August 11, 2019)