Africa File
The Africa File is an analysis and assessment of the Salafi-jihadi movement in Africa and related security and political dynamics. 
Notice: The Critical Threats Project frequently cites sources from foreign domains. All such links are identified with an asterisk (*) for the reader's awareness.
September 4 Briefing
The Salafi-jihadi movement, which includes al Qaeda and the Islamic State, is gaining strength across a broad swath of western Africa — especially in the terrain extending from southwestern Libya and through the western Sahel to the Gulf of Guinea countries. Militants in Burkina Faso are using both coercive and persuasive means to isolate vulnerable populations in the country's north and pressure them to accept Salafi-jihadi governance. Such local manifestations of the Salafi-jihadi base bolster a global insurgency that is harming both Muslim and non-Muslim communities.
Salafi-jihadi attacks have escalated in Burkina Faso in recent weeks, stoking instability at a time of high political tension caused by upcoming elections and the sentencing of the leaders of a 2015 coup attempt. Militants likely affiliated with al Qaeda in the Islamic Maghreb (AQIM) inflicted the highest casualty attack on the Burkinabe military since the current insurgency began in 2016. The attack harmed the military's morale and sparked political jockeying. Militants have also destroyed several bridges connecting northern Burkina Faso to neighboring areas in July and August, indicating an effort to isolate the people and terrain under their control.
The growth of Salafi-jihadi groups in Burkina Faso since 2016 has increased the threat to the Gulf of Guinea countries—Ghana, Togo, and Benin. That threat is concerning because those countries are home to about 47 million people. They are also on the coast, potentially giving Salafi-jihadi groups in landlocked Burkina Faso and Mali greater access to international smuggling routes. Finally, Benin borders Nigeria and Niger—both with active Salafi-jihadi movements and crucial economic resources.
Salafi-jihadi activity is already threatening the tourism industry in the Gulf of Guinea countries, and militants based in Burkina Faso may attempt spectacular attacks in these countries to accelerate this trend in the coming year. AQIM affiliates have previously attacked hotels and restaurants frequented by Westerners to bring about a Western retreat from the region.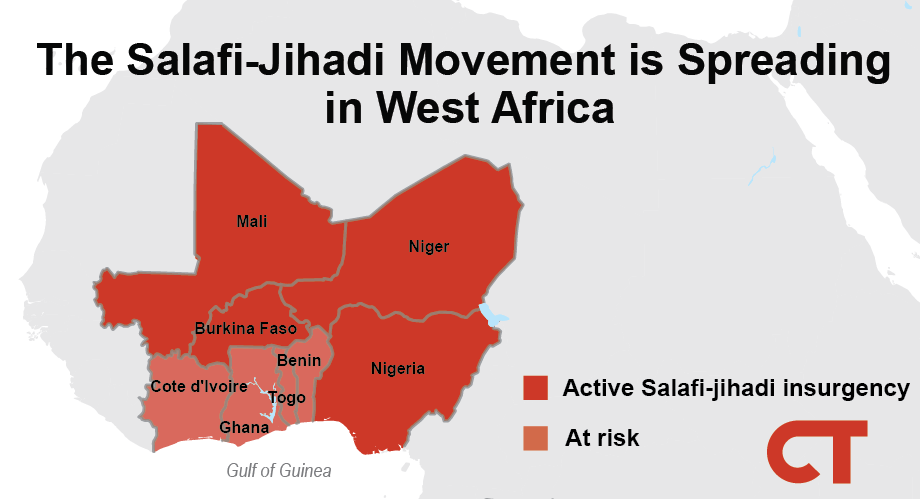 Figure 1. The Salafi-Jihadi Movement is Spreading in West Africa. Source: Critical Threats Project at the American Enterprise Institute.
Read Further On:
---
 

At a Glance: the Salafi-jihadi Threat in Africa
As of September 4, 2019
Global counterterrorism efforts have passed their high-water mark and are receding. This is suggested by rumors of an impending announcement of a US "peace deal" with the Taliban and a timeline for the withdrawal of American troops from Afghanistan, along with the announced US pivot toward the Russian and Chinese threats. However, the Salafi-jihadi movement continues to make gains in Africa, including in areas in which previous counterterrorism efforts had significantly reduced Salafi-jihadi groups' capabilities. The movement is positioned to take advantage of the expected general reduction in counterterrorism pressure to establish new support zones, consolidate old ones, increase attack capabilities, and expand to new areas of operations.
The Salafi-jihadi movement, including al Qaeda and Islamic State affiliates and allies, is on the offensive in Burkina Faso, on the counteroffensive in Libya, and stalemated in Mali, Somalia, and Nigeria. However, conditions in the last three countries favor the Salafi-jihadi movement rather than its opponents over the next 12–18 months.
Libya's civil war, reignited on a large scale in April, will continue to fuel the Salafi-jihadi comeback for at least the next several months, possibly allowing the Islamic State or al Qaeda to regain some of the territory they controlled before major operations against them from 2016 to 2019. The Islamic State's comeback in Libya is part of its global effort to reconstitute capabilities after military defeats, including the reemergence of a dangerous Islamic State insurgency in Iraq and Syria and the continued strength of the virulent Islamic State–Khorasan cell in Afghanistan. Stalemates in Somalia and Mali rest on the continued efforts of international coalitions, support for which is rapidly eroding, and on local partners that have demonstrated their inability to govern effectively or establish legitimacy in the eyes of their people.
Amid these conditions, US Africa Command is shifting its prioritization from the counterterrorism mission to great power competition, a move also intended to reduce risk after a 2017 attack killed four servicemen in Niger. US and European powers aim to turn over counterterrorism responsibilities to regional forces of limited effectiveness — such as the G5 Sahel, which is plagued by funding issues, and the African Union Mission in Somalia, which is beginning a scheduled drawdown.
The Salafi-jihadi movement currently has four main centers of activity in Africa: Libya, Mali and its environs, the Horn of Africa, and the Lake Chad Basin. These epicenters are networked, allowing recruits, funding, and expertise to flow among them. The rise of the Salafi-jihadi movement in these and any other place is tied to the circumstances of Sunni Muslim populations. The movement takes root when Salafi-jihadi groups can forge ties to vulnerable populations facing existential crises such as civil war, communal violence, or state neglect or abuse. Local crises are the incubators for the Salafi-jihadi movement and can become the bases for future attacks against the US and its allies.
West Africa
The Salafi-jihadi movement is expanding more rapidly in the western Sahel than in any other African region as communal violence and state fragility spread. The movement's epicenter in this region is Mali. Salafi-jihadi groups are active in the country's north and have spread into the country's center, where ethnic-based violence has increased in the past two years. Neighboring Burkina Faso is destabilizing rapidly as Salafi-jihadi groups take root in its north and east. (As of August 13, 2019)
Salafi-jihadi militants in Burkina Faso are attempting to take control of Muslim populations in the country's north by isolating vulnerable communities and destabilizing the country. Likely AQIM-affiliated militants conducted the highest casualty attack on the Burkinabe military since the current insurgency began in 2016, heightening tensions in an already fraught political environment. Militants have also destroyed several bridges connecting northern Burkina Faso to neighboring areas. Salafi-jihadi groups in Burkina Faso use both coercion and persuasion to pressure communities to accept Salafi-jihadi governance.  
Salafi-jihadi militants conducted a large-scale attack in northern Burkina Faso that is decreasing soldiers' morale and heightening political tensions. Militants attacked a Burkinabe army base with heavy artillery in Koutougou in Soum province on August 29. Jama'a Nusrat al Islam wa al Muslimeen (JNIM), AQIM's affiliate in the Sahel, is likely responsible. The attack killed 24 soldiers, making it the highest casualty attack since the insurgency began in 2016.
An *emotional response to the Koutougou attack caused a security incident at a base near the Burkinabe capital, Ouagadougou. Political parties have capitalized on the attack to draw support away from the president and his party in the lead-up to 2020 elections. JNIM militants also destroyed a Burkinabe army barracks in Tongomayel, also in Soum, on August 29.
Salafi-jihadi militants are likely responsible for several attacks on bridges in Burkina Faso's northern Soum province in the past two months. Militants are taking control of lines of communication to isolate populations in Soum and disrupt the movement of security forces. A recent uptick in violence in the Centre-Nord province, south of Soum, may indicate that militants might seek control of lines of communication to facilitate an advance toward the country's center and capital, Ouagadougou. In the most recent attack, militants destroyed a bridge near Bangaharia in Soum on August 25. (See Figure 2.)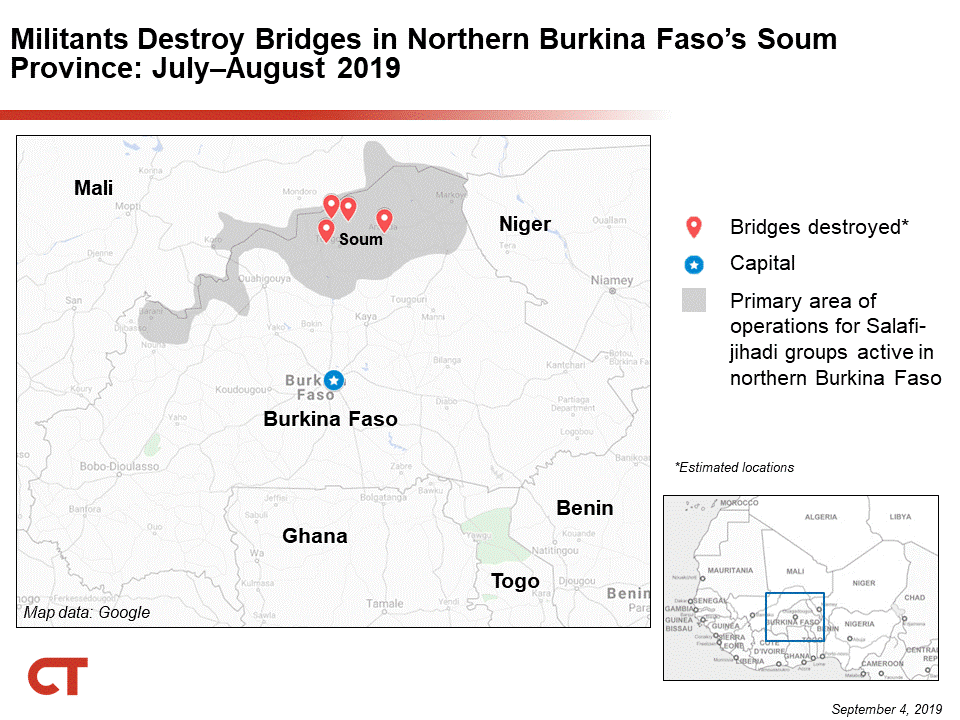 Figure 2. Militants Destroy Bridges in Northern Burkina Faso's Soum Province: July–August 2019. Source: Critical Threats Project at the American Enterprise Institute.
The increased Salafi-jihadi threat in the Gulf of Guinea countries is beginning to decrease tourism, advancing the Salafi-jihadi objective to drive Western presence out of West Africa.  Ghana, Benin, and Togo are increasingly on alert for Salafi-jihadi attacks by militants based in neighboring Burkina Faso. Salafi-jihadi militants have infiltrated parts of a national park complex that connects Burkina Faso, Niger, and Benin. Militants kidnapped two French tourists and murdered their Beninese guide in the park in May. Tourism has decreased in the area since the attack.
Forecast:  Salafi-jihadi militants will continue to take control of populations in northern Burkina Faso and may ultimately establish de facto governance in the area. Militants based in Mali or Burkina Faso will attack tourist or Christian targets in Gulf of Guinea countries in the next 6–12 months. (As of August 12, 2019)
Militant activity continues to cause high civilian casualties in central Mali, where Salafi-jihadi groups have stoked and exploited ethnic-based communal violence to gain support. An improvised explosive device struck a bus traveling from Douentza in central Mali's Mopti Region to Gao in the north on September 3. The explosion caused dozens of casualties.
Forecast:  Salafi-jihadi or other armed groups will spoil the cease-fire and reignite violence in the Mopti Region. The Malian government lacks the means to enforce a cease-fire in central Mali. In this environment, Salafi-jihadi groups will continue to capture the support of vulnerable populations to establish an enduring base in the area. (As of August 11, 2019) 
North Africa
Leadership attrition in AQIM's Tunisian affiliate, the Uqba ibn Nafa'a Brigade, has limited the group's ability to conduct offensive operations in the past several years. The group's activity is largely defensive and focused in its haven in western Tunisia, but it may still be attempting offensive operations. A Tunisian operation that killed three senior militants on September 2 may have disrupted a planned attack coinciding with the start of the presidential election season.
A Tunisian operation killed senior AQIM officials, including Uqba ibn Nafa'a Brigade emir and an AQIM Council of Notables member, in western Tunisia. Tunisian National Guard and Army troops ambushed a group of militants near Haidra in the Kasserine Governate in western Tunisia, a mountainous area near the Algerian border, on September 2. The clashes killed three senior militants who held top roles in AQIM and its Tunisian affiliate, the Uqba ibn Nafa'a Brigade. The militants were:
El Bey el Akrouf, who was an Algerian national and the overall emir of the Uqba ibn Nafa'a Brigade since 2017.
Tahar Jijli, an Algerian national and the lead operational planner of the Uqba ibn Nafa'a Brigade since 2013. Jijli was an AQIM military adviser and member of the AQIM Council of Notables, who had direct access to AQIM Emir Abdelmalek Droukdel.
Tunisian Prime Minister Youssef Chahed stated that the group was planning a "large-scale" attack. The incident occurred on the first day of Tunisia's election season but was not explicitly connected to it.
Forecast:  Leadership losses will prevent the Uqba ibn Nafa'a Brigade from conducting an offensive attack during the Tunisian presidential election season. Islamic State cells in Tunisia are also likely to attempt attacks in this same period and are more likely to succeed. (As of September 4, 2019) 
Tensions are increasing between the Algerian Army and protesters over elections. Algerian Army Chief of Staff Ahmed Gaid Salah said on September 3 that a presidential election date should be determined by mid-September, which would have voting occur before the end of the year. Protesters and political opposition have resisted the army's push for quick elections, which they fear would solidify the army's current power. Protesters have sought preconditions and talks with the interim government, which army leadership has *rejected. The political situation has been deadlocked since protests began seven months ago, leading to the ouster of longtime President Abdelaziz Bouteflika in April.
Forecast:  The political deadlock in Algeria is unsustainable and will reach a turning point in the coming months. Army leadership may attempt to take a more overt step to secure its power, possibly including replacing members of the interim government to secure its interests or detaining opposition or protest leaders. These are potential flashpoints that could lead to violence between protesters and security forces, setting conditions for a full military takeover or an insurgency. (As of September 4, 2019) 
The protracted battle for Tripoli, Libya's capital, is causing security to degrade across Libya.   UN Secretary-General António Guterres warned on August 29 that the Libya conflict risks becoming a "full civil war." The Libyan National Army, a militia coalition led by would-be strongman Khalifa Haftar, is attempting to *recapture a key town outside Tripoli that it lost to rival forces in June. As the Tripoli fight has stalemated since April, a security vacuum has opened in the southwest — a region where Salafi-jihadi militants are based. For more on the Libya crisis, see the last Africa File.
East Africa
The conflict in Somalia is largely stalemated, and attacks by al Shabaab and its adversaries are having little significant effect. However, the conditions supporting the stalemate are eroding in al Shabaab's favor. Domestic political turmoil in two Somali Federal Member States — Galmudug and Jubbaland — is drawing the attention of security forces away from counter–al Shabaab efforts and creating new opportunities for instability that al Shabaab will likely exploit. The Somali Federal Government (SFG) — the US counterterrorism partner in Somalia — has tense relationships with most of the five Federal Member States. (As of September 4, 2019)
A political crisis in Galmudug State in north-central Somalia is drawing African Union Mission in Somalia (AMISOM) forces away from counter–al Shabaab efforts in that region. The SFG is attempting to secure power in Galmudug State after an *integration initiative with a powerful Sufi militia in Galmudug *faltered. The SFG requested the *deployment of Djiboutian AMISOM forces to the Galmudug State's capital on August 31 to help secure the city. This deployment draws the Djiboutian forces away from their main effort — preventing al Shabaab from accessing and attacking part of a highway to the capital Mogadishu. Al Shabaab *ambushed Djiboutian forces along this highway three days after some of the Djiboutian forces deployed to Galmudug. (See Figure 3.)
Forecast: Reconciliation efforts will fail, and Galmudug State will revert to a status quo in which rival factions intermittently clash but do not enter sustained conflict. Al Shabaab will maintain its support zone in the region. Al Shabaab will increase its attacks against Djiboutian forces between Beledweyne and Jalalaqsi in Hiraan Region in the coming weeks and may seize bases or smaller towns along that axis. (As of September 4, 2019)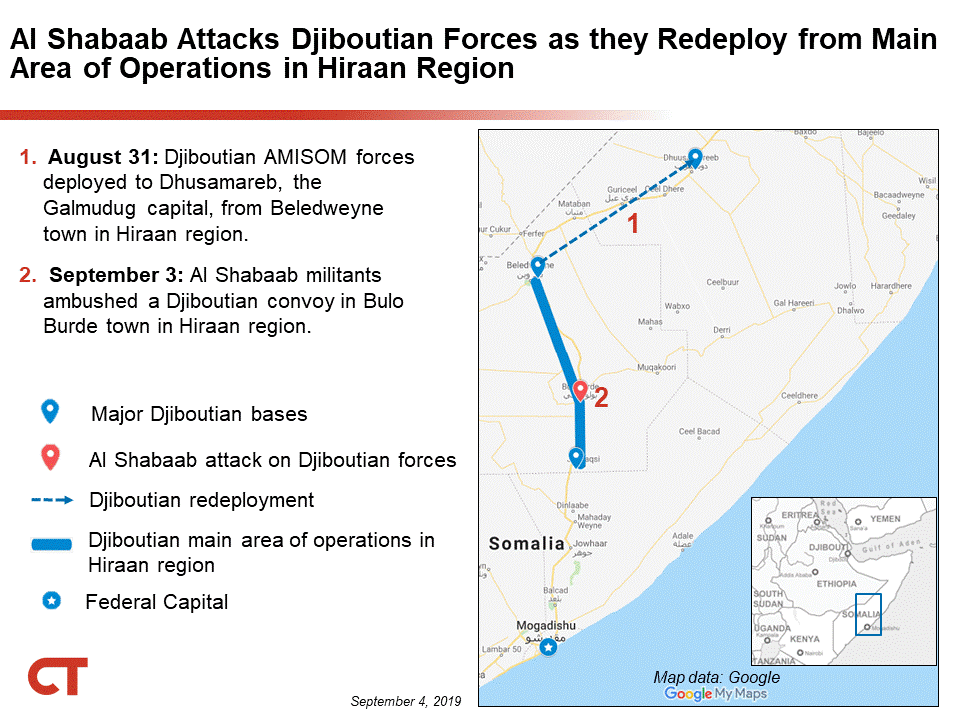 Figure 3. Al Shabaab Attacks Djiboutian Forces as they Redeploy from Main Area of Operations in Hiraan region. Source: Critical Threats Project at the American Enterprise Institute.
A contested election may further destabilize southern Somalia.  Three candidates, including incumbent President Ahmed Madobe, all *declared themselves Jubbaland State president after separate elections on August 22. The SFG backs some of Madobe's rivals and refused to recognize any election result. SFG security forces subsequently arrested the Jubbaland State security minister in Mogadishu, which Madobe's administration decried as a kidnapping.
The disputed elections could produce multi-sided conflict between the self-declared presidents and their allies. A sustained conflict could draw in Ethiopia and Kenya, which back the SFG and Madobe respectively. Instability in Jubbaland benefits al Shabaab, which maintains a support zone there to prepare attacks throughout Somalia and eastern Kenya. A senior al Shabaab official in Jubbaland *vowed to target all three self-declared presidents shortly after the elections.
Forecast:  Al Shabaab will sustain a high rate of attacks in Jubbaland over the next month to destabilize the state following the contested elections and expand its support zone in the Jubba River Valley. Al Shabaab will also increase operations in Galmudug State during the same period as the state prepares for its own elections and proceeds with a sensitive SFG-led reconciliation effort between rival political factions. Al Shabaab will sustain its attack pattern in and around Mogadishu over the next six months as AMISOM and Somali National Army operations in Lower Shabelle region stall. (As of September 4, 2019)