Africa File
The Africa File is an analysis and assessment of the Salafi-jihadi movement in Africa and related security and political dynamics. 
Africa File: Islamic State Affiliate Attempts to Assassinate Nigerian President
[Notice: The Critical Threats Project frequently cites sources from foreign domains. All such links are identified with an asterisk (*) for the reader's awareness.]
To receive the Africa File via email, please subscribe here. 
Key Takeaway: The Islamic State's West Africa Province (ISWAP) likely attempted to assassinate the Nigerian president. The group claimed responsibility for a December 29 vehicle-borne improvised explosive device (VBIED) in central Nigeria. This attack marks ISWAP's first documented attempt to assassinate Nigeria's head of state and its first VBIED detonation outside of northeastern Nigeria. These inflections continue an expansion of ISWAP activity in central Nigeria, including its first attacks in the Federal Capital Territory in 2022. ISWAP poses a growing threat to central Nigeria and the country's capital, Abuja, and will likely continue to escalate operations in early 2023—which could include pursuing international targets in Abuja and attempting to destabilize the country as the February 2023 general elections approach.
Figure 1. The Salafi-Jihadi Movement in Africa: January 2023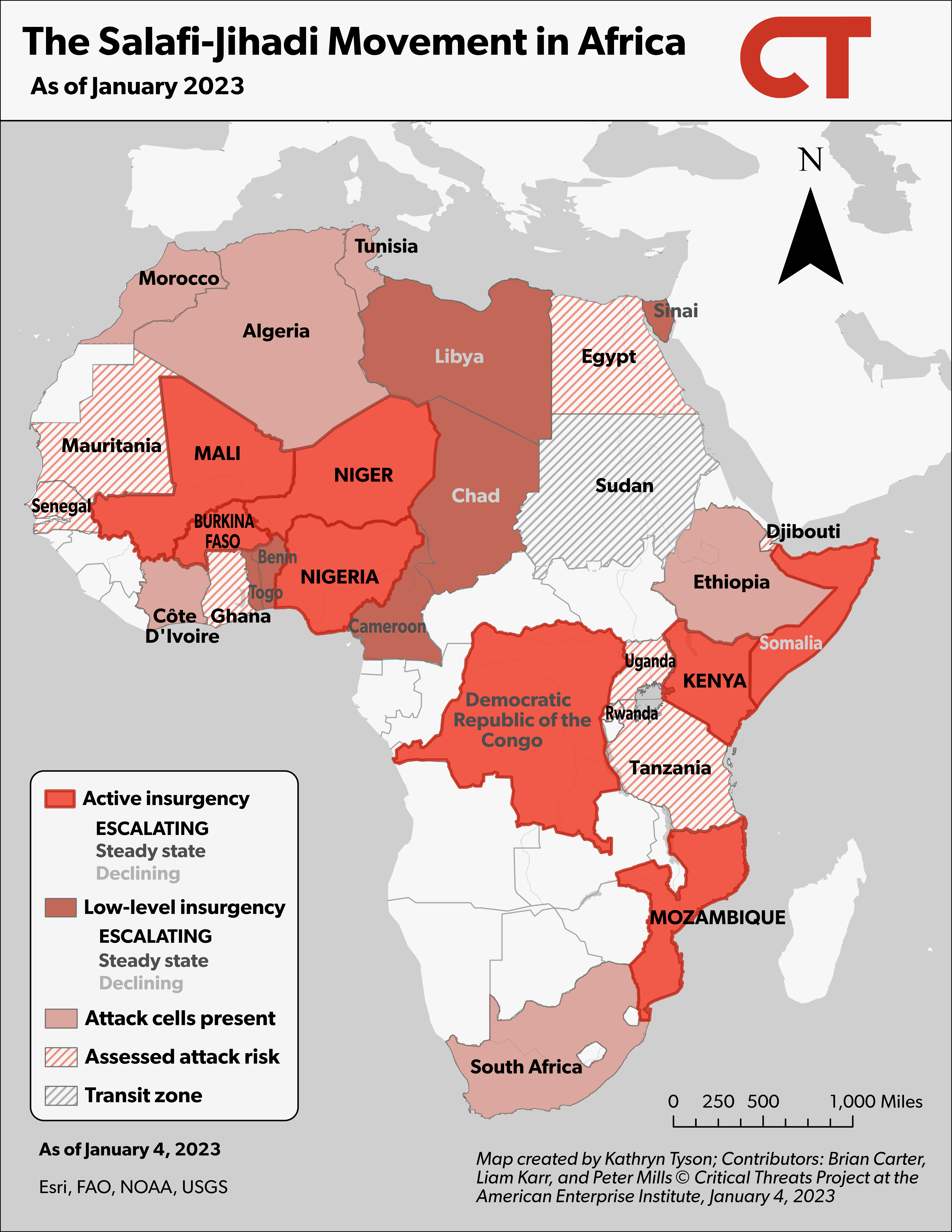 Source: Kathryn Tyson.
Islamic State West Africa Province (ISWAP) detonated a bomb targeting the Nigerian president in central Nigeria. Militants *detonated a vehicle-borne improvised explosive device (VBIED) near the Ohinoyi Palace in Okene, Kogi State, on the morning of December 29. The explosion killed at least four people. ISWAP claimed the attack on January 2, saying it targeted the "apostate Nigerian tyrant"—a label likely referring to Nigerian President Muhammadu Buhari.[1] Buhari was in Okene to commission a hospital near the palace on the morning of the attack. ISWAP may have intended to kill Buhari but mistimed the explosion. Alternately, the timing of the attack may have been intended to threaten Buhari while attempting to avoid provoking a large Nigerian military response.
This attack indicates that the ISWAP cell based in Kogi State has increasing ambition and sophisticated capabilities. The Kogi cell is ISWAP's most active cell outside of northeastern Nigeria. It carried out at least 10 *attacks across Kogi and neighboring states in 2022, mostly ambushing security force convoys, attacking police posts, and detonating improvised explosive devices in civilian areas. The December 29 attack is the Kogi cell's first use of a VBIED. The attack is also ISWAP's first use of a VBIED outside of ISWAP's strongholds in northeastern Nigeria and the group's first demonstrated effort to target a head of state.  
The Kogi cell may attempt to use its VBIED capabilities in Nigeria's capital region or even the capital itself. ISWAP increased activity around Abuja in 2022. ISWAP carried out a complex prison break in the Federal Capital Territory in July 2022 that freed hundreds of prisoners. The Kogi cell's primary area of operations is roughly 125 miles from the capital, and the group was likely *involved in this July 2022 prison break, showing it can assist operations near Abuja. The cell has now shown it can manufacture VBIEDs that it could use in future attacks. ISWAP was also likely behind a credible threat that led to the evacuation of nonessential personnel and family from the US embassy in Abuja in October 2022. The Okene attack and the October embassy threat demonstrate ISWAP is working to penetrate higher security areas to attack high-level Nigerian and international targets. Attacks in Abuja could be especially destabilizing as the February 2023 Nigerian general elections approach.
Figure 2. ISWAP Attacks in Central Nigeria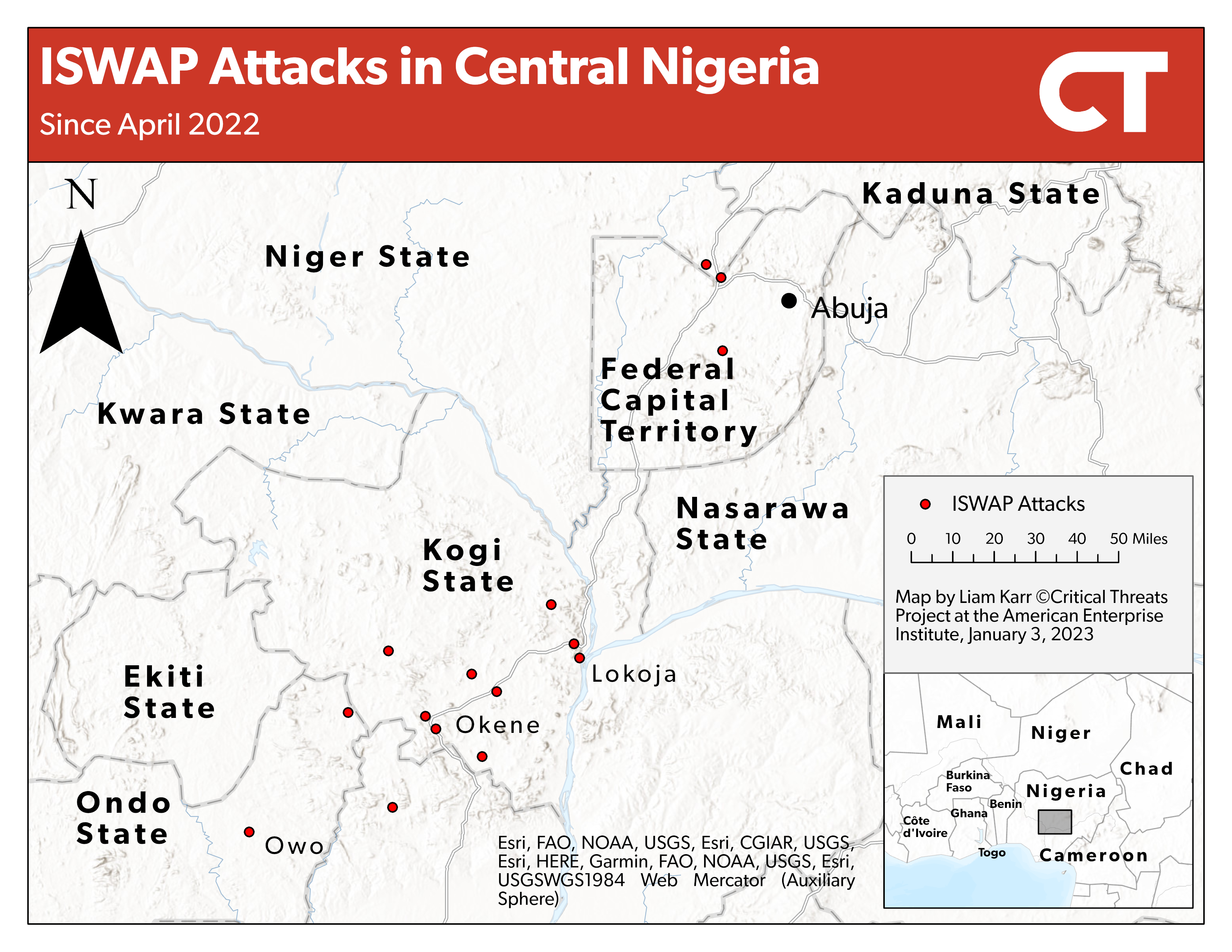 Source: Liam Karr.
The Kogi cell will escalate operations in early 2023. The cell may be reactivating after a lull in activity during record-high seasonal flooding in its area of operations. ISWAP and the global Islamic State organization may also be increasing propaganda focus on the cell. IS media circulated a video of fighters in Kogi pledging allegiance to the new IS caliph on December 5. This pledge is the first from an ISWAP cell outside northeastern Nigeria. IS media then disseminated the cell's first attack claim since October, on December 23.[2] ISWAP and IS could encourage attacks on higher-value targets or seek more spectacular attacks to highlight in its propaganda. ISWAP could seek to coordinate such attacks with a global IS revenge campaign in response to the death of the group's leader in October. ISWAP has participated in previous revenge campaigns. A revenge campaign could coincide with an attack surge during the holy month of Ramadan in March and April 2023. IS has coordinated Ramadan attack campaigns in the past.
The Kogi cell highlights ISWAP's growing threat outside of northeastern Nigeria. ISWAP has become more internationally minded and capable than Boko Haram, in part due to the benefits of participating in the IS network. ISWAP expanded its operations from its havens in northeastern Nigeria in 2022 and claimed attacks in 10 states. The group generated a credible terror threat to Abuja and the US embassy for the first time since 2017. Its connections to the Islamic State network also bring it millions of dollars and veteran trainers. Its Islamic State links further encourage the group to attack high-level targets, acting as the Islamic State's vanguard for *global jihad on the African continent.
ISWAP's expansion strains the already overstretched Nigerian security forces. The Nigerian government also faces a banditry crisis in the northwest, a separatist insurgency in the southeast, and farmer-herder tensions across the country. These overlapping security challenges feed each other. Salafi-jihadi factions and other armed groups may pursue limited cooperation, multiplying their capabilities and geographic reach. An unstable Nigeria threatens the future of West Africa and the entire continent. Nigeria is the most populous country in Africa and will overtake the US as the third most populous country in the world by 2050. It also has the continent's largest GDP and plays a key role in regional peacekeeping efforts.
For additional analysis on ISWAP in Nigeria, see "A Global Terror Threat Rises in Nigeria" by Emily Estelle Perez and Liam Karr and "Islamic State Prison Break Signals Expanding Salafi-Jihadi Threat in Nigeria" by Liam Karr
---
[1] SITE Intelligence Group, "ISWAP Claims Car Bombing Outside Palace of Okene Ruler, in Nigeria's Kogi State," January 2, 2023, available by subscription at www.siteintelgroup.com.
[2] SITE Intelligence Group, "ISWAP Claims Killing 4 Nigerian Policemen in Rare Attack in Kogi State," December 23, 2022, available by subscription at www.siteintelgroup.com.
View Citations