Africa File
The Africa File is an analysis and assessment of the Salafi-jihadi movement in Africa and related security and political dynamics. 
Africa File: Al Shabaab Attacks Ethiopia 
[Notice: The Critical Threats Project frequently cites sources from foreign domains. All such links are identified with an asterisk (*) for the reader's awareness.]
To receive the Africa File via email, please subscribe here. 
Key Takeaway: Al Shabaab conducted a multiday campaign inside Ethiopia for the first time. The cross-border offensive demonstrates al Shabaab's strength inside Somalia and underscores its regional ambitions. Ethiopian security forces will likely contain the al Shabaab threat to Ethiopia in the near term, but domestic conditions in Ethiopia and Somalia may allow the group to wage a sustained cross-border insurgency over time.
Figure 1. The Salafi-Jihadi Movement in Africa: July 2022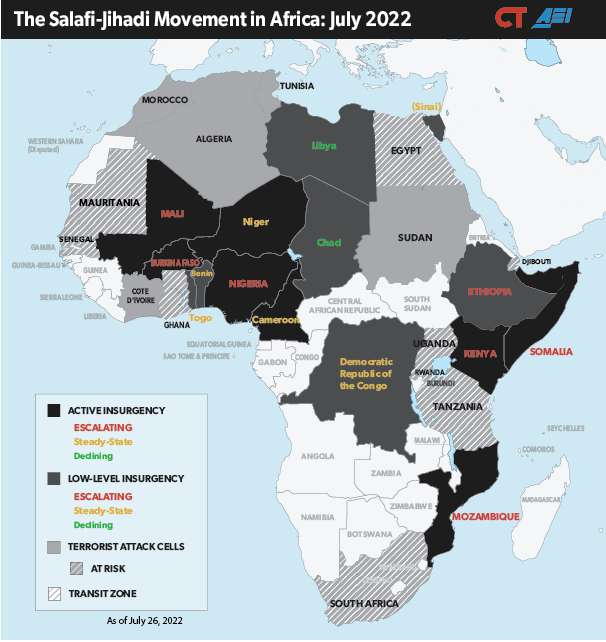 Source: Kathryn Tyson and Emily Estelle.
Al Shabaab launched an offensive into Ethiopia from southwestern Somalia on July 20. Al Shabaab began the offensive by attacking* four* border towns in Somalia. These towns border Ethiopia's Somali region, also known as Ogaden, which is home to a majority ethnic Somali population. Al Shabaab claimed to overrun two of the towns, Ato and Yeed, killing several members of the Liyu police—a regional Ethiopian paramilitary force based in the Somali region. These attacks were likely a diversionary effort to allow approximately 500 al Shabaab fighters to drive into Ethiopia. One group of these militants entered Ethiopia near Yeed and clashed with the Liyu police in Afder Zone from July 20 to 22. Another group entered east of Somalia's El Barde town and has advanced between the Ethiopian towns of Gode and Kellafo without engaging Ethiopian security forces, as of July 27. At least 1,500 fighters have participated in the offensive.
Figure 2. Al Shabaab Ethiopia Offensive: July 2022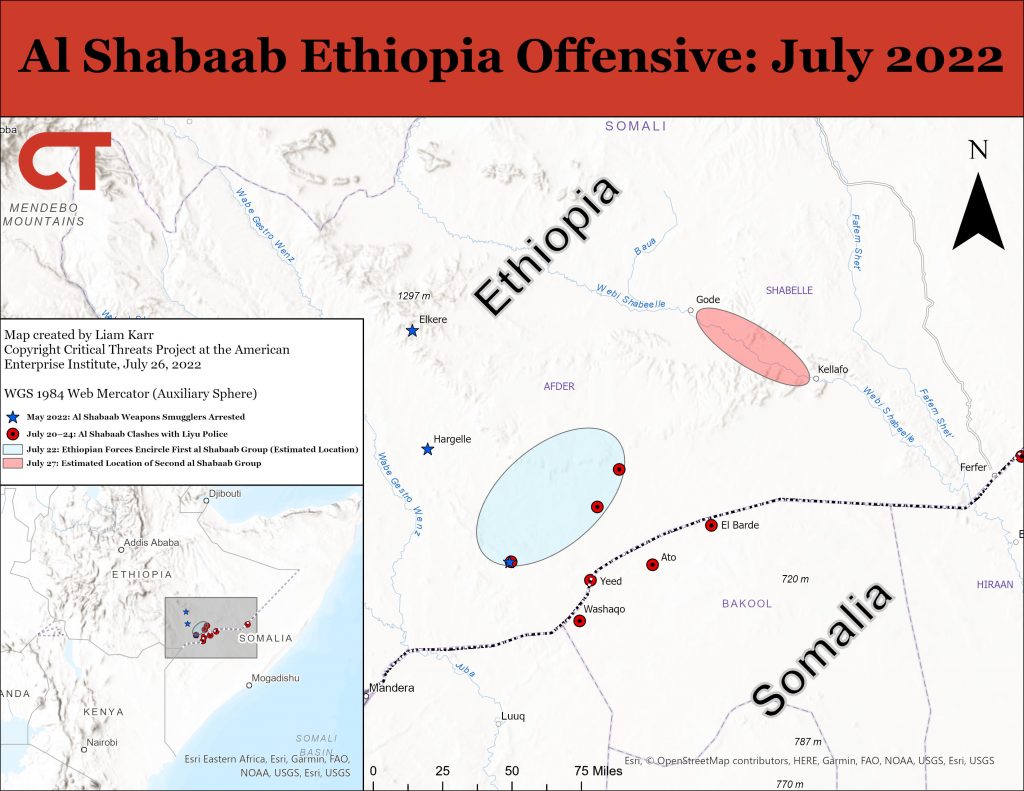 Source: Liam Karr.
Ethiopian Somali Region security forces are waging a counteroffensive. The Liyu police encircled the first al Shabaab group that had entered at Yeed, near Hulhul, in Hargele district on July 22. Somali Region officials claimed on July 24 that Liyu police killed over 100 of these militants and destroyed at least 13 vehicles. Liyu forces repelled* another al Shabaab force* of nearly 200 militants near the Ethiopian border with the Hiraan region in central Somalia on July 24, claiming to kill 85 militants. These al Shabaab fighters could have tried to link with the second group inside Ethiopia by using the road running from Ferfer to Gode. Ethiopian security forces have now shifted to the counteroffensive* in Ethiopia and may be advancing into Somalia. Somali Region and Liyu police officials have not publicly acknowledged the presence of this second group of al Shabaab militants between Gode and Kellafo.  
Al Shabaab regularly targets Ethiopian forces inside Somalia but rarely this close to the Ethiopian border. Many previous al Shabaab attacks have* targeted the approximately 4,000 Ethiopian soldiers in the African Union peacekeeping mission, now called the African Union Transitional Mission in Somalia (ATMIS). Attacks on the Ethiopian border are rare because the Liyu forces, supported by Ethiopian National Defense Forces and the Ethiopian ATMIS contingent, had established bases in Somalian border towns that created a buffer zone along most of the Ethiopian border with southwestern Somalia. Al Shabaab had not attacked Ethiopian forces this close to the Ethiopian border in the Bakool region since at least 2016* and had not directly attacked Liyu positions since 2014.*
Al Shabaab likely set conditions for offensive operations in Ethiopia by targeting Ethiopian convoys in southwestern Somalia in May 2022. This campaign likely aimed to keep Ethiopian forces out of potential staging grounds that al Shabaab used to gather the roughly 1,500 fighters used in the July offensive. Al Shabaab targeted Ethiopian convoys in southwestern Somalia with roadside improvised explosive devices or ambushes at least 10 times* in May. At least eight attacks* targeted* convoys* traveling between a border town and Somali National Army (SNA) or Ethiopian military bases. Al Shabaab may have also developed networks inside Ethiopia to prepare for the July offensive. Ethiopian police arrested al Shabaab weapon smugglers in Elkere* and the Barey* districts in May 2022.
Figure 3. Al Shabaab Targets Ethiopian Convoys in Somalia: May 2022
Source: Liam Karr. 
Al Shabaab will likely tout its incursion into Ethiopia as a symbolic victory, even if it suffers significant losses in the short-term. Al Shabaab published photos of the initial raids on Ato and Yeed on July 21, touting its successes along the "artificial border" between Ethiopia and Somalia.[1] Al Shabaab uses this pan-Somali narrative to recruit members and justify its ongoing fight against Ethiopia and Kenya in Somali-majority territories. The group has yet to release more media about the Ethiopia offensive as of July 21, despite continuing regular media production on attacks in Somalia and Kenya.[2] This is an uncharacteristic lag, and al Shabaab has quickly released claims for other large-scale offensives in other areas of Somalia in 2022.[3] This delay may indicate that al Shabaab is preparing a larger media release on the Ethiopia campaign, or it may mean that the group has suffered major casualties that have inhibited its propaganda efforts.
Ethiopian officials drew likely false connections between al Shabaab and separatists based in the Oromia Region. The Oromo ethnic group is Ethiopia's largest and has faced historical marginalization. The separatist Oromo Liberation Army (OLA) is currently waging an insurgency that may be surpassing the Tigray conflict as the primary threat to the cohesion of the Ethiopian state. The Ethiopian government has previously accused* Oromo groups such as the OLA of links*to jihadist groups, with little evidence. Ethiopia's National Intelligence and Security Service claimed to disrupt an al Shabaab attack cell in the Oromia and Somali Regions in April* 2022. An anonymous Ethiopian official claimed on July 22 that the al Shabaab fighters intended to get to Elkere district, while the Somali region security council said* the fighters were trying to get to the border between the Somali and Oromia Regions. The Somali regional government also accused* al Shabaab of trying to connect with the OLA.
Al Shabaab may intend its offensive primarily to achieve effects inside Somalia. Al Shabaab activity along the border likely disrupts Ethiopian ground lines of communication to its bases farther into southwestern Somalia. Al Shabaab has previously tried to disrupt Ethiopian ATMIS operations with attacks on convoys. Fixing the ATMIS forces near the border could increase al Shabaab's freedom of movement deeper into southwestern Somalia.
Al Shabaab may alternately seek to establish a persistent insurgency in Ethiopia's Somali Region. The group may perceive an opportunity because Ethiopia faces multiple insurgencies that will limit its ability to reinforce security forces in its Somali Region or Somalia. The Tigray conflict, which began in late 2020, has contributed to a general deterioration of security in Ethiopia and an increase in violence in other ethnic-based federal states. The OLA insurgency in Oromia and neighboring Amhara states is overtaking the Tigray conflict as the federal government's primary concern. Ethiopia also faces a potential security crisis on its border* with Sudan. These simultaneous security crises will strain the Ethiopian state's ability to send reinforcements to the Somali Region or Somalia against an emboldened al Shabaab—much less address the governance shortfalls in the Somali Region that contribute to the risk of insurgency. Anti-government grievances in the Somali Region may create an opportunity for al Shabaab to position itself as an opponent of the Liyu police, which are accused* of human rights violations. Al Shabaab has historically failed to gain a foothold in Ethiopia despite these grievances, however, due to various social factors, including tribal relations.
A unilateral Ethiopian response in Somalia could worsen Ethiopian-Somali relations and disrupt security cooperation. Somali-Ethiopian relations have worsened since Somali President Hassan Sheikh Mohamud returned to office in May 2022. Ethiopia and Kenya tend to compete for influence in Somalia; Mohamud has historically been closer with Nairobi than with Addis Ababa. Ethiopian officials dropped out of a scheduled meeting with Mohamud on July 18, causing the Somali president to cancel* a scheduled trip to Ethiopia. Ethiopia has sought to strengthen ties with northern Somalia's semiautonomous Puntland State, whose leaders have drifted from Mohamud after he did not appoint a politician from Puntland as the prime minister.
Somali actors also have grievances with Ethiopian forces, specifically the Liyu, which could hamper security cooperation near the border. The Somali Bakool region governor, on July 22, urged the Liyu and other Ethiopian forces to consult with Somali officials before crossing the border "illegally" to conduct military operations. The Liyu police have* clashed* with Somali clan militias in the past.
Al Shabaab has intensified its efforts against other foreign forces in Somalia beyond the Ethiopia offensive. Al Shabaab overran a Burundian ATMIS base in May, killing at least 50 soldiers. The group has since conducted several* significant attacks* contesting control of roads and strategic locations in the Middle Shabelle region, indicating that it may seek access to key routes leading into Somalia's capital, Mogadishu. Al Shabaab's heightened focus on targeting international forces may indicate that it seeks to pressure ATMIS contributors to withdraw earlier than the scheduled drawdown in 2024. The withdrawal of foreign forces would allow al Shabaab to break the current pseudo-stalemate and win significant victories against overstretched Somali security forces.
---
[1] SITE Intelligence Group, "Shabaab Documents Ethiopian Casualties in Twin Attacks on Border, Estimates 87 Killed and Dozens Wounded," available by subscription at www.siteintelgroup.com.
[2] SITE Intelligence Group, "Shabaab Claims Attacks on Kenyan Troops in Garissa and Mandera, Multiple Strikes on Bases and Somali Defense Ministry HQ," July 26, 2022, available by subscription at www.siteintelgroup.com.
[3] SITE Intelligence Group, "Shabaab Gives Estimates 173 Burundian Troops Dead in Suicide Raid in Middle Shabelle," May 3, 2022, available by subscription at www.siteintelgroup.com; and SITE Intelligence Group, "Shabaab Announces Successful Military Offensive in Mogadishu Involving 2 Suicide Attacks, Raids in Multiple Districts," February 16, 2022, available by subscription at www.siteintelgroup.com.
View Citations