Africa File
The Africa File is an analysis and assessment of the Salafi-jihadi movement in Africa and related security and political dynamics. 
Africa File: Islamic State affiliates are on the march in West Africa
[Notice: The Critical Threats Project frequently cites sources from foreign domains. All such links are identified with an asterisk (*) for the reader's awareness.]
To receive the Africa File via email, please subscribe here.
Two Islamic State affiliates are advancing in West Africa. The group's Sahel branch has resumed frequent attacks in Niger and Burkina Faso. In Nigeria, the Islamic State's largest African affiliate is notching military victories near a key regional capital and expanding its operations along the Niger-Nigeria border. Meanwhile, al Shabaab—al Qaeda's affiliate in Somalia—stepped up attacks on police and prison targets in the aftermath of political turmoil in the Somali capital.
In this Africa File:
Sahel. Al Qaeda–linked militants are likely responsible for kidnapping a French journalist in Mali. An Islamic State affiliate regained the capability to conduct frequent attacks in Niger and Burkina Faso.
Lake Chad. An Islamic State affiliate seeks to control access to a regional capital in northeastern Nigeria and is embedding itself in communities along the Niger-Nigeria border.
Somalia. Al Shabaab is capitalizing on political instability in Somalia to escalate attacks on police stations. The group may be preparing to raid a prison in Mogadishu.
Ethiopia. Ethiopia's June elections are a flashpoint for insecurity that threatens the country's cohesion.
Latest publications:
Al Qaeda. Katherine Zimmerman argues in AEIdeas that Osama bin Laden's legacy is "more powerful than ever" 10 years after his death. She traces al Qaeda's trajectory over the past decade in a new article for Current Trends in Islamic Ideology, arguing that al Qaeda has "expanded its popular base in the conflicts that followed the Arab Spring," including in Africa, while remaining focused on global jihad. Read the pieces here and here.
Africa. Emily Estelle writes in Foreign Policy that Salafi-jihadi insurgencies in African countries get short shrift in Western policy circles. She argues that, as Salafi-jihadi groups notch success after success in Africa, political and policy challenges are preventing policymakers from seeing the threat clearly. But the spread of Salafi-jihadi insurgencies undercuts other US policy goals in Africa and, most importantly, robs millions of Africans of future prosperity and peace. Read the piece here.
Chad. Rahma Bayrakdar assessed the implications of Chad's domestic instability for the Salafi-jihadi movement in West Africa. Read the warning update here.
Read Further On:
Figure 1. The Salafi-Jihadi Movement in Africa: May 2021
View full image here.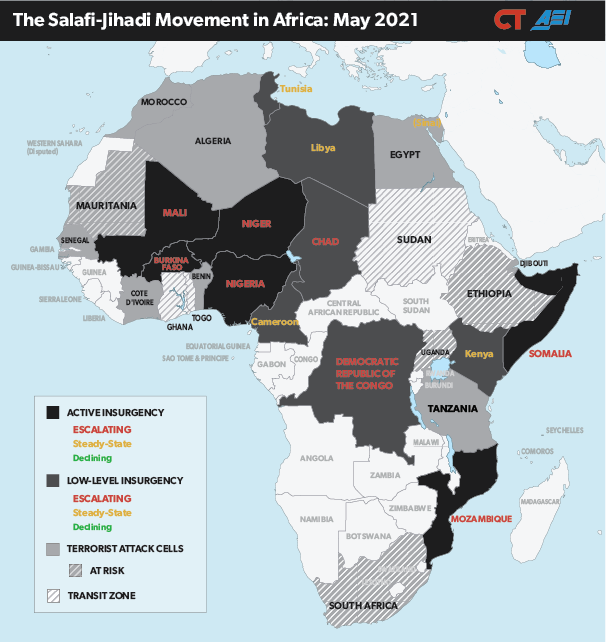 Source: Authors.
Overview: The Salafi-jihadi threat in Africa
Updated May 12, 2021
The Salafi-jihadi movement, which includes al Qaeda and the Islamic State, is active across northern, eastern, and western Africa and is expanding and deepening its presence on the continent. This movement, like any insurgency, draws strength from access to vulnerable and aggrieved populations. Converging trends, including failing states and regional instability, are creating favorable conditions for the Salafi-jihadi movement's expansion. Meanwhile, counterterrorism efforts rely on the continued efforts of international coalitions, support for which is eroding, and on states and local authorities that have demonstrated an inability to govern effectively.
West Africa. The Salafi-jihadi movement has spread rapidly in West Africa by exploiting ethnic grievances and state weaknesses that include human rights abuses, corruption, and ineffectiveness. An al Qaeda affiliate co-opted the 2012 Tuareg rebellion in Mali and has continued to expand southward through the Sahel region into central Mali and the peripheries of Burkina Faso. An Islamic State–linked group is active in the same area, particularly western Niger and parts of Burkina Faso.
Sahel groups have not yet plotted attacks outside West Africa but have sought to drive Western security and economic presence out of the region while building lucrative smuggling and kidnapping-for-ransom enterprises. An al Qaeda–linked group in Mali is infiltrating governance structures, advancing an overarching Salafi-jihadi objective, and expanding into Gulf of Guinea countries. West Africa has become an area of focus for transnational Salafi-jihadi organizations, with rival jihadists now fighting for dominance in the Sahel.
The Islamic State's largest African affiliate is based in northwest Nigeria—Africa's most populous country—and conducts frequent attacks into neighboring Cameroon, Chad, and Niger. Boko Haram and an al Qaeda–linked splinter group are also active in this region.
New instability in Chad, whose security forces are engaged in counterterrorism efforts in Mali and the Lake Chad basin, may lift pressure from Salafi-jihadi groups in both theaters.
East Africa. Al Shabaab, an al Qaeda affiliate and the dominant Salafi-jihadi group in East Africa, is vocal about its intent to attack US interests and has begun to plot international terror attacks. The group enjoys de facto control over broad swathes of southern Somalia and can project power in the Somali federal capital Mogadishu and regional capitals, where it regularly attacks senior officials. It seeks to delegitimize and replace the weak Somali Federal Government—a task made easier by endemic political dysfunction, corruption, and an ongoing constitutional crisis. Al Shabaab's governance ambitions extend to ethnic Somali populations in Kenya and Ethiopia, and the group conducts regular attacks in eastern Kenya.
Al Shabaab is positioned to benefit from eroding security conditions in East Africa. Ethiopia's destabilization is already having regional effects, including weakening counter–al Shabaab efforts in Somalia. The drawing down of the US and African Union counterterrorism missions in Somalia will also reduce pressure on al Shabaab.
The Islamic State has also penetrated the region. Islamic State branches are now active in northern Somalia, eastern Democratic Republic of the Congo, and northern Mozambique, bordering Tanzania. The insurgency caused French company Total to shutter a multibillion-dollar natural gas project in northern Mozambique that was the continent's largest private investment. The Islamic State foothold in Mozambique also marks the Salafi-jihadi movement's expansion into southern Africa.
North Africa. Salafi-jihadi groups in North Africa are at a low point, but the fragility and grievances that led to their rise remain. The Arab Spring uprisings and subsequent security vacuums allowed Salafi-jihadi groups to organize and forge ties with desperate and coerced populations. The Islamic State's rise brought a peak in Salafi-jihadi activity in North Africa, particularly from its branches in Libya and Egypt's Sinai Peninsula. Counterterrorism pressure has weakened Salafi-jihadi groups across North Africa in the past five years.
The insurgencies in Libya and the Sinai are active but contained, and terrorist attacks across the region have decreased. Libya's political and security crisis will continue to create opportunities for Salafi-jihadi groups, and severe instability or collapse in any North African state would likely bring the Salafi-jihadi threat back to the surface.
West Africa
Sahel
An al Qaeda–linked group kidnapped a French journalist in Mali. An unidentified group kidnapped French journalist Olivier Dubois on April 8 Gao region in northeastern Mali. A video surfaced on May 4 in which Dubois claims he was kidnapped by Jama'at Nusrat al Islam wa al Muslimeen (JNIM). JNIM has not released official media on the kidnapping but is a likely suspect; the group is active in Gao, and Dubois had reportedly gone to *interview a JNIM official at the time of his abduction.
JNIM has named France as its main opponent in Mali, and kidnapping French nationals serves the group's overarching objective of removing French presence from the Sahel. The kidnappings of foreigners also serve more immediate needs for the group, including attracting ransom payments and serving as bargaining chips. JNIM released a French national and two other Europeans as part of a prisoner exchange with the Malian government in October 2020.
The Islamic State in the Greater Sahara (ISGS) resumed and is sustaining regular attacks against security forces and civilians in Burkina Faso and Niger. ISGS claimed to kill 36 Nigerian security forces in two separate attacks on May 1 and May 4 in western Niger's Tahou and Tillaberi regions.[i] ISGS is present in western Niger and has been active in Tillaberi and in the Niger–Mali–Burkina Faso border region for several years. The group likely conducted an attack killing 30 civilians in eastern Burkina Faso's Kodyel village near the Nigerian border, an area ISGS has targeted in the past. ISGS has conducted several attacks in eastern Burkina Faso and western Niger since early April. (See Figure 2.)
The recent uptick in ISGS's operational tempo indicates the group has regained its attack capability. ISGS began clashing with JNIM in late 2019 and fighting has continued since, with JNIM defeating ISGS in their latest clash in Gao region in early April. JNIM expelled ISGS from Malian terrain near the borders with Burkina Faso and Niger in September 2020. French-led Operation Barkhane *focused its operations on ISGS in the tri-border region throughout 2020, further weakening the group before shifting its focus toward JNIM in October 2020.
ISGS appears to be recovering in areas where JNIM is absent or minimally active. ISGS has conducted regular attacks in Burkina Faso and Niger since March. If ISGS recruits more fighters and gains access to weapons and resources from its activities Burkina Faso and Niger, the group may regain its strength and intensify clashes with JNIM in the tri-border region.
Figure 2. ISGS attacks in Burkina Faso and Niger: April 1–May 10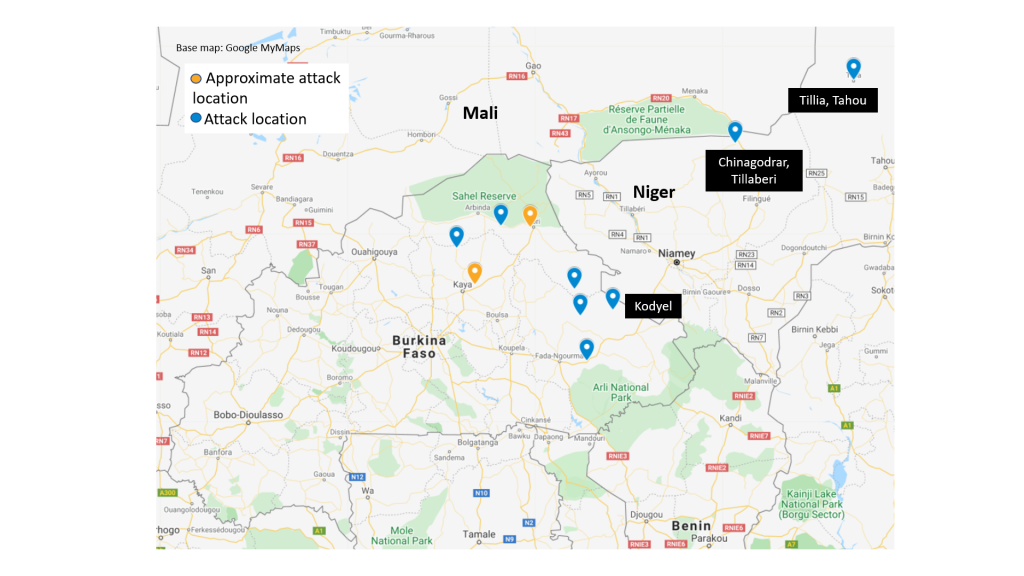 Source: Authors.
Lake Chad
The Islamic State's West Africa Province (ISWA) is expanding in northeastern Nigeria and may seek to control access to Borno state's capital. ISWA militants have been attacking regularly in the area between the Nigeria-Niger border and the Borno regional capital Maiduguri since December 2020. ISWA attacked Ajiri in Borno state, 15 miles south of Maiduguri, on May 6, and Mainok, 30 miles west of Maiduguri, on April 25. These attacks may indicate the group's plans to surround and isolate Maiduguri by *seizing inbound roads and targeting electricity installations that serve the city. ISWA's use of military vehicles paired with its increasing use of explosive capabilities, such as vehicle-borne improvised explosive devices, indicates that the group will continue to inflict high casualties on Nigerian security forces even at fortified bases. (See Figure 3.)
ISWA is conducting attacks and embedding itself in communities beyond Borno state near Niger's southern border. The group attacked Yobe State's Geidam town on April 25 and claimed to have captured the town days later. ISWA militants allegedly *distributed "Ramadan gifts" equivalent to $49 to villagers in the town, likely in an effort to establish authority and win support. The Islamic State published photos of ISWA militants collecting and distributing zakat (religious tax) and holding outdoor religious events in Yobe state. Providing for communities in Geidam will allow ISWA to increase its freedom of movement near southern Niger's Diffa region, where the group regularly attacks security forces.[ii]
ISWA will likely benefit from lucrative illicit economic activity along the Niger-Nigeria border. Northeastern Nigeria's border region is a key crossing point for trafficking and smuggling, including moving migrants toward North Africa and Europe. Geidam is located on the Nguru-Gashua-Damasak Road, which leads into Niger. A greater presence along the Niger-Nigeria border may allow an ISWA criminal nexus to exploit these routes for transit and profit-making. ISWA may also expand ties with local criminal groups to facilitate its expansion into new areas. (See Figure 3.)
Figure 3. April–May 2021 ISWA Activity in Nigeria: Key Locations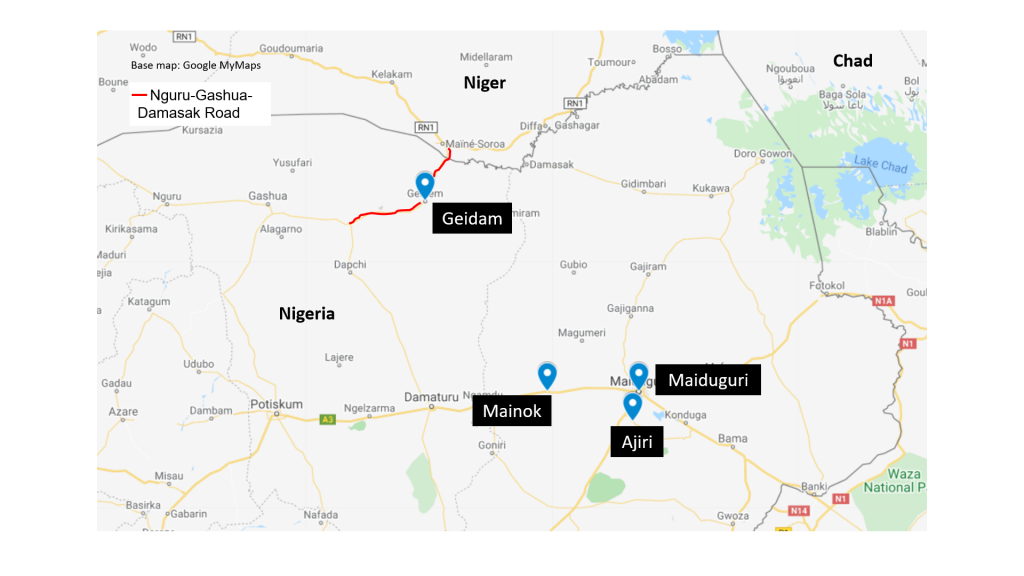 Source: Authors.
ISWA's shura council appointed a new leader in mid-January after losing territory in northeastern Nigeria. Members *mutinied against former commander Abba-Gana, who had led the group since February 2019. ISWA's shura council *claimed Abba-Gana was biased in his selection of commanders and stated that ISWA had lost territory to the Nigerian army under his leadership. The group's *new leader, Abu Dawud, *led an unprecedented attack on a Chadian military position in March 2020. ISWA has gained control of parts of Borno state and regained lost territory in northeastern Nigeria since Abu Dawud's appointment in mid-January.
Boko Haram's leader installed a new military commander following leadership disputes. Boko Haram leader Abubakar Shekau *executed the group's war commander, Abu Fatima, for alleged betrayal, along with at least two other senior commanders. Shekau appointed a new commander, Abu Muhammad, on April 29. Shekau is notoriously erratic and has previously killed Boko Haram members and commanders who question his approach. Abu Muhammad may increase the frequency or brutality of attacks to prove his commitment to Shekau.
Political instability in Chad continues as civilians protest the transitional government. Chadian security forces are responding violently to anti-junta protests in Chad's capital, N'Djamena, where demonstrations have been occurring since a military council took power following the death of Chad's president on April 20. Chad's domestic crisis has implications for regional security missions, where Chadian troops comprise the most effective Sahelian forces. Read more about how the crisis in Chad threatens West Africa counterterrorism efforts here.
Somalia
Al Shabaab is capitalizing on political instability in Somalia to escalate attacks on police stations. Al Shabaab bombed two police stations in and around Mogadishu on *May 5 and *9 and assassinated a policeman in the city on April 29.[iii] The group also attacked police officers at a military post in Galgadud region in central Somalia on May 1.[iv]
The uptick in attacks on police accompanies a dangerous period of fragmentation for Somalia's security forces. Internecine clashes broke out in Mogadishu in late April amid a botched attempt by Somalia's president to extend his term of office by two years.
Al Shabaab may also be preparing for a prison break. A senior al Shabaab leader *called for more prison raids in March following a successful attack on a prison in Boosaaso in Puntland state in northern Somalia. The group's spokesman *reiterated its intent to free prisoners on May 12. The group may be seizing an opportunity to free imprisoned members following the unrest in Mogadishu. Al Shabaab militants bombed the headquarters of a force responsible for overseeing prison security in Mogadishu on April 28 and *killed the deputy chief of staff of the country's correctional forces on May 6.
Ethiopia
Ethiopia's June 5 elections are a flashpoint for insecurity that threatens the country's cohesion. The federal government added the Tigray People's Liberation Front (TPLF) to a terror list on May 1. The move comes amid a widening crackdown on ethnic Tigrayans throughout Ethiopia. Ethiopian federal forces—alongside Eritrean troops and Amhara regional state forces—have been grappling with TPLF forces for control of Tigray region since November 2020.
Current tensions in Ethiopia are not limited to Tigray region or Tigray populations, however. Political parties in the Oromo and Somali regional states recently signaled they will not participate in the June elections. The government's terrorism designation also targeted a splinter group of an Oromo resistance movement. The Tigray conflict parallels, and has sometimes stoked, tensions between other Ethiopian regional states and the federal government, as well as tensions among regional states.
Fighting may be escalating in Tigray region, placing even greater strain on the federal government in the lead-up to elections. Recent casualty reports appear higher than in prior months, though these figures are difficult to corroborate.
---
[i] SITE Intelligence Group, "ISWAP Claims 36 Deaths in Attacks on Enemy Troops in Niger's Tahoua and Tillabéri Regions," May 8, 2021, available by subscription at www.siteintelgroup.com.
[ii] SITE Intelligence Group, "ISWAP Photographs Raids in Kamuya and Dikwa, Claims 16 Nigerien Soldiers and Police Killed in Diffa," April 20, 2021, available by subscription at www.siteintelgroup.com.
[iii] SITE Intelligence Group, "In Sharp Rise in Military Activity, Shabaab Claims 40 Attacks in 5-Day Period in Somalia," May 5, 2021, available by subscription at www.siteintelgroup.com.
[iv] SITE Intelligence Group, "In Sharp Rise in Military Activity, Shabaab Claims 40 Attacks in 5-Day Period in Somalia," May 5, 2021, available by subscription at www.siteintelgroup.com.
View Citations