Africa File
The Africa File is an analysis and assessment of the Salafi-jihadi movement in Africa and related security and political dynamics. 
Loading...
Loading...
Africa File: Salafi-Jihadi Groups May Exploit Local Grievances to Expand in West Africa's Gulf of Guinea 
[Notice: The Critical Threats Project frequently cites sources from foreign domains. All such links are identified with an asterisk (*) for the reader's awareness.]
To receive the Africa File via email, please subscribe here. 
Key Takeaway: Salafi-jihadi groups are beginning to intensify attacks in the northern border regions of several Gulf of Guinea states. These attacks may indicate that al Qaeda–linked militants intend to extend their territorial insurgency to these countries, continuing a multiyear southward expansion in West Africa.
Figure 1. The Salafi-Jihadi Movement in Africa: May 2022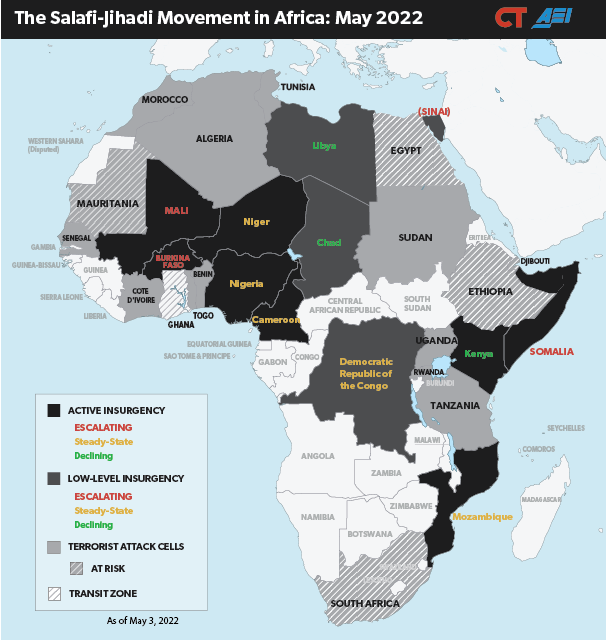 Source: Kathryn Tyson.
Salafi-jihadi militants conducted the second attack targeting security forces in northern Togo since November 2021. Al Qaeda's Sahel affiliate, Jama'at Nusrat al Islam wa al Muslimeen (JNIM), likely carried out both attacks. Around 60 militants briefly *overran a Togolese base in Kpinkankandi in northern Togo on May 10–11, killing eight Togolese soldiers and wounding 13 more. Likely JNIM militants first *attacked a Togolese military post in Kpendjal prefecture in northern Togo in November 2021.
Salafi-jihadi groups have previously used Benin and Togo to procure supplies but now may be conducting offensive attacks. JNIM and other Salafi-jihadi groups have been using border areas of Gulf of Guinea countries, particularly Benin, Ghana, and Togo, to source motorcycles, basic goods, weapons, and money in recent years, including by capitalizing on trafficking and criminal networks. JNIM and the Islamic State's Sahel Province control local supply lines from sanctuaries in the W-Arly-Pendjari Park Complex straddling the Burkinabe-Beninese-Nigerien tri-border region. Salafi-jihadi militants' freedom of movement in parts of Burkina Faso allows them to make repeated incursions into neighboring Gulf of Guinea states and evade pressure from security forces on either side of the border.
JNIM activities in Benin and Togo in 2021 and 2022 indicate that the group is attempting to capitalize on local grievances to recruit and is now more willing to challenge local security forces directly. Likely JNIM militants began using roadside improvised explosive devices and small arms to target Beninese security forces in December 2021. These attacks may be responses to stepped-up security force efforts to target smuggling and disrupt JNIM activity. Benin faces the same localized farmer-herder violence that has driven the expansion of Salafi-jihadi groups elsewhere in the Sahel, creating a risk for radicalization particularly if Salafi-jihadi groups can make common cause with local interest groups against the state and security forces. Beninese and Togolese security forces have relatively positive relations with the local population, however, providing some insulation against this risk. Beninese security forces regularly arrest those responsible for communal violence targeting pastoralist communities, demonstrating their ability to protect locals.
Cote d'Ivoire has not experienced a recent change in Salafi-jihadi activity but faces greater risk because of popular grievances and poor relationships between local populations and the state. JNIM has historically targeted Cote d'Ivoire as revenge after Ivorian participation in joint counterterrorism operations in other Sahel countries. JNIM conducted a major attack on a hotel in the Ivorian capital Abidjan in 2016. JNIM targeted Ivorian security forces in northern Cote d'Ivoire in 2021 and 2022, sometimes in retaliation for counterterrorism operations. A JNIM subgroup operates in the Ivorian-Burkinabe border region, where joint Burkinabe-Ivorian operations have been so far unable to dislodge it. JNIM may also be capable of expanding its presence by recruiting from disaffected Ivorians stigmatized by other communities and the security forces. Intercommunal relations in northern Cote d'Ivoire are tense and rooted in farmer-herder conflict. These grievances, including the state's mishandling of its response, create an opportunity for JNIM to recruit among Ivorian herders. Security forces and sedentary farmers sometimes arrest Fulani civilians indiscriminately, stigmatizing them and equating pastoral communities with criminal activity and jihadist groups.
Figure 2. Areas of Salafi-Jihadi Activity in the Coastal Gulf of Guinea States
Source: Critical Threats Project at the American Enterprise Institute.
JNIM has recruited at least some Ghanaians and likely transits personnel through Ghana. Ghana is at high risk for JNIM recruitment of Ghanaians from nomadic Fulani communities, which often struggle to prove their citizenship in Ghana. Intercommunal farmer-herder conflict driven by local grievances and banditry is already occurring in northern Ghana. Ghanaian security forces have carried out multiple security operations in northern Ghana aimed at stemming violence and banditry. A Ghanaian Fulani JNIM member conducted a suicide attack on a French military base in Gossi, Mali, in June 2021. There has so far been no confirmed JNIM activity in Ghana.
JNIM's expanding freedom of movement in Mali increases its ability to operate in other West African littoral states. JNIM likely smuggle goods and raises money in the Senegalese-Malian border region. JNIM may seek to access illicit money flows from gold mines in Senegal and western Mali's Kayes region. Senegalese security forces *dismantled a JNIM cell in Senegal in January 2021. JNIM also contests areas in northeastern Kayes region, where JNIM has previously conducted *attacks near the Senegalese and Mauritanian borders.
JNIM may also pose a growing threat to Guinea. Salafi-jihadi groups have not previously attacked in Guinea, but militants have operated in the country. Guinean security forces have arrested al Qaeda–affiliated individuals, including a US-designated *terrorist in 2016. JNIM is rebuilding its presence in Sikasso region in southern Mali, bordering Burkina Faso, Cote d'Ivoire, and Guinea. A JNIM brigade formerly active in Sikasso may have resumed activity in recent years.
Salafi-jihadi activity will likely remain limited in the Gulf of Guinea states' northern border areas unless local governance conditions deteriorate significantly. JNIM and its ilk have expanded in the Sahel in areas already afflicted by poor governance and intercommunal conflict. Salafi-jihadi militants lack the same degree of influence and force projection in West African littoral states and will face demographic limits on any potential insurgency. They could gain a larger foothold in a worst-case scenario of civil war or societal breakdown in an at-risk border region, however. Littoral states and their international backers should prioritize governance-building approaches to remove opportunities for Salafi-jihadi groups to recruit from and operate among aggrieved populations. An overly securitized policy that further demonized whole communities risks forcing vulnerable groups to partner with Salafi-jihadi groups for survival.
On their current trajectory, Salafi-jihadi groups have significant opportunities to expand their influence and activities in West Africa's littoral states. Security in Mali and Burkina Faso will likely continue to deteriorate, giving militants secure havens from which to project force into the West African littorals and gradually increase their sway over local communities. Attacks in the northern regions of the Gulf of Guinea states may also seek to dissuade them from participating in joint counterterrorism operations in Burkina Faso or Mali. Salafi-jihadi groups could also resume attacking foreign targets in littoral West Africa, continuing a long-running effort to remove Western influence from the region.
Africa File: Malian Army Abuses Will Strengthen Salafi-Jihadis in Central Mali 
[Notice: The Critical Threats Project frequently cites sources from foreign domains. All such links are identified with an asterisk (*) for the reader's awareness.]
To receive the Africa File via email, please subscribe here. 
Key Takeaway: The Malian Army launched a campaign of collective punishment in a bid to reimpose state control in central Mali. This approach, which Wagner Group is enabling, will strengthen al Qaeda's Mali branch by forcing vulnerable civilian populations to rely on Salafi-jihadi militants for self-defense. Militants may conduct terror attacks in urban areas in retaliation for the central Mali campaign. This campaign also risks inflaming inter-ethnic conflict in central Mali that would inflict widespread harm on civilians.
Figure 1. The Salafi-Jihadi Movement in Africa: May 2022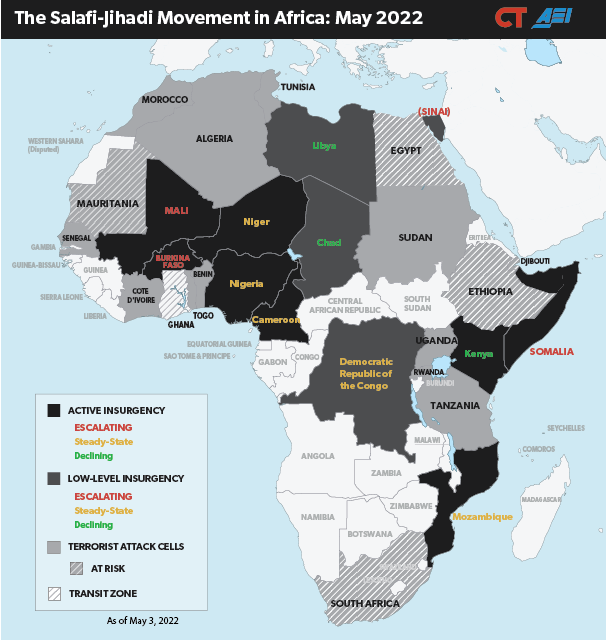 Source: Kathryn Tyson.
The Malian Army (FAMA) launched a campaign of collective punishment in a bid to reimpose state control in central Mali. The state is largely absent from this resource-constrained region, where competing ethnic-based self-defense groups and Salafi-jihadi groups have fueled a retaliatory violence cycle in recent years. Al Qaeda's Sahel branch, Jama'at Nusrat al Islam wa al Muslimeen (JNIM), recruits from the local Fulani population by promoting itself as the only viable ally against ethnic militias and state security forces known for human rights abuses. FAMA launched Operation Keletigui in *December 2021 to *"search for and destroy" JNIM and its "sanctuaries" in central and southern Mali. This operation uses quick reaction raids, artillery, and helicopter gunships to reassert FAMA's presence in central Mali. FAMA is retaliating against JNIM by attacking villages the Malian government claims are JNIM strongholds.
FAMA has partnered with the Russian Wagner Group to conduct this campaign. The Wagner Group is a Kremlin-supported network of military companies financed by a close personal ally of Russian President Vladimir Putin that is used to achieve Russian goals around the world, including in Africa. Mali's current government, which took power in a 2021 coup, established its partnership with Wagner while downgrading its long-standing defense partnership with France. French forces escalated a planned withdrawal from Mali in 2021 due to deteriorating relations with the Malian junta, ending a decade-long counterterrorism presence in the country. The Malian government nullified the Franco-Malian status of forces and defense cooperation agreements on May 2. Germany announced the end of its participation in the EU Training Mission in Mali on May 4.
The French and European drawdown coincides with a new, and newly brutal, FAMA approach to security in central Mali. Wagner and the FAMA committed several acts of collective punishment in central Mali against Fulani civilians in April. FAMA and Wagner summarily executed at least 300 Fulani prisoners in a massacre in Moura in late March. FAMA portrays these missions as targeted, *intelligence-based raids killing large numbers of "terrorists."
JNIM is capitalizing on the brutality and weakness of the FAMA-Wagner campaign by strengthening ties to vulnerable populations in affected areas. FAMA and the Wagner Group have not attempted to hold villages after their "counterterrorism raids" and likely lack the manpower and capability to do so. JNIM therefore reimposes its control after security forces depart. JNIM will improve its legitimacy by presenting itself as the only available security guarantor for local populations. The group conducted three suicide vehicle-borne improvised explosive device attacks targeting FAMA bases on April 24. JNIM also retaliated by kidnapping a Wagner contractor in early April, calling Wagner a "criminal force" that killed "hundreds of defenseless innocents," a reference to the late March Moura massacre. JNIM also threatened additional attacks against the *Malian government.
Figure 2. Significant Malian Army and JNIM Activity in Central Mali, February–April 2022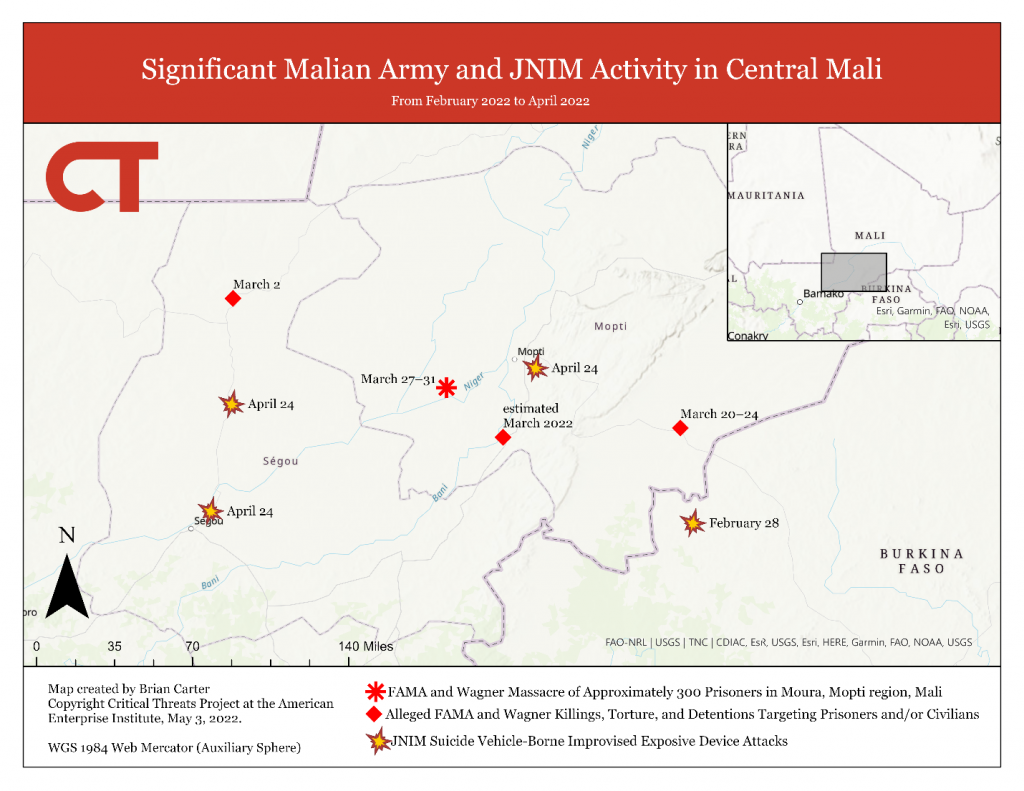 Source: AEI's Critical Threats Project.
In the most likely scenario, JNIM will expand its control zones in central Mali and may begin an attack campaign in urban areas, potentially expanding instability to other parts of the country. JNIM's role as a security guarantor for vulnerable populations will allow it to solidify its control zones, increasing its freedom of movement and the logistical support it receives from the population. Security forces and local militias could heighten violence by retaliating against communities perceived to be supporting JNIM cells. This cyclical violence will severely affect civilian populations, increasing local armed mobilization on all sides.
Enhanced logistical support and freedom of movement may allow JNIM to continue developing its capabilities and conduct a greater number of complex attacks. JNIM has developed its vehicle-borne improvised explosive device (VBIED) capabilities over recent years, most recently employing VBIEDs in June 2021 and February 2022 before its recent April attack. Greater freedom of movement will allow JNIM to expand its attack zone toward the capital region, particularly given preexisting activity in the Koulikoro region northeast of Bamako.
JNIM may be planning attacks targeting Bamako or other major cities. A JNIM leader *called on the government to "prepare for the . . . real fights," and on April 25 claimed JNIM cells are active in Mali's major cities. The US Embassy in Mali warned on April 29 of a possible terrorist attack targeting Bamako between April 30 and May 1. New attacks in Bamako would indicate a resumed JNIM capability to carry out attacks in urban zones. French Operation Barkhane likely degraded JNIM's capability to conduct large attacks in Bamako by eliminating key cell leaders. Malian security services *arrested two JNIM fighters in Bamako in March 2021. Capability losses likely contributed to some of this shift away from terror attacks, but JNIM likely also de-emphasized terror attacks for strategic reasons. JNIM leaders likely recognized high-profile attacks or conquests triggered strong Western responses that threatened their progress toward local goals, mirroring a larger trend toward prioritizing local gains across the al Qaeda network.
Attacks in Bamako or against military bases would threaten the Malian military junta's legitimacy with its core constituencies in Bamako by affecting the safety of populations in major cities and demonstrating Mali's deteriorating security. JNIM attacks causing high military casualties may also threaten the government by *spurring protests among soldiers' family members.
In a worst-case scenario, continued intercommunal conflict may cause widespread, armed communal mobilization in central Mali and trigger a descent into ethnic cleansing. Ethnic self-defense militias began to mobilize in 2016 in response to Salafi-jihadi violence and a lack of state support, beginning a cyclical pattern of tit-for-tat violence between Salafi-jihadi groups and self-defense militias. This violence included large-scale massacres targeting civilians based on ethnicity.
FAMA's actions risk stoking and expanding ethnic-based violence. The Malian state has backed self-defense groups to a degree, though the extent of this cooperation remains unclear. The Malian government and Dan Na Ambassagou, a Dogon ethnic militia, reportedly *agreed to a security and counterterrorism plan in central Mali in 2020. FAMA also collaborated with Dan Na Ambassagou "closely" through 2018, and the Malian Defense Ministry encouraged youth to join FAMA and "responsible self-defense groups" in January 2022. FAMA's current campaign also broadly demonizes Fulani as terrorists, feeding into existing prejudices among other ethnic groups that equate Fulani identity with JNIM membership. JNIM's central Mali branch has fed this dynamic by recruiting Fulani members and targeting Dogon militias and other ethnically aligned armed groups, even while JNIM as an organization officially denies leveraging ethnicity and presents its leadership as a solution to ethnic strife.
FAMA and JNIM actions risk raising the level of ethnicity-based violence in central Mali from intermittent to systemic. Self-defense groups have previously mobilized at the village level. Ongoing conflict, worsened by the FAMA campaign, could cause Fulani militias to form and mobilize above this level, likely in partnership with JNIM's central Mali component. Non-Fulani ethnic armed groups will also mobilize because FAMA lacks the capability to provide security. Widespread and organized armed communal mobilization beyond a local level would significantly raise the likelihood of mass atrocities, including the large-scale killing of civilians based on ethnicity.
Africa File: Another Ethiopian Crisis May Overtake the Tigray Conflict
[Notice: The Critical Threats Project frequently cites sources from foreign domains. All such links are identified with an asterisk (*) for the reader's awareness.]
To receive the Africa File via email, please subscribe here. 
Key Takeaway: The cease-fire agreement between the Ethiopian government and rebel forces in Tigray indicates that the Ethiopian government faces an even more pressing threat elsewhere. A multilayered conflict in Oromia—which surrounds the capital and is the country's largest and most populous regional state—is worsening Ethiopia's humanitarian crisis and may lead to its fragmentation or a change in national leadership.
Figure 1. The Salafi-Jihadi Movement in Africa: April 2022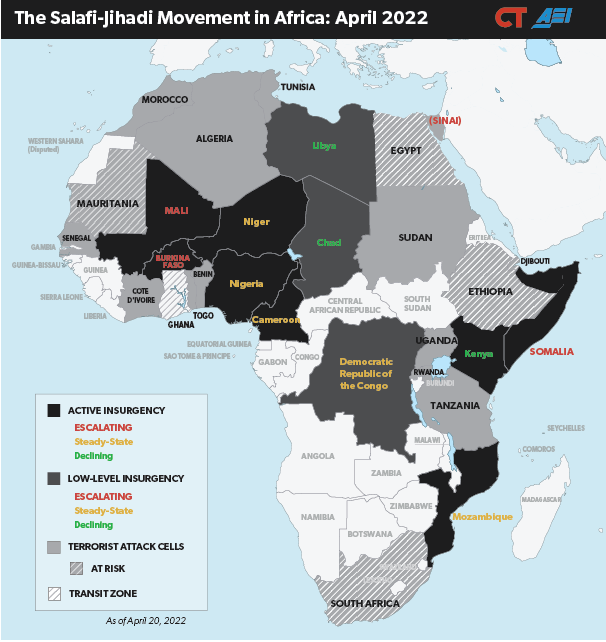 Source: Authors and Kathryn Tyson.
A recently declared humanitarian truce allowed limited aid to enter Tigray in northern Ethiopia. The Ethiopian government, partnering with local armed groups and the Eritrean military, has severely restricted humanitarian access to Tigray since the current conflict began in November 2020. The UN Office of Humanitarian Affairs estimates that half of Tigray's civilians face acute starvation and famine conditions. The Ethiopian government announced an "indefinite humanitarian truce" on March 24 to allow aid delivery into Tigray. Pro-government militias initially denied passage to humanitarian convoys in the cease-fire's first weeks, but aid convoys began arriving in early April.
The Ethiopian government likely declared the truce in an attempt to freeze the Tigray conflict so it could dedicate resources to another pressing priority. Ethiopian Prime Minister Abiy Ahmed previously declared a cease-fire, in June 2021, to thwart the Tigray People's Liberation Front's (TPLF) advance outside of Tigray. The current cease-fire has largely held despite some light fighting between ethnic-based militias and TPLF forces in Tigray's border regions in late March. Reports of troop mobilizations just south of Tigray in late March indicate that federal forces may be preparing for a future offensive. A TPLF withdrawal from neighboring Afar region on April 14 may be a concession aimed at preventing another offensive, though it could also signal willingness to negotiate.
The Tigray conflict has contributed to a more widespread destabilization of Ethiopia. Ethiopia has an ethnic federalist political system that administers geographic areas of the country based on the local majority ethnicity, and political parties form along ethnic and regional lines. The Tigray war and the government's response has "normalized political violence" and encouraged ethnically aligned armed groups to mobilize or remobilize to address perceived injustices. Regional ethnic militias have taken advantage of frustrations among Oromo civilians and other aggrieved populations to take up arms. The Oromo comprise 36 percent of all 120 million Ethiopians but have historically lacked access to the state's power and resources.
Figure 2. Regions of Ethiopia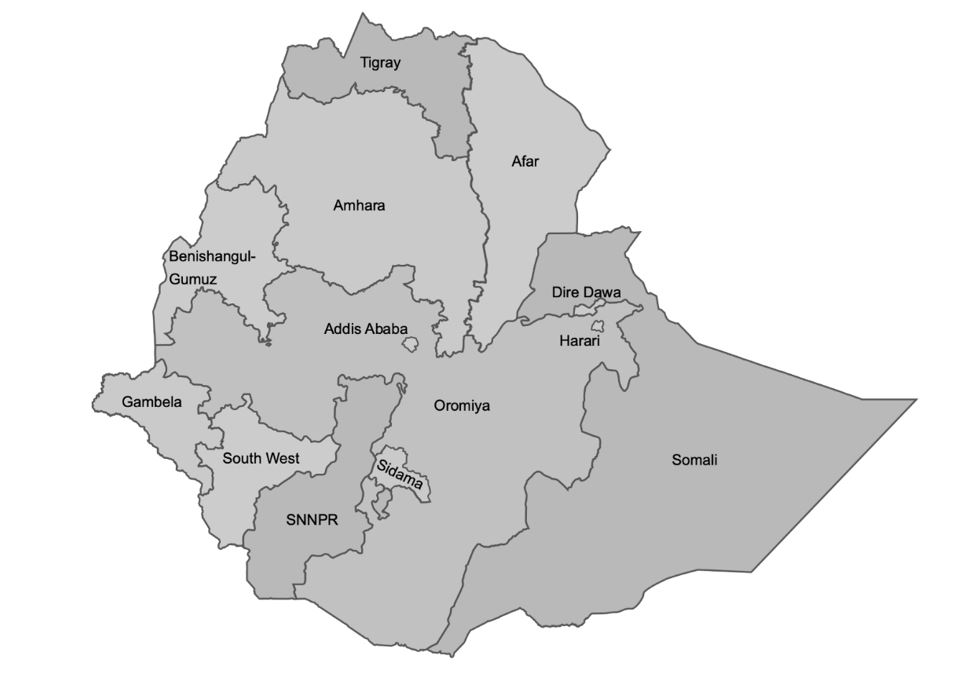 Source: WikiCommons.
An Oromo uprising has developed in parallel to the Tigray war. Oromo insurgent groups appear in several forms across Ethiopian history. Oromo fought against dominance by the Amhara ethnic group during Ethiopia's imperial period. More recently, Oromo youth protesters played a key role in ousting Ethiopia's TPLF-led coalition in 2018, helping create the path for Prime Minister Ahmed to take power. Ahmed's actions included striking a peace deal with the previously banned Oromo Liberation Front (OLF) political party. His Prosperity Party coalition came to rely on a close relationship with dominant Amhara political parties, however—a relationship that has intensified as Ahmed's government has partnered with Amharan militias in the conflict with the TPLF since 2020. These developments have *dissolved once-hopeful sentiments among Oromo activists.  
The separatist Oromo Liberation Army (OLA) has capitalized on grievances and disillusionment in the Oromo community to reignite an insurgency. The OLA was the OLF's armed wing but *split off in 2018, objecting to the peace deal with Ahmed's government. Oromo frustrations swelled in June 2020 when millions protested the killing of a popular Oromo singer and faced a harsh crackdown, *emboldening Oromo militant groups to escalate attacks on government institutions and ethnic minorities. The Tigray war created another opportunity for the OLA, which allied with the TPLF alongside eight smaller rebel groups in May 2021. Political *factions within the national and Oromia regional governments are *divided over how to respond to the OLA.
The OLA insurgency both fuels and is fueled by militia mobilization in the neighboring Amhara region. Amharan militias, some of which are affiliated with the regional government, have taken up arms alongside Ethiopian federal forces to fight the TPLF. One such group is the Fano, a loosely organized Amhara nationalist *militia. The Fano has partnered with the federal government against the TPLF, including by rebuffing the TPLF's summer 2021 offensive. Reported TPLF atrocities against Amharan civilians increased Fano recruitment and mobilization. Amharan militias have also been accused of retaliatory attacks against Tigrayan civilians. The Amhara mobilization is not confined to areas bordering Tigray. Tensions have also spiked between the Oromia and Amhara regional governments over *clashes between pro-government militias and regional forces' *incursion into Oromia-administered land in April 2022.
Amharan militias, especially the Fano, are an increasingly powerful force with *grievances of their own. Fano and the OLA are engaged in cycle of retaliatory violence in the Amhara-Oromia border zone. *Targeted executions have extended *farther into Oromia or Amhara territory since August 2021. The Fano now claim to defend Amharan civilians in central Ethiopia from OLA aggression. Amharan militias have committed *atrocities against Oromo civilians and other ethnic minorities they accuse of abetting the OLA. The Fano mobilization also challenges the federal government, which has sought to regain control over Amharan militias. Protests over the arrests of Fano members escalated into *clashes between federal forces and Fano forces in Amhara in March 2022.
The violence in Oromia and neighboring areas is worsening the already serious humanitarian crisis in Ethiopia. Civilian casualties in Oromia increased by a factor of 17 in 2022 compared to 2018–21. Militias have committed hundreds of *kidnappings, raids, *assassinations, and executions against each other and civilians in 2022. The OLA, other militias, and civilians using homemade weapons have committed ethnic-based murders in neighboring regions such as Sidama or the Southern Nations, Nationalities, and Peoples' Region (SNNPR). Fano and allied militias retaliate against Oromo civilians and commit atrocities along disputed borderlands and Oromo communities deeper into the Amhara region. Regional government forces and police also contribute to ethnic violence through extrajudicial killings and arbitrary detentions.
Fighting across central Ethiopia disrupts access to government services and humanitarian aid, exacerbating displacement and health care shortfalls during a historic drought. Oromia and neighboring Benishangul-Gumuz region *reported more than 1.5 million combined internally displaced persons in 2022, and the capital *Addis Ababa receives more than 1,000 refugees from affected regions per day. Prices of basic *foodstuffs spiked in 2022 as conflict, drought caused by *record low rains, and global supply-chain issues drive severe food insecurity. A recent *meningitis outbreak across conflict-affected regions highlights barriers to *basic services.
The Ethiopian government is shifting resources to combat the OLA insurgency. The OLA now *holds eight of the 21 zones in the Oromia region, including territory within 60 miles of the capital city of Addis Ababa, and it conducted attacks and assassinations across all 21 zones in 2022. The Ethiopian military announced a major offensive against the OLA in southern Oromia near the Kenyan border on April 4. The Ethiopian military and regional government forces launched operations into five other zones of Oromia in April 2022 in an attempt to encircle the OLA and prevent it from establishing havens in neighboring countries. The Ethiopian government has also struck *security pacts with neighboring Kenya and South Sudan to *prevent OLA fighters from crossing their borders. The three states have limited capability to seal the *porous borders, however.
Figure 3. Key Conflict-Affected Regions in Ethiopia: April 2022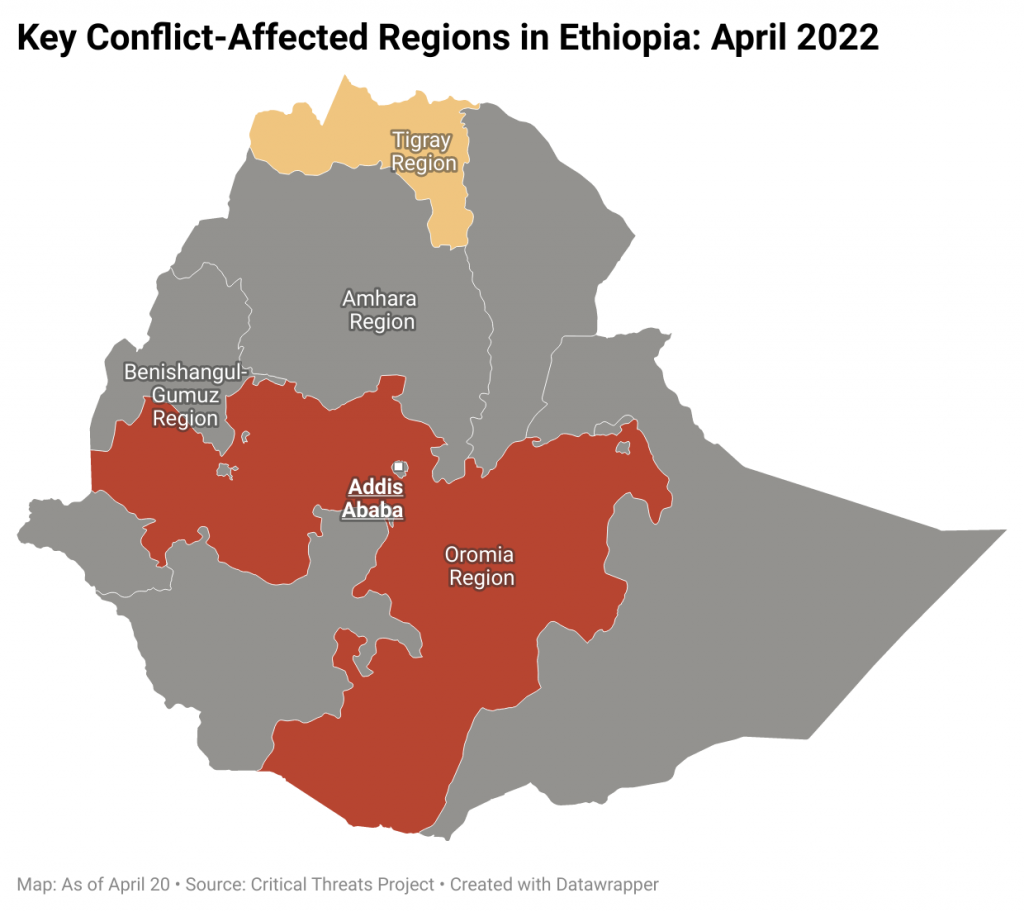 Source: Authors.
The TPLF and OLA insurgencies are just the latest and loudest examples of the Ethiopian state's deterioration. The Somali region in eastern Ethiopia also faces a *political and *security crisis. Riots and *intercommunal violence spiked in the South West region and SNNPR in spring 2022, and transnational crime organizations proliferate in the *Gambela region. Conflict spillover and internal security challenges also plague the Benishangul-Gumuz region, where the recently completed—and regionally controversial—Grand Ethiopian Renaissance Dam (GERD) is located.
The security situation is disrupting the Ethiopian economy. Major infrastructure projects, including a *Turkish railway investment, have stalled over security concerns. A regional *transit initiative paused after the OLA captured portions of a transnational highway in November 2021 and again in February 2022. Addis Abba overtook Dakar, Senegal, as the most expensive city in Africa in 2022, as food prices skyrocketed nationwide. Conflict has also *harmed the infrastructure needed to distribute the benefits of the GERD, which is meant to alleviate the high price of *household energy across the country.
The current level of strain on the Ethiopian system is very likely unsustainable and will lead to major changes in national governance, though it is not yet clear whether fragmentation, a change in leadership, or another dramatic outcome is most likely. A return to the pre-2020 status quo is unlikely because the Ethiopian federal government very likely lacks the capability to militarily defeat multiple insurgencies at once. This reality may push Ahmed's government to negotiate, and in fact it *announced a national dialogue in late 2021. This dialogue excludes the TPLF and the OLA, however, rendering this framework unlikely to end the current conflicts.