Al Qaeda Global Tracker
The al Qaeda Global Tracker provides analysis and assessments of major developments related to the al Qaeda network.
Loading...
Loading...
Salafi-jihadi groups, particularly al Qaeda, have grown resilient in the past decade by entrenching themselves in local conflicts throughout the Muslim world. Al Qaeda affiliates execute the leadership's guidance through  "deliberate localization" that has allowed them to develop and expand popular support bases in conflict zones. Al Qaeda affiliates demonstrated their continued alignment with al Qaeda's strategic objectives, including attacking the United States, in a recent media campaign lauding an attempted al Shabaab attack on an American base in Somalia.
Horn of Africa. Al Shabaab, al Qaeda's East African affiliate, is waging an insurgency across southern and central Somalia and regularly targets Kenya. Al Shabaab conducted its first direct attack on Baledogle airbase, a US and Somali position located 60 miles outside of the capital, Mogadishu, in southern Somalia, on September 30. Al Shabaab militants attempted to breach the perimeter of the airbase using suicide vehicle-borne improvised explosive devices. A US airstrike and small arms fire disrupted the attack. The attack failed to inflict any casualties, though al Shabaab claimed to kill nearly 200 US and Israeli personnel.
Al Shabaab heavily promoted the Baledogle attack to place its struggle in a global framework. The attack may indicate that al Shabaab will increase prioritization of US targets in East Africa. The group released statements on October 2 and October 16 claiming the attack as part of ongoing and intensifying operations against Western powers interfering in Muslim lands. Al Shabaab's emir, Ahmad Umar AKA  Abu Ubaidah, made his first video appearance, with his face obscured, on November 5. He appeared alongside the perpetrators of the Baledogle attack in the video, denounced "American atrocities" in the Muslim world, and called for attacks on American personnel globally.
Yemen. Al Qaeda in the Arabian Peninsula (AQAP) participated in the coordinated media response to the Baledogle attack despite its relatively limited media production in the past two years. Senior AQAP official Ibrahim Ahmed Mahmoud al Qosi released an audio speech on October 16, the same day as one of the al Shabaab statements, lauding the Baledogle attack and urging al Shabaab to continue its struggle. AQAP last indirectly referenced al Shabaab in another audio speech from Qosi nearly four years ago. AQAP's emir, Qasim al Raymi, also released his first audio speech in over a year on November 4 in which he discussed the conflict in Syria, potentially indicating a revitalization of the group's media wing.
 AQAP has historically posed a significant threat to the West due to its prioritization of external attacks. Counterterrorism efforts have degraded AQAP, including its media capabilities, in recent years. Conditions in Yemen, including local conflicts and governance gaps, favor AQAP's strengthening in the future, however.
Al Qaeda leadership. Al Qaeda General Command also released a statement praising the Baledogle attack on October 16, demonstrating a high degree of coordination between al Qaeda leadership, AQAP, and al Shabaab.
West Africa. The al Qaeda in the Islamic Maghreb (AQIM) affiliate in Mali, Jama'a Nusrat al Islam wa al Muslimeen (JNIM), may be increasing its coordination with al Qaeda affiliates. The group's emir, Iyad Ag Ghali, released an audio speech on November 8 lauding al Shabaab's attack on the Baledogle airbase. This is Ag Ghali's first public statement to al Qaeda affiliates as JNIM's emir. This statement builds on a history of AQIM coordination with other al Qaeda affiliates
 AQIM and other Salafi-jihadi groups have expanded rapidly in the western Sahel region by stoking ethnic conflict and taking advantage of weak states. JNIM formed from the merger of four Salafi-jihadi groups in 2017 and is currently waging an insurgency across northern and central Mali and northern Burkina Faso.
This analysis is co-published by the Institute for the Study of War.
Al Qaeda has expanded its presence in Afghanistan since 2014 in collaboration with the Taliban. The Taliban and al Qaeda maintain, and will sustain, an enduring and intimate relationship that invalidates the premise of U.S. negotiations with the Taliban. The Taliban-al Qaeda partnership will allow al Qaeda militants to exploit any potential U.S. military withdrawal to expand further their access to safe havens in Afghanistan.
U.S. Secretary of Defense Mark Esper reaffirmed the Trump Administration's intent to reach a political agreement and continue the withdrawal of American forces from Afghanistan during a visit to the country on October 21.[1] U.S. President Donald Trump halted negotiations with the Taliban in September in the wake of a bombing in the country's capital that killed a U.S. soldier.[2] It is unclear whether the U.S. and the Taliban will resume talks in the near term. Meanwhile, al Qaeda continues to expand its presence in Afghanistan in a close relationship with the Taliban that undermines a central premise of talks: that the Taliban will break with al Qaeda as part of a peace deal. Al Qaeda has already exploited previous U.S. drawdowns and is prepared to surge in collaboration with the Taliban if the U.S. withdraws from Afghanistan.
Al Qaeda has prioritized its re-entry into Afghanistan since 2014, when the NATO-led International Security Assistance Force (ISAF) drew down forces.[3] Al Qaeda Emir Ayman al Zawahiri announced the formation of al Qaeda in the Indian Subcontinent (AQIS) in 2014, a move intended to counter the Islamic State's declaration of a so-called caliphate in Iraq and Syria as well as exploit the ISAF drawdown.[4] Al Qaeda's re-entry into Helmand Province in southern Afghanistan forced the U.S. to resume counter-terrorism operations there in 2015.
Senior AQIS leaders and Taliban commanders are co-located in Afghanistan today, signaling an enduring and high-level partnership. American and Afghan forces targeted a joint Taliban-al Qaeda compound in Musah Qal'ah District, a Taliban stronghold considered the group's de facto capital, in Helmand Province on September 22.[5] Multiple Afghan security organizations reported that the operation killed senior AQIS leader Asim Umar and a courier who connected AQIS leaders to Zawahiri. Afghanistan's intelligence agency and a U.S. official have since confirmed Umar's death in the raid.[6] The operation also targeted several Taliban commanders from districts in Helmand Province.[7] It is a sign of the extent of al Qaeda's return to the area.
The joint compound in Musah Qal'ah is only one example of the depth and breadth of the Taliban-al Qaeda relationship. Al Qaeda members are embedded with the Taliban at positions throughout Afghanistan. The U.S. military assessed in February 2019 that approximately 200 al Qaeda militants are active in Kabul, Badakhshan, Kunar, Paktia, Helmand, and Nimroz Provinces.[8] The UN Security Council (UNSC) assessed that al Qaeda "considers Afghanistan a continuing safe haven for its leadership" and that al Qaeda continues to rely "on its long-standing and strong relationship with the Taliban leadership" in July 2019.[9] The UNSC also assessed that al Qaeda is actively attempting to grow its presence in Shighnan District in Badakhshan Province and Bermal District in Paktika Province.[10] A senior Taliban official said in December 2018 that several thousand foreign fighters operate in Taliban territory.[11] Many of these fighters are likely affiliated with al Qaeda. Durable alliances between al Qaeda militants and Taliban members indicate an entrenched al Qaeda network embedded within the Taliban.[12] Al Qaeda members also provide military and religious instruction to the Taliban.[13]
The U.S. cannot expect the Taliban to fulfill its counter-terrorism requirements against al Qaeda. The Taliban has already demonstrated that it will not act to thwart al Qaeda. The Taliban neither severed ties with al Qaeda nor took action to prevent terrorists from operating in Afghanistan, as it promised in a now-defunct draft agreement with the U.S. in early September.[14] Al Qaeda will continue to exploit its relationship with the Taliban to expand its presence in Afghanistan and will accelerate this expansion if the U.S. withdraws.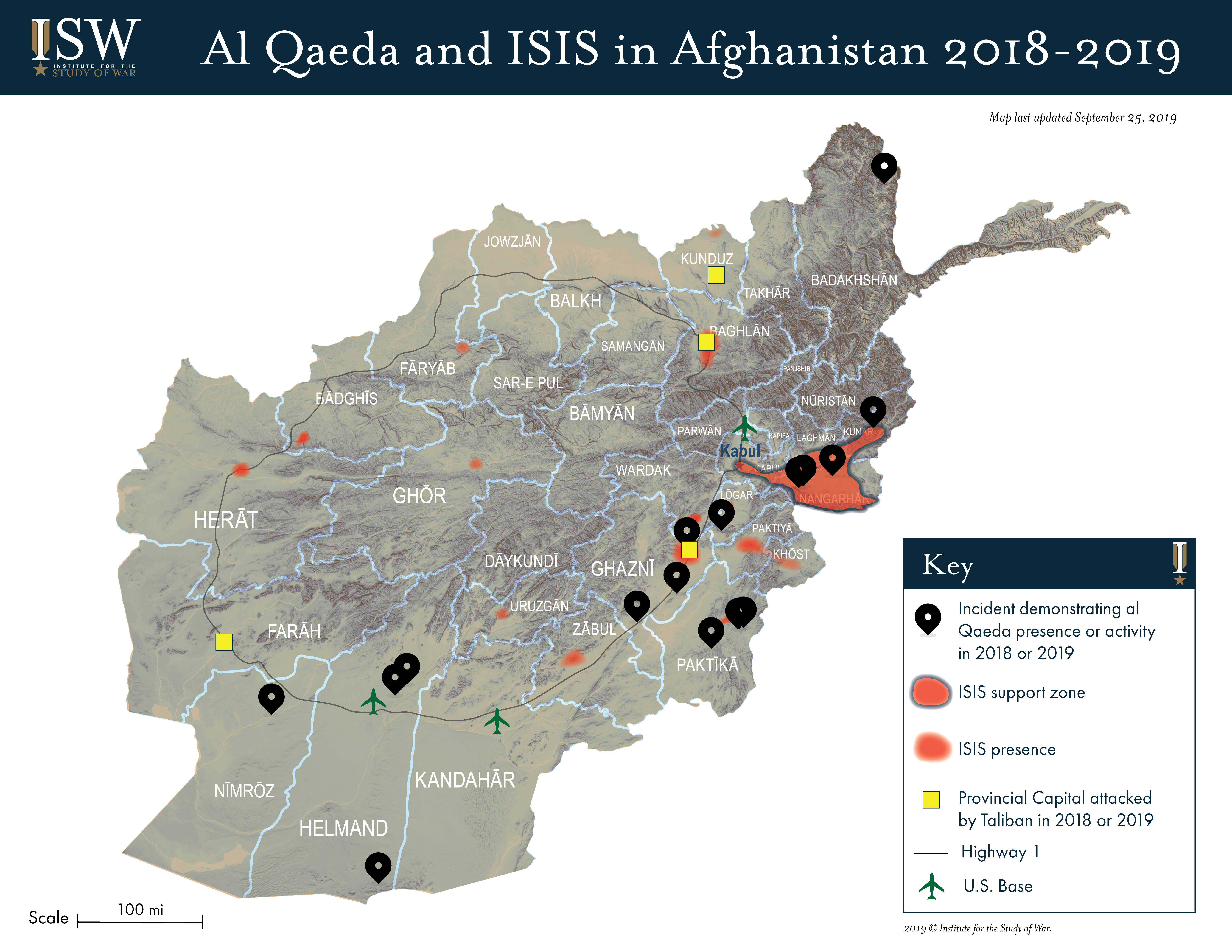 ---
[1] Idrees Ali, "Pentagon chief in Afghanistan as U.S. looks to kickstart Taliban talks," Reuters, October 20, 2019, https://www.reuters.com/article/us-usa-afghanistan-pentagon/pentagon-chief-in-afghanistan-as-u-s-looks-to-kickstart-taliban-talks-idUSKBN1WZ0C4.
[2] Ibid.
[3] Anne Stenersen, "Al-Qa'ida's Comeback in Afghanistan and its Implications," CTC Sentinel 9, no. 9 (September 2016), https://ctc.usma.edu/al-qaidas-comeback-in-afghanistan-and-its-implications/.
[4] Anurag Chandran, "Al Qaeda in the Indian Subcontinent: Almost Forgotten," Critical Threats Projecta t the American Enterprise Institute, September 3, 2015, https://www.criticalthreats.org/analysis/al-qaeda-in-the-indian-subcontinent-almost-forgotten.
[5] Susannah George, "U.S., Afghan forces carry out deadly raid on al-Qaeda in southern Afghanistan," Washington Post, September 23, 2019, https://www.washingtonpost.com/world/asia_pacific/us-official-acknowledges-possible-civilian-casualties-in-afghanistan-airstrike/2019/09/23/dd789cf2-de0a-11e9-b199-f638bf2c340f_story.html; and "Taliban territory: Life in Afghanistan under the militants," https://www.bbc.com/news/world-asia-40171379
[6] Ayesha Tanzeem, "Al-Qaida South Asia Chief Killed in Afghanistan Raid," Voice of America, October 8, 2019, https://www.voanews.com/south-central-asia/al-qaida-south-asia-chief-killed-afghanistan-raid.
[7] Afghanistan National Directorate of Security, Twitter, September 24, 2019, https://twitter.com/NDSAfghanistan/status/1176450110882009088; and Afghanistan National Security Council, Twitter, September 23, 2019, https://twitter.com/NSCAfghan/status/1176212078069276677?s=20.  
[8] Glenn A. Fine, "Operation Freedom's Sentinel: Lead Inspector General Report to the United States Congress," March 1, 2019, https://media.defense.gov/2019/Mar/01/2002094845/-1/-1/1/FY2019_LIG_OCO_REPORT.PDF.
[9] UN Security Council, "Letter dated 15 July 2019 from the Chair of the Security Council Committee pursuant to resolutions 1267 (1999), 1989 (2011) and 2253 (2015) concerning Islamic State and Iraq and the Levant (Da'esh), Al-Qaida and associated individuals, groups, undertakings and entities addressed to the President of the Security Council," July 15, 2019, https://digitallibrary.un.org/record/3813209/files/S_2019_570-EN.pdf.
[10] UN Security Council, "Letter dated 15 July 2019 from the Chair of the Security Council Committee pursuant to resolutions 1267 (1999), 1989 (2011) and 2253 (2015) concerning Islamic State and Iraq and the Levant (Da'esh), Al-Qaida and associated individuals, groups, undertakings and entities addressed to the President of the Security Council."
[11] F. Brinley Bruton and Mushtaq Yusufzai, "9/11 hangs over Taliban talks and assurances militant group has changed," NBC News, December 17, 2018, https://www.nbcnews.com/news/world/9-11-hangs-over-taliban-talks-assurances-militant-group-has-n946011.
[12] Phil Stewart, "At Afghan base, al Qaeda memories fresh 18 years after September 11 attacks," Reuters, September 11, 2019, https://www.reuters.com/article/us-usa-sept11-afghanistan/at-afghan-base-al-qaeda-memories-fresh-18-years-after-september-11-attacks-idUSKCN1VW24D; Council on Foreign Relations, "The al-Qaeda-Taliban Nexus," November 24, 2009, https://www.cfr.org/expert-roundup/al-qaeda-taliban-nexus; Robert Windrem and William M. Arkin, "Why Hasn't the U.S. Killed Bin Laden's Wingman Ayman al-Zawahiri," NBC News, May 17, 2016, https://www.nbcnews.com/news/us-news/why-hasn-t-u-s-kill-bin-laden-s-wingman-n574986; and Jonathan Landay and Steve Holland, "In Trump's team, misgivings emerge over any deal with Taliban in Afghanistan: U.S. officials," Reuters, August 30, 2019, https://www.reuters.com/article/us-usa-afghanistan-concerns/in-trumps-team-misgivings-emerge-over-any-deal-with-taliban-in-afghanistan-u-s-officials-idUSKCN1VK2NW.
[13] UN Security Council, "Letter dated 15 July 2019 from the Chair of the Security Council Committee pursuant to resolutions 1267 (1999), 1989 (2011) and 2253 (2015) concerning Islamic State and Iraq and the Levant (Da'esh), Al-Qaida and associated individuals, groups, undertakings and entities addressed to the President of the Security Council."
[14] Siobhan O'Grady and Sharif Hassan, "Bombing rocks Kabul as U.S. envoy announces draft troop pullout deal with Taliban," Washington Post, September 2, 2019, https://www.washingtonpost.com/world/asia_pacific/us-envoy-to-taliban-talks-us-would-pull-out-troops-135-days-after-peace-deal-is-signed/2019/09/02/bc8f2b10-cd74-11e9-87fa-8501a456c003_story.html.
View Citations
This analysis is co-published by the Institute for the Study of War.
Al Qaeda's senior leadership reinvigorated its effort to unite anti-Assad groups into a single military force in northwest Syria after Russia enabled the regime of Syrian President Bashar al Assad to break a months-long stalemate in northwest Syria in August 2019. Greater cooperation between two separate al Qaeda–linked operations rooms in Idlib may indicate these forces will attempt to implement this directive despite a long history of failed attempts to unify.
Russian special forces and pro-Assad militias seized Khan Sheikhoun, an urban center on the M5 highway connecting Damascus to Aleppo, on August 22. The advance is a major win for Assad, Russia, and Iran after a months-long, grueling stalemate had imposed heavy casualties on the pro-Assad forces. Further regime gains threaten to constrict al Qaeda's governing project in Idlib to a smaller corner of northwest Syria, west of the M5 highway. It is thus a major threat to al Qaeda's project, but it is also an opportunity for al Qaeda to reinvigorate and possibly unify the Salafi-jihadi movement in Syria. The renewed military pressure has stimulated al Qaeda's global recruitment and fundraising for operations in Syria. It has also enabled senior al Qaeda leaders to try unifying anti-Assad forces again after years of infighting.
Al Qaeda's General Command issued a call for mobilization in Syria on August 15 to halt the regime's advance into Idlib province. It directed fighters to return to the model of Jaysh al Fatah, the joint operations room that seized Idlib city in March 2015 and threatened the regime's control in Hama province, farther south, and in the Syrian coast in Latakia province. Russia's intervention in Syria in September 2015 sought to halt and reverse this serious threat to Assad's survival. Senior al Qaeda commanders in Syria led Jaysh al Fatah, which included participation from US-backed groups and was the high-water mark to date for unified military effort in northwest Syria. By referencing Jaysh al Fatah, al Qaeda's General Command is harkening back to that period of victory in Syria to stimulate a new period of cooperation.
Al Qaeda has always supported multiple Salafi-jihadi groups in Syria to generate a diverse Salafi-jihadi movement that it can lead and that it calculates can replace the pro-democracy rebellion over time. Intense infighting and disagreements have emerged in Syria between these groups, occasionally disrupting their cooperation. Much of this infighting relates to the question of what concessions are permissible to grant to Syrian opposition groups and external actors, such as Turkey, to leverage their help. The statement from al Qaeda's General Command is an instruction to the Salafi-jihadi forces in Syria that it supports setting aside these arguments in favor of marshaling a more coherent military response to the pro-Assad advance. It also gives permission and enticement to al Qaeda leaders in Syria, such as Abu Mohammed al Joulani, who have sought to mask the extent of their role in al Qaeda to openly collaborate with more overtly globalist Salafi-jihadis.
A new Jaysh al Fatah would require greater cooperation between groups currently spread across two separate operations rooms: Incite the Believers, which includes the al Qaeda–linked Hurras al Din, and Fatah al Mubin, which includes the al Qaeda–linked Hay'at Tahrir al Sham (HTS) and Turkish-backed opposition forces. Hurras al Din's leaders include senior al Qaeda figures who have resisted cooperation with Fatah al Mubin due to disputes over leadership and Turkish support. These two operations rooms (Incite the Believers and Fatah al Mubin) both announced the start of a counterattack against pro-Assad forces on August 27, their first publicized coordination in northwest Syria since each was formed. It may indicate expanded coordination will follow. However, Russia announced a cease-fire in Idlib on August 30. It does not apply to al Qaeda–linked groups but indicates Russia will now attempt to renegotiate with Turkey and possibly Europe for a new deal in Idlib before resuming military operations.
Veteran al Qaeda figures both inside and outside of Syria continue to invest in shaping the actions of al Qaeda–linked groups in Idlib. Al Qaeda General Command eulogized Sari Shihab (aka Abu Khaled al Muhandis), a Jordanian Hurras al Din leader and senior al Qaeda militant who was assassinated in Idlib city on August 22. Shihab was an associate of al Qaeda in Iraq founder Abu Musab al Zarqawi and was related by marriage to senior al Qaeda official Saif al Adel. Shihab and Adel were two of five senior al Qaeda members released from Iran in 2015 after al Qaeda in the Arabian Peninsula kidnapped an Iranian diplomat in Yemen to facilitate the hostage exchange. A statement attributed to Adel on August 14 warned that Turkey seeks to compromise al Qaeda's effort in Syria. The statement is an example of the ongoing argument at senior leadership levels over how to proceed in Idlib.
American strikes on al Qaeda operatives planning external attacks from Idlib may disrupt greater cooperation between groups in northwest Syria. Concern over drawing US strikes has encouraged Syrian opposition groups to resist greater unification with al Qaeda–-linked groups in the past. US Central Command conducted a strike targeting al Qaeda leadership planning an attack "threatening US citizens and partners" north of Idlib on August 31. The strike targeted members of the al Qaeda–linked Ansar al Tawhid and possibly Hurras al Din. CENTCOM previously struck an al Qaeda cell planning an external attack at a facility near Aleppo in northwestern Syria on June 30.