Africa File
The Africa File is an analysis and assessment of the Salafi-jihadi movement in Africa and related security and political dynamics. 
Africa File: Clan Uprising Bolsters anti–al Shabaab Offensive in Central Somalia  
[Notice: The Critical Threats Project frequently cites sources from foreign domains. All such links are identified with an asterisk (*) for the reader's awareness.]
To receive the Africa File via email, please subscribe here. 
Key Takeaway: Local tribes in central Somalia are increasingly mobilizing against al Shabaab. Several Hawiye subclans in central and south-central Somalia have mobilized local militias to fight al Shabaab after militants ambushed a humanitarian aid convoy on September 2. The Somali government may also attempt to reconcile with the Sufi militia Ahlu Sunna wa al Jama'a (ASWJ) to bring the group into the counter–al Shabaab fight. Al Shabaab will likely accept losses in central Somalia in the short term. Defeating al Shabaab in central Somalia in the long term will depend on local and federal Somali authorities' ability to deliver tangible and sustained improvements in governance and security.
Figure 1. The Salafi-Jihadi Movement in Africa: September 2022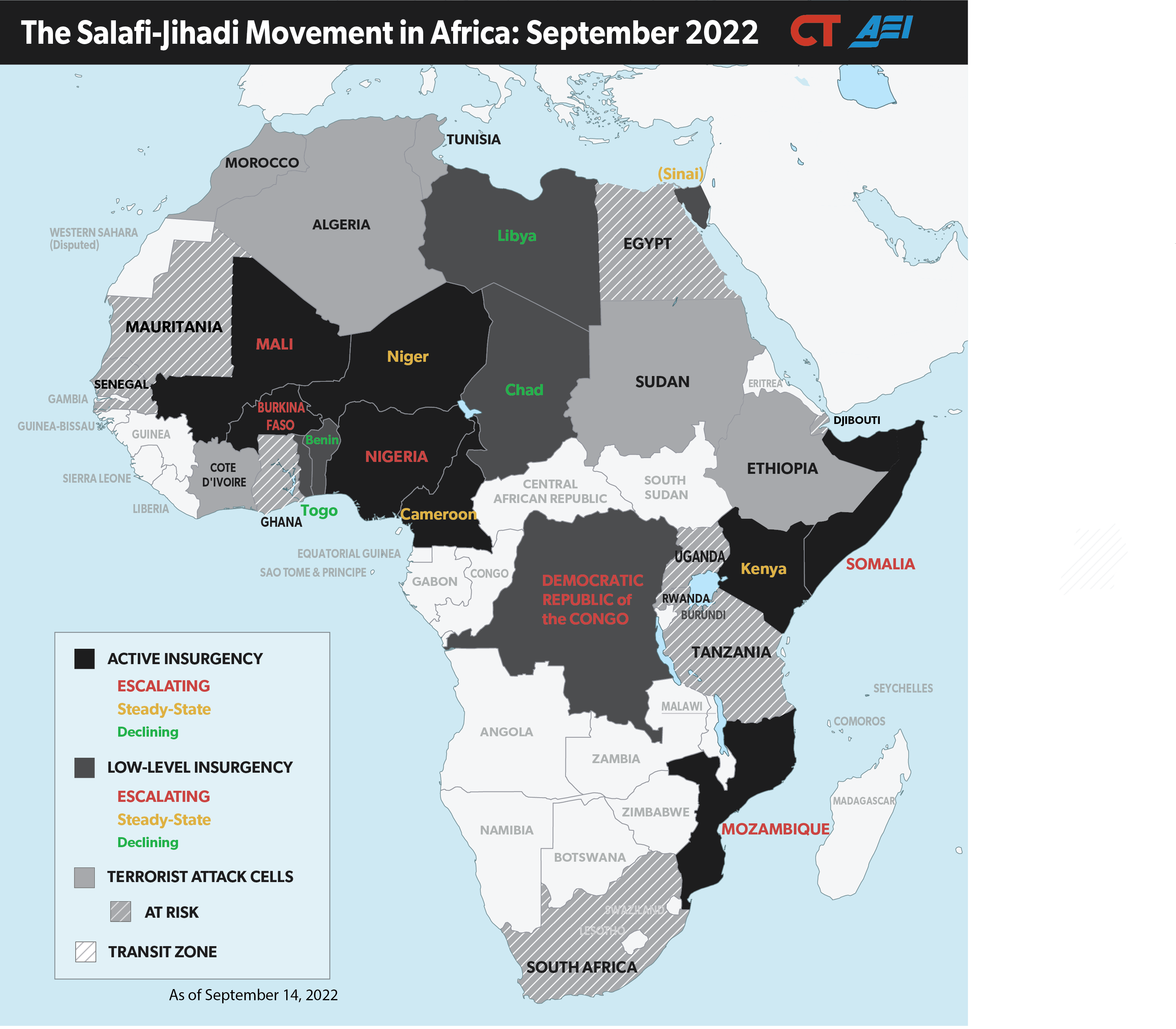 Source: Emily Estelle and Kathryn Tyson.
Clan militias have played a crucial role in supporting the Somali Federal Government's summer offensive in central Somalia from its outset. The Somali Federal Government (SFG) has waged an offensive against al Shabaab in central Somalia's Hiraan region for most of the summer. Local Hawadle subclan militias, known as Ma'awisley, helped spur this offensive by attacking* an al Shabaab base on June 1. The Hawadle leaders claimed the attack was revenge for al Shabaab assassinating* a Hawadle elder on May 27. Clan members said* they never received a satisfactory explanation from al Shabaab, which accused the elder of apostasy for participating in Somali elections. The clan said the elder was a "clean Muslim man" and denied he participated in elections. Somali security forces and Hawadle militias went on to clear al Shabaab from at least 23 villages between June and August and claim to have killed at least 100 al Shabaab militants.
Figure 2. Somali Forces Wage Central Somalia Offensive: August 2022
Note: Somali National Army is abbreviated as "SNA." For map definitions and an interactive map, click here.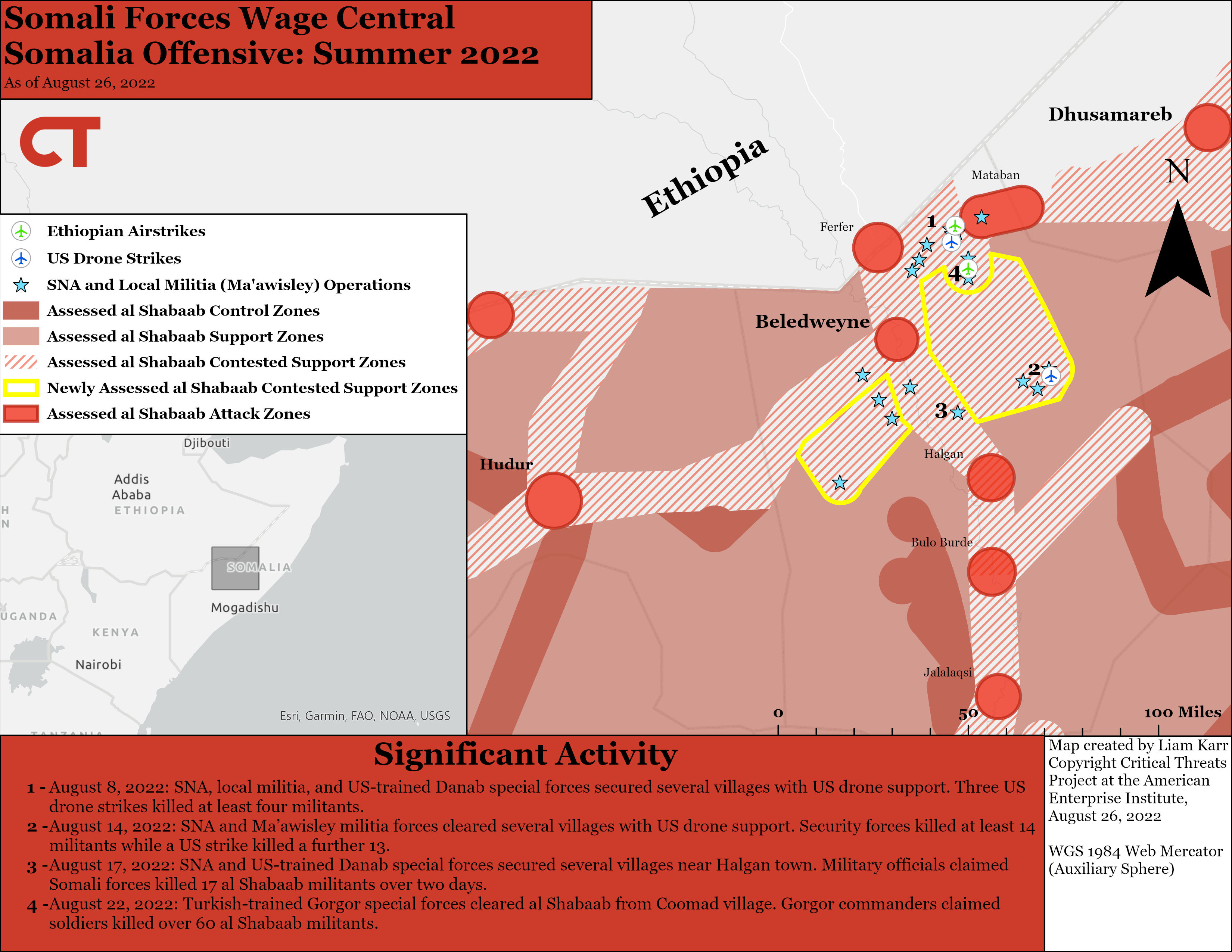 Source: Author
The Hawadle are part of the majority Hawiye clan in central Somalia. The Hawiye consists of several subclans distributed across the regions and districts of central Somalia. Clans play a crucial role in Somali politics. Subclan rivalries drive disputes within individual federal member states (FMS), while clan rivalries cause conflict between the SFG and FMS and within the SFG itself. Al Shabaab also strategically uses clan connections to recruit members and arrange favorable agreements in areas it does not outright govern.
Figure 3. Somalia Clan Distribution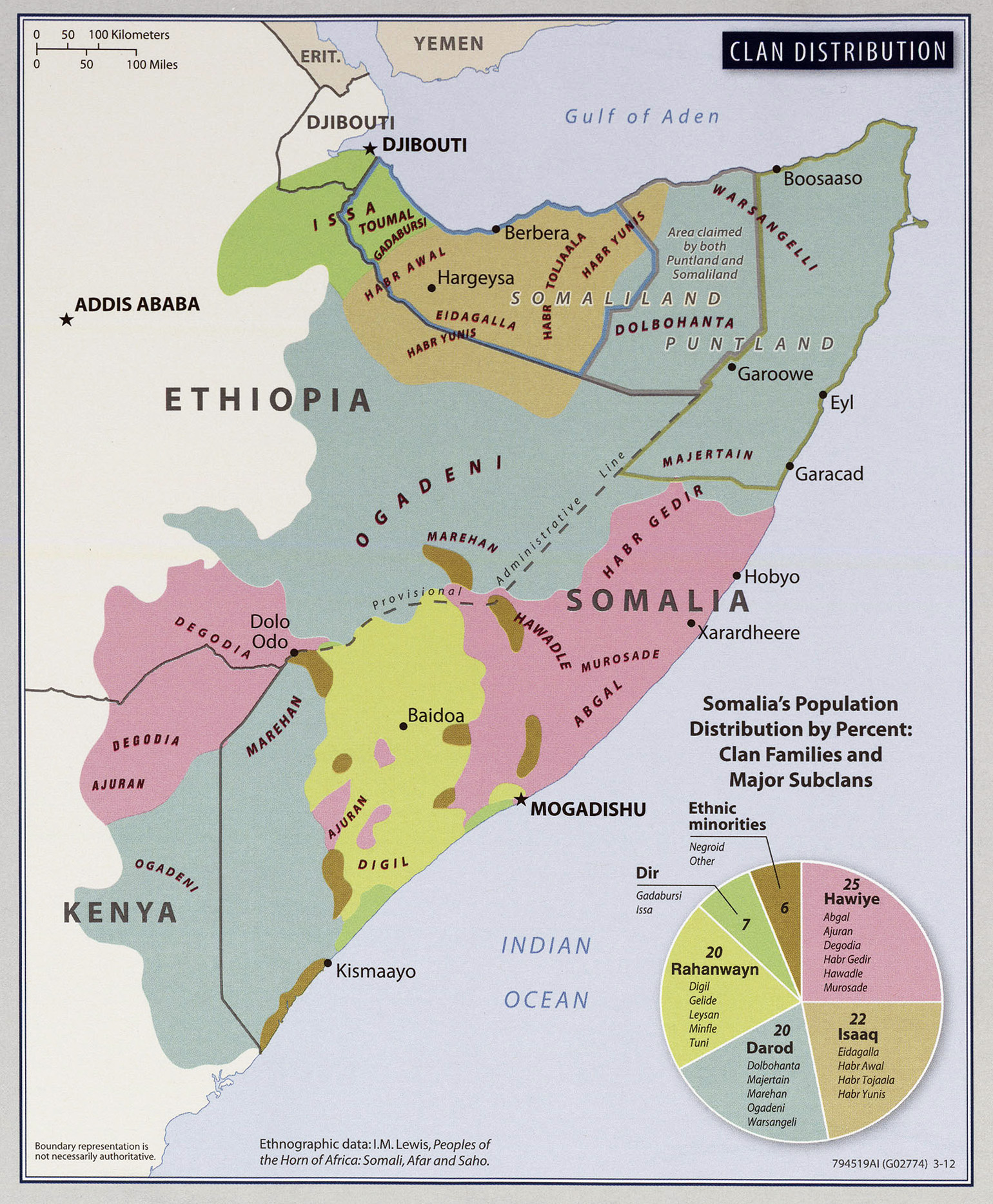 Source: Ioan Myrddin Lewis, Peoples of the Horn of Africa (Somali Afar and Saho) (London, UK: Routledge, 2019).  
Al Shabaab initiated an escalatory cycle with the Hawadle militias by targeting Hawadle villagers. Al Shabaab destroyed* water wells and torched homes in several Hawadle villages on August 8. The attacks happened after a relative lull in the anti–al Shabaab offensive throughout much of July and helped spark a renewed urgency from Somali forces and clan militias. Hawadle militias and security forces increased joint* operations* after the attack and cleared at least 17 villages in the Hiraan region in the rest of August. The attacks were also an opportunity for the Somali government to gain local support by organizing humanitarian projects* and local government structures* in affected villages.
Al Shabaab responded to the increased pressure by increasing violence. Al Shabaab fighters ambushed a civilian-operated humanitarian aid convoy overnight on September 2. The attackers killed 21 civilians and destroyed nine trucks. Al Shabaab claimed* that the attack targeted local militia forces, which Somali officials denied. Al Shabaab also threatened* on September 4 to target any clan cooperating with the government, indicating it seeks to make an example of the Hawadle.
The September 2 attack mobilized community-level action against al Shabaab. Hawadle militias continued working with SFG forces to secure more areas of the Hiraan region in the aftermath of the attack, on September 5* and 9.* An unverified video posted on social media on September 5 shows villagers publicly prosecuting a captured al Shabaab militant in an unspecified location in the Hiraan region. Somali government-linked sources also posted pictures of women donating food and milk for troops in Beledweyne.
The September 2 attack also encouraged the Abgal subclan to mobilize against al Shabaab. The leader of the Abgal clan militia promised to cut off and destroy al Shabaab while sending his condolences to the Hawadle on September 10. The Abgal are the dominant Hawiye subclan in the Middle Shabelle region and southern Galgudud and Mudug regions (see Figure 3).[1] SNA and likely Abgal militia forces cleared* al Shabaab from areas near the border of the Hiraan and Middle Shabelle regions on September 12. The operation is the first reported instance of local militias in south-central Somalia participating in counterterrorism activities in 2022. Unverified social media posts also say Abgal and SNA forces attacked al Shabaab militants near the long-time al Shabaab stronghold of Harardhere in southern Mudug region on September 11.
Figure 4. Somali Forces Wage Central Somalia Offensive: September 2022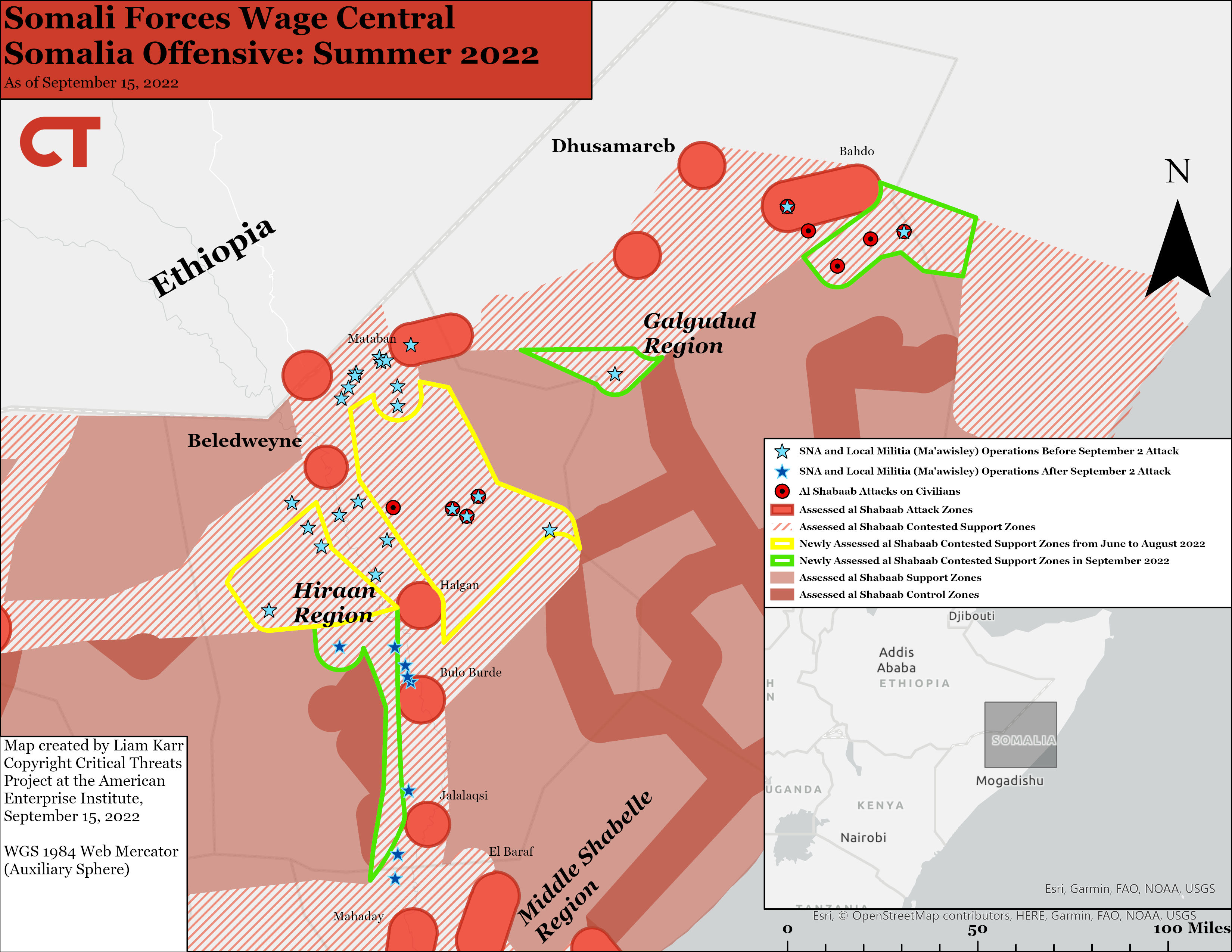 Note: For map definitions and an area of operations interactive map, click here.
Source: Author.
Al Shabaab attacks on civilians, including the September 2 humanitarian convoy attack, prompted the Habir Gadir, another major Hawiye subclan, to mobilize against al Shabaab. The Habir Gadir are the majority subclan in northern and central Galmudug and Mudug regions. Twitter users and Somali government-affiliated news sites have posted pictures and videos showing Habir Gadir mobilization since at least September 5. Al Shabaab targeted Habir Gadir villages less than 25 miles southwest of Bahdo village in northern Galgudud region on September 1* and 5.*
SNA and Galmudug State forces arrived* in Bahdo on September 11 to train and support locals who had "taken up arms." The local fighters in Bahdo are already battle-tested, as they helped repel* a large al Shabaab suicide raid in June 2022. The mobilization of the Abgal and Habir Gedir alongside the Hawadle would put much of the Hawiye clan—and thus central Somalia—in open war with al Shabaab.
President Hassan Sheikh Mohamud may attempt to generate additional forces by convincing the Sufi militia ASWJ to join the fight in central Somalia. Former President Mohamud Abdullahi Mohamud (known as Farmaajo) exacerbated tensions between the Galmudug State government and ASWJ in 2020 when he allegedly rigged* state elections to install a political ally as president. The controversy effectively destroyed a 2017 power-sharing agreement and undermined ASWJ's political power, leading to clashes* between ASWJ and Somali federal and state security forces in October 2021. ASWJ eventually withdrew* to northern Galgudud region at the end of October 2021 and has remained in that area.
ASWJ and President Mohamud have signaled their willingness to negotiate since Mohamud took office in May 2022. ASWJ leadership said* in early June 2022 that they expect Mohamud to attempt to mediate between the militia and the Galmudug State administration. President Mohamud was reportedly debating* with his cabinet in late August 2022 how to best negotiate between ASWJ and Galmudug State officials. ASWJ has long been one of the most effective forces at combating al Shabaab in central Somalia since al Shabaab's rise in the late 2000s. ASWJ's experience, resources, and local support would further bolster the anti–al Shabaab offensive.
The sustained participation of Hawiye militias will improve the long-term viability of the summer offensive. Previous Ma'awisley mobilizations in 2019* and 2020* fizzled after isolated firefights with al Shabaab. The 2022 mobilization has already vastly surpassed previous instances in terms of militias' engagements with al Shabaab and the number of joint operations between local militias and Somali government forces. The involvement of local militias increases the likelihood that anti–al Shabaab forces will stay to protect cleared villages and deny al Shabaab freedom of movement, resources, and taxation in these areas.
The militias will also enable Somali special forces to target al Shabaab control zones in central Somalia. The militias have proven capable of securing* and clearing* some villages in previous al Shabaab support zones with the help of Somali security forces throughout the offensive. SNA, FMS, and Ma'awisley can continue these operations in areas of lower priority to al Shabaab while special forces put more pressure on al Shabaab–administered areas, which the group will dedicate more resources to protect. US-trained Danab forces attacked Buqaqable on September 15. The Somali government claimed to kill at least 18 al Shabaab militants, while al Shabaab claimed to kill* ten Danab soldiers. Al Shabaab had uncontested control of the village since at least 2015 and had organized drought relief,* religious celebrations,* and public executions in the village throughout 2022.[2]
The clan uprisings in central Somalia could enable the SFG to devote more resources toward targeting al Shabaab strongholds in southern Somalia. President Mohamud told the Somali people to prepare for an "all-out war" on al Shabaab after the group besieged the Hayat Hotel in Mogadishu on August 19. Turkish-trained Gorgor commandos and US-trained Danab forces with unconfirmed US drone support have since targeted al Shabaab courts,* financial centers,* and other hideouts* in the districts surrounding Mogadishu. President Mohamud indicated this campaign in southern Somalia will continue when he said that the government will target al Shabaab with bombings, raids, and air attacks while warning Somali citizens on September 14 to avoid al Shabaab areas and courts. Continued local militia support in the Hiraan region would potentially free additional Danab* and Gorgor* units to support this ongoing campaign in the south.
Al Shabaab will have to balance its response in central Somalia alongside its other efforts, which stretch from Kenya to northern Somalia. Al Shabaab has continued attacking* Ethiopian forces near the Somali-Ethiopian border in September, indicating it has continued to resource the area after the peak of its Ethiopia offensive in July 2022. The group also attempted to disrupt elections in the ethnically Somali areas of northeastern Kenya in August by intimidating* Kenyan citizens and attacking* polling stations and ballot transports.*[3] Al Shabaab regularly attacks Kenyan and Ugandan African Union bases inside southern Somalia as part of its effort to expel foreign forces.[4] These campaigns continue alongside suicide* bombings* and raids across Somalia that aim to intimidate and immobilize Somali authorities and security forces.
Al Shabaab is unlikely to surge resources to central Somalia to combat the mobilization. Al Shabaab has not yet seriously contested the offensive and has bloodlessly* retreated* from several villages as security forces advanced. Al Shabaab attacks on security forces in central Somalia largely paused throughout August.[5] The group has increased minor raids* and improvised explosive device attacks* in September, but none of the attacks have been sophisticated in scale or complexity. Al Shabaab would likely be more aggressive and willing to lose fighters contesting counterterrorism advances if it planned to send more resources to the area. This pattern instead indicates that al Shabaab is likely cutting its losses and consolidating its existing resources. This nonconfrontational strategy may also allow it to re-entrench itself in central Somalia in the future if it repairs relationships with the Hawiye and the SFG fails to assert itself by delivering effective governance, including responding to the ongoing drought. 
Al Shabaab may pursue more confrontational strategies in central Somalia in possible but less likely scenarios. Al Shabaab could be consolidating its forces in preparation for a large-scale attack. Al Shabaab will often institute an operational pause or lull before large attacks. There were no reported attacks in the Bakool region in southwestern Somalia for two months before its offensive into Ethiopia, for example.[6] Al Shabaab could alternatively use its limited forces in central Somalia to intimidate or demoralize clan forces by attacking softer and more vulnerable targets. Al Shabaab has attempted to assassinate* the Hiraan regional governor twice* since June 2022. Al Shabaab could also begin targeting clan militia commanders as it did in 2018* and 2020,* or it could double down on retaliatory attacks on civilians. Both potential options would risk inviting greater backlash from the mobilized Hawiye subclans.
---
[1] Ioan Myrddin Lewis, Peoples of the Horn of Africa (Somali Afar and Saho) (London, UK: Routledge, 2019).  
[2] SITE Intelligence Group, "Shabaab Claims over 35 Troops Killed in 4 Attacks in Kenya, Documents War Spoils Captured During Major Op in Mogadishu," February 18, 2022, available by subscription at www.siteintelgroup.com.
[3] SITE Intelligence Group, "Shabaab Targets Kenyan Polling Center and Ballot Boxes, Executes Spies for American, Kenyan, and Somali Intel," August 10, 2022, available by subscription at www.siteintelgroup.com.
[4] SITE Intelligence Group, "Shabaab Claims at Least 25 Ethiopian Casualties in Multiple Attacks, Concurrent Raids on 8 Military Bases," August 17, 2022, available by subscription at www.siteintelgroup.com.
[5] Author's assessment based on Critical Threats Project data.
[6] Author's assessment based on Critical Threats Project data.
View Citations