Africa File
The Africa File is an analysis and assessment of the Salafi-jihadi movement in Africa and related security and political dynamics. 
Africa File: Salafi-jihadi groups celebrate attacks in Tanzania and the Democratic Republic of the Congo, prisoner exchange in Mali
[Notice: The Critical Threats Project frequently cites sources from foreign domains. All such links are identified with an asterisk (*) for the reader's awareness.]
Salafi-jihadi groups notched victories in several African regions this month. An Islamic State affiliate based in northern Mozambique claimed its first attack in neighboring Tanzania in a bid to compound unrest as the country enters a fraught election period. The Islamic State also claimed credit for a large prison break in the Democratic Republic of the Congo following a call for such attacks from the Islamic State's spokesman. Across the continent, an al Qaeda–linked group in Mali strengthened its position by securing a valuable prisoner exchange with Mali's transitional government.
Latest publications:
Katherine Zimmerman argues that a US military drawdown in Africa risks ceding influence to great-power rivals while "erasing hard-fought counterterrorism gains and comprising US global interests." Read more in PRISM.
Emily Estelle and Katherine Zimmerman argue that a premature withdrawal of US forces from Somalia would strengthen al Shabaab while ceding valuable influence to great-power rivals. Read more in AEIdeas.
Upcoming:
AEI Resident Fellow and CTP Adviser Katherine Zimmerman will host US Agency for International Development Acting Administrator John Barsa on October 28. Register here.
CTP Research Manager Emily Estelle will speak about Islamism in North and West Africa on October 28. Register here.
In this Africa File:
Mali. An al Qaeda–linked group conducted a major prisoner exchange with the Malian government and may now be pursuing bolder attacks in the hope of further negotiations.
Tanzania. The Islamic State claimed its first attack in Tanzania.
Ethiopia. A political crisis between the Ethiopian federal government and a powerful regional government risks destabilizing the country.
Libya. The Islamic State may be planning attacks in coastal Libya.
Figure 1. The Salafi-Jihadi Movement in Africa: October 2020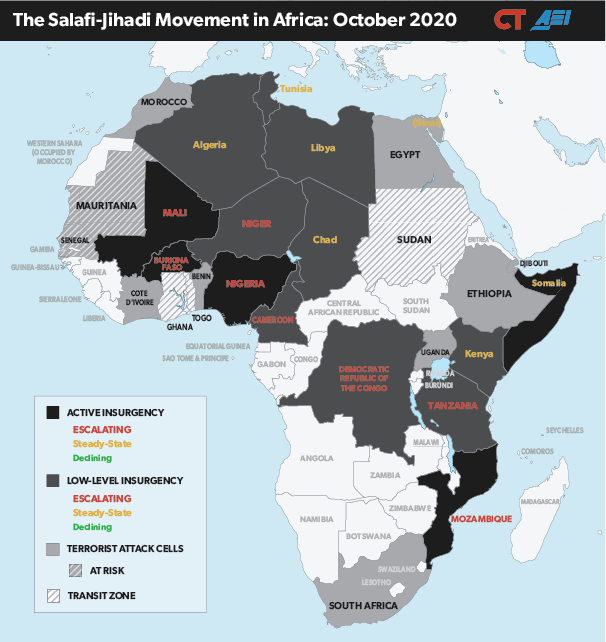 View image.  Source: Emily Estelle
Read Further On:
---
At a Glance: The Salafi-jihadi threat in Africa
Updated October 21, 2020
The COVID-19 pandemic will hasten the reduction of global counterterrorism efforts, which was rapidly receding as the US shifted its strategic focus to competition with China, Iran, North Korea, and Russia. This reduction will almost certainly include Africa. The US Department of Defense is considering a significant drawdown of US forces engaged in counterterrorism missions on the continent and US President Donald Trump is reportedly considering withdrawing US troops from Somalia.
This drawdown is happening as the Salafi-jihadi movement, including al Qaeda and Islamic State affiliates and allies, continues to make gains in Africa, including in areas where previous counterterrorism efforts had significantly reduced Salafi-jihadi groups' capabilities. The movement was already positioned to take advantage of the expected general reduction in counterterrorism pressure before the pandemic hit. Now, an increasingly likely wave of instability and government legitimacy crises will create more opportunities for Salafi-jihadi groups to establish new support zones, consolidate old ones, increase attack capabilities, and expand to new areas of operations.
The Salafi-jihadi movement is on the offensive in Burkina Faso, Niger, and Mali, where al Qaeda–linked militants are insinuating themselves into local governance while the Malian government is preoccupied with the aftermath of a coup. An Islamic State–linked insurgency has also developed rapidly in northern Mozambique and is spilling over into Tanzania. Salafi-jihadi insurgencies are also stalemated in Somalia and Nigeria and persisting amid the war in Libya. Conditions in these last three countries favor the Salafi-jihadi movement rather than its opponents in the coming year.
Libya's civil war, reignited on a large scale in April 2019, will continue to fuel the conditions of a Salafi-jihadi comeback, particularly as foreign actors prolong and heighten the conflict. Counterterrorism efforts in Somalia and Mali rest on the continued efforts of international coalitions, support for which is eroding in both host and troop-contributing countries and on local partners that have demonstrated their inability to govern effectively or establish legitimacy in their people's eyes. Mali's coup and its aftermath will also disrupt international and regional counterterrorism efforts and coordination.
Amid these conditions, US Africa Command is shifting its prioritization from the counterterrorism mission to great-power competition, a move also intended to reduce risk after a 2017 attack killed four servicemen in Niger. US and European powers aim to turn over counterterrorism responsibilities to regional forces of limited effectiveness—such as the G5 Sahel, which is plagued by funding issues, and the African Union Mission in Somalia, which is beginning a scheduled drawdown.
The Salafi-jihadi movement has several main centers of activity in Africa: Mali and its environs, the Lake Chad Basin, the Horn of Africa, Libya, and now northern Mozambique. These epicenters are networked, allowing recruits, funding, and expertise to flow among them. The rise of the Salafi-jihadi movement in these and any other places is tied to the circumstances of Sunni Muslim populations. The movement takes root when Salafi-jihadi groups can forge ties to vulnerable populations facing existential crises such as civil war, communal violence, or state neglect or abuse (all now likely to be exacerbated by the pandemic). Local crises are the incubators for the Salafi-jihadi movement and can become the basis for future attacks against the US and its allies.
West Africa
An al Qaeda–associated group negotiated a hostage and prisoner exchange with Mali's transitional government. The Malian government released 180 prisoners to Jama'at Nusrat al Islam wa al Muslimeen (JNIM) on October 8 in exchange for four hostages: Malian politician Soumaila Cissé, French aid worker Sophie Pétronin, Italian priest Pierluigi Maccalli, and Italian tourist Nicola Ciacco. JNIM released a video of Pétronin, who has changed her name to Maryam, announcing her conversion to Islam as a blow to French President Emmanuel Macron.[1]
JNIM's successful negotiation with the Malian government will allow the group to solidify its members' loyalties and gain local allies in northern and central Mali. The prisoner release was a step in fulfilling JNIM leader Iyad Ag Ghaly's vow to secure the release of JNIM's imprisoned members. The perception that JNIM is fulfilling promises to its members may avert some defections to the rival Islamic State in the Greater Sahara (ISGS). More importantly, the prisoner release—which included a large contingent of nonmilitants, including people in financial prisons—may encourage local leaders to align with JNIM. Ag Ghaly hosted a feast for the released prisoners and will likely capitalize on its goodwill to increase its leverage over nonideologically aligned militant groups in northern Mali.
Local and international players support further negotiations with JNIM. Mali's postcoup government still supports the French presence in Mali but is open to negotiations with JNIM to secure its political position. Backlash against ousted President Ibrahim Boubacar Keita resulted partly from his failure to free Cissé. Mali's transitional government is not necessarily willing to foster a relationship with JNIM, but rather used the prisoner exchange to recover Cissé and gain public support. Additionally, African Union Commissioner for Peace and Security Smail Chergui—an Algerian diplomat—encouraged dialogue with militant groups across Africa in mid-October. UN Secretary-General Antonio Guterres announced on October 19 a possible dialogue with Salafi-jihadi groups in the Sahel, excluding "radical" groups such as the Islamic State.
The successful prisoner exchange appears to have encouraged JNIM to carry out bolder military operations. JNIM has continued attacking security forces in northern Mali and released a statement encouraging the Malian government to return to its religion and expel the French.[2] JNIM occupied Farabougou town in central Mali's Mopti region on October 18. The group has trapped the town's residents and is preventing access to the town. Malian security forces airlifted food supplies to the population and may enter negotiations with JNIM to allow access to the village.
JNIM is executing al Qaeda's strategic guidance. JNIM is formally part of al Qaeda and is an al Qaeda in the Islamic Maghreb affiliate. Al Qaeda–linked groups have been open to negotiations with governments, unlike their Islamic State rivals. ISGS publicly rejected negotiations with the Malian government and has been clashing with JNIM since late 2019. Al Qaeda's Thabat media arm published a statement congratulating JNIM for the success of the exchange. The publication encouraged al Qaeda militants to carry out large successful operations, claiming "one masterful operation" is better than several smaller operations.[3]
JNIM appears to be following this strategy given its occupation of Farabougou and continued attacks since the prisoner exchange. Al Qaeda has been accepting negotiated statements, including the US-Taliban deal. However, the context in Afghanistan differs because the Taliban, unlike JNIM, is not part of al Qaeda.
Forecast: JNIM will likely negotiate agreements with Mali's new transitional government in exchange for some guarantee of peace. JNIM will continue to operate in Mali's north and central regions under al Qaeda's umbrella and guidance. The groups will likely continue kidnappings for ransom and prisoner exchanges, given the success of the October 8 prisoner exchange. The prisoner exchange's success may also allow JNIM to gain popular support in the regions the group wants to govern. (Updated October 21, 2020)
Burkina Faso
Suspected Salafi-jihadi militants are targeting markets and returning civilians in an effort to control the population in northern Burkina Faso. Suspected Salafi-jihadi militants attacked a convoy carrying internally displaced people returning to their homes in Sanmatenga province, at the southern edge of the militants' area of operations, on October 4. The militants separated the men from the group and killed 24 of them, and others remain missing. Militants also killed 20 civilians in three separate attacks targeting markets in northern Burkina Faso on October 14. No group has claimed these attacks.
Nigeria
Protests against police brutality and growing dissatisfaction with Nigerian President Muhammadu Buhari have intensified since October 8. Nigerian youth began protesting against the Special Anti-Robbery Squad (SARS), a police unit known for harassment and illegal violence. Protests have since grown into a call for accountability and a reform in the entire security apparatus. Demonstrators shut down Lagos, the largest city in Africa, on October 19. Nigerian security forces opened fire on protesters on October 20, killing at least 14 people. Some protesters participated in a prison break freeing around 200 prisoners in southern Nigeria's Benin city.  
As unrest challenges Nigeria, the country also faces an ongoing Salafi-jihadi insurgency in its northern regions. Suspected Islamic State West Africa Province (ISWA) militants killed 14 farmers near Borno State's capital Maiduguri on October 12. ISWA has been targeting farmers and herders it accuses of passing information to local security forces.
ISWA also published photos of an attack on the Nigerian Army in Borno state. Mass unrest in Nigeria could potentially strain counter-ISWA efforts by drawing security forces back to southern Nigeria. Nigeria's destabilization could also create openings for ISWA or Boko Haram to attempt attacks in a major city.
East and Central Africa
The Salafi-jihadi insurgency in northern Mozambique is increasingly spilling over into neighboring Tanzania. The Islamic State's Central Africa Province (ISCA) claimed its first attack in Tanzania on October 15.[4] Militants ambushed a Tanzanian military post in southeastern Tanzania on October 14. *Videos on social media showed an alleged militant threatening to remove the Tanzanian president, who is expected to be reelected in contentious elections at the end of October. Tanzanian security officials confirmed the attack and announced the arrest of Tanzanian and foreign attackers on October 21.
Tanzania will likely face more cross-border attacks from Islamic State–linked fighters based in northern Mozambique, where they maintain control of a strategic port. The militants may also seek to target a *major gas pipeline that runs from Tanzania's Mtwara region through Tanzania's capital.
 Forecast: ISCA will consolidate an enduring haven in northern Mozambique and will use this area as a base for regular attacks targeting Tanzania. (Updated October 21, 2020)
Democratic Republic of the Congo
ISCA claimed a large-scale prison break in the Democratic Republic of the Congo (DRC).[5] Militants raided the prison in northeastern DRC on October 20. The UN confirmed that over 1,300 prisoners escaped. ISCA's claim comes two days after the Islamic State's spokesman called for the group's affiliates to conduct a campaign of prison breaks.[6]
Ethiopia
 A rupture between Ethiopia's federal government and its Tigray regional state risks destabilizing the country. Tensions between the federal government and Tigray administration escalated in early September when Tigray officials held regional elections violating Prime Minister Ahmed Abiy's postponement of elections until 2021 due to COVID-19. Tigray regional state's dominant political party, Tigray People's Liberation Front (TPLF), had been part of Ethiopia's minoritarian coalition that ruled for three decades before Abiy's appointment in 2018. The TPLF has since refused to join Abiy's centralized party.
Ethiopia's House of Federation voted to sever ties with top Tigrayan officials in early October. It said that it would only maintain ties to lower-level administrative entities. The body then voted to cut funding to Tigray on October 7, stating that it did not recognize Tigray's newly formed assembly and cabinet following the unauthorized elections. A TPLF spokesman said that the federal government's decision to cut funding to the regional state is "tantamount to a declaration of war."
Ethiopia also continues to struggle with ethnic clashes in its western Benishangul-Gumuz regional state. Ethnic violence resumed in Benishangul-Gumuz in September, displacing thousands of civilians. The government responded to the violence by deploying troops to various regional districts and firing several regional administrators.
Violence continued in the region through early October. The security commander of Benishangul-Gumuz confirmed a series of attacks targeting ethnic Amhara and Agaw communities on October 8. Ethiopia's deputy prime minister *announced on October 14 a three-day training program to arm regional civilians so they can defend themselves against attacks. However, arming civilians risks heightening the level of violence and encouraging retaliatory attacks.
Ethiopia's increasing destabilization and rising intercommunal grievances risk creating opportunities for Salafi-jihadi groups to expand into the country, though the current threat remains low. Al Shabaab in neighboring Somalia circulated propaganda encouraging attacks on Ethiopian troops in August.[7]
The Islamic State may be planning attacks in coastal Libya. The Islamic State in Libya (IS-Libya) is based in Libya's remote south but has recently become more active in northern Libya. Counterterrorism forces announced the arrest of four IS-Libya militants near Tripoli on October 18. Security forces also arrested five suspected IS-Libya militants near the Tunisian border on September 30. IS-Libya has historically targeted state ministries in Tripoli as part of a larger effort to prevent the formation of a functional Libyan state. The group may seek to attack in a bid to heighten tensions as UN-led peace talks resume.
---
[1] "Jihadists Mock French President After Freed JNIM Hostage Sophie Petronin Declares her Conversion to Islam," SITE Intelligence Group, October 9, 2020, translation available by subscription at www.siteintelgroup.com.
[2] "JNIM Issues Official Statement on Prisoner Exchange Leading to Release of Sophie Petronin (Maryam)," SITE Intelligence Group, October 15, 2020, translation available by subscription at www.siteintelgroup.com.
[3] "Jihad Unite Says Reported JNIM Prisoner Swap Underscores Key Military Strategy," SITE Intelligence Group, October 5, 2020,  translation available by subscription at www.siteintelgroup.com.
[4] "ISCAP Claims Attack In Tanzania's Mtwara Region, Clash In DRC," SITE Intelligence Group, October 15, 2020, available by subscription at www.siteintelgroup.com.
[5] "IS Claims Raid at Kangbayi Prison in DR Congo," SITE Intelligence Group, October 20, 2020, available by subscription at www.siteintelgroup.com.
[6 "IS Spokesman Rallies Fighters Across Every Region, Calls On Lone Wolves To Strike Western Nationals in KSA," SITE Intelligence Group, October 20, 2020, available by subscription at www.siteintelgroup.com.
[7] "Shabaab Explores History of Somalia-Ethiopia Conflict in Part 1 of Video Documentary," SITE Intelligence Group, August 3, 2020, translation available by subscription at www.siteintelgroup.com; and "Shabaab Highlights Attacks on Ethiopian Forces, including January 2019 Ambush, in 2nd Part of Video Documentary," SITE Intelligence Group, August 18, 2020, translation available by subscription at www.siteintelgroup.com.
View Citations