Africa File
The Africa File is an analysis and assessment of the Salafi-jihadi movement in Africa and related security and political dynamics. 
Africa File: Ethiopia's civil war could destabilize eastern Africa
[Notice: The Critical Threats Project frequently cites sources from foreign domains. All such links are identified with an asterisk (*) for the reader's awareness.]
To receive the Africa File via email, please subscribe here.
Civil war has broken out in Ethiopia, Africa's second-largest country. Hostilities are ongoing between federal forces under Prime Minister Abiy Ahmed and regional forces led by the Tigray People's Liberation Front (TPLF). The TPLF controlled the Ethiopian government before Abiy's rise in 2018 and remains in power in Tigray, one of Ethiopia's nine ethnic-based regions. The Tigray conflict will inflame Ethiopia's many other simultaneous challenges, including spreading inter-ethnic violence and the fallout from both the COVID-19 pandemic and a historic locust plague.
Ethiopia's war will likely spill over into neighboring Eritrea and Sudan. TPLF leadership has accused Eritrean forces of cross-border incursions. Thousands of Ethiopians have already fled into Sudan, which is girding for a humanitarian crisis while juggling its own political turmoil. The crisis may also disrupt urgent talks on Ethiopia's Nile River dam, which have already strained relations with Egypt and Sudan.
Ethiopia's destabilization is a boon to the Salafi-jihadi movement. Militants based in neighboring Somalia have previously sought to attack Ethiopia and may find opportunities in the current chaos. Ethiopia has not previously had a serious problem with Salafi-jihadi radicalization, but this dynamic may change as violence spreads and animosity along religious and ethnic lines rises. Ethiopia's crisis will also strengthen al Qaeda affiliate al Shabaab, which will benefit from the withdrawal of Ethiopian troops from Somalia.
Latest Publications:
CTP is publishing frequent updates on the Ethiopia crisis. Sign up to receive the latest updates by email here. Read Jessica Kocan's latest update here and Emily Estelle's background on the conflict here.
West Africa. Salafi-jihadi groups' strengthening in West Africa is incentivizing attacks on foreigners, even in areas where Salafi-jihadi groups have a limited presence.Read more from Rahma Bayrakdar here.
US policy. Katherine Zimmerman argues that the Global Fragility Act (GFA) is an opportunity for the US to make necessary changes in its approach to countering al Qaeda and the Islamic State. The GFA should be used to develop and implement an approach that underscores conflict prevention, stabilization, and peace building. Read more here.
Figure 1. The Salafi-Jihadi Movement in Africa: October 2020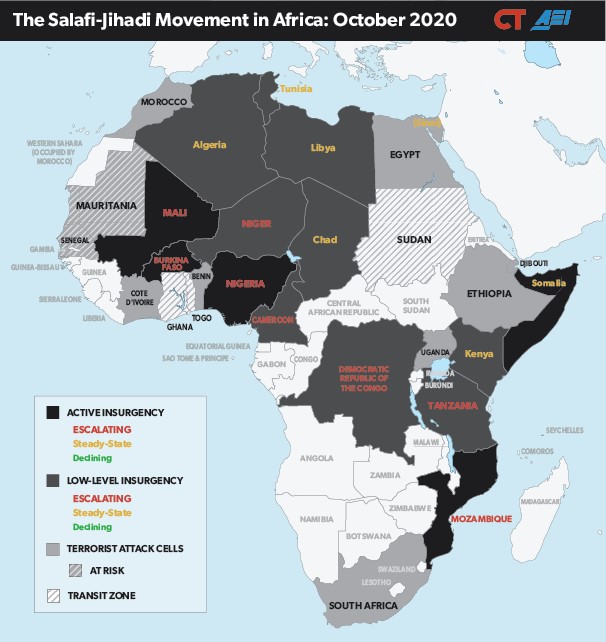 Source: Emily Estelle.
Read Further On:
---
At a Glance: The Salafi-jihadi threat in Africa
Updated November 10, 2020
The COVID-19 pandemic will hasten the reduction of global counterterrorism efforts, which had already been rapidly receding as the US shifted its strategic focus to competition with China, Iran, North Korea, and Russia. This reduction will almost certainly include Africa. The US Department of Defense is considering a significant drawdown of US forces engaged in counterterrorism missions on the continent. The ongoing shift away from US engagement in the Middle East and Africa will likely continue after the change in presidential administrations in early 2021.
This drawdown is happening as the Salafi-jihadi movement, including al Qaeda and Islamic State affiliates and allies, continues to make gains in Africa, including in areas where previous counterterrorism efforts had significantly reduced Salafi-jihadi groups' capabilities. The movement was already positioned to take advantage of the expected general reduction in counterterrorism pressure before the pandemic hit. Now, an increasingly likely wave of instability and government legitimacy crises will create more opportunities for Salafi-jihadi groups to establish new support zones, consolidate old ones, increase attack capabilities, and expand to new areas of operations.
The Salafi-jihadi movement is on the offensive in Burkina Faso, Niger, and Mali, where al Qaeda–linked militants are insinuating themselves into local governance while the Malian government is preoccupied with the aftermath of a coup. An Islamic State–linked insurgency has also developed rapidly in northern Mozambique and is spilling over into Tanzania. Ethiopia's civil war, ignited in November 2020, will lift pressure from al Shabaab in Somalia and will likely create new opportunities for the Salafi-jihadi movement, particularly if the Ethiopian crisis becomes a prolonged regional conflict. Salafi-jihadi insurgencies are also stalemated in Nigeria and persisting amid the war in Libya. Current conditions—including mass anti-government protests in Nigeria and a fragile ceasefire in Libya—will likely evolve in the Salafi-jihadi movement's favor in the coming year.
Counterterrorism efforts in Somalia and Mali rest on the continued efforts of international coalitions, support for which is eroding in both host and troop-contributing countries and on local partners that have demonstrated their inability to govern effectively or establish legitimacy in their people's eyes. Mali's coup and its aftermath will also disrupt international and regional counterterrorism efforts and coordination. Libya's civil war, which has been by subsumed by overlapping regional conflicts, will likely remain a simmering conflict that will fuel the conditions of a Salafi-jihadi comeback.
Amid these conditions, US Africa Command is shifting its prioritization from the counterterrorism mission to great-power competition, a move that coincides with efforts to reduce risk after a 2017 attack killed four servicemen in Niger. US and European powers aim to turn over counterterrorism responsibilities to regional forces of limited effectiveness—such as the G5 Sahel, which is plagued by funding issues, and the African Union Mission in Somalia, which is beginning a scheduled drawdown.
The Salafi-jihadi movement has several main centers of activity in Africa: Mali and its environs, the Lake Chad Basin, the Horn of Africa, Libya, and now northern Mozambique. These epicenters are networked, allowing recruits, funding, and expertise to flow among them. The rise of the Salafi-jihadi movement in these and any other places is tied to the circumstances of Sunni Muslim populations. The movement takes root when Salafi-jihadi groups can forge ties to vulnerable populations facing existential crises such as civil war, communal violence, or state neglect or abuse (all now likely to be exacerbated by the pandemic). Local crises are the incubators for the Salafi-jihadi movement and can become the basis for future attacks against the US and its allies.
East Africa
Ethiopia
The Ethiopian government's conflict with a northern regional state risks developing into a broader civil war. Ethiopian Prime Minister Ahmed Abiy deployed federal troops to the Tigray regional state in the country's north on November 4 after forces loyal to the region's ruling party, the Tigray People's Liberation Front (TPLF), attacked a federal military base in the regional capital Mekelle. The TPLF was part of Ethiopia's minoritarian ruling coalition until Abiy's appointment in 2018. Tensions between the TPLF and Abiy's administration have escalated in recent months.
Military operations have escalated since hostilities began. Federal forces began airstrikes targeting Tigrayan troops in Mekelle and its environs on November 5. Federal forces continued airstrikes on November 8 and claimed seizing an airport and several towns in Tigray on November 10. This claim is unconfirmed, however, as communication lines into Tigray *remain severed.
The Tigray conflict is drawing in other regional states. Regional special forces from Ethiopia's Somali and Amhara regional states are *supporting federal forces in Tigray. Ethnic Amhara militiamen from Amhara have deployed to Tigray, risking inter-state conflict between the two regions.
The Tigray crisis will affect other East African countries. The conflict threatens to draw in Eritrea, which fought a war with Ethiopia's then-TPLF–led government in 1998–2000. The TPLF accused Eritrean forces of entering Tigray on November 9, but Eritrea's foreign minister denied the accusation. The conflict also threatens to create a displacement and humanitarian crisis in neighboring Sudan. Sudan *partially closed its border with Ethiopia on November 5 but *has allowed unarmed Ethiopians to enter. Roughly 2,500 Ethiopians have fled to Sudan in the past week.
The Ethiopian state faces multiple challenges to its stability and sovereignty. Ethnic violence erupted in Oromo regional state over the summer. Violence has also occurred in western Ethiopia's Benishangul-Gumuz regional state, *targeting ethnic Amhara. Eastern Ethiopia's Somali region faces intra-regional tensions over land with neighboring Afar and Tigray.
Ethiopia's destabilization will create opportunities for Salafi-jihadi groups. Either al Shabaab or the Islamic State in Somalia may attempt to exploit a security vacuum to conduct attacks in Ethiopia. Both groups have a limited presence in Ethiopia but have attempted attacks in the country before.
Ethiopia's destabilization will also disrupt counter–al Shabaab operations in Somalia and may already be doing so. Ethiopian forces are part of the African Union Mission to Somalia, which supports the Somali government in combatting al Shabaab. Some Ethiopian troops have reportedly withdrawn from neighboring Somalia since the conflict began. If true, al Shabaab will likely fill security vacuums created by Ethiopian troop withdrawals, as it has done in the past.
Forecast: The Tigray conflict will extend into 2021. A prolonged and simmering conflict is more likely than a decisive outcome. Prolonged conflict will gradually weaken Ethiopia's institutions while encouraging unrest in other parts of the country, increasing the risk of fragmentation and secession as well as foreign meddling. (As of November 10, 2020)
 Mozambique
 The Islamic State–linked insurgency in northern Mozambique is increasing the frequency of large-scale attacks on civilians. Militants *beheaded several people and seized weapons in Muidumbe in northern Mozambique's Cabo Delgado province on October 31. [1] The Islamic State's Central Africa Province (ISCA) claimed to have captured the town.[2] The attack resembles prior raids more than a permanent takeover, however.
Militants escalated violence between November 8-10 when they *beheaded more than 50 people in Muidumbe and Macomia districts. The attacks targeted young people participating in an initiation ceremony, possibly indicating an effort by militants to target local practices considered un-Islamic. Attacks of this scale are not unprecedented during the current insurgency but do indicate an uptick in violence.
The surge in attacks may be in response to increasing counterterrorism efforts. Mozambican security forces seized a militant base in Cabo Delgado in late October. Mozambique's government is spinning up its military response to the insurgency in Cabo Delgado, where Islamic State–linked militants have held the area's primary port since August 2020. Mozambique's president struck a temporary truce with a rebel group based in central Mozambique in late October to facilitate troop movements northward to Cabo Delgado.
Mozambique's government has come under mounting pressure to address the insurgency, which is now spilling into neighboring Tanzania. ISCA claimed its first attack in Tanzania in mid-October. The group claimed a second attack in southeastern Tanzania in late October.[3]
Forecast: Salafi-jihadi militants may temporarily withdraw from Mocimboa port during a government offensive but will likely return to the area. Militants' control of key roads and ability to conduct naval attacks will prevent the government from sustaining an effective military presence in the north. Brutal attacks on civilians will continue to drive already high displacement. (As of November 10, 2020)
Somalia
The Islamic State in Somalia resumed attack claims in the Somali capital after a half-year lull. Militants shot and killed three Somali National Army (SNA) soldiers in Mogadishu on October 25. They also launched rocket propelled grenades and fired machine guns at an SNA roadblock outside the capital on October 28. The group last claimed an attack in Mogadishu in April and conducted roughly two dozen attacks in the capital prior. A US airstrike, which targeted the Islamic State in Somalia for the first time in July and killed seven militants, may have contributed to a temporary lull in attacks.
Al Shabaab is urging supporters to attack French citizens. Salafi-jihadi groups are attempting to capitalize on widespread anti-French sentiment across the Muslim world in response to President Emmanuel Macron's handling of a recent surge in terrorist attacks in France. Al Shabaab has promoted anti-French rallies in its areas of control in central and southern Somalia since late October. [4]
West Africa
Sahel
An al Qaeda–linked group is taking more overt control of populated areas in central Mali. Jama'at Nusrat al Islam wa al Muslimeen (JNIM) has been *occupying or surrounding several villages in central Mali's Mopti Region since September 2020. These villages include Farabougou, a town that JNIM besieged in October and that the Malian Army has since *claimed  to liberate. JNIM may be seeking leverage for negotiations with local and national authorities following a prisoner exchange in October.
Increasing French counterterrorism operations will disrupt Salafi-jihadi groups in Mali in the near term. French airstrikes killed more than 50 JNIM militants in central Mali near the border with Burkina Faso and Niger on October 30. French forces also confiscated JNIM weapons and materials and arrested four militants. French forces are also concluding another operation targeting the Islamic State affiliate in the Sahel. France's Foreign Minister reiterated total opposition to dialogue with militant groups following the October prisoner exchange.
Lake Chad
Salafi-jihadi groups' strengthening in West Africa is incentivizing attacks on foreigners, even in areas where Salafi-jihadi groups have a limited presence. Six criminals kidnapped an American farmer, Philip Walton, in southwestern Niger near the Nigerian border on October 27. The kidnappers, who were not themselves members of a Salafi-jihadi group, demanded nearly $1 million and threatened to turn Walton over to Salafi-jihadi militants if the ransom was not paid. US Special Operations Forces rescued Walton on October 31. The kidnappers' threat reflects the growing influence of Salafi-jihadi groups in the border region of northwestern Nigeria and southwestern Niger. The area of Walton's kidnapping is a key crossing point for trafficking and smuggling, including the moving of migrants toward the Maghreb and Europe. A greater presence along the Niger-Nigeria border may allow a Salafi-jihadi–criminal nexus to exploit these routes for transit and profit-making. Salafi-jihadi groups may also expand ties with local criminal groups to facilitate their expansion into new areas.
The Islamic State's West Africa Province (ISWA) increased attacks in the Lake Chad region as part of the Islamic State's "Answer the Call" campaign. [Note: The Islamic State uses the "ISWA" designation for its Lake Chad Basin branch and its Sahel branch, also known as ISGS.] The Islamic State's "Answer the Call" campaign calls for the group's supporters to increase attacks, particularly to free Islamic State militants detained in prisons. ISWA claimed killing 24 people and wounding 10 others in attacks on Nigerian security forces and Red Cross members on November 1 and 4.[5] ISWA is already active in southeastern Niger and regularly claims attacks in Niger's Diffa region and in northern Nigeria.
Forecast: ISWA will expand beyond its traditional area of operations and become increasingly active in northwestern Nigeria, though its main base of control will remain in Borno State. The two ISWA factions will begin to coordinate or (in the worst case) form a shared area of operations crossing southern Niger. (As of November 10, 2020)
North Africa
Libya
UN-led ceasefire talks are progressing, but major challenges remain. The UN announced a ceasefire agreement between military delegates from the internationally recognized Government of National Accord (GNA) and the Libyan National Army (LNA) on October 23. The UN began meetings in Libya on November 9 aiming to set a date for elections and create a unified transitional government. The participants include all the delegates that were present at the October UN ceasefire agreement, who had pledged not to accept positions in Libya's transitional government.
The ceasefire requires mercenaries and foreign military forces to withdraw from Libya but lacks an enforcement mechanism. Foreign powers involved in Libya's conflict are flouting the agreement. Russian mercenaries from Wagner Group have reinforced their presence near LNA-controlled Sirte in central Libya since the ceasefire's signing and remain active in and near Jufra airbase. Wagner's presence has allowed LNA commander Khalifa Haftar to remain a potential spoiler through control of key oil infrastructure.
In western Libya, Turkish forces are leading an ongoing training for GNA troops. The GNA Minister of Defense has already stated that Turkey will remain in Libya. Turkish President Recep Tayyip Erdogan has brushed off the ceasefire, noting that it was not negotiated at a high level.
Libya's ongoing conflict may provide conditions for Salafi-jihadi groups to strengthen. The Islamic State in Libya (IS-Libya) has been based in the Fezzan region in southwestern Libya since militants retreated from coastal Libya in 2016–17. IS-Libya has historically targeted state ministries in Tripoli as part of a larger effort to prevent the formation of a functional Libyan state. The group may exploit current security vacuums to resume attacks in coastal areas, possibly timed to disrupt negotiations.
Forecast: The UN will attempt to implement the October ceasefire agreement, but Turkish and Russian involvement will prevent success on the ground. A lack of cooperation from the GNA, LNA, and their foreign backers will prolong the Libyan conflict. The Islamic State will likely remain dormant but may resume intermittent attacks, possibly to stoke tensions and prolong political dysfunction. These attacks will be comparatively small, however, given the group's personnel losses and limited resources. (Update November 10, 2020)
 Tunisia
Two Tunisians claimed a connection to a recent terror attack in Nice, France. A Tunisian migrant murdered three people in a church in Nice on October 27. Two Tunisian men identifying themselves as members of a group named "Ansar al Mahdi bil Junub al Tunisi" (Supporters of the Mehdi in southern Tunisia) released a Facebook video claiming responsibility for the attack on October 30. The Nice attacker had traveled from Tunisia to Europe on October 9. No connections to the men in the Facebook video have been confirmed. The Tunisian National Guard arrested the man who made the video along with one of his associates in central Tunisia on October 31.
---
[1] "ISCAP Claims Killing 21 Christian "Militiamen" and Burning Church in Butembo (DR Congo), Capturing Muidumbe (Mozambique)," SITE Intelligence Group, November 1, 2020, available by subscription at www.siteintelgroup.com.
[2] "ISCAP Claims Killing 21 Christian "Militiamen" and Burning Church in Butembo (DR Congo), Capturing Muidumbe (Mozambique)," SITE Intelligence Group, November 1, 2020, available by subscription at www.siteintelgroup.com.
[3] "ISCAP Claims Attack In Tanzania's Mtwara Region, Clash In DRC," SITE Intelligence Group, October 15, 2020, available by subscription at www.siteintelgroup.com; and "ISCAP Claims Killing 19 Christians in DR Congo, Torching Christian Villages in Tanzania," SITE Intelligence Group, October 30, 2020, available by subscription at www.siteintelgroup.com.
[4] "Shabaab Leadership Praises France Attacks, Urges Similar Future Action," SITE Intelligence Group, October 31, 2020, available by subscription at www.siteintelgroup.com;  "Shabaab Reports Demonstrations in Held Territories Condemning France, Inciting Revenge for Insults to Islam," SITE Intelligence Group, October 26, 2020, available by subscription at www.siteintelgroup.com; and "Shabaab Continues Holding Anti-France Demonstrations in Areas of Control, Civilians Demand 'Discipline' Through Violence and Boycott," SITE Intelligence Group, November 10, 2020, available by subscription at www.siteintelgroup.com.
[5] "ISWAP Claims Attacks on Multiple Enemy Units Including Red Cross, Inflicting 34 Casualties Among Troops and CJTF Personnel," SITE Intelligence Group, November 4, 2020, available by subscription at www.siteintelgroup.com.
View Citations