Africa File
The Africa File is an analysis and assessment of the Salafi-jihadi movement in Africa and related security and political dynamics. 
Africa File: Libya foothold creates options for the Islamic State in northwestern Africa
[Notice: The Critical Threats Project frequently cites sources from foreign domains. All such links are identified with an asterisk (*) for the reader's awareness.]
To receive the Africa File via email, please subscribe here.
Key takeaway: The Islamic State in Libya (IS-Libya) is reconstituting its attack capabilities, but its activities remain confined to southwestern Libya. The group may enter a new phase by attacking sensitive targets during Libya's upcoming elections. Alternately, IS-Libya may increasingly function as a support apparatus for the Islamic State's growing networks in West Africa.
 Figure 1. The Salafi-Jihadi Movement in Africa: November 2021
View full map.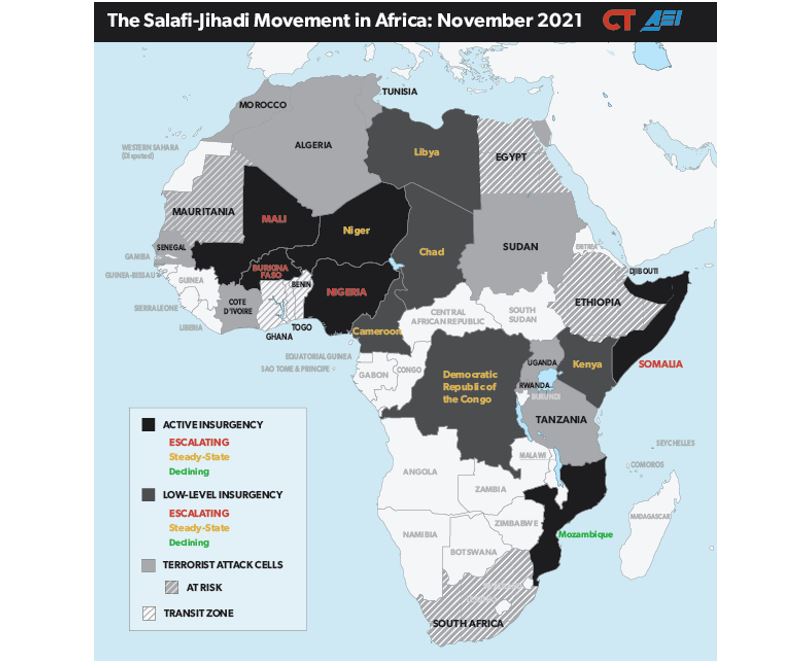 Source: Authors.
 Read an overview of the Salafi-jihadi threat in Africa here.
 The Islamic State in Libya (IS-Libya) is recovering some of its attack capabilities, including building and deploying vehicle-borne improvised explosive devices (VBIEDs). IS-Libya members retreated to the Fezzan region in southwestern Libya following the group's 2016 defeat in Sirte, in north-central Libya, entering a period of dormancy. The group resumed attacks and intermittent propaganda in 2018. IS-Libya attacks surged in the summer of 2021 after a yearlong lull. The group used a suicide VBIED in early June for the first time since 2018 and has conducted one other suicide VBIED attack since then. These attacks occurred on June 6 and August 22 and targeted Libyan National Army (LNA) checkpoints in the Fezzan region's Sabha and Zillah.[i] (See Figure 2.) These attacks were likely intended to degrade security forces' ability to disrupt militants' movements and the smuggling of weapons and people in the Fezzan. The attacks also have propaganda value as IS-Libya signals its renewed presence and seeks to gain new recruits and rebuild a fighting force.
IS-Libya activity exacerbates already high tensions between Libyan factions competing to dominate southwestern Libya. The Fezzan is lightly populated but strategically valuable. The LNA, a militia coalition that controls eastern Libya, advanced into the southwest in an attempt to encircle the capital, Tripoli, in 2019 and took *control of major oil fields. The LNA continues to use its position in the Fezzan to project authority and compete with rival claimants to Libyan governmental and military authority. The LNA prevented the Government of National Unity (GNU) prime minister from traveling to the Fezzan in October. LNA forces based in the Fezzan also issued a search-and-arrest warrant for a rival presidential candidate in November.
The presence of IS-Libya creates an additional forum for competition in this region. The LNA deployed security forces to the Fezzan in June 2021, after two IS-Libya attacks. The LNA used the deployment to establish greater control in the region, including on part of the Libya-Algeria border. The GNU contested the LNA's control and deployed its own security forces to the Fezzan, including a militia led by a defected LNA commander. The deployments led to a standoff in a strategic town, signaling security forces' preoccupation with political jockeying over the counter–Islamic State mission.
Figure 2. Islamic State Activity in Libya in 2021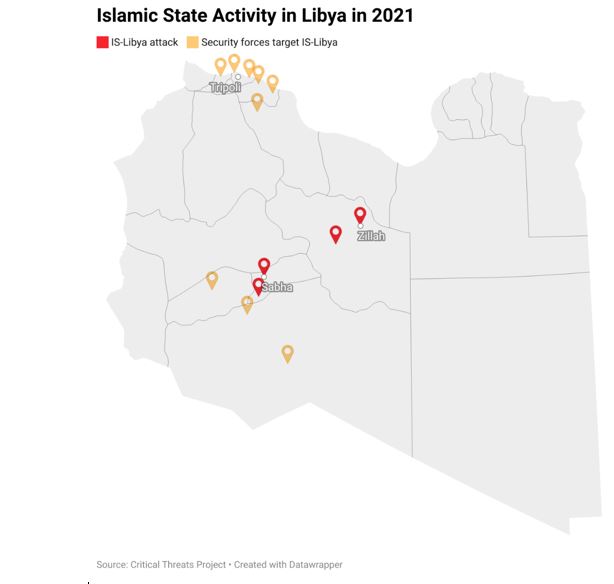 Source: AEI's Critical Threats Project.
IS-Libya may resume attacks on high-level targets in coastal Libya during the approaching election period. Libya is set to have elections on December 24, 2021. IS-Libya has previously attacked government targets to disrupt Libyan state formation. The group opposes democratic processes such as elections, making voting centers or election candidates potential targets. In May 2018, IS-Libya bombed the headquarters of a state commission responsible for managing elections in Tripoli, killing at least 12 personnel. Islamic State members based in the Fezzan helped coordinate this attack and *planned at least one other attack in Tripoli in early 2018.
IS-Libya cells remain active in the Tripoli area, where security is fragmented and militias regularly clash over control of institutions and resources. IS-Libya could exploit vulnerabilities to attack sensitive targets during the election period, particularly if inter-militia tensions around the election results destabilize the capital.
Southwestern Libya will become a support zone for the Islamic State's efforts in the Sahel and Lake Chad Basin. IS-Libya has increasingly integrated with Islamic State networks in West Africa and has supported other groups' development. An IS-Libya contingent helped professionalize the Islamic State West Africa (ISWA) Province by providing strategic and tactical training in Nigeria in early 2015. Islamic State fighters traveled between Libya and Nigeria in April and November 2021, indicating ongoing cooperation. IS-Libya also signaled its support for ISWA through propaganda in July, indicating an intent to strengthen cooperation with the group that has become the predominant Islamic State affiliate in northwestern Africa.[ii] IS-Libya could follow the pattern of al Qaeda in the Islamic Maghreb (AQIM) in southwestern Libya by becoming a support unit for the Islamic State's main effort further south in West Africa. AQIM uses Libya as a logistics base, leadership headquarters, and transit zone supporting its main effort in Mali. The Islamic State may similarly prioritize its resources toward the Sahel and Lake Chad Basin, particularly as counterterrorism pressure lessens in Mali and the Nigerian government juggles overlapping security crises.
IS-Libya could also draw strength from its allies in West Africa if Libya destabilizes and creates an opportunity for Islamic State expansion. ISWA and the Islamic State in the Greater Sahara (ISGS) are potential sources of funds and manpower.[iii] West African militants have historically traveled to join IS-Libya. Islamic State affiliates in West Africa also have access to lucrative smuggling routes that cross into southwestern Libya and have infiltrated the gold mining sector in the Western Sahel.
Figure 3. Islamic State Affiliates in Northwestern Africa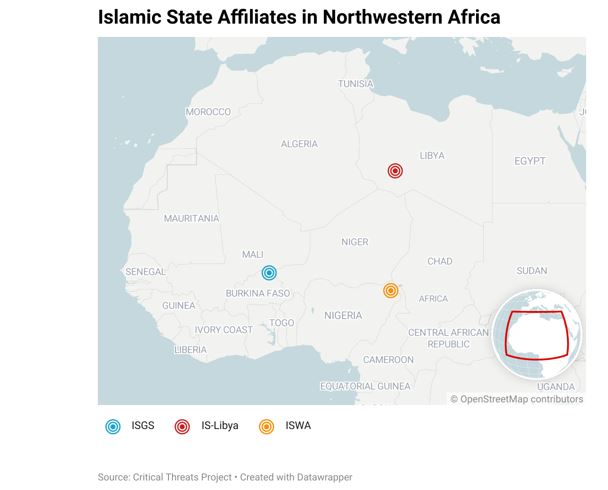 Source: AEI's Critical Threats Project.
 IS-Libya poses a limited threat, but the group may produce disproportionate effects under certain conditions. IS-Libya remains a shadow of its former self. The group could have a damaging effect on the Libyan political situation, however, particularly if it strikes a sensitive target and sparks an escalation between competing security forces that tend to use counterterrorism operations to achieve other political objectives. Alternately, IS-Libya may increasingly function as a support apparatus for the growing Islamic State network in West Africa. This regional integration is also a potential force multiplier for IS-Libya, should the situation in Libya deteriorate and the Islamic State assess an opportunity to reinvigorate its presence in North Africa.
---
[i] SITE Intelligence Group, "IS Claims Suicide Bombing in Southern Libya Killing 2 Security Officers," June 7, 2021, available by subscription at www.siteintelgroup.com; and SITE Intelligence Group, "IS Claims Car Bombing at LNA Checkpoint in Zalla," August 23, 2021, available by subscription at www.siteintelgroup.com.
[ii] SITE Intelligence Group, "In Rare Look at IS Fighters in Libya, Group Shows Medical Treatment and Weapons Preparation," July 19, 2021, available by subscription at www.siteintelgroup.com.
[iii] Note: Islamic State in the Greater Sahara is formally part of the Islamic State's West Africa Province. AEI's Critical Threats Project uses "ISWA" for the Lake Chad group and "ISGS" for the Sahel group.
View Citations