Africa File
The Africa File is an analysis and assessment of the Salafi-jihadi movement in Africa and related security and political dynamics. 
Africa File: Al Shabaab surges bombings amid Somali political crisis
[Notice: The Critical Threats Project frequently cites sources from foreign domains. All such links are identified with an asterisk (*) for the reader's awareness.]
To receive the Africa File via email, please subscribe here.
Key Takeaway: The ongoing political crisis in Somalia will likely strengthen al Shabaab, an al Qaeda affiliate that is actively plotting transnational terror attacks. Al Shabaab surged suicide attacks in Somalia's capital, Mogadishu, in January to further destabilize the Somali Federal Government (SFG) during a heated election period. The group will likely continue bursts of bombings in a bid to increase animosity between rival political factions and incentivize fighting among Somalia's fragmented security forces. The most likely scenario will allow al Shabaab to expand its havens outside of Mogadishu during the political crisis. The worst-case scenario will lead to fighting for control of Mogadishu and could cause the disintegration of Somalia's government.
Figure 1. The Salafi-Jihadi Movement in Africa: January 2022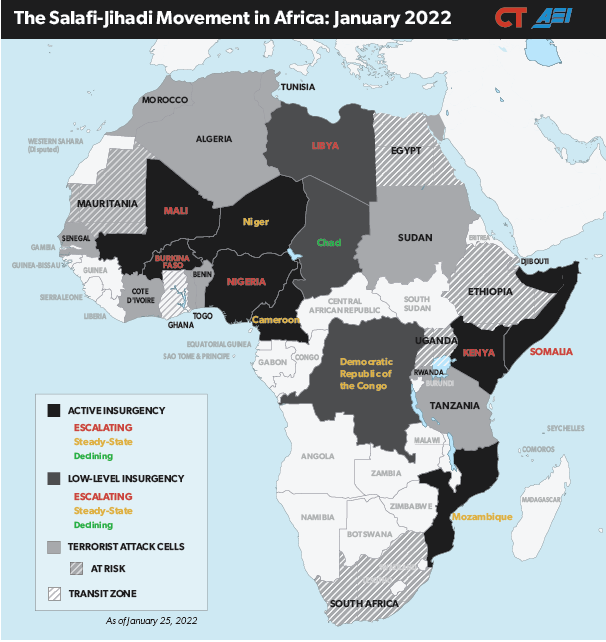 View full map.
Source: Authors and Kathryn Tyson.
Al Shabaab increased suicide bombings in Mogadishu in January 2022. The group has conducted four suicide bombings since January 1, equaling the number of similar attacks in the prior four months.
Figure 2: Al Shabaab Suicide Bombings in Mogadishu: January 1–18, 2022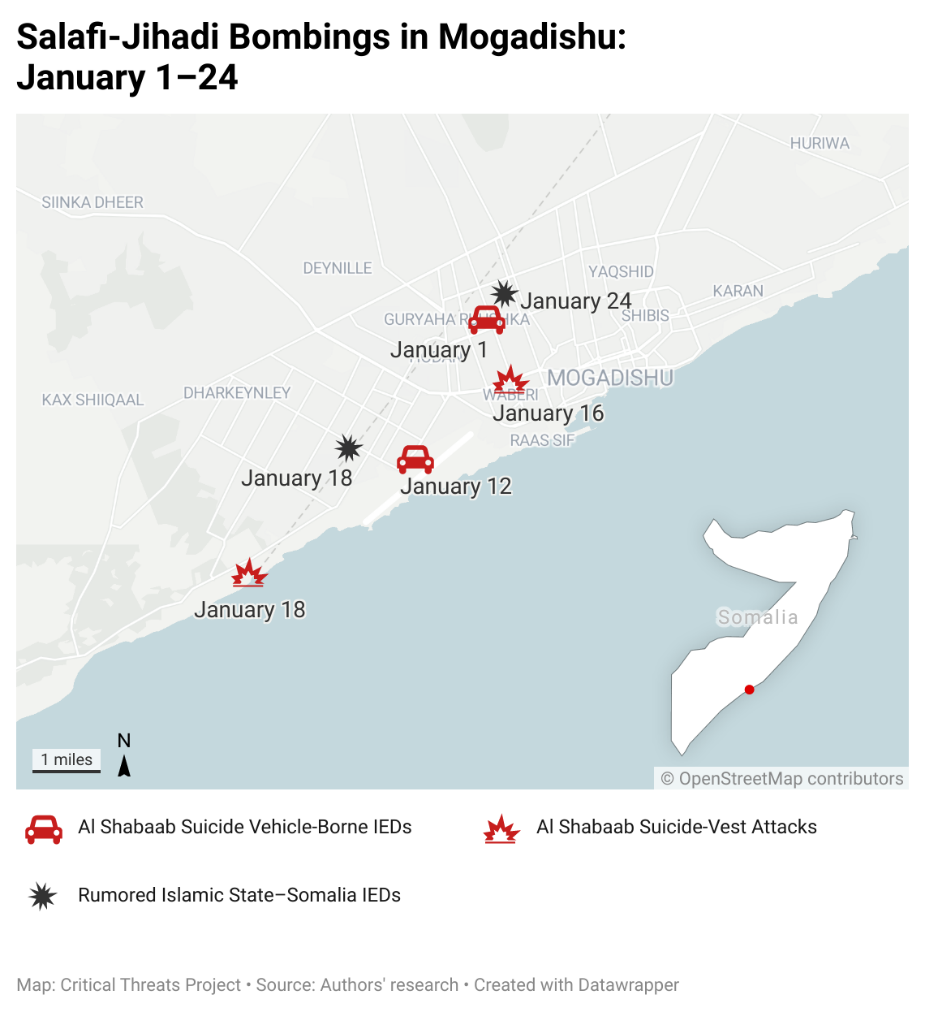 Source: Authors.
Al Shabaab likely timed the mid-January escalation to worsen friction between SFG factions during an already contentious election period. The current crisis began when SFG President Mohamed Abdullahi Mohamed "Farmaajo" attempted to extend his term beyond its constitutional limits in April 2021, leading to infighting between Somali security forces in Mogadishu. Al Shabaab capitalized on the instability—and a pause in US airstrikes in Somalia—by launching offensives in north-central Somalia in spring and summer 2021. Political* jockeying* continued throughout 2021, delaying elections that had been scheduled for October.
Tensions flared again in December when President Farmaajo attempted to suspend Prime Minister Mohamed Hussein Roble. Somali leaders narrowly averted a repeat of April's violence and agreed to hold elections by February 25. Many flash points remain as rival politicians compete for influence, including placing* allies* in control of election bodies and positioning security forces at strategic locations in the capital and elsewhere.[i] Al Shabaab's recent surge in attacks may be intended to undermine security during an already tense period, possibly aiming to delay elections further.
Improved road conditions also enabled the timing of the attacks. Road flooding, which had disrupted travel into Mogadishu from Lower and Middle Shabelle regions as of mid-December, cleared in January. Improved conditions likely facilitated al Shabaab's movement of vehicle-borne improvised explosive devices (VBIEDs) into Mogadishu for the mid-January attack cluster.  
The January attacks continue al Shabaab's effort to portray itself as Somalia's defender from foreign and domestic threats. Al Shabaab claimed that the January 12 attack, which struck a convoy carrying foreign contractors, targeted "Western security officers."[ii] The group regularly targets foreign personnel and their Somali partners and conducted a similar attack* in November 2021. Al Shabaab also frequently attacks Turkey, which it views as a foreign invader. The January 18 attack struck Somali trainees near the Turkish training base, echoing a June 2021 attack. Al Shabaab also regularly targets Somali government officials and journalists. The January 16 attack was al Shabaab's fourth assassination attempt targeting former BBC journalist and current SFG spokesperson Moalimuu dating back to at least 2016.
Rumors of rising Islamic State–Somalia (IS-S) influence in Mogadishu may incentivize al Shabaab to intensify its efforts in and around the capital. IS-S, an al Shabaab rival, is reportedly conducting an extortion campaign* in Mogadishu's Bakara Market and may have orchestrated two improvised-explosive-device attacks in the area on January 18 and 24.* Local reporting on the rumored attacks is limited, and Islamic State media has not claimed them. Merchants in the area closed their storefronts in response on January 26. A sustained IS-S campaign in Mogadishu, if confirmed, presents an additional threat to overstretched and fractious security forces. Al Shabaab will also need to increase its activity in the city to counter the IS-S challenge.
Alternately, the dearth of reporting and the lack of an Islamic State claim may indicate that IS-S is not responsible for the extortion campaign. Another group, possibly a security or paramilitary unit, could be responsible, indicating increased instability and security-force fragmentation in Mogadishu.
Al Shabaab will conduct more VBIED attack waves in February. Al Shabaab tends to conduct VBIED attacks in Mogadishu in clusters. An alleged leaked UN memo warned* personnel of a VBIED threat to several Mogadishu locations on January 24.
Continued al Shabaab bombings increase the likelihood of infighting in Mogadishu. Tensions between rival political factions will remain high as they attempt to solidify influence during the ongoing elections. Security concerns have already become politicized in recent negotiations over the number* and location of election sites. Security operations in Mogadishu will also become politicized, particularly as President Farmaajo faces accusations of using* paramilitary forces to shape elections. Farmaajo's opponents will also view al Shabaab activity as potentially linked to political machinations, given the reported links between Farmaajo allies and al Shabaab.
In a worst-case scenario, political agreements will break down and fragmented security forces will fight each other for control of strategic locations in Mogadishu. Because of the ongoing* politicization of Somalia's security forces, this fighting would likely be worse than the internecine fighting in April 2021. Fighting would likely center in Mogadishu and its environs, but a broader civil war is possible should a battle for the capital protract. Al Shabaab would not likely become a primary combatant but could help set off this scenario, especially if it carries out a high-level assassination.
Any serious security crisis in Mogadishu will draw forces away from countering al Shabaab. Politicization has already disrupted anti–al Shabaab forces, including US-trained units.
In a more likely scenario, the SFG will muddle through the current political crisis while al Shabaab makes gains outside the capital. Somali stakeholders' agreement in January indicates the potential for further compromise. International pressure* will also incentivize adhering to the new election timeline. Al Shabaab will wage an attack campaign but will fail to increase tensions enough to derail an agreement.
Rival security forces may still deploy to Mogadishu in a scenario where negotiations avert large-scale fighting. These mobilizations would benefit al Shabaab by creating opportunities for it to expand in areas vacated by security forces, as in April 2021. The politicization of security forces will remain a long-term threat to the SFG's functioning and the country's stability.
Al Shabaab will likely capitalize on the SFG's preoccupation to advance elsewhere, likely in north-central Somalia. Al Shabaab already launched an offensive* in the Galguduud region in central Somalia in December that has escalated* through January.[iii]
Al Shabaab uses its haven in Somalia to plot transnational terror attacks. US Africa Command Commander Gen. Stephen Townsend said al Shabaab remains al Qaeda's "largest, wealthiest, and most kinetically active arm" in a January 2022 interview. Townsend said that the SFG's instability has slowed counterterrorism efforts and allowed al Shabaab to grow, increasing the odds of significant and destabilizing al Shabaab attacks in Somalia. Al Shabaab is actively pursuing transnational terror capabilities alongside its goals in Somalia. The FBI uncovered an al Shabaab plot to conduct a 9/11-style attack in 2020.
---
[i] See the deployment of troops to Mogadishu's international* airport* and the ongoing dispute* in central* Somalia.*
[ii] SITE Intelligence Group, "Shabaab Claims Suicide Bombing on Western Security Officers in Somali Capital," January 12, 2022, available by subscription at www.siteintelgroup.com.
[iii] SITE Intelligence Group, "Shabaab Claims Taking Control over 2 Additional Areas Without Resistance, Assassinations of Officials and Parliamentary Electoral Committee Members," December 27 2021, available by subscription at www.siteintelgroup.com.
View Citations