October 29, 2022
Iran Crisis Update, October 29
October 29, 6:00 PM ET
The Iran Crisis Updates are produced by the Critical Threats Project (CTP) at the American Enterprise Institute with support from the Institute for the Study of War (ISW). To receive Iran Crisis Updates via email, please subscribe here.
IRGC Commander Hossein Salami set conditions to violently escalate the suppression of ongoing, anti-regime demonstrations on October 29. Salami described the Shah Cheragh Shrine attack in Shiraz on October 26 as an extension of Western-led anti-regime protests. Salami called protestors a deluded minority and threatened to kill people who continue to participate in demonstrations.[i] Salami claimed that protestors lacked humanity or souls later that day.[ii] IRGC-affiliated entities similarly linked anti-regime protests to the Shiraz attack. Student Basij chanted "death to rioters" at government-organized rallies for Shiraz victims, and IRGC-affiliated media commissioned graphic art which depicted the protests as a cover for ISIS on October 29.[iii]
Increased IRGC calls to crack down on protesters coincide with increased reports of security force violence at university protests on October 29. Social media users reported that Iranian security personnel violently arrested several university student protesters in Esfahan, Khuzestan, and Khorasan Razavi Provinces and shot at high school student protesters in Kurdistan Province on October 29.[iv] Other reports suggest that Iranian authorities barricaded student protesters in campus buildings in Lorestan and Tehran Provinces.[v] Iranian security personnel additionally fired live ammunition at medical students protesting in Sanandaj, Kurdistan Province, causing several casualties.[vi]
Iranian protesters are reclaiming motifs historically leveraged by the regime, like martyrdom, to reinvigorate anti-regime demonstrations. Funerals and ceremonies commemorating protesters killed by Iranian security personnel have generated significant protest activity in recent days. Thousands of protesters gathered in Saghez, Kurdistan Province to commemorate the 40th day since the regime killed Mahsa Amini on October 26, as CTP previously reported.[vii] Large crowds have similarly gathered to commemorate killed protesters on October 27, 28, and 29.[viii] Hundreds of protesters chanted anti-regime slogans at the funeral of Mehrshad Shahidi in Markazi Province and at the 40th day commemoration ceremonies of Minou Majidi and Reza Shahparnia in Kermanshah Province on October 29.[ix] Shahparnia's father told mourners that his son described Mahsa Amini's death as an impetus for change and stated that "there will be no revolution until blood is shed."[x] Social media users are also increasingly describing killed protesters as martyrs.[xi] Protesters' use of "martyr" to describe their comrades killed by the regime has increased after the regime attempted to repurpose the protest chant "woman, life, freedom" into "woman, life, martyrdom" at pro-regime rallies and as the regime has begun to describe those killed in the Shiraz attack as martyrs.
A leaked Iranian government report and chants observed in anti-regime demonstrations suggest that protesters are increasingly willing to risk arrest, and possibly death, to incite political change. Anti-regime outlet IranWire reported that most arrested protesters told authorities that they sought to overthrow the Islamic Republic, citing a classified Iranian government report.[xii] The report allegedly identified the average age of arrested protesters as 17 and assessed that anti-regime demonstrations would continue. The report supposedly added that most protesters told interrogators that they had nothing to lose.[xiii] That comment could reflect frustration with endemic economic problems in Iran, but could also reflect a change in the attitude of young Iranians that should worry the regime.  Anti-regime slogans documented in recent weeks reflect a similar willingness to risk arrest and death in order to facilitate change. Protesters have been documented chanting slogans like "we will fight, we will die, we will take Iran back," and "this is the year of blood, Khamenei will be overthrown" in recent weeks.[xiv] These chants suggest that regime may have succeeded in its efforts to make Iranians more willing to sacrifice their lives...but not for the regime.
Key Takeaways
Anti-Regime Protests
Anti-regime protests occurred in at least 22 cities in 14 provinces on October 29. CTP assesses with moderate to high confidence that protests occurred in the following locations:
CTP assesses with low confidence that protests occurred in the following locations: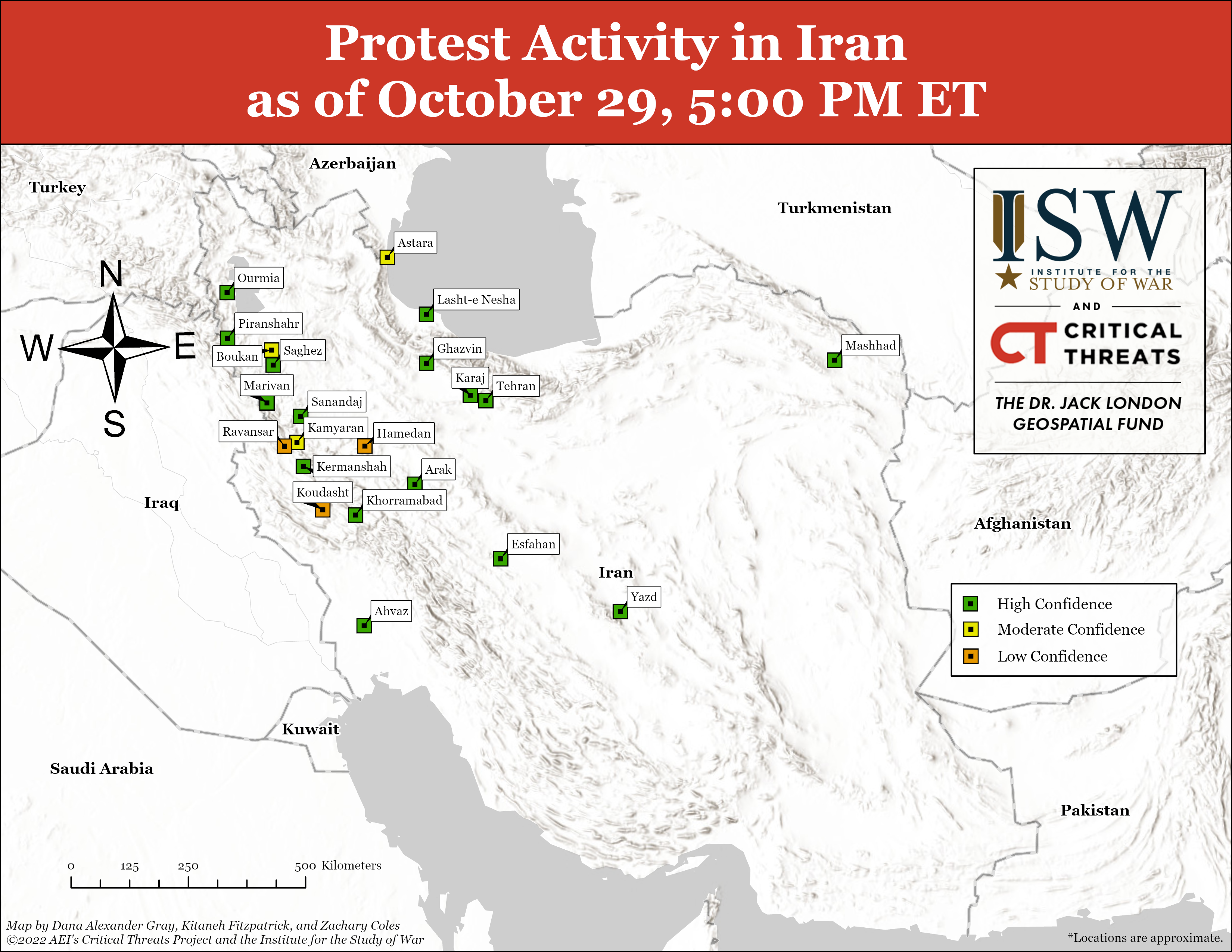 Iranian protesters were documented chanting slogans blaming the regime for the Shah Cheragh Shrine attack on October 29. Some of these chants include:
Uncorroborated footage circulating on social media purportedly shows Iranian security personnel arguing with each other in Yazd City, Yazd Province at an unspecified date. One officer is documented cursing others: "The way you're spinning around, [protesters] will catch all of you like they would a chicken."[xxxix]
IRGC officials announced that protestors killed IRGC Lieutenant Colonel Amir Kamandi with a hand grenade at Sattar Khan Street in Tehran on October 26. Kamandi served in the Bahrestan Corps of the IRGC Seyyed ol Shahada Tehran Unit.[xl]
Axis of Resistance and Regional Developments
Lebanese Hezbollah Secretary General Hassan Nasrallah claimed the US helped facilitate the October 26 Shah Cheragh Shrine attack by transporting Islamic State militants to Afghanistan. Nasrallah alleged that the US has sent Islamic State militants from Iraq and Syria to Afghanistan in order to establish the Islamic State Khorasan Province (ISKP) "as an American proxy."[xli] Nasrallah also repeated the Iranian regime's accusation that the US is responsible for inciting protests across the country.[xlii] A Syrian Ministry of Foreign Affairs and Expatriates spokesperson similarly claimed that the attack exemplified how the US uses ISKP to destabilize the Iranian regime.[xliii]
Iraqi proxy Telegram channels repeated regime narratives blaming Saudi Arabia for the October 26 Shah Cheragh Shrine attack. A Kataib Hezbollah Telegram channel characterized the perpetrator as a "Saudi-backed ISIS" terrorist.[xliv] An Asaib Ahl al-Haq Telegram channel republished IRGC Commander Hossein Salami's threat to retaliate against Saudi Arabia for the attack.[xlv] Iraqi proxy media networks commonly characterize Islamic State attacks as Saudi-backed, but their emphasis on Salami's threat to retaliate suggests that Iran may direct its proxies to conduct an attack into Saudi Arabia in the coming days or weeks.
View Citations