May 19, 2023
Iran Update, May 19, 2023
The Iran Update aims to inform national security policy by providing timely, relevant, and independent open-source analysis of developments pertaining to Iran and its Axis of Resistance. This update covers political, military, and economic events and trends that affect the stability and decision-making of the Iranian regime. It also provides insights into Iranian and Iranian-sponsored activities abroad that undermine regional stability and threaten US forces and interests. The Critical Threats Project (CTP) at the American Enterprise Institute with support from the Institute for the Study of War (ISW) provides these updates Monday through Friday. To receive Iran Updates via email, please subscribe here.
Contributor: Anya Caraiani
Key Takeaways
The Iraqi Popular Mobilization Forces (PMF) are consolidating their footprint in northern Iraq, which will likely increase the risk of sectarian conflict there. A PMF footprint could help Iran secure a new arms shipment route into Syria.
The IRGC Navy conducted unprofessional and unsafe maneuvers near a US naval ship in the Persian Gulf, which risks accidental collisions and miscalculations.
Anti-regime protests have flared up in Iran in response to increased state executions, demonstrating that many protesters remain undeterred from further protest despite the brutal regime crackdown during the Mahsa Amini movement.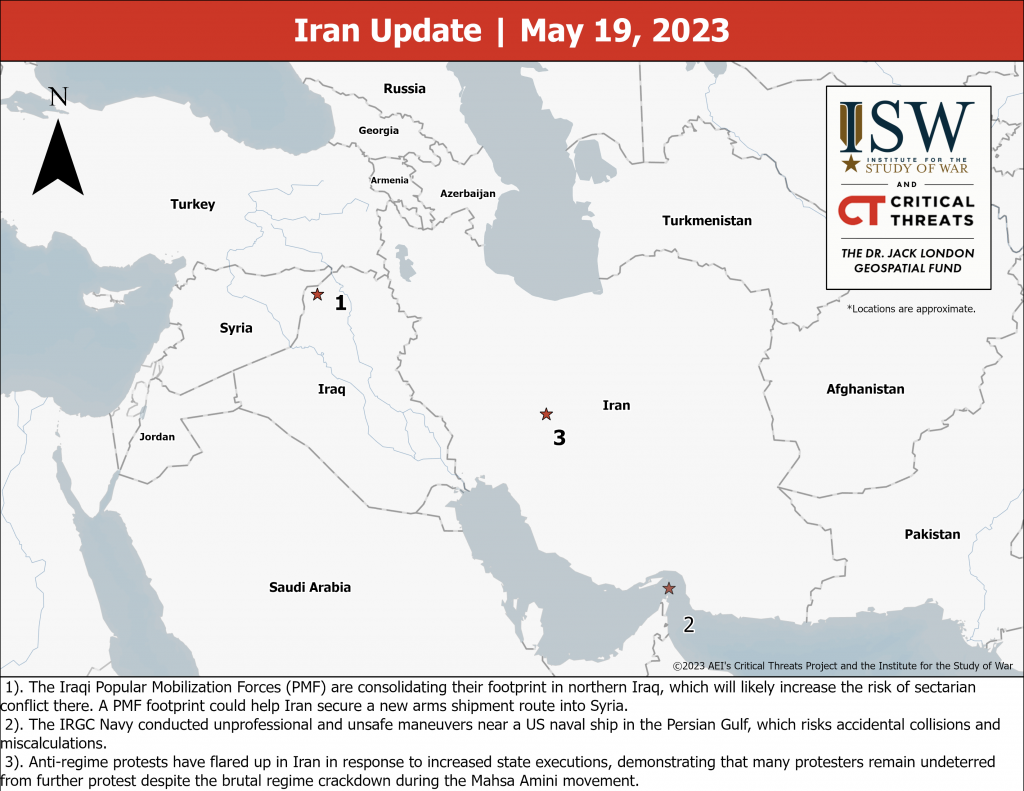 Iranian Activities in Iraq
This section covers Iranian efforts to consolidate and expand Tehran's economic, military, and political influence throughout Iraq. This section examines some of the many campaigns that Iran is pursuing to achieve this strategic objective. CTP will update and refine our assessments of these campaigns over time and in future updates.
The Iraqi Popular Mobilization Forces (PMF) are consolidating their security footprint in northern Ninewa Province, which will likely increase the risk of sectarian conflict there. Popular Mobilization Authority (PMA) Chairman Falih al Fayyadh discussed PMF security operations with local officials in the Sunni majority cities Sinjar City and Tal Afar on May 19. Fayyadh praised the PMF's Ninewa-based 53rd Brigade, which is affiliated with the Iranian-backed Badr Organization. He also visited the headquarters of the PMF's 74th Brigade in Sinjar. These meetings come after Iraqi Prime Minister Mohammad Shia al Sudani gave the PMF permission in April 2023 to establish a new Badr-affiliated brigade around Sinjar.[i] Iranian-backed units commonly stoke sectarian divisions as part of so-called "counterterrorism operations."[ii] CTP previously reported that Badr militants are committing acts of sectarian violence against the Sunni population in Diyala Province, which is, in turn, setting conditions to allow ISIS to resurge.[iii] Suspected Badr-affiliated militants killed Sunni civilians in a series of targeted attacks in Diyala Province in February and March 2023.[iv] Iraqi Prime Minister Mohammed Shia al Sudani deployed Iraqi Special Forces to Diyala in response, however, Badr Secretary General Hadi al Ameri pressured Sudani to remove the forces and secured de facto control.[v] PMF leadership in Diyala province inaccurately claimed that ISIS militants had killed the civilians and arbitrarily arrested individuals.[vi] Sectarian conflict presents an opportunity for ISIS to establish itself as a security guarantor for Sunnis.
A growing PMF footprint in Ninewa could also help the IRGC expand its influence along the ground line of communication running from Tal Afar, through Sinjar City, and toward the Syrian border. The IRGC and its partner militias could use this route to transport arms and personnel into northeastern Syria. The IRGC and Iranian-backed Iraqi militias could also use this area in northwestern Iraq to threaten to US forces. Iranian-backed group in Iraq—Liwa al Ghaliboun—conducted a drone attack on US forces near Hasaka in northeastern Syria from Iraqi territory, injuring six and killing one, on March 23.[vii] The IRGC could use a growing PMF presence in Ninewa Province to facilitate additional attacks against US forces.
 Iranian Domestic Affairs
This section covers factors and trends affecting regime decision-making and stability. CTP will cover domestic politics, significant protest activity, and related issues here.
The IRGC Navy conducted unprofessional and unsafe maneuvers near a US naval ship in the Persian Gulf, which risks accidental collisions and miscalculations. Three IRGC Navy fast attack craft came within 915 meters of the Arleigh Burke-class destroyer USS Paul Hamilton as it transited the Strait of Hormuz on May 19.[viii] The destroyer had US, British, and French commanders on board. IRGC Commander Major General Hossein Salami also threatened to expel US forces from the region and reiterated Iran's commitment to protecting its maritime trade on May 19.[ix] The IRGC naval harassment and threatening rhetoric follows the US Department of Defense's announcement on May 12 that it would bolster the Fifth Fleet's defensive posture in the Persian Gulf.[x] The US statement responds to the IRGC and Artesh Navy seizing three international vessels passing through the Strait of Hormuz between April 27 and May 12.[xi]
Anti-regime protests have flared up in Iran in response to increased state executions, demonstrating that many protesters remain undeterred from further protest despite the brutal regime crackdown during the Mahsa Amini movement. CTP recorded ten anti-regime protests on May 19—the highest number of anti-regime protests in a single day since March 13. Iranian authorities executed three individuals who participated in the Mahsa Amini protest movement on May 19 and has significantly increased the pace of state executions in recent weeks.[xii] These executions reinvigorated anti-regime sentiments, as CTP previously forecasted.[xiii]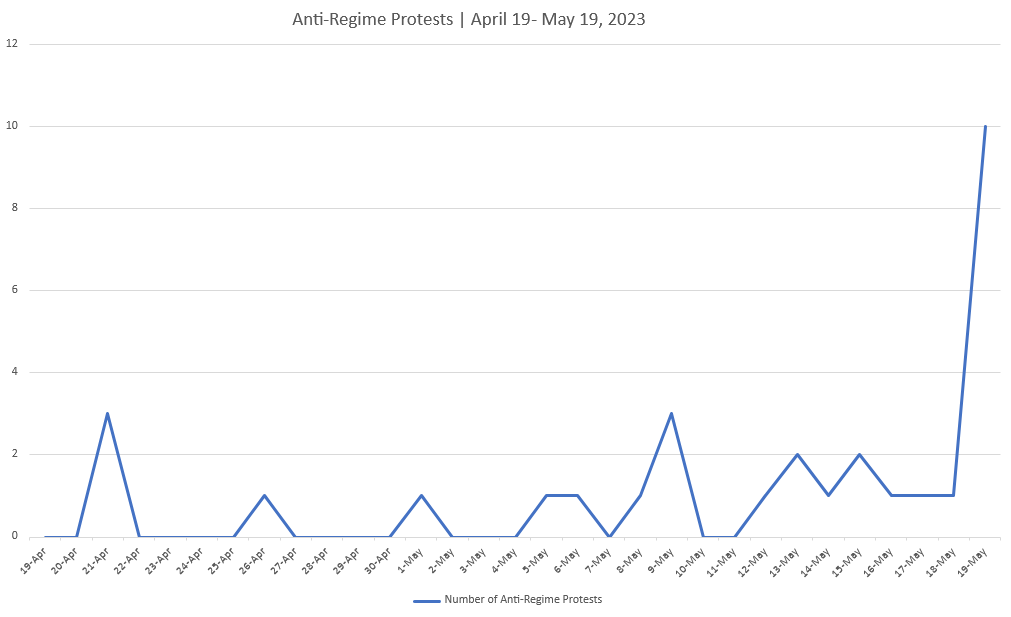 View Citations