March 02, 2023
Iran Update, March 2, 2023
March 2, 2023, 5:00 pm ET
The Iran Updates are produced by the Critical Threats Project (CTP) at the American Enterprise Institute with support from the Institute for the Study of War (ISW). To receive Iran Updates via email, please subscribe here.
Contributors: Anya Caraiani and James Motamed
The Iranian regime has apparently failed to take measures to protect schools following 46 separate reports of chemical poisonings targeting schoolgirls throughout the country on March 1.[i] Social media users documented additional attacks on a girls' schools and a dormitory in Ardabil and Alborz Provinces respectively on March 2.[ii] Iranian officials, media outlets, and the clerical establishment expressed alarm at ongoing attacks targeting Iranian schoolchildren on March 2. Vice President for Women and Family Affairs Ensieh Khazali announced that President Ebrahim Raisi ordered the formation of a special committee to investigate student poisonings.[iii] Two senior Iranian clerics separately urged the security and intelligence apparatus to address the issue on March 2.[iv] The Iranian Law Enforcement Command (LEC) denied that a plainclothes officer who was captured forcibly arresting a parent in front of a targeted school was affiliated with the LEC, and claimed that it had arrested four individuals connected to incident.[v] It remains unclear, however, what meaningful action the regime has taken to identify and prosecute the perpetrators of ongoing attacks or secure Iranian educational facilities. There is currently no indication of who is responsible for this months-long campaign against Iranian school girls, and Iranian officials have blamed both foreign and domestic actors.[vi] CTP nevertheless assessed with moderate confidence on March 1 that a network of individuals whom the regime tolerates has coordinated this campaign and that the regime has allowed them—at least for now—to do so.[vii]
It is noteworthy that the regime has apparently failed to mobilize elements of its security apparatus to secure educational facilities that are vulnerable to ongoing attacks. Incidents in a months-long, country-wide, and coordinated attack on young girls would result in significantly enhanced security around such schools in most countries. Most countries would also ensure that school buildings attacked or even reportedly attacked with poison gas were fully cleansed and certified safe before allowing students to return, whereas students at some schools were required to return to class on the day of the attack.[viii] The Iranian regime rapidly deployed security personnel to violently suppress demonstrations at Iranian universities and some grade schools throughout the Mahsa Amini protest movement, by contrast.[ix] It also increased its use of facial recognition software and security cameras to enforce the hijab laws during and after those protests, but has failed to use those technological capabilities to identify poisoners in highly populated areas.[x] This failure is noteworthy because many of the targeted schools reportedly have security cameras, and the attacks occurred in daylight while the schools were full of students and teachers.[xi] The regime's continued failure to respond in the ways that any normal, modern government would is almost inexplicable.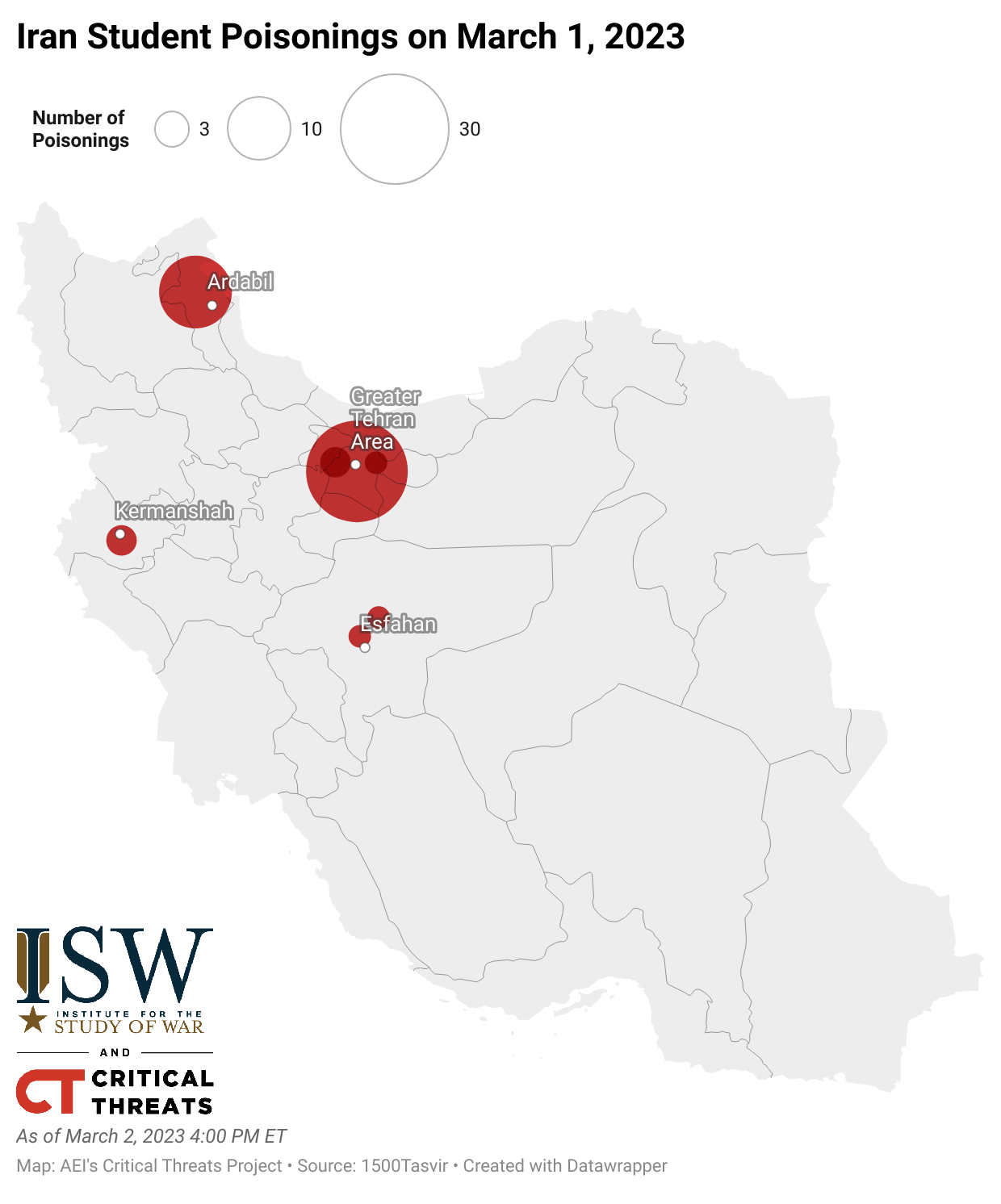 The regime is taking short-term measures to address economic grievances that will likely exacerbate Iran's economic crisis in the long run. The regime has succeeded in raising the value of the Iranian rial in recent days after it fell to a record low of 600,000 rials to the dollar on February 26.[xii] The regime's methods for strengthening the rial—injecting foreign currency into the economy and paying off discontented segments of the population—will likely undermine the regime's ability to permanently stabilize the economy, however.[xiii]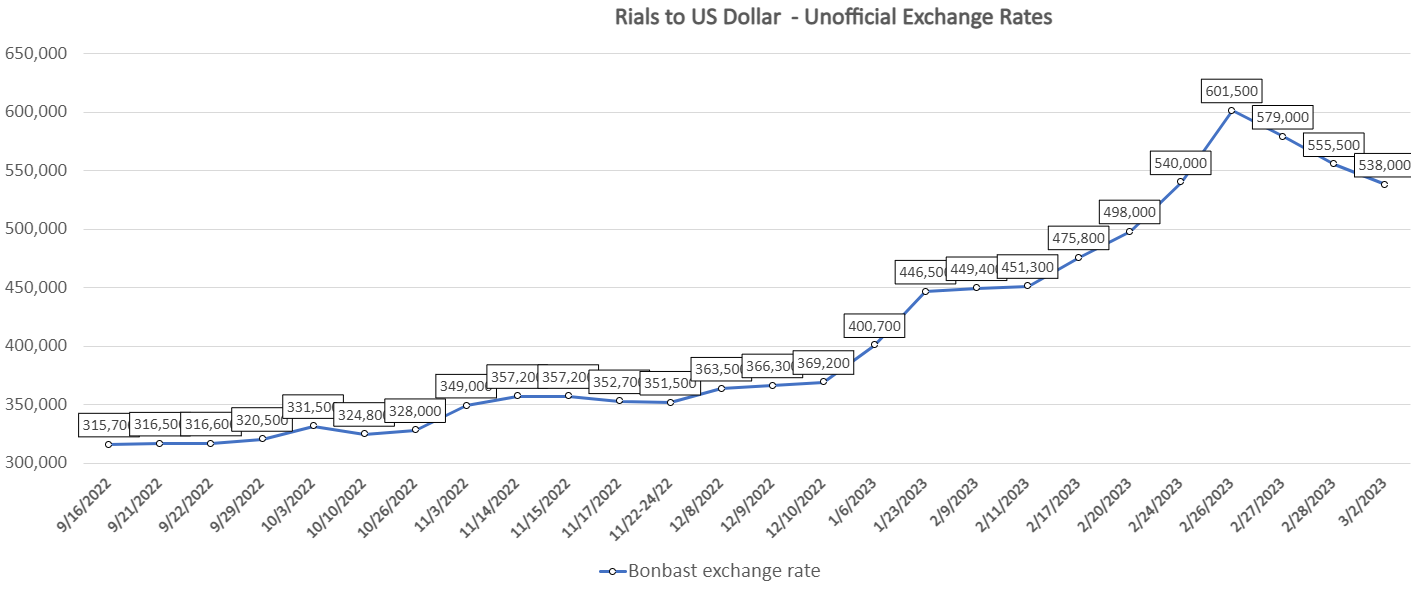 The regime is expending its foreign reserves to stabilize the Iranian rial. The regime abandoned brief efforts to stop the exchange of rials for dollars when Iranian Exchangers Association Secretary General Kamran Soltani Zadeh announced on February 28 that Iranian citizens can exchange up to 1,000,000,000 rials--roughly equivalent to 1,700 US dollars on that date--at authorized exchange centers.[xiv] The Central Bank of Iran had announced on February 21 that it would stop supplying dollars to currency exchanges.[xv] Resuming the provision of dollars to the exchanges means that the regime is using some of its limited supply of hard currency to strengthen the rial, but this approach will likely provide only temporary relief. The International Monetary Fund (IMF) reported in April 2021 that Iran's foreign currency reserves were $12.4 billion and $4 billion in 2019 and 2020, respectively, and that Iran's foreign reserves were projected to cover roughly two months of imports in 2021.[xvi] The regime likely lacks the hard currency reserves needed to stabilize the currency. President Ebrahim Raisi emphasized on March 2 that Iran's foreign currency reserves "are not at all worrying," suggesting that some within the government or public are, in fact, worried.[xvii]
The regime is also trying to buy off segments of the population that have participated in recent economic protests. President Ebrahim Raisi gave a speech at the South Pars Oil Refinery in Asalouyeh, Bushehr Province on March 2 in which he called on the Oil Ministry to support contract workers and stated that workers' salaries "should not be delayed by even one month."[xviii] Raisi likely made these statements in response to the February 20 protest among South Pars Oil Refinery contract workers, suggesting that he is trying to regain the confidence of Iranian citizens hurt by the economic crisis.[xix] Social Security Organization Head Mirhashem Mousavi separately announced on March 2 that this organization will distribute new year's payments of at least 18,000,000 rials--roughly $32--to four million retirees at a total cost of at least 72 trillion rials (roughly $131 million).[xx] The regime is seeking to pay off retirees whose fixed incomes have lost value under the current currency crisis and who have also constituted the bulk of protesters in recent economic demonstrations. These distributions appear to be separate from planned and budgeted expenses and would be made as the regime reduces the hard currency reserves backing the rial--which makes them very likely to be both inflationary and damaging to the value of the rial.  Such policies risk plunging Iran into an even deeper and more complicated economic crisis.
Parliament approved a resolution on March 2 that will exempt "all ranks of the Basij" from paying electrical, gas, water, sewage and municipal taxes.[xxi] This resolution may be a response to reports of low morale among security forces during the Mahsa Amini protest movement.[xxii] Exempting the Basij from taxes, however, will deprive the regime of much-needed income, further undermining the rial's backing and increasing pressure on the regime either to simply print money or to cut costs in other areas.
Iranian Foreign Minister Hossein Amir Abdollahian gave an interview with CNN on March 1 likely in an attempt to convince the US to return to the suspended nuclear negotiations. Amir Abdollahian explicitly stated the Raisi administration's desire to "continue the talks to return to the Joint Comprehensive Plan of Action," further claiming with some urgency that there are only "one or two remaining issues which can be easily finalized, and we can conclude an agreement."[xxiii] IRGC-affiliated news agencies' coverage chiefly focused on the Raisi administration's desire to remain on "the road to dialogue and agreement," further underscoring Amir Abdollahian's likely motivation for the CNN interview.[xxiv] The Foreign Affairs Minister began the interview by denying the regime's brutal protest suppression tactics, mistreatment of women, and widely-documented human rights violations in extremely implausible terms considering how well known and documented are the instances of regime brutality, mistreatment of women, and human rights abuses.[xxv] Amir Abdollahian also absurdly rejected reports that Iran has supplied Russia with drones and other armaments in the latter's war effort in Ukraine despite overwhelming evidence to the contrary, which in addition to the above concerns is one of the reported reasons why the US has suspended negotiations with Iran.[xxvi]
The government's desire for nuclear negotiations likely reflects in part its desperation for immediate sanctions relief to help stabilize the currency and address looming crises caused by a collapsing currency, inflation that could become hyperinflation, and exhaustion of hard currency reserves. The Central Bank of Iran released a report on March 1 stating consumer prices have increased by approximately 55 percent since February 2022.[xxvii] Economic grievances have been the focus of the more recent protests, as CTP previously reported.[xxviii]
Key Takeaways
The Iranian regime has apparently failed to take measures to protect schools following 46 separate reports of chemical poisonings targeting schoolgirls throughout the country on March 1.
The regime is taking short-term measures to address economic grievances that will exacerbate Iran's economic crisis in the long run.
Iranian Foreign Minister Hossein Amir Abdollahian gave an interview with CNN on March 1 likely in an attempt to convince the United States to return to the suspended nuclear negotiations.
CTP did not record protest activity on March 2.
Raisi administration officials struck a conciliatory tone on March 2, and stressed the need to address deepening divides between Iranian leadership and its people.
Prominent Sunni cleric and regime critic Moulana Abdol Ghaffar Naghshbandi 's family stated in an interview with Radio Farda on March 2 that they are not aware of his whereabouts.
Iranian officials and state-affiliated news outlets reported on increased Russo-Iranian economic ties on March 2.
The Department of the Treasury's Office of Foreign Assets Control (OFAC) issued new sanctions targeting Iranian energy exports on March 2.
Bloomberg reported on March 2 that Iran is seeking to obtain S-400 air defense systems from Russia, citing insider sources.
The US Naval Forces Central Command announced that US forces supported a UK-led interdiction of an illegal Iranain weapons shipment in the Gulf of Oman on February 23.
Iraq's Parliamentary Security and Defense Committee went to Diyala to discuss "security breaches" likely in response to the 20 February massacre of Sunni civilians.
Former Prime Minister Nouri al Maliki is attempting to return to Iraqi politics as a major political actor.
Internal Security
CTP did not observe protest activity on March 2.
Protest coordinators and organizations called for anti-regime demonstrations on the following dates:
March 4[xxix]
Location: Countrywide
Notes: Calling on students and teachers to boycott schools and universities
March 8[xxx]
Location: Countrywide, city centers at 18:00 local time
Notes: Commemorating International Women's Day
March 13-15[xxxi]
Location: Countrywide
Notes: Coincides with a Zoroastrian fire festival—Chahar Shanbeh Souri—on March 15
Raisi administration officials struck a conciliatory tone on March 2, and stressed the need to address deepening divides between Iranian leadership and its people. Judiciary Chief Gholamhossein Mohseni Ejei called for increased dialogue between the regime and various factions of the Iranian population in a meeting with clerics in Qom. Ejei acknowledged that the regime had "weaknesses with regards to democratization and popularization which (it) must address" and urged the need to differentiate between corruption and "when it is necessary to be open minded and increase our tolerance."[xxxii] Culture and Islamic Guidance Minister Mohammad Mehdi Esmaili separately admitted that Iranian women had not been sufficiently publicly recognized and promised "to compensate (for this) and defend women's rights."[xxxiii]
Internal Security
Prominent Sunni cleric Moulana Abdol Ghaffar Naghshbandi 's family stated in an interview with Radio Farda on March 2 that they are not aware of his whereabouts. Raisi administration-controlled Islamic Republic News Agency (IRNA) reported on March 1 that Naghshbandi fled the country out of fear of arrest and the revelation of his purported ties to foreign actors.[xxxiv] Naghshbandi's father stated that the cleric was summoned to the Special Court for Clerics in Mashhad and disappeared on the way. His family has apparently tried to contact him to no avail. Naghshbandi's reportedly told his father that "if anything happens to me...the IRGC and intelligence officials of the Sistan and Baluchistan Province are responsible."[xxxv]
Economic Affairs
Iranian officials and state-affiliated news outlets reported on increased Russo-Iranian economic ties on March 2. Semi-official ISNA reported that Russian Central Bank Head Elvira Nabiullina will travel to Iran on an unspecified date in the near future without providing further details.[xxxvi] Deputy Foreign Minister Mehdi Safari separately discussed "political and economic relations" with his Russian counterpart Sergey Vershinin during a meeting on the sidelines of the Non-Aligned Movement meeting in Baku, Azerbaijan on March 2.[xxxvii]
The Department of the Treasury's Office of Foreign Assets Control (OFAC) issued new sanctions targeting Iranian energy exports on March 2. OFAC designated six entities linked to Iranian petroleum or petrochemical trade and identified 20 vessels as property or interests in property of these entities.[xxxviii]
External Security and Military Affairs
Bloomberg reported on March 2 that Iran is seeking to obtain S-400 air defense systems from Russia, citing insider sources. Bloomberg added that it would take less two years for the S-400s to become operational.[xxxix] The Wall Street Journal previously reported on February 28 that the International Atomic Energy Organization (IAEA) confirmed the discovery of traces of 84-percent enriched uranium--near weapons-grade--at the Fordow Fuel Enrichment Plant, as CTP previously reported.[xl]
The US Naval Forces Central Command announced that US forces supported a UK-led interdiction of an illegal Iranian weapons shipment in the Gulf of Oman on February 23. US forces provided airborne intelligence, surveillance and reconnaissance that resulted in the discovery of anti-tank guided missiles and missile components from a naval vessel tied to Iran. The interdiction occurred on a naval route typically used to illegally transport weapons to Yemen.[xli]
Iraq's Parliamentary Security and Defense Committee traveled to Diyala to discuss "security breaches" likely in response to the February 20 massacre of Sunni civilians.[xlii] The Parliamentary Security and Defense Committee is chaired by Badr-aligned Abbas al-Zamili and is responsible for drafting legislation and conducting oversight of security forces.[xliii] The committee met with the PMF Commander of Diyala Operations Talib al-Musawi on March 1 to discuss unit deployments in Diyala governorate, administrative borders, and unit responsibilities. Zamili's meeting took place about a week after Iran-backed Shia militias likely massacred Sunni civilians in Jayalah, Khalis district, Diyala province.[xliv]
Turkish forces reportedly killed two Popular Mobilization Force (PMF) affiliated commanders in northern Sinjar district, Iraq on February 27 and March 1. On February 27 a Turkish drone strike killed the commander of the 80th PMF Regiment Bir Jako in Khana Sor village.[xlv] Turkish forces killed a second commander from the Sinjar Resistance Units, Sherzad Qirani, in an air strike on March 1.[xlvi] The 80th Regiment is a component of the PMF-affiliated Sinjar Resistance Units and is comprised of Yazidi militants.[xlvii] Turkish Armed Forces target Sinjar Resistance Units and Kurdistan Workers Party militants in northern Sinjar district as a component of Turkish counterterrorism operations.[xlviii]
Iran-backed militia Liwa Ahrar al-Iraq threatened to retaliate for the Turkish air strikes using drones and rockets on February 27.[xlix] Iran-affiliated media posted anti-Turkish rhetoric criticizing the Turkish government for attacking a PMF unit following PMF-directed earthquake relief aid shipments to Turkey and Syria.[l] Targeted threats against Turkish entities suggest that Iran-backed militants are setting rhetorical conditions for a strike on Turkish Armed Forces at Zeilakan Camp in Bashiqa, Ninewa governorate, Iraqi Kurdistan. Liwa Ahrar al-Iraq conducted several rocket attacks on Zeilakan Camp in retaliation for Turkish air strikes on February 1.[li]
Former Prime Minister Nouri al Maliki is attempting to regain significant political influence in Iraqi politics. Maliki's State of Law Coalition is the primary supporter of a new election law that would heavily favor his political bloc.[lii] Nouri al-Maliki also instigated claims that Iraqi Parliament planned to hold early elections.[liii] A NINA report on March 2 cited unnamed political actors who claim that a political coalition plans to appoint Maliki as Vice President of Iraq.[liv] CTP cannot independently verify these claims at this time. Nouri al-Maliki previously served as Vice President of Iraq from 2016 through 2018 and as prime minister from 2006 to 2014.[lv] 
View Citations