November 20, 2022
Iran Crisis Update, November 20
November 20, 5:30 PM ET
The Iran Crisis Updates are produced by the Critical Threats Project (CTP) at the American Enterprise Institute with support from the Institute for the Study of War (ISW). To receive Iran Crisis Updates via email, please subscribe here.
Supreme Leader Ayatollah Ali Khamenei likely issued an unpublished directive to violently suppress anti-regime protests within the past few days. The Supreme Leader discussed protests in a speech in Esfahan City, Esfahan Province on November 19.[i] Khamenei's speech did not contain significant rhetorical inflections or escalations in the way he discussed quelling unrest compared to prior speeches made in the past several weeks. Several senior regime officials called for a decisive crackdown on demonstrations on November 20, however, as regime violence against protesters in northwestern Iran escalated, suggesting that Khamenei likely greenlit the increased use of force against protesters. Iranian President Ebrahim Raisi stressed that responsible entities should take urgent and decisive action against "rioters" and blamed Western actors for unrest, mirroring Khamenei's November 19 rhetoric, on November 20.[ii] IRGC Ground Forces Saheb ol Zaman Provincial Unit Commander in Esfahan Province Mojtaba Fada similarly promised a firm response to unrest "at the slightest hint from the [supreme] leader," likely referencing Khamenei's November 19 speech.[iii] The unit published a statement announcing the arrest of a "terrorist team" that had killed security personnel in Esfahan Province and possessed firearms and hand-made bombs on the same day.[iv] Artesh Executive Deputy Mohammad Mahmoudi additionally stated that the Artesh was at the peak of its operational readiness and was prepared to carry out all its assigned missions on November 20.[v] IRGC Aerospace Force Commander Ali Haji Zadeh also discussed the importance of following the Supreme Leader's directives in a meeting on November 20.[vi]
The inflection in regime rhetoric coincides with significant escalations against protesters, particularly throughout northwestern provinces, within the past 24 hours. Reports shared on social media suggested that security personnel shot indiscriminately at protesters in Mahabad, West Azerbaijan Province on November 19.[vii] Iranian authorities deployed elements of the IRGC Ground Forces from the Hamzeh Seyyed ol Shahada Northwestern Operational Base in Ourmia, West Azerbaijan Province to suppress protests in Mahabad on November 19, as CTP has previously reported.[viii] Anti-regime outlet Iran International reported that local authorities told Mahabad residents that the local governor would deliver a speech but instead opened fire at the assembled crowd on November 20.[ix] Footage shows regime personnel in technicals apparently shooting heavy machine guns, and heavy machine gun fire is audible in several videos.[x]  Social media users have documented the increased use of force against protesters in other areas as well. Security personnel were documented shooting at protesters in several cities including Piranshahr and Takab in West Azerbaijan Province, Javanroud in Kermansah Province, and Marivan in Kurdistan Province on November 20.[xi] Social media users additionally recorded footage of helicopters circling Mahabad and Boukan, West Azerbaijan Province.[xii] Protesters continued to engage in anti-regime demonstrations despite this increased regime violence on November 20.[xiii]
The increase in regime violence against protesters and the deployment of combat units of the IRGC Ground Forces could be related to rumors that Supreme National Security Council Secretary Ali Shamkhani has been fired or has resigned.[xiv] The rumors remain unconfirmed and, although Shamkhani has not appeared or made any statements since they surfaced his silence is not particularly unusual. Pressure on or removal of Shamkhani could reflect a change in the balance of power within the regime inner circle, however, of the sort that could have led to a change in the supreme leader's guidance about responding to the protests. It is equally possible, however, that regime officials presented the supreme leader with reports on the situation and its trajectory that persuaded him to order the escalation in anti-protester violence without any changes in personnel.
The IRGC Ground Forces Hamzeh Seyyed ol Shahada Northwestern operational base announced that it is reinforcing its forces on November 20, suggesting that crackdowns will likely endure and may extend to other cities throughout the region. Social media footage additionally shows what appears to be at least 26 IRGC Ground Forces and Iranian Law Enforcement Command vehicles in Mahabad on November 20.[xv] The Hamzeh Seyyed ol Shahada base statement warned of decisive action against purported US-affiliated "anti-Iranian" terrorist groups throughout the area, possibly setting conditions to deploy troops to other cities within Kurdistan and West Azerbaijan Provinces in the coming days.[xvi]
Key Takeaways
Anti-Regime Protests
Protests occurred in at least 18 cities in eight provinces. At least six protests with 100 or more estimated participants took place in six cities across four provinces on November 20. CTP is using asterisks to denote protests that included mourners commemorating killed protesters.
Note: CTP is only providing protest characterizations for demonstrations with over 100 estimated participants to prioritize reporting on developments throughout northwestern Iran. The associated map contains all the demonstrations recorded by CTP.
Dashti, Hormozgan Province (population: approximately 4,695)
Kermanshah City, Kermanshah Province (population: approximately 946,651)
Sanandaj, Kurdistan Province (population: approximately 461,000)
Khoy, West Azerbaijan Province (population: approximately 198,845)
*Mahabad, West Azerbaijan Province (population: approximately 168,393)
*Piranshahr, West Azerbaijan Province (population: approximately 91,515)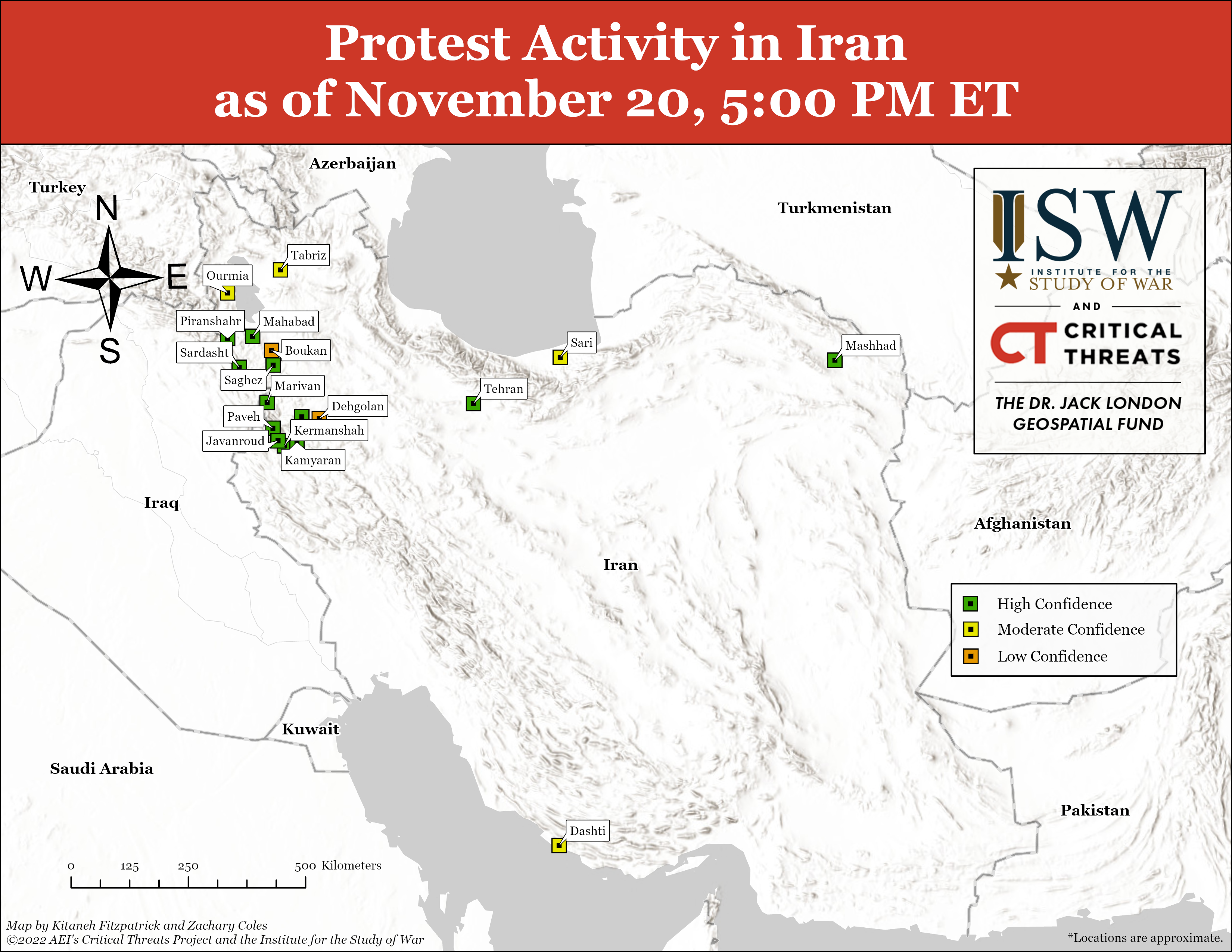 Tehran Judiciary officials sentenced an arrested protester to death on November 20 for their alleged role in injuring a Basij member in an anti-regime demonstration in Western Tehran. This marks the sixth protester whom Iranian authorities have sentenced to death for participating in the Mahsa Amini protest wave.[xxiii]
Prominent Sunni Cleric Moulana Abdol Hamid condemned reports of regime violence against protesters in Mahabad, Western Azerbaijan Province. Abdol Hamid stated that security personnel should refrain from shooting at protesters.[xxiv] Abdol Hamid has become increasingly critical of the regime's protest suppression response in recent weeks and has incited protests in Zahedan, Sistan and Baluchistan on several occasions.[xxv] Abdol Hamid may increasingly seek to expand his influence by connecting with marginalized ethnic minorities beyond those residing in Sistan and Baluchistan in the coming weeks.
The New York Times reported that Iranian security personnel have inflicted severe eye injuries on hundreds of Iranians by firing rubber bullets and metal pellets at protesters at close range. The report detailed that security personnel are entering Iranian hospitals to identify and arrest protesters, often interfering with their treatment. Iranian ophthalmologists from three large hospitals in Tehran estimated that their wards had admitted more than 500 patients with severe eye injuries since the Mahsa Amini protests began on September 16.[xxvi]
Axis of Resistance and Regional Developments
The IRGC attacked a series of anti-regime Kurdish militia positions in Iraqi Kurdistan. The IRGC launched multiple missiles and loitering munitions at anti-regime Kurdish militia positions in at least three locations across Iraqi Kurdistan.[xxvii] Footage from social media depicts a large explosion after an Iranian drone reportedly launched three missiles at a reported KDPI camp in Koya, Erbil Province.[xxviii] Two likely loitering munitions hit alleged KDPI positions approximately 10 kilometers north of Erbil city.[xxix] Another loitering munition attacked an alleged Komala headquarters near Sulaymaniyah City, Sulaymaniyah Province.[xxx] The IRGC renewed air operations against anti-regime Kurdish militia positions on November 14 after approximately a six-week pause, as CTP previously reported.[xxxi]
Iran and Turkey may be coordinating military operations in northern Iraq and Iraqi Kurdistan to amplify the effect of the airstrikes and missile attacks, possibly to prepare for an incursion by IRGC Ground Forces and/or Turkish ground forces. The IRGC's re-intensification of its campaign against anti-regime Kurdish militias in Iraqi Kurdistan occurs as Turkey simultaneously conducts an expansive airstrike campaign against Kurdish militias in northern Syria and Iraq.[xxxii] CTP has not observed evidence of any IRGC ground operations into Iraqi Kurdistan, but an IRGC Ground Forces contingent has mobilized to suppress protests across the Iranian border in Mahabad, West Azerbaijan Province.[xxxiii] The IRGC Ground Forces in Mahabad may move across the border into Iraqi Kurdistan after containing unrest in Mahabad. Iran might also use Artesh elements to push across the Iraqi border while IRGC personnel remain focused on internal security.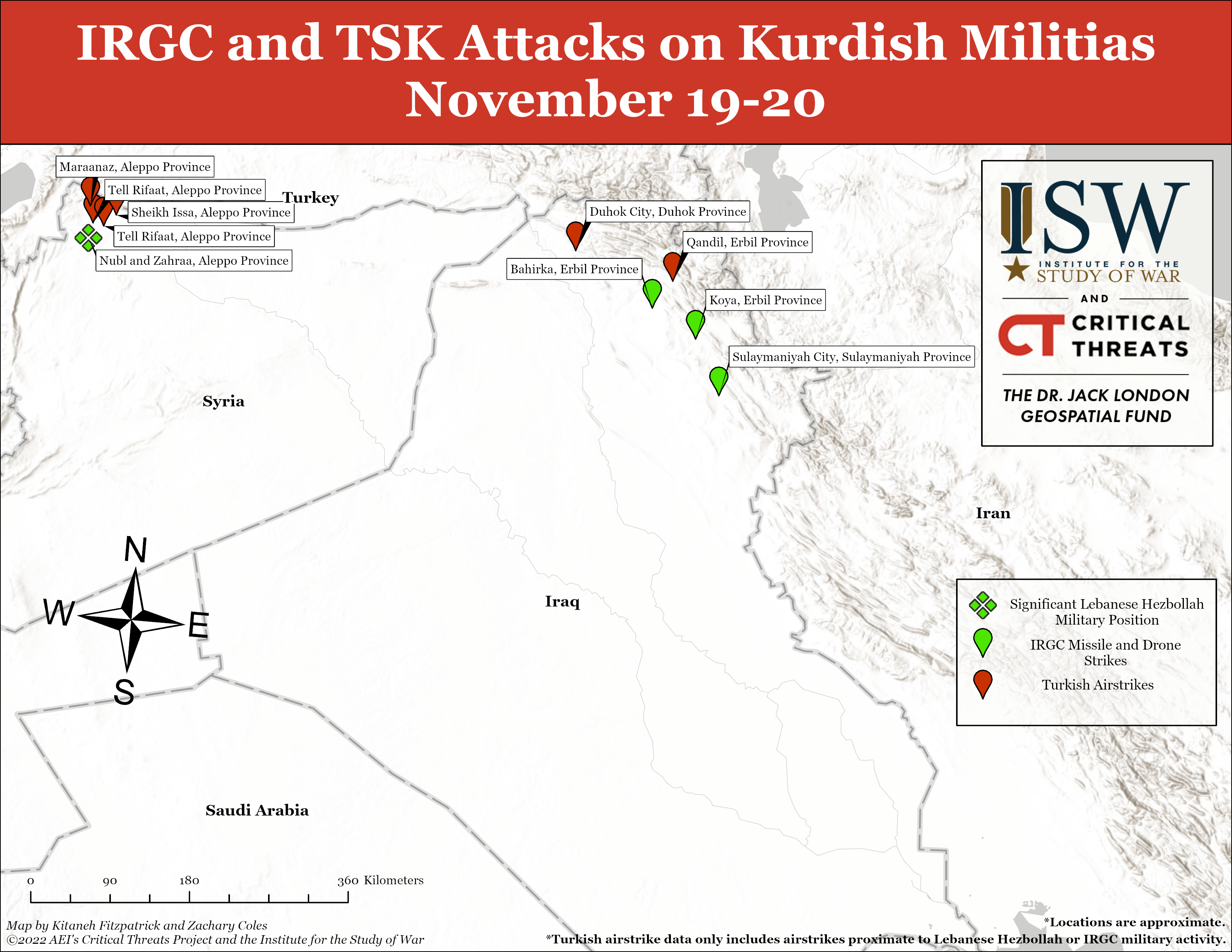 Saudi media outlet Al Hadath aired a report on IRGC and Lebanese Hezbollah (LH) personnel transporting several hundred missiles from Syria into Lebanon. Al Hadath reported that LH and IRGC Unit 2250 personnel recently transferred an unspecified number of Fateh-110 and Fajr-3 missiles from a storage facility in Masyaf, Hama Province to Al Qusayr, Homs Province, Syria.[xxxiv] Al Hadath also claimed that some of missile payloads contained chemical weapons and that LH personnel would soon transfer the missiles from Al Qusayr to a base in the vicinity of Bint Jbeil, Nabatieh Province, Lebanon.[xxxv] LH has multiple military bases near Bint Jbeil along the Lebanon-Israel border in Nabatieh Province.[xxxvi] CTP cannot independently verify this reporting; Al Hadath is a component of the Riyadh-based MBC Group media conglomerate.
LH media reported on Iranian security personnel dying in protests for possibly the first time since the current protest wave began. LH-owned Al Ahed News published an article on November 20 that mourned the deaths of one LEC and two IRGC personnel during clashes on November 16 in Esfahan City, Esfahan Province.[xxxvii] This is possibly the first instance Hezbollahi media acknowledging Iranian security forces have died in clashes with protesters.
View Citations