November 12, 2022
Iran Crisis Update, November 12
November 12, 5:00 pm ET
The Iran Crisis Updates are produced by the Critical Threats Project (CTP) at the American Enterprise Institute with support from the Institute for the Study of War (ISW). To receive Iran Crisis Updates via email, please subscribe here.
Protest coordinators and organizations have called for countrywide demonstrations from November 15 to 17 to commemorate the three-year anniversary of the Bloody Aban protest wave in November 2019.[i] Citizens took to the streets in around 100 cities in the Bloody Aban protest wave in response to a sudden regime decision to cut fuel subsidies. Estimates of civilians killed by security forces during Bloody Aban range from 304 to 1,500.[ii] Some protest organizers have published instructions to "conquer" a main Tehran highway on November 15, blocking the road with cars to restrict security forces' movement.[iii] Persian-language social media accounts have described the ongoing protests as the continuation of the Bloody Aban protest wave in recent weeks, as CTP previously reported.[iv] Invoking popular frustrations toward the regime about the Bloody Aban crackdown could reinvigorate this protest movement, which has seen reduced turnout in recent days.[v]
Iranian clerical, political, and security leaders are arguing to the domestic population that the collapse of the Islamic Republic would lead to chaos and civil war. Iranian authorities likely seek to convince the population that the protests will ultimately worsen the state of the country rather than achieve meaningful reform. Islamic Revolutionary Guards Corps (IRGC) Political Deputy Brigadier General Yadollah Javani accused the West, Israel, and Saudi Arabia of stoking the protests to "Syrianize" Iran on November 11.[vi] This regime narrative has become increasingly prevalent in recent weeks. Iranian clerics, military commanders, parliamentarians, and state media have used similar rhetoric, asserting that the protests will create instability similar to the Syrian civil war in Iran rather than lead to a democratic, secular republic.[vii]
Key Takeaways
Anti-Regime Protests
At least 12 protests took place in 10 cities across nine provinces on November 12. CTP assesses with moderate to high confidence that protests occurred in the locations below.
Karaj, Alborz Province (population: 1,970,000)
Shiraz, Fars Province (population: 1,565,572)
Mashhad, Khorasan Razavi Province (population: 3,001,184)
Sanandaj, Kurdistan Province (population: 414,069)
Arak, Markazi Province (population: 520,944)
Babol, Mazandaran Province (population: 250,217)
Tehran City, Tehran Province (population: 8,700,000)
*Sardasht, West Azerbaijan Province (population: 68,165)
Zanjan City, Zanjan Province (population: 430,871)
CTP assesses with low confidence that protests occurred in the locations below.
*Dehgolan, Kurdistan Province (population: 45,386)
Note: CTP is using asterisks to denote protests that included mourners commemorating killed protesters.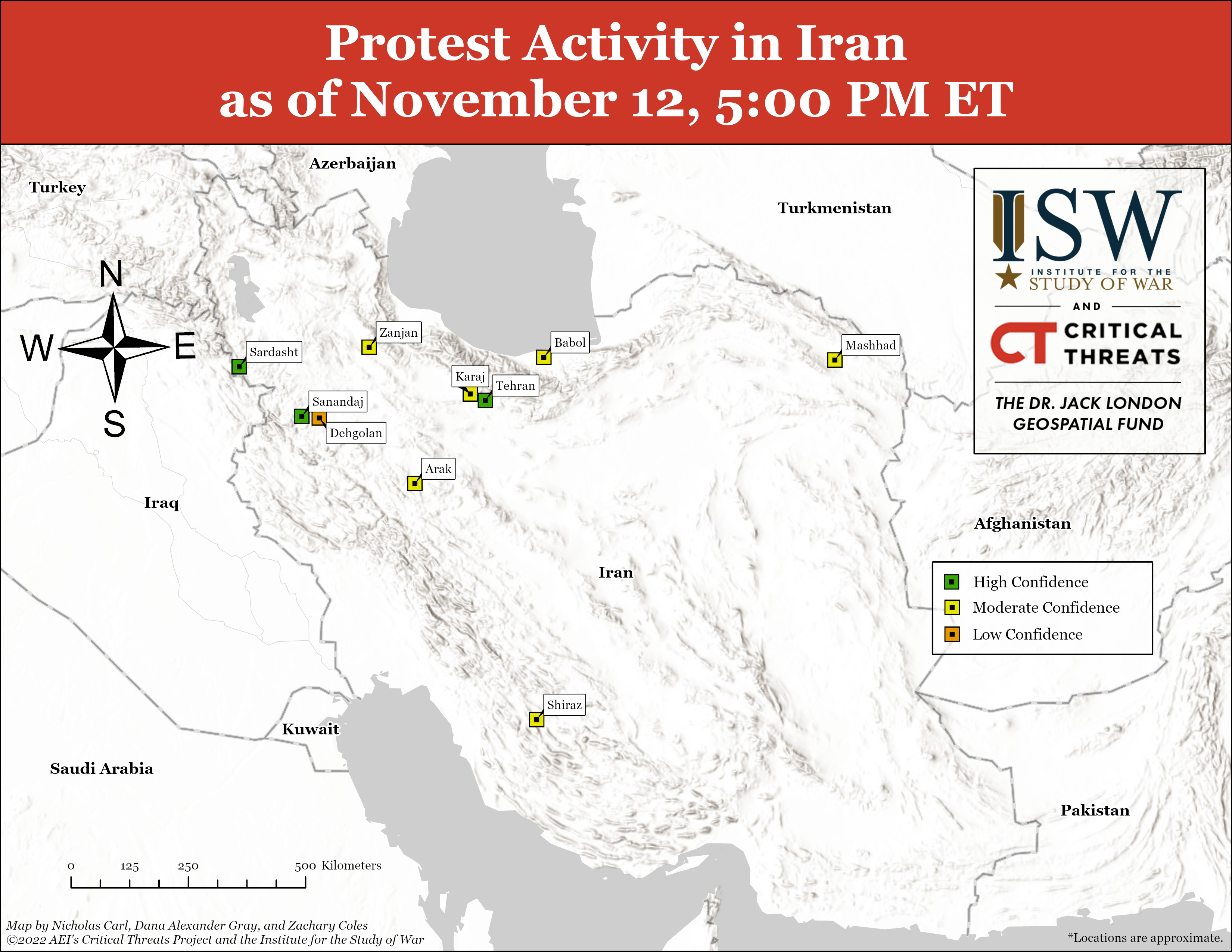 Unidentified militants killed a member of the IRGC Ground Forces 25th Karbala Operational Division at an unspecified location in northwestern Iran on November 12.[xx] Iranian state media reported that the officer was guarding the border region. The 25th Division is headquartered in Sari, Mazandaran Province and has previously deployed to Syria to fight for despot Bashar al Assad.[xxi]
Senior Shia cleric Ayatollah Asadollah Bayat Zanjani issued a fatwa requiring Muslims to defend themselves and others if an armed stranger attacks them, according to anti-regime outlet IranWire on November 12.[xxii] IranWire interpreted Bayat Zanjani's fatwa as calling on protesters to defend themselves against plainclothes security personnel, although it is unclear if this framing is correct. CTP cannot verify this reporting, and Bayat Zanjani's website has not published this fatwa at the time of this writing.[xxiii] Bayat Zanjani has criticized security forces for the death of Mahsa Amini, as CTP previously reported.[xxiv]
Axis of Resistance and Regional Developments
There was nothing significant to report today.
---
[i] https://twitter.com/iran_javanan/status/1591422168910696448
[ii] https://www.amnesty.org/en/latest/news/2020/05/iran-details-released-of-304-deaths-during-protests-six-months-after-security-forces-killing-spree;%20https://www.reuters.com/article/us-iran-protests-specialreport/special-report-irans-leader-ordered-crackdown-on-unrest-do-whatever-it-takes-to-end-it-idUSKBN1YR0QR
[iii] https://twitter.com/neginsh/status/1591101670901309441/photo/1
[iv] https://www.criticalthreats.org/analysis/iran-crisis-update-october-24#_edn23549346854a499556207b8c6ffe4a97fd5b678c84318859ce365ec47f4b37bd2
[v] https://www.criticalthreats.org/analysis/iran-crisis-update-november-11
[vi] www.defapress dot ir/fa/news/555338
[vii] www.mehrnews dot com/news/5624362; www.snn dot ir/fa/news/1041801; www.irna dot ir/news/84937272; www.mehrnews dot com/news/5623203; www.irna dot ir/news/84907177
[viii] https://twitter.com/RadioFarda_/status/1591381743893889024?s=20&t=s_FNSe6HkjP2pm6rBRRAmA; https://twitter.com/iranworkers/status/1591388729268371456?s=20&t=Y63CRCzz1da-4ayfey74wQ
[ix] https://twitter.com/iranworkers/status/1591518881004556293?s=20&t=aIi27yUNGqVqm0IbqaQ_Uw
[x] https://twitter.com/IranIntl/status/1591429434090827776?s=20&t=dvyvmUhZWelBkH00hZQlhQ
[xi] https://twitter.com/ManotoNews/status/1591405024059723776?s=20&t=_KGw0QgUtM2vTfj4eWVfSA; https://twitter.com/RadioFarda_/status/1591410635505831936?s=20&t=3BO4nC9Hy9BowqSurPDcwA; https://twitter.com/iranworkers/status/1591393277328384000?s=20&t=IqQJ0z8goSXZ6btXSw6nYw
[xii] https://twitter.com/iranworkers/status/1591536646499041281?s=20&t=44_ngn-VGZ1u3TN1P0ZMDw
[xiii] https://twitter.com/ManotoNews/status/1591431246672179201?s=20&t=zdEf7jAWsEUsYPnG22lu_g; https://twitter.com/RadioFarda_/status/1591502289054814209?s=20&t=zWDpBgSs-xcM5cBTx-z3lA
[xiv] https://twitter.com/IranIntl/status/1591452241780953091?s=20&t=9yFab550mQvcxRIDb9ETZg; https://twitter.com/iranworkers/status/1591459835878559744?s=20&t=kjBfXlE5FJZIVeICVKMLbw
[xv] https://twitter.com/ManotoNews/status/1591384789806108673?s=20&t=h655pnqMvfpn8R4_KIGBAg; https://twitter.com/iranworkers/status/1591389815118905344?s=20&t=s0E4ey4TGuZONP6KKexGCg; https://twitter.com/iranworkers/status/1591338941214359552?s=20&t=jagfFXZlkCH5YK9a6TsbWw
[xvi] https://twitter.com/iranworkers/status/1591391427426123777?s=20&t=jEplHT4l7JHZWOFxs0Rb2Q; https://twitter.com/iranworkers/status/1591390095537770496?s=20&t=jIXAQrJKeFqvYBsIEgVnhg; https://twitter.com/iranworkers/status/1591371739031916552?s=20&t=L5IHOKYOpQfLrbDVOBE0Kw
[xvii] https://twitter.com/HengawO/status/1591469631398899712?s=20&t=j1437VHXXITdc9dhKSYE_g; https://twitter.com/ManotoNews/status/1591486095430389760?s=20&t=Z1qT0RGbM48s9NgmGwkJQQ; https://twitter.com/ManotoNews/status/1591495830762323970?s=20&t=_hWBdlmsoTzKCIg7x7ijWA
[xviii] https://twitter.com/RadioFarda_/status/1591520652791799808?s=20&t=pqXP4ngULr7pO45xD6aD0g
[xix] https://twitter.com/HengawO/status/1591381982797496320?s=20&t=JlP8O10VD52d66x7QYW7kA
[xx] https://irna dot ir/xjKYYS
[xxi] https://www.aei.org/wp-content/uploads/2020/01/Irans-Reserve-of-Last-Resort.pdf
[xxii] https://iranwire.com/en/politics/109726-defense-against-plainclothesmen-is-a-religious-duty-iranian-ayatollah-rules/
[xxiii] www.bayat dot info
[xxiv] https://www.criticalthreats.org/analysis/iran-crisis-update-october-2#_edn23549346854a499556207b8c6ffe4a9724be60559121abfedca2de2f3579cd247
View Citations