Al Qaeda in the Arabian Peninsula (AQAP) is increasingly embedding itself alongside anti-al Houthi militias in central Yemen, expanding its areas of operation and strengthening its relations with Yemeni populations.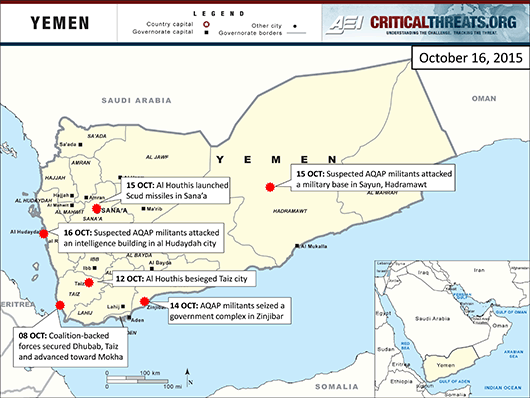 Click image to enlarge.
Al Qaeda in the Arabian Peninsula (AQAP) is increasingly embedding itself alongside anti-al Houthi militias in central Yemen, expanding its areas of operation and strengthening its relations with Yemeni populations. The protraction of the conflict in Yemen will continue to create opportunities for AQAP to grow.  
The Saudi-led coalition and its Yemeni allies deflected an opportunity to seek a politically negotiated settlement, which may be intended to better the coalition's ground positions in advance of negotiations. Coalition-backed Yemeni President Abdu Rabbu Mansour Hadi dismissed the al Houthis' and the General People's Congress (GPC) party's acceptance of a UN-led peace plan as a "maneuver." Former Yemeni President Ali Abdullah Saleh had also agreed to step down from the GPC in exchange for the coalition's withdrawal. A coalition spokesman stated that operations will continue in the absence of an official ceasefire approved by the UN and Hadi's government. While the coalition has publicly called for a political end to the conflict and the accompanying humanitarian crisis, it also stands accused of targeting civilians and delaying the shipment of humanitarian aid to conflict zones.
The al Houthis stepped up aggression against Saudi Arabia following Hadi's dismissal of the peace plan. Al Houthi leader Abdul Malik al Houthi called for population-wide mobilization against the "invaders" in an unprecedentedly bellicose statement against the coalition. Al Houthi forces fired at least one Scud ballistic missile from Sana'a, prompting the Saudi-led coalition to set up Patriot missile defense systems in Ma'rib and Aden governorates. The al Houthis have launched at least four Scud missiles at targets in Saudi Arabia this year, but the attacks have not struck their intended targets. Following the reports of missile launches, the al Houthis claimed to be holding the pilot of a downed Saudi warplane in Sa'ada governorate in northern Yemen. Al Houthi ground forces have also attempted to penetrate Jazan province in southern Saudi Arabia.
Anti-al Houthi forces, backed by the coalition, are fighting for control of Taiz governorate as part of a push toward Sana'a, the al Houthi-controlled Yemeni capital. The al Houthis continued to besiege Taiz city, Yemen's third-largest city, and pro-al Houthi militias clashed with popular resistance forces near the Taiz-Lahij border for control of the road from Taiz to Aden. Anti-al Houthi forces backed by the coalition took control of the coastal Dhubab region and advanced north toward Mokha. The coalition intensified airstrikes in neighboring al Hudaydah governorate, which contains critical supply routes for the al Houthi-held capital of Sana'a.
AQAP is managing popular opposition to its presence in al Mukalla, Hadramawt while extending influence into contested Yemeni cities. AQAP deployed additional militants to al Mukalla in response to popular demonstrations against the group's presence in the eastern Yemeni port city, which has been under AQAP control since April. Suspected AQAP militants also attacked a Yemeni military base approximately 200km north of al Mukalla. AQAP continues to operate in central and southern Yemen without significant resistance. An AQAP unit is fighting alongside popular resistance forces in Taiz city, where AQAP reportedly controls taxation and security infrastructure in the Suq al Samil district, according to reports. On October 14, AQAP militants seized a government complex in Zinjibar, a port city near Aden in southern Yemen that AQAP controlled throughout 2011 and into 2012. Suspected AQAP militants also attacked an intelligence building in al Hudaydah, Yemen's Red Sea port. President Hadi's government, the Saudi-led coalition, and the al Houthi leadership have not responded to AQAP's recent attacks and seizures.
The United Arab Emirates is providing the only active counterterrorism force on the ground in Yemen. Emirati counterterrorism units arrived in Aden in the wake of an October 6 attack on government and coalition targets claimed by the Islamic State of Iraq and al Sham (ISIS) Wilayat Aden-Abyan. The UAE also moved troops and military equipment into Hadramawt governorate, but it remains unclear whether Emirati forces plan to target the AQAP stronghold in al Mukalla, Hadramawt.
AQAP and ISIS will continue to exploit the security vacuum caused by the unresolved conflict in Yemen to expand their operational, governance, and recruitment capabilities throughout the country. AQAP will likely seek greater control over Zinjibar, whose proximity to Aden will force the Hadi government and the Saudi-led coalition to address the nationwide spread of terrorist groups.
Joshua Koontz contributed to the research for this piece.