The Saudi-led coalition is beginning to shift from combat operations to stabilization operations, focused specifically on Aden and its immediate environs.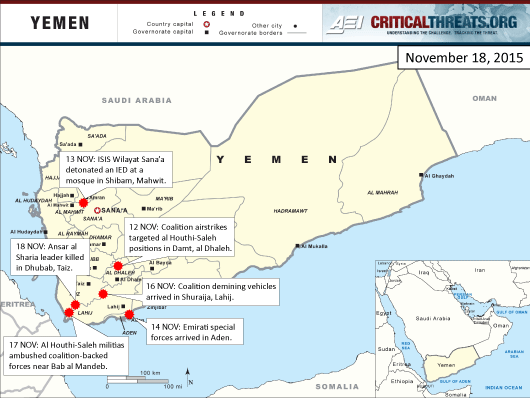 Click image to enlarge.
The Saudi-led coalition is beginning to shift from combat operations to stabilization operations, focused specifically on Aden and its immediate environs.
Recent Emirati deployments are focused on stabilization, not combat, operations. Specialized Emirati security forces arrived in Aden on November 14 to secure the city's presidential palace. Emirati forces will attempt to fill the security vacuum in Aden, which is allowing al Qaeda in the Arabian Peninsula (AQAP) and Islamic State of Iraq and al Sham (ISIS) militants to operate in the Hadi government's de facto capital in Yemen.
The Saudi-led coalition is reinforcing positions along the Taiz-Lahij border following al Houthi-Saleh incursions last week. The coalition mobilized Sudanese forces to hold al Anad airbase in Lahij governorate. Sudanese troops are also participating in operations in southern Taiz governorate, according to reports. The coalition is also utilizing Yemeni army units loyal to President Abdu Rabbu Mansour Hadi from Aden-based Fourth Military District, including the 35th Armored Brigade, as well as anti-al Houthi southern resistance forces. Coalition-backed forces advanced toward al Rahidah, Taiz and delivered armored demining vehicles to Shuraija, Lahij on November 16 in an effort to protect a critical supply line linking Taiz and coalition strongholds in southern Yemen. Coalition-backed troops also mobilized to Taiz's coastal Dhubab region in response to al Houthi-Saleh advancement near the Bab al Mandeb Strait, secured by the coalition in early October. The coalition continues to provide air support and Emirati military equipment to anti-al Houthi forces throughout Taiz, but these reinforcements are unlikely to shift the frontline that is fixed along lines of support within Taiz's human terrain.
Al Houthi-Saleh forces launched a successful counterattack in al Dhaleh, forcing the coalition to respond to safeguard strategic sites. Al Houthi-Saleh control in al Dhaleh threatens communication and supply lines between anti-al Houthi forces in Taiz and the coalition's operational base in Aden. Coalition warplanes bombed al Houthi sites near Damt city, al Dhaleh on November 8 and November 12 and airdropped weapons to anti-al Houthi popular resistance forces in al Dhaleh on November 7.  The coalition will likely contain al Houthi-Saleh forces near Damt in northeastern al Dhaleh, but will not deploy forces to secure the governorate.
President Hadi returned to Aden on November 17. The internationally recognized Yemeni president returned from exile in Riyadh. Reports indicate that this return is temporary, and that the president will oversee the merging of popular resistance forces with Yemeni army and security forces in Aden. Hadi's visit, along with the deployment of Emirati security forces, signals a renewed push to secure Aden and bolster the Hadi government's legitimacy there.
UN-led peace talks planned for mid-November are unlikely to occur this month. UN Special Envoy  to Yemen Ismail Ould Cheikh Ahmed threatened a severe international reaction if the al Houthis and their allies delay negotiations, which are expected to take place this month but do not yet have an official start date. The al Houthis and former president Ali Abdullah Saleh have not appointed delegates to attend the proposed Geneva talks, and al Houthi leaders have accused Ould Cheikh Ahmed of supporting the Saudi-led coalition. Ould Cheikh Ahmed traveled to Tehran on November 18, likely seeking to reinforce Iranian support for al Houthi participation in peace talks.
ISIS in Yemen continues to expand. ISIS-linked groups in Yemen have typically operated in Sana'a, Aden, and al Bayda. ISIS Wilayat Sana'a detonated an improvised explosive device at an al Houthi-controlled mosque in Mahwit governorate, west of Sana'a, on November 13. This is the group's second attack on a target outside of its usual center of operations in Sana'a city this week. ISIS Wilayat Lahij militants reportedly exchanged fire with al Houthi militiamen in southwestern Lahij governorate on November 15, and pro-ISIS Twitter accounts are attempting to drive recruitment in AQAP-dominated al Bayda and Hadramawt governorates. Multiple ISIS affiliates released video and audio messages criticizing AQAP for rejecting the Caliphate. Syria-based ISIS Wilayat al Khayr released a video entitled "Oh al Qaeda of Yemen, where are you going?" on November 16, calling for AQAP militants to pledge allegiance to ISIS's leader, Abu Bakr al Baghdadi. (Sources available upon request)
Al Qaeda in the Arabian Peninsula (AQAP) militants are fighting alongside anti-al Houthi popular resistance forces throughout central Yemen. AQAP typically attacks al Houthi-Saleh forces in al Bayda governorate, but it is also taking advantage of the conflict to expand into Taiz governorate, where Salafist militias are also fighting. A commander from the AQAP-affiliated militant group Ansar al Sharia was killed in clashes between coalition-backed popular resistance forces and al Houthi-Saleh militias in the coastal Dhubab region in southwestern Taiz governorate on November 18. The coalition-backed push against the al Houthi-Saleh forces in Taiz will benefit Ansar al Sharia as it infiltrates the anti-al Houthi fight.
The Saudi-led coalition will continue to secure territory along the fixed north-south frontline. ISIS and AQAP may shift operations away from southern Yemen as the coalition consolidates its gains in the region.
James Towey and Joshua Koontz contributed research for this piece.