Yemeni stakeholders appear to be making preparations to engage seriously in UN-led peace talks in Geneva, though both sides continue to fight for an advantage on the ground.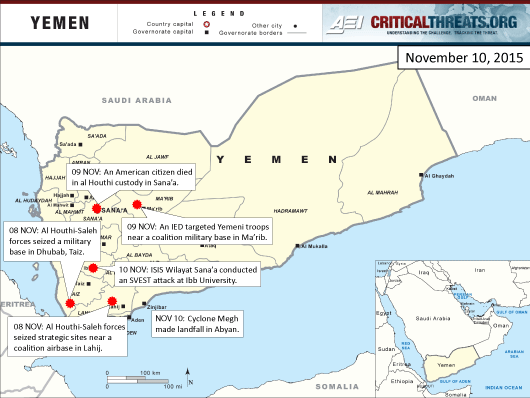 Click image to enlarge.
Yemeni stakeholders appear to be making preparations to engage seriously in UN-led peace talks in Geneva, though both sides continue to fight for an advantage on the ground. 
An American citizen died while in al Houthi custody in Sana'a, the capital of Yemen. Details surrounding the circumstances of John Hamen's death are still forthcoming. Al Houthi forces detained Hamen and another American on October 20 from a UN aircraft at Sana'a International Airport, accusing the UN of moving U.S. intelligence officials. The UN reported that the two men were contractors for a company managing a UN facility in Sana'a located at the U.S. embassy. Two Americans remain in detention in Sana'a: the contractor detained with Hamen and a teacher whose release had been planned for September.
Yemeni and foreign parties are preparing for UN-led peace talks scheduled to take place in Geneva in mid-November. Yemeni President Abdu Rabbu Mansour Hadi's government announced the members of its delegation for the Geneva talks on November 9. The Yemeni ambassador to the UN said that the upcoming talks will focus on the al Houthis' "gradual withdrawal" from Sana'a and other seized territory. This may signal a softening of the Hadi administration's position on the implementation of UN Security Council Resolution 2216, which requires the al Houthis and their allies to disarm and withdraw from all seized territory. However, Hadi's foreign minister described the al Houthis as "not serious" about the talks on November 9. A delegation of al Houthi representatives and former Yemeni president Ali Abdullah Saleh loyalists in the General People's Congress returned to Sana'a from Muscat, Oman, after participating in UN-led consultations in preparation for the Geneva talks.
Al Houthi-Saleh militias countered coalition-backed efforts to gain control of Taiz governorate. Al Houthi-Saleh forces seized a military base in Dhubab city, near the Bab al Mandeb strait, which had been secured by coalition-backed forces in October. Al Houthi-Saleh forces also recaptured strategic positions in neighboring Lahij governorate near the coalition-held al Anad airbase on November 8 and set up checkpoints in al Qabbaytah district near the Taiz-Lahij border. These positions contest the coalition's control over southwestern Yemen, which it is attempting to maintain by providing support to anti-al Houthi militias. The coalition sent thermal anti-tank missiles and armored vehicles to popular resistance forces in al Dhabab, west of Taiz city, on November 5 and November 9, but the frontlines around the city remain fixed.
Ma'rib remains contested, despite the concentration of coalition troops in the central Yemeni governorate. An improvised explosive device exploded near the coalition's Sahan al Jin military camp in central Ma'rib on November 9, killing at least 16 anti-Houthi Yemeni soldiers. It is not yet clear which group was behind the attack.
A second cyclone will test al Qaeda in the Arabian Peninsula's (AQAP's) legitimacy as the governing force in al Mukalla, Hadramawt, as well as provide opportunities for AQAP to expand its governance capabilities in Abyan and al Bayda. The incoming Cyclone Megh weakened before it reached the Yemeni coast on November 10, but will still bring significant rain to areas devastated by Cyclone Chapala on November 3, and is predicted to strike al Bayda and Abyan, where AQAP has a significant presence. The UN Office for the Coordination of Humanitarian Affairs said that security conditions and AQAP's control over affected territory has hampered  the humanitarian response effort in Yemen. However, aid from Aden reached al Mukalla, and the Sons of Hadramawt, a local group affiliated with AQAP, released pictures promoting its response to Cyclone Chapala in al Mukalla on social media. (Sources available upon request)
The Islamic State in Iraq and al Sham (ISIS) in Yemen may be opening a new front in the conflict. ISIS-linked groups in Yemen have concentrated their efforts in Sana'a, Aden, and al Bayda. ISIS's Wilayat Sana'a claimed credit for a suicide attack against al Houthis on November 10 at a university in Ibb city. The Critical Threats Project had assessed that Ibb was part of ISIS Wilayat Green Brigade's operating zone rather than that of ISIS Wilayat Sana'a. The group's claim of activity in Ibb may signal a shift in how ISIS is organizing itself in Yemen or increased cooperation between ISIS affiliates within Yemen. It may also be a sign of developing competition between Ibb-based ISIS and AQAP cells.
The Yemeni conflict's frontlines will likely remain relatively fixed along lines of support within the human terrain. Continued al Houthi-Saleh attacks on coalition positions may serve to derail the political negotiations as Yemeni stakeholders point to the ongoing fighting as a sign that the other side will not uphold its end of an agreement. Any political solution reached at the UN-led talks is unlikely to resolve the localized conflicts.
Joshua Koontz contributed research.