Russia may be seeking to play a more high-profile role in a settlement in Yemen as the UN-led peace process falters and fighting continues.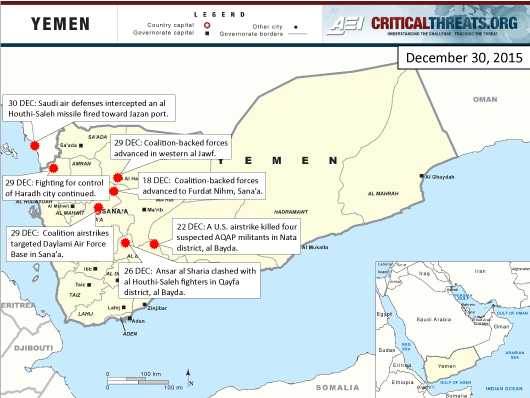 Click image to enlarge.
Russia may be seeking to play a more high-profile role in a settlement in Yemen as the UN-led peace process falters and fighting continues. Meanwhile, the ongoing conflict in Yemen is allowing al Qaeda in the Arabian Peninsula (AQAP) to pursue a multidimensional media, military, and governance strategy to strengthen its position in southern Yemen.
Al Houthi confidence in the UN-led peace process is low. Al Houthi leader Abdul Malik al Houthi criticized the UN for pro-American and pro-Saudi bias in a December 23 speech, indicating that the al Houthi leadership may not view the UN as a viable moderator for negotiations. Additionally, reports indicate that al Houthi-Saleh forces may be preventing the delivery of humanitarian aid to Taiz city, in violation of the sole confidence-building measure established at the mid-December UN-led talks in Geneva.
Russia may attempt to take a lead role in a Yemen settlement, as part of ongoing efforts to cast itself as an alternative to U.S. peacemaking in the Middle East. Former Yemeni president Ali Abdullah Saleh met with Russian ambassador to Yemen Vladimir Dedushkin on December 23, and some reports indicate that Saleh is now asking for Russian help to end the conflict in Yemen. Prominent al Houthi leaders met with Dedushkin on the same day. Russia may attempt to build influence by delivering humanitarian aid to Yemen, as it has in the past. Russian aid delivery may also provide an opportunity for Iran to deliver material aid to the al Houthis.
The al Houthi-Saleh alliance is drawing the Saudi-led coalition deeper into engaging along the Saudi border. Al Houthi-Saleh forces launched at least nine ballistic missiles toward military and economic sites in Saudi Arabia in the past two weeks and continue to evade coalition attempts to destroy missile caches and launch machinery. Persistent raids along the border have also proved difficult for the coalition to curb, and two Bahraini officers died this week in likely cross-border attacks. Saudi Arabia has absorbed most of these attacks, and the deployment of Kuwaiti infantry and heavy weaponry to southern Saudi Arabia indicates that the coalition will maintain its defensive position. However, Saudi Arabia also appears to be modifying its response to include limited engagement on the Yemeni side of the border. The coalition is now providing air, naval, and artillery support to local ground forces attempting to take control of Haradh city, located at the juncture of several major transportation routes in the Saudi-Yemeni border region. Reports also indicate that Saudi Special Forces may be conducting direct action operations targeting al Houthi leaders in Yemen's Sa'ada governorate, signaling a new level of Saudi engagement in the border region.
AQAP leaders continue to emphasize al Qaeda's role in leading the global jihadist community and to reaffirm the group's focus on attacking the West, especially the United States. AQAP emir Qasim al Raymi designated the United States as Muslims' "primary enemy" because of American support for groups fighting jihadists in his first video address since he succeeded the late AQAP leader Nasser al Wahayshi. Raymi also took aim at the Islamic State of Iraq and al Sham (ISIS) by criticizing those who seek to establish an Islamic state before the full implementation of shari'a. Meanwhile, Former Guantanamo detainee Ibrahim Ahmed Mahmoud al Qosi, who appeared in AQAP media for the first time in mid-December, is rapidly becoming a prominent figure for the group. He offered AQAP's eulogy for al Qaeda in the Islamic Maghreb (AQIM) religious leader Abu al Hassan Rashid al Bulaydi and praised several AQIM affiliates for anti-Western operations in the Maghreb and Sahel regions. Like Raymi, al Qosi emphasized the need to unite jihad and drive Western influence out of Muslim countries, singling out the U.S. as the primary target. (Translations obtained through SITE.)
AQAP is exploiting public divisions among ISIS in Yemen's ranks. Pro-al Qaeda social media accounts promoted a statement attributed to ISIS fighters in Yemen, entitled "The Looming Collapse of ISIS in Yemen," that reveals the dissatisfaction of alleged ISIS members and indicates that several ISIS fighters defected to AQAP on December 26. Two letters from 101 ISIS members, dated December 15 and 17, address ISIS leader Abu Bakr al Baghdadi, renewing a pledge of allegiance to him and calling for him to remove his appointed governor (wali) in Yemen. The letters detail complaints over the implementation of shari'a and treatment of ISIS fighters. The public rift in Yemen prompted a rapid response of a member of ISIS's shura council, sharply rebuking the signatories of the letters. AQAP recently launched a video series on the correct interpretation of Islam and will continue to emphasize its religious credentials to counter ISIS's attraction in Yemen. (Pro-AQAP social media accounts and SITE)
AQAP continues to expand its presence and build legitimacy on the ground. AQAP's insurgent arm, Ansar al Sharia, is attacking al Houthi positions in Ibb and al Bayda governorates, which will further strengthen local relations between Ansar al Sharia and local anti-al Houthi militias. The fight in al Bayda remains a primary effort for AQAP, and the group continues to move commanders into the governorate. A December 22 airstrike, meanwhile, killed four militants moving from al Bayda into AQAP's safe haven in neighboring Shabwah. AQAP is also reestablishing itself in Abyan governorate, but is taking into account the lessons it learned from the backlash it experienced there in 2012. AQAP, operating in Abyan as "Sons of Abyan," is largely refraining from closing schools and strictly enforcing shari'a, though it continues to target the leaders of forces opposed to it. AQAP will continue to develop a safe haven in Yemen by establishing itself as an acceptable source of governance for local populations. (Pro-AQAP social media accounts and SITE.)
Conditions on the ground will continue to draw the combatants into conflict and delay peace in Yemen, possibly giving Russia the opportunity to extend its influence in the settlement process. AQAP will continue to exploit the ongoing security vacuum to strengthen its position as both a governing force in Yemen and the leader of global jihad against the West.
Katherine Zimmerman, James Towey, and Joshua Koontz contributed research to this piece.