Iran File
The Iran File is an analysis and assessment of the Islamic Republic of Iran's strategic efforts domestically and abroad.
Notice: The Critical Threats Project frequently cites sources from foreign domains. All such links are identified with an asterisk (*) for the reader's awareness.
Widespread anti-regime protests erupted across Iran. The popular protests began on November 15 after the National Iranian Petroleum Products Distribution Company, owned by Iran's Oil Ministry, increased the price of gasoline by 50 percent and imposed a 60 liter monthly gasoline limit on private automobiles. The Supreme Economic Coordination Council, which includes President Hassan Rouhani, Judiciary Chief Ebrahim Raisi, and Parliament Speaker Ali Larijani, approved the decision. Protests have spread to dozens of locations in Iran, including major cities such as Tehran, Mashhad, Qom, Esfahan, Shiraz, and Ahvaz, and continue as of November 18. (See Figure 1.) Iran last experienced widespread anti-regime protests during the Dey Protests in late 2017 and early 2018.
Figure 1. November 2019: Anti-Regime Protests Sweep Iran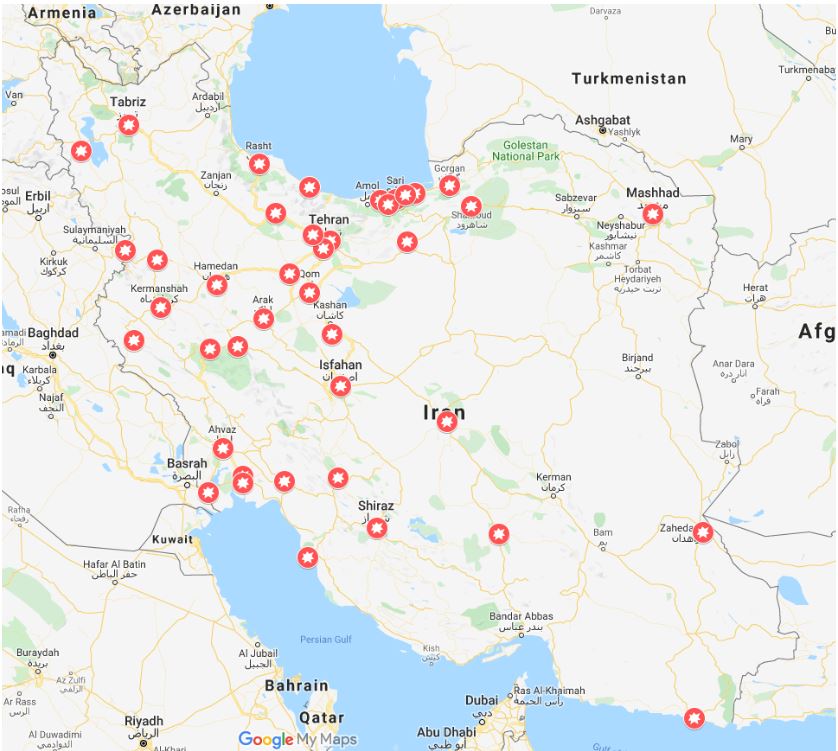 As of November 18, 2019
Source: Critical Threats Project at the American Enterprise Institute; Map data: Google
Regime security services cracked down violently on protests. Law Enforcement Forces (LEF) units deployed throughout Iran and have used lethal and nonlethal force against demonstrators. Reporting on protester casualties is inconsistent, but the death toll could be as high as 200. The regime has arrested over 1,000 people. Protesters have used anti–Islamic Republic rhetoric, blocked roads, and set fire to stores, banks, vehicles, and a Friday prayer leader office. Three Islamic Revolutionary Guards Corps (IRGC) members *died in protests in Tehran province, and two LEF officers died in *Kermanshah and Mahshahr.
The regime will likely deploy IRGC military forces if protests do not subside. The IRGC *warned that it will take "decisive action" if demonstrations continue in a November 18 statement. The IRGC would likely use greater force than the LEF to quash demonstrations, resembling the IRGC's involvement in suppressing the 2009 protests.
The regime is conducting information operations to discourage protests and limit the amount of information leaving Iran. Rouhani and Interior Minister Abdol Reza Rahmani Fazli emphasized the need to maintain internal security. Rouhani stated that the regime has surveillance systems and cameras that can identify cars, their license plates, and drivers. Fazli *warned that regime security services will intervene to restore order. Judicial and security officials sent text messages to citizens warning them against participating in the protests in Alborz, Bushehr, Kerman, and Khuzestan provinces.
The regime has also heavily limited internet access in Iran. Cybersecurity website NetBlocks described this as "a near-total national internet shutdown" and reported that internet connectivity in Iran is at around 5 percent of ordinary levels.
Regime officials maintain their support for increasing the cost of gasoline but are trying to deflect accountability. Raisi *stated that the Rouhani administration offered the proposal to raise gasoline prices at the meeting of the Supreme Economic Coordination Council. Raisi defended the decision but suggested that the administration did not effectively communicate to the public the reasoning for the increase. Raisi and Rouhani are staunch political rivals and considered potential successors to Supreme Leader Ayatollah Ali Khamenei. Raisi may seek to direct pubic anger toward Rouhani to further reduce the president's public support. Khamenei also *voiced support for the decision to increase gasoline prices but emphasized his lack of relevant economic expertise.