Africa File
The Africa File is an analysis and assessment of the Salafi-jihadi movement in Africa and related security and political dynamics. 
Africa File: Egypt threatens military intervention in Libya
[Notice: The Critical Threats Project frequently cites sources from foreign domains. All such links are identified with an asterisk (*) for the reader's awareness.]
Egypt's president ordered preparations for a military intervention in Libya on June 20, opening a new phase in an escalating regional conflict that increasingly threatens US interests. Critical Threats Project Research Manager Emily Estelle writes that Egypt's direct involvement raises a small but serious risk of direct confrontation with Turkey—an outcome that would pit two of the region's strongest militaries (and two US allies) against each other. Russia will likely benefit from both an Egyptian intervention and rising tensions between Turkey and fellow NATO members (particularly France and Greece) over Turkey's ambitions in Libya and the Eastern Mediterranean.
Meanwhile, the ongoing conflict in Libya is setting conditions for Salafi-jihadi groups to recover from losses suffered in recent years. The Islamic State in Libya has resumed regular attacks in the country's south after a nearly yearlong pause.
Also in this Africa File:
The Western Sahel. Counterterrorism efforts notched victories, including the killing of the al Qaeda in the Islamic Maghreb emir. The Salafi-jihadi movement will continue to strengthen, however, if poor governance—including human rights abuses—and political instability continue in the Sahel.
The Lake Chad Basin. Islamic State militants in northeastern Nigeria have begun attacking Muslim civilians directly, signaling a shift in targeting and strategy.
Somalia. Al Shabaab attacked a Turkish-run military training base in Mogadishu, marking an escalation in its campaign to discredit Somalia's federal government.
Mozambique. Islamic State–aligned militants in northern Mozambique attempted to capture a large town for the first time.
Recent Critical Threats Project Publications
"Warning Update: Egypt's Libya threat risks larger Mediterranean war" by Emily Estelle
"Al-Qaeda's return" by Katherine Zimmerman
"ISIS: Resilient on sixth anniversary" by Katherine Zimmerman
Figure 1. The Salafi-Jihadi Movement in Africa: June 2020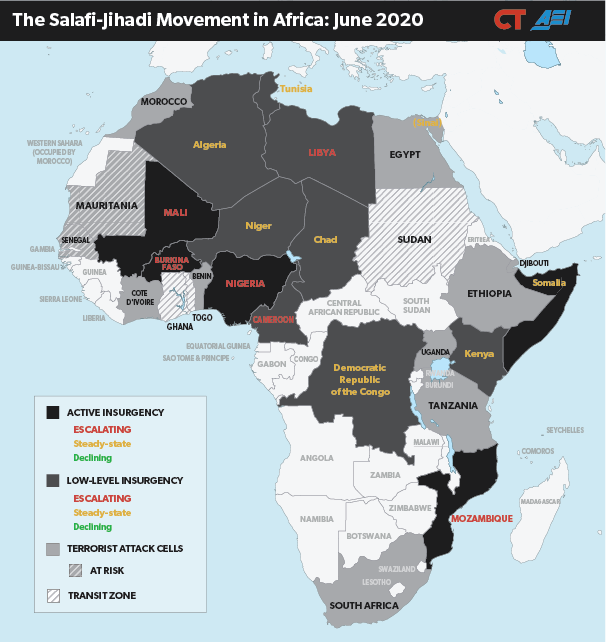 Source: Author
Read Further On:
North Africa
West Africa
East Africa
---
At a Glance: the Salafi-jihadi Threat in Africa
Updated April 28, 2020
The COVID-19 pandemic will hasten the reduction of global counterterrorism efforts, which had already been rapidly receding as the US shifted its strategic focus to competition with China, Iran, North Korea, and Russia. The US administration has begun to withdraw troops from Afghanistan after signing a peace deal with the Taliban on February 29. The future of US forces in Iraq and Syria is uncertain following the destruction of the Islamic State's physical caliphate and its leader's death, though the group already shows signs of recovery. The US Department of Defense is also considering a significant drawdown of US forces engaged in counterterrorism missions in Africa, though support for the French counterterrorism mission in the Sahel has been extended for now.
This is happening as the Salafi-jihadi movement, including al Qaeda and Islamic State affiliates and allies, continues to make gains in Africa, including in areas where previous counterterrorism efforts had significantly reduced Salafi-jihadi groups' capabilities. The movement was already positioned to take advantage of the expected general reduction in counterterrorism pressure  before the pandemic hit; now, a likely wave of instability and governmental legitimacy crises will create more opportunities for Salafi-jihadi groups to establish new support zones, consolidate old ones, increase attack capabilities, and expand to new areas of operations.
The Salafi-jihadi movement is on the offensive in Burkina Faso, Niger, and Mali, where it has pressured the Malian government to offer negotiations. It is also stalemated in Somalia and Nigeria and persisting amid the war in Libya. Conditions in these last three countries favor the Salafi-jihadi movement rather than its opponents in the coming year.
Libya's civil war, reignited on a large scale in April 2019, will continue to fuel the conditions of a Salafi-jihadi comeback, particularly as foreign actors prolong and heighten the conflict. Counterterrorism efforts in Somalia and Mali rest on the continued efforts of international coalitions, support for which is eroding in both host and troop-contributing countries and on local partners that have demonstrated their inability to govern effectively or establish legitimacy in their people's eyes.
Amid these conditions, US Africa Command (AFRICOM) is shifting its prioritization from the counterterrorism mission to great-power competition, a move also intended to reduce risk after a 2017 attack killed four servicemen in Niger. US and European powers aim to turn over counterterrorism responsibilities to regional forces of limited effectiveness—such as the G5 Sahel, which is plagued by funding issues, and the African Union Mission in Somalia, which is beginning a scheduled drawdown. COVID-19 has exacerbated existing problems with these forces, with contributing nations reevaluating their commitments to foreign intervention during the pandemic.
The Salafi-jihadi movement has several main centers of activity in Africa: Libya, Mali and its environs, the Lake Chad Basin, the Horn of Africa, and now northern Mozambique. These epicenters are networked, allowing recruits, funding, and expertise to flow among them. The rise of the Salafi-jihadi movement in these and any other places is tied to the circumstances of Sunni Muslim populations. The movement takes root when Salafi-jihadi groups can forge ties to vulnerable populations facing existential crises such as civil war, communal violence, or state neglect or abuse (all now likely to be exacerbated by the pandemic). Local crises are the incubators for the Salafi-jihadi movement and can become the bases for future attacks against the US and its allies.
North Africa
Libya
The Libya war is entering a new phase that could lead to direct confrontation between major regional militaries. Egyptian President Abdel Fatah al Sisi announced on June 20 that Egypt has a legitimate right to intervene in Libya and ordered his military to prepare. Sisi declared a red line at Sirte and Jufra in central Libya, where Egypt's Libyan partner—the Libyan National Army (LNA) led by Khalifa Haftar—has fallen back after abandoning a 13-month campaign to seize Tripoli in early June. Sisi and Haftar announced a unilateral cease-fire on June 6 in a bid to stop Turkish-backed forces affiliated with the internationally recognized Government of National Accord (GNA) from advancing on Sirte, the gateway to an LNA-controlled oil-producing region.
Diplomatic efforts, including a Turkish-Russian channel and an Arab League meeting boycotted by the GNA, have faltered. Both sides are now preparing to battle for control of Sirte.
Russian mercenaries will likely assist the LNA in its defense of Sirte. The Russian Air Force sent eight fighter jets to LNA-controlled al Jufra airbase in mid-May. AFRICOM shared imagery of Russian aircraft at al Jufra on June 18 and warned that inexperienced mercenary pilots are flying the aircraft. Russian mercenaries have also reportedly planted mines in the Sirte region.
The Libya conflict is deepening fissures in NATO, advancing a core Russian objective. Turkey's ambitions in Libya and the eastern Mediterranean Sea are bringing it closer to military confrontation with Greece and France. Turkey seeks to establish a maritime corridor to Libya that will allow it to exploit undersea hydrocarbon resources. This claim infringes on established maritime boundary claims, including Greece's.
Turkey and France have traded rhetorical barbs since Turkish frigates prevented the Greek and French Navies from inspecting suspected weapons transports to the GNA in May and June. (A European naval mission focused on enforcing the Libya arms embargo disproportionately affects Turkey, whose rivals can route arms shipments through Egypt. France has provided clandestine military support to Haftar during the conflict.)
For more detail, see "Warning Update: Egypt's Libya threat risks larger Mediterranean war."
The Islamic State in Libya resumed regular attacks in southwestern Libya after a nearly a year of limited attacks and media activity. The Islamic State claimed eight attacks between May 17[1] and June 11[2] targeting LNA personnel and civilians accused of supporting the LNA economically in several localities in Fezzan region. The attacks were claimed through the Islamic State's Naba bulletin, indicating ongoing communications with the Islamic State media apparatus. The Islamic State included Libya in a cross-theater messaging campaign that marked the final third of the Muslim holy month of Ramadan.[3]
The uptick in Islamic State activity coincides with increased pressure on the LNA, which had occupied key locations in the Fezzan in the months prior to launching the Tripoli campaign in April 2019. LNA operations in southwestern Libya in the first half of 2019 appear to have disrupted Islamic State operations; the group's limited media releases in the latter half of 2019 were significantly delayed.[4] The Islamic State resumed attacks as the LNA lost control of a key military position on the outskirts of Tripoli to Turkish-backed GNA forces in mid-May and withdrew from the Tripoli front by June 6.
Forecast: In the most likely case, fighting will stalemate in central Libya. Egypt may make a show of force to persuade Turkey to scale back its support, limiting the advance of GNA-aligned forces and preserving LNA control of the oil crescent. This de facto partition would likely lead to future rounds of civil war and proxy conflict after the combatants rearm.
In a less likely but more dangerous case, a miscalculation or error could draw external forces into direct conflict, possibly including conflict between two US allies (NATO ally Turkey and major non-NATO ally Egypt).
Either case preserves and worsens the conditions that allow Salafi-jihadi groups to strengthen. The Islamic State will likely continue its renewed attack tempo and may resume intermittent attacks targeting symbolic state institutions in coastal cities in the coming months. (Updated June 24, 2020)
West Africa
The Western Sahel
Al Qaeda in the Islamic Maghreb (AQIM) confirmed the death of its emir but has not yet announced a successor. A French operation supported by US intelligence killed Droukdel and several of his associates in northern Mali on June 3. An AQIM official eulogized Droukdel on June 18.[5] AQIM is severely degraded in Algeria, where it originated, but continues to conduct intermittent attacks on Algerian security targets. AQIM claimed to kill an Algerian soldier in Ain Defla province in western Algeria on June 21.[6]
French military officials stated that Droukdel may have been in Mali to provide guidance to the AQIM affiliate Jama'at Nusrat al Islam wa al Muslimeen (JNIM) due to clashes between JNIM and an Islamic State branch. An al Qaeda–affiliated jihadist online claimed that Droukdel had ordered the eradication of the Islamic State in the Greater Sahara (ISGS), formally known as the Islamic State's West Africa Province.[7] French forces also captured a senior ISGS commander on May 19.
Tensions remain high between ISGS and JNIM. ISGS and JNIM have cooperated in the past but also clash over territory, economic opportunities, and personnel. The current clashes, which began in March, are the most severe and sustained eruption of hostilities between the groups. Islamic State media claimed multiple attacks targeting JNIM in Mali and Burkina Faso in late May and mid-June.
ISGS is attempting to challenge JNIM's dominance in the Sahel. The Islamic State's overall spokesman promised retaliation against al Qaeda in the Sahel on May 28.[8] ISGS has grown more lethal and hewed more closely to Islamic State ideology and tactics over time.
Meanwhile, the Islamic State has increasingly showcased its West African branches—in both the Sahel and the Lake Chad Basin—as it has suffered setbacks in its core terrain in Iraq and Syria. The JNIM-ISGS rift also reflects the Islamic State's opposition to the al Qaeda–supported Afghan Taliban deal with the United States, which JNIM now seeks to replicate in Mali.
Recent French-led coalition operations have pressured ISGS in the border region between Mali, Niger, and Burkina Faso. This pressure paired with the intra-jihadist clashes have temporarily reduced ISGS's ability to conduct offensive attacks.
Likely JNIM militants conducted the deadliest Salafi-jihadi attack since 2016 in Cote d'Ivoire. Militants killed 12 Ivorian soldiers at an Ivorian frontier military post near the town of Kafolo on the Ivorian-Burkinabe border on June 12. This was the deadliest attack in the country since AQIM attacked the Grand Bassam beach resort in 2016. The attack comes after sustained Ivorian-Burkinabe operations against JNIM and its affiliates in northern Cote d'Ivoire and southwestern Burkina Faso in recent months. Ivorian security forces captured the attack leader on June 21.
Separately, JNIM conducted a series of raids targeting Malian military targets in Segou Region in central Mali. The group attacked military bases on June 6 and June 21 and targeted at least two convoys.[9]
France officially launched the International Coalition for the Sahel on June 12. The coalition, first announced in January after a series of JNIM and ISGS attacks killed over 200 soldiers in Mali, Burkina Faso, and Niger, brings international and regional counterterrorism forces under a single command.
Germany's parliament voted in late May to extend its deployment with the European Union Training Mission in Mali until 2021.
Human rights violations by Sahel militaries are threatening their international backing while contributing to the grievances exploited by Salafi-jihadi groups. The French defense minister called on Sahel governments to address accusations of extrajudicial executions. Burkinabe soldiers are accused of executing unarmed members of the Fulani ethnic group in Djibo in northern Burkina Faso in April. This alleged attack is part of a larger wave of violence by security forces and state-approved vigilantes that now kills as many people as Salafi-jihadis and bandits.
Security forces abuses are a key driver of support for Salafi-jihadi groups in northern Burkina Faso. Burkina Faso has claimed recent progress in the fight against Salafi-jihadi groups. Burkina Faso's president visited Djibo briefly on June 19 as a show of force and commitment. The city remains largely cut off from southern Burkina Faso due to surrounding instability. Burkinabe security forces claimed to destroy "terrorist bases" in northern and eastern Burkina Faso on June 23. Such advances will be fleeting, however, as long as state actions (and inaction) deepen the grievances of populations that Salafi-jihadi groups co-opt and exploit.
For more detail, see "How Ansar al Islam Gains Popular Support in Burkina Faso."
The Malian president committed to dialogue following mass protests. Malian President Ibrahim Boubacar Keita announced that he would hold talks with opposition leaders on June 17. Keita also suggested first steps toward institutional governmental reform and stated that abducted opposition leader Soumaïla Cissé, whom JNIM captured during elections in April, is still alive. Thousands of Malians rallied in Bamako demanding Keita's resignation on June 5, citing mismanagement and corruption related to the election results.
Forecast: The perceived illegitimacy of the Malian elections will fuel unrest with interest groups in northern Mali, possibly distracting the state from counter-Salafi-jihadi efforts and creating more opportunities for Salafi-jihadi groups to establish mutually beneficial agreements with other anti-government groups. Salafi-jihadi groups will begin to establish governing institutions—such as courts—in the Burkinabe-Malian-Nigerien tri-border area, though they may mask these efforts to facilitate a deal with the Malian government.
Salafi-jihadi groups may also work through local governance structures to present themselves as legitimate interlocutors and avoid scrutiny. Attacks on Fulani civilians will drive greater popular support to JNIM, which will present itself as a more moderate alternative.
The JNIM-ISGS clashes will likely not have a significant operational effect because French pressure on ISGS is already limiting the group's operations in the near term. ISGS's opposition to negotiations may increase JNIM's palatability to local populations over time. (Updated June 24, 2020)
The Lake Chad Basin
The Islamic State's West Africa Province (ISWA) in the Lake Chad Basin has begun attacking Muslim civilians directly, signaling a shift in targeting and strategy. ISWA conducted twin attacks on Monguno village and Nganzai district in northeastern Nigeria's Borno State on June 13, killing at least 60 soldiers and civilians. The group also claimed a June 9 attack on Gubio village in Borno State that killed at least 90 civilians. This shift to targeting civilians indicates a hard-line turn by ISWA under the direction of senior Islamic State leaders, who ordered the purging of more moderate ISWA leadership with ties to al Qaeda who advocated a more lenient approach toward civilians. This brutal shift may increase ISWA's area of control in the short term but may ultimately weaken the group by incentivizing local populations to resist rather than accept ISWA's governance.
East Africa
Somalia
Al Shabaab conducted its first attack on a Turkish-run military training base in Mogadishu, marking an escalation in a campaign to discredit a Somali Federal Government (SFG) effort to secure the city. An al Shabaab militant detonated a suicide vest at the base on June 23. Somalia's army chief claimed that security forces killed the attacker before he entered the base, contradicting the accounts of local officials who said the militant successfully entered the base before detonating his vest. The blast killed two civilians, according to local police, while al Shabaab claimed killing seven Somali military officers and wounding 14 more. Al Shabaab's Shahada News Agency reported that the attack showed that al Shabaab "continues to dominate the security scene in the areas under the control of the Western-backed Somali government."[10]
Al Shabaab exploited the Muslim holiday of Eid al Fitr to present itself as an effective governing alternative to the SFG, but the celebrations may have helped spread COVID-19 in al Shabaab–controlled territories. The group's Shahada News Agency boasted on May 28 that al Shabaab correctly identified the first day of Eid, while the SFG failed.[11] The press release included photos depicting large groups of civilians celebrating Eid in al Shabaab–controlled areas of southern and central Somalia. Al Shabaab featured many of the same locations during Eid in 2019.[12]
The lack of social distancing at these gatherings may have contributed to the spread of COVID-19 in al Shabaab territories. The head of al Shabaab's COVID-19 response committee announced the creation of an isolation and health care facility in al Shabaab's stronghold of Jilib in southwestern Somalia on June 12. The committee head urged Muslims showing virus symptoms to come to the facility to avoid infecting others. A staff member at the facility said they had all the necessary equipment to treat patients but declined to say how many patients they had. Al Shabaab created the response committee in mid-May while claiming that the virus had not spread to its territories.[13] Al Shabaab will likely downplay the extent of the virus' spread in its territory.
Forecast: Al Shabaab will attempt to capitalize on backlash to the SFG's pandemic response to present itself as the more legitimate governing force in Somalia but may suffer its own delegitimization if its efforts—potentially including disrupting aid—are seen as causing harm in the areas it controls. The pandemic may reduce targets available for al Shabaab's campaigns, potentially leading to fewer attacks (especially if the planned 2020 elections are postponed). The pandemic may also delay al Shabaab's efforts to execute a spectacular attack in Kenya. (Updated April 14, 2020)
For more on Salafi-jihadi groups' opportunities during the COVID-19 pandemic, see "Forecast: The African Salafi-Jihadi Movement After COVID-19."
Mozambique
Islamic State–aligned militants in northern Mozambique's Cabo Delgado province attempted to capture a large town for the first time. Islamic State Central Africa Province (ISCA) militants raised the Islamic State flag in Macomia after invading the town on May 28. The attackers were reportedly dressed in Mozambican security force uniforms and armed with rocket-propelled grenades and an armored personnel carrier equipped with a heavy machine gun captured from government forces.
The Mozambican Defense Armed Forces, supported by helicopter gunships piloted by South African mercenaries, drove the militants from the city on May 30 after heavy fighting. Mozambican President Filipe Nyusi claimed on June 1 that Mozambican forces killed two militant commanders during the fighting. Mozambique's defense minister later reported that the militant forces lost 78 fighters total.
The attack on Macomia is the latest departure from the militant group's usual hit-and-run tactics. Raids on the similarly sized cities of Muidumbe and Mocimboa da Praia in late March saw the militants chase security forces from the town, briefly address the local population, and withdraw after brief skirmishes with Mozambican reinforcements. The attempt to seize Macomia, despite its failure, indicates that the militants now have sufficient resources and capabilities to hold off government forces for days.
Forecast: The Mozambican ISCA branch will attempt to take control of a Cabo Delgado population center and declare it a part of the Islamic State's caliphate this year. (Updated June 23, 2020)
---
[1] "IS Reports Previously Undocumented Rocket Strikes in Libya in Naba 235 Exclusive," SITE Intelligence Group, May 21, 2020, translation available by subscription at www.siteintelgroup.com.
[2] "al Naba 238," June 18, 2020, https://jihadology.net/wp-content/uploads/_pda/2020/06/The-Islamic-State-al-Naba%CC%84%E2%80%99-Newsletter-238.pdf.
[3] "Is Reports Torching Farm of Municipal Guard Member And Blowing Up Businesses In Libya In Naba 236," SITE Intelligence Group, May 29, 2020, translation available by subscription at www.siteintelgroup.com.
[4] "Following Pattern By IS Fighters Elsewhere, Those in Libya Renew Pledge To Baghdadi in Video," SITE Intelligence Group, July 6, 2019; "With Photos Of Fighters Pledging To New Is Leader, "Libya Province" Demonstrates Its Continued Existence," SITE Intelligence Group, November 15, 2019, translation available by subscription at www.siteintelgroup.com; and "IS Libya Province Video Documents April-June 2019 Raids, Grisly Executions," SITE Intelligence Group, December 4, 2019, translation available by subscription at www.siteintelgroup.com.
[5] "AQIM Official Confirms Death of Droukdel, Urges University Students Embrace Jihad," SITE Intelligence Group, June 19, 2020, translation available by subscription at www.siteintelgroup.com.
[6] "Pro-AQ Media Unit Reports AQIM Attack in Algeria, Major Ambush by JNIM In Mali," SITE Intelligence Group, June 22, 2020, translation available by subscription at www.siteintelgroup.com.
[7] "AQ Jihadist Says Deceased AQIM Leader Ordered Eradication of ISWAP," SITE Intelligence Group, June 17, 2020, translation available by subscription at www.siteintelgroup.com.
[8] "IS Spokesman Echoes Jihadi Sentiment of Covid-19 Being Divine Punishment, Vows Group Will Never Compromise Their Faith," SITE Intelligence Group, May 28, 2020, translation available by subscription at www.siteintelgroup.com.
[9] "Pro-AQ Media Unit Reports AQIM Attack in Algeria, Major Ambush by JNIM In Mali," SITE Intelligence Group, June 22, 2020, translation available by subscription at www.siteintelgroup.com.
[10] "Shabaab Says Camp Turksom Suicide Bombing Demonstrates Its "Domination Of Security Scene" in Government-Controlled Areas," SITE Intelligence Group, June 23, 2020, translation available by subscription at www.siteintelgroup.com.
[11] "Shabaab Photographs Toy Gun-Totting Children During Eid Celebrations, Claims 18 Attacks in One-Week," SITE Intelligence Group, May 28, 2020, translation available by subscription at www.siteintelgroup.com.
[12] "Shabaab Photographs Eid Al-Fitr Celebrations in Held-Territories, Claims 25 Casualties Among Kenyan Forces in Mandera," SITE Intelligence Group, June 5, 2019, translation available by subscription at www.siteintelgroup.com.
[13] "Shabaab Appoints Committee to Monitor COVID-19 Pandemic in its Controlled Territories," SITE Intelligence Group, May 13, 2020, translation available by subscription at www.siteintelgroup.com.
View Citations