August 21, 2023
Iran Update, August 21, 2023
The Iran Update aims to inform national security policy by providing timely, relevant, and independent open-source analysis of developments pertaining to Iran and its Axis of Resistance. This update covers political, military, and economic events and trends that affect the stability and decision-making of the Iranian regime. It also provides insights into Iranian and Iranian-sponsored activities abroad that undermine regional stability and threaten US forces and interests. The Critical Threats Project (CTP) at the American Enterprise Institute with support from the Institute for the Study of War (ISW) provides these updates Monday through Friday. To receive Iran Updates via email, please subscribe here.
The Institute for the Study of War (ISW) with support from the Critical Threats Project (CTP) at the American Enterprise Institute launched an interactive map of Iran and the Middle East. The map depicts events in Iran that affect the stability of the Iranian regime, namely anti-regime protests and reported poisoning incidents. It also shows developments in Syria that jeopardize regional stability and pose threats to US forces and interests, including Iranian and Iranian-backed militia positions.
Key Takeaways
Anti-regime protests have continued to expand in southern Syria, despite the beginning of the work week. The Syrian regime is trying to redirect frustrations toward external actors and local elements.
The United States reportedly unloaded Iranian oil off a tanker after seizing it in April 2023. Iran may further seize commercial vessels and/or threaten US ships in response.
The Artesh Ground Forces commander traveled to Moscow to discuss military cooperation. This visit is part of the evolving military and security partnership between Iran and Russia.
The Iranian regime is working behind closed doors to pass an oppressive law that would expand the mandatory hijab requirement. These measures could further aggravate frustrations throughout Iran.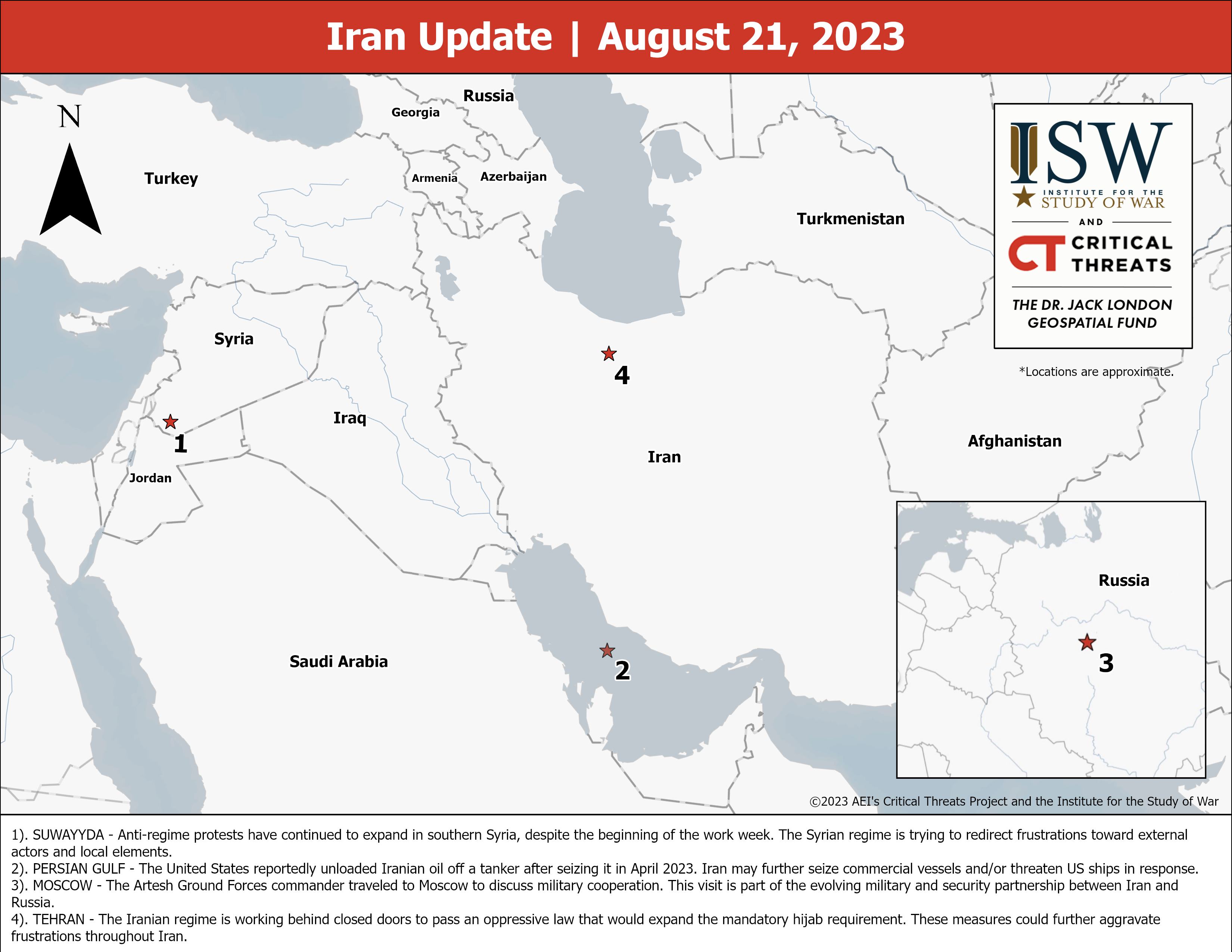 Iranian Activities in the Levant
This section covers Iranian efforts to consolidate and expand Tehran's economic, military, and political influence throughout the Levant especially in Syria. This section examines some of the many campaigns that Iran is pursuing to achieve this strategic objective. CTP will update and refine our assessments of these campaigns over time and in future updates.
Anti-regime protests in southern Syria have continued to expand, despite the beginning of the work week. Demonstrations and strikes initially erupted on August 16 after Syrian President Bashar al Assad adjusted bus prices and cut fuel subsidies.[i] Syrian opposition outlets reported that in Suwayda Province protests occurred in 42 towns on August 20 and 21 towns on August 21.[ii] Demonstrations also reportedly occurred in Daraa and Rif Dimashq provinces, although of smaller scope and size.[iii] CTP cannot independently verify all of these protests. Many towns in Suwayda province participated in a general strike on August 20 and 21 as well, which halted transit through the province and closed business and government offices.[iv] Both Arab Bedouin tribes and Druze residents participated in the strike and demonstrations, revealing the cross-sectarian economic grievances with the Syrian regime.[v]
Syrian regime officials and sources have blamed the unrest on external actors and local elements to redirect public frustrations. A Syrian military blogger claimed that the United States and Israel have stoked the protests.[vi] The Syrian Electricity Minister similarly argued that the presence of US forces in Syria caused the current energy crisis.[vii] Syrian state media furthermore reported that protest organizers forced shop owners to participate in the strikes.[viii]
Iranian Domestic and Political Affairs
This section covers factors and trends affecting regime decision-making and stability. CTP will cover domestic politics, significant protest activity, and related issues here.
Western media reported that the United States unloaded Iranian oil off the Suez Rajan tanker on August 20.[ix] The United States seized the vessel in April 2023 as part of its efforts to enforce sanctions on Iran.[x] The Artesh and IRGC navies seized several commercial tankers in the Persian Gulf from April to July 2023 in response, triggering a cycle of military buildup and demonstrations between the United States and Iran.[xi] The United States has increased its military presence in the Persian Gulf in recent months in response to these seizures and to protect the global energy trade.[xii] The IRGC Navy has responded to that military buildup by conducting provocative military exercises in the Persian Gulf and harassing nearby US naval vessels.[xiii]
The Iranian regime may further seize commercial vessels and/or threaten US ships in response to the unloading of Iranian oil off the Suez Rajan. IRGC Navy Commander Rear Admiral Alireza Tangsiri threatened in July 2023 that Iran would hold the United States and US companies responsible for confiscating and unloading the oil off the tanker.[xiv]
Brigadier General Kiomars Heydari—the commander of the Artesh Ground Forces—traveled to Moscow to discuss military cooperation with senior Russian officials.[xv] The Artesh is the conventional Iranian military, which has four subordinate services—the Ground Forces, Navy, Air Force, and Air Defense Force. Heydari visited a Russian military exhibition that showcased Iranian air defense systems, drones, and missiles on August 20.[xvi] Heydari later met with Russian Ground Forces Commander General Oleg Salyukov and agreed to increase cooperation on August 21.[xvii] Iranian state media reported that Heydari will also visit various Russian "training, technological, and operational centers" during his trip.[xviii]
Heydari's visit to Moscow is part of the evolving military and security partnership between Iran and Russia. It is extremely rare for Artesh commanders to travel abroad, and CTP has not previously observed Heydari visiting Russia. Law Enforcement Commander Brigadier General Ahmad Reza Radan similarly traveled to Russia in June 2023, as CTP previously reported, marking the first instance that CTP could find of an officer in his position traveling to Moscow.[xix] These visits come as Iran continues to militarily support the Russian invasion of Ukraine and continues to expand its economic and political cooperation with the Kremlin.
The Iranian regime is working behind closed doors to pass an oppressive law that would expand the mandatory hijab requirement to include other restrictions for women. The exact details of the legislation are unclear, but it will reportedly include provisions that would ban women from having painted nails and force women to wear the chador—a black head-to-toe covering—in universities.[xx] Parliament has been reviewing the law since May 2023, and its Judicial and Legal Committee approved and sent the legislation to the ultraconservative Guardian Council for final approval on August 21.[xxi] The Guardian Council is the regime body responsible for reviewing and approving all legislation passed by Parliament. The committee used Article 85 of the Iranian constitution, which empowers Parliament to pass laws without public debate, to send the bill directly to the Guardian Council.[xxii] This legal maneuver means that Parliament will not have an opportunity to vote on the bill in an open session if the Guardian Council approves it. Parliament previously used Article 85 in 2021 to approve controversial legislation that expanded regime control over the domestic information space.[xxiii] Iranian leaders' continual emphasis on harshly enforcing the hijab requirement underscores yet again their unwillingness to compromise with their population and offer any concessions. These measures could further aggravate anti-regime frustrations throughout the country, which is especially significant given that there are anti-regime protests planned for the one-year anniversary of Mahsa Amini' death on September 16.[xxiv]
---
[i] https://sana dot sy/?p=1949471 ; https://t.me/SyrianPresidency/3998;  https://sana dot sy/?p=1949920
[ii] https://suwayda24 dot com/?p=21732 ; https://www.syria dot tv/%D9%8A%D8%A7-%D8%AC%D8%A8%D9%84-%D8%AD%D9%86%D8%A7-%D8%B9%D8%B2%D9%88%D8%AA%D9%83-%D9%8A%D9%88%D9%85-%D8%B4%D8%AF-%D8%A7%D9%84%D8%B7%D9%84%D8%A8-%D8%A7%D9%84%D8%A5%D8%B6%D8%B1%D8%A7%D8%A8-%D9%8A%D8%AF%D8%AE%D9%84-%D9%8A%D9%88%D9%85%D9%87-%D8%A7%D9%84%D8%AB%D8%A7%D9%86%D9%8A-%D9%81%D9%8A-%D8%A7%D9%84%D8%B3%D9%88%D9%8A%D8%AF%D8%A7%D8%A1
[iii] https://www.syriahr.com/%d9%85%d8%b8%d8%a7%d9%87%d8%b1%d8%a7%d8%aa-%d9%81%d9%8a-%d8%af%d8%b1%d8%b9%d8%a7-%d9%88%d8%af%d8%b9%d9%88%d8%a7%d8%aa-%d9%84%d8%a5%d8%b6%d8%b1%d8%a7%d8%a8-%d8%b9%d8%a7%d9%85-%d9%81%d9%8a-%d8%b9/675130/ ; https://www.syriahr.com/%d8%a7%d9%86%d8%aa%d9%81%d8%a7%d8%b6%d8%a9-%d8%ac%d8%a8%d9%84-%d8%a7%d9%84%d8%b9%d8%b1%d8%a8-%d9%88%d8%ad%d9%88%d8%b1%d8%a7%d9%86-%d9%8a%d8%b3%d9%85%d8%b9-%d8%b5%d8%af%d8%a7%d9%87%d8%a7-%d9%81%d9%8a/675109/
[iv] https://www.syriahr.com/en/308157/  
[v] https://suwayda24 dot com/?p=21727
[vi] https://t.me/SAM_Syria0/5594 ; https://t.me/SAM_Syria0/5593 ; https://t.me/SAM_Syria0/5597
[vii] http://www.pministry dot gov.sy/contents/25959/%D9%88%D8%B2%D9%8A%D8%B1-%D8%A7%D9%84%D9%83%D9%87%D8%B1%D8%A8%D8%A7%D8%A1-%D8%A7%D9%84%D8%AF%D8%B9%D9%85-%D8%B3%D9%8A%D8%A8%D9%82%D9%89-%D9%85%D8%B3%D8%AA%D9%85%D8%B1%D8%A7%D9%8B-%D8%B9%D9%84%D9%89-%D8%A7%D9%84%D8%A7%D8%B3%D8%AA%D9%87%D9%84%D8%A7%D9%83-%D8%A7%D9%84%D9%85%D9%86%D8%B2%D9%84%D9%8A-%D9%84%D9%84%D9%83%D9%87%D8%B1%D8%A8%D8%A7%D8%A1-%D8%A8%D8%AD%D8%AF%D9%88%D8%AF%D9%87-%D8%A7%D9%84%D8%B7%D8%A8%D9%8A%D8%B9%D9%8A%D8%A9#
[viii] https://www.athrpress dot com/%d8%a7%d8%b3%d8%aa%d8%a6%d9%86%d8%a7%d9%81-%d8%ad%d8%b1%d9%83%d8%a9-%d8%a7%d9%84%d8%b3%d9%8a%d8%b1-%d8%a8%d9%8a%d9%86-%d8%a7%d9%84%d8%b3%d9%88%d9%8a%d8%af%d8%a7%d8%a1-%d9%88%d8%af%d9%85%d8%b4%d9%82/%d8%a3%d8%ab%d8%b1-%d9%85%d8%ad%d9%84%d9%8a/ ; https://www.athrpress dot com/%d8%a8%d8%b9%d8%b6-%d8%a7%d9%84%d9%82%d8%b1%d9%89-%d8%a7%d9%85%d8%aa%d9%86%d8%b9%d8%aa-%d8%b9%d9%86-%d8%a7%d9%84%d9%85%d8%b4%d8%a7%d8%b1%d9%83%d8%a9-%d8%a7%d9%84%d8%b3%d9%88%d9%8a%d8%af%d8%a7%d8%a1/%d8%a3%d8%ab%d8%b1-%d8%a7%d9%84%d9%8a%d9%88%d9%85/%d8%a3%d8%ab%d8%b1-%d8%a7%d9%84%d9%8a%d9%88%d9%85-%d9%85%d9%8a%d8%af%d8%a7%d9%86%d9%8a/
[ix] https://apnews.com/article/iran-us-tensions-suez-rajan-tanker-oil-3f257407678b844e5c71c39334866bb1 ; https://www.farsnews dot ir/news/14020529000340/
[x] https://www.wsj.com/articles/iranian-oil-is-stuck-off-coast-of-texas-but-u-s-firms-wont-touch-it-20f70753
[xi] https://apnews.com/article/gulf-iran-us-tensions-shipping-oil-127f8b77aa7e41dcd8266b6fbe5800dc ; https://www.voanews.com/a/us-navy-says-it-prevented-iran-from-seizing-tankers-in-gulf-/7168071.html ; https://www.criticalthreats.org/analysis/iran-update-july-7-2023 ; https://www.criticalthreats.org/analysis/iran-update-july-5-2023 ; https://www.aljazeera dot com/news/2023/5/12/us-to-bolster-defensive-posture-in-gulf-white-house ; https://www.wsj.com/articles/u-s-deploys-advanced-f-35-jets-destroyer-to-middle-east-to-brush-back-iranian-forces-7d9a92cf ; https://www.al-monitor.com/originals/2023/07/us-sends-f-35s-navy-destroyer-middle-east-amid-aggressive-moves-russia-iran#ixzz87kMqHIH ; https://twitter.com/US5thFleet/status/1680506926692442112?s=20 ; https://apnews.com/article/iran-russia-syria-military-fighter-jets-449a4c6fc9ab90981914c77e2d290f7f ; https://apnews.com/article/iran-us-navy-strait-of-hormuz-persian-gulf-tensions-63ac622781b97d7fa578f440bd074f64 ; https://www.tasnimnews dot com/fa/news/1402/05/29/2943718 ; https://www.tasnimnews dot com/fa/news/1402/05/29/2943691 ;
[xii] https://www.aljazeera dot com/news/2023/5/12/us-to-bolster-defensive-posture-in-gulf-white-house ; https://www.wsj.com/articles/u-s-deploys-advanced-f-35-jets-destroyer-to-middle-east-to-brush-back-iranian-forces-7d9a92cf ; https://www.al-monitor.com/originals/2023/07/us-sends-f-35s-navy-destroyer-middle-east-amid-aggressive-moves-russia-iran#ixzz87kMqHIH ; https://twitter.com/US5thFleet/status/1680506926692442112?s=20 ; https://apnews.com/article/iran-russia-syria-military-fighter-jets-449a4c6fc9ab90981914c77e2d290f7f
[xiii] https://www.criticalthreats.org/analysis/iran-update-august-2-2023 ; https://www.entekhab dot ir/fa/news/735894 ; https://apnews.com/article/iran-us-navy-strait-of-hormuz-persian-gulf-tensions-63ac622781b97d7fa578f440bd074f64 ; https://www.tasnimnews dot com/fa/news/1402/05/29/2943718 ; https://www.tasnimnews dot com/fa/news/1402/05/29/2943691
[xiv] https://www.tasnimnews dot com/fa/news/1402/04/29/2928597 ; https://www.irna dot ir/news/85175663 ; https://www.criticalthreats.org/analysis/iran-update-july-20-2023-64b9d7ab38bc6
[xv] https://spnfa dot ir/20230821
[xvi] https://en.irna dot ir/news/85204662 ;
https://www.criticalthreats.org/analysis/iran-update-august-14-2023
[xvii] https://en.irna dot ir/news/85206058/Iran-Russia-army-ground-forces-agree-to-boost-cooperation
[xviii] https://www.farsnews dot ir/news/14020529000233
[xix] https://www.criticalthreats.org/analysis/iran-update-june-27-2023
[xx] https://www.hamshahrionline dot ir/news/781914 ;
https://www.al-monitor.com/originals/2014/01/iran-chador-hijab-resistance-social-pressure-veiled-women.html
[xxi] https://www.entekhab dot ir/fa/news/738715
[xxii] https://www.bbc.com/news/world-middle-east-66490859
[xxiii] https://www.bbc.com/news/world-middle-east-66490859
[xxiv] https://www.theguardian.com/global-development/2023/jul/24/theres-no-other-option-but-to-fight-iranian-women-defiant-as-morality-police-return
View Citations