The ceasefire announced in Sana'a was not observed as violence continues in the capital and in Taiz. Unrest is increasing in south Yemen, where al Qaeda-linked militants have secured territory and a southern secessionist movement has increased political space.
A ceasefire agreement between defected General Ali Mohsen al Ahmar and the Yemeni government did not hold. Yemen's deputy minister of information Abdul Janadi blamed the opposition for "supporting militants who are attacking" in Taiz and Sana'a. Fighting continued in al Hasaba and Soufan districts in north Sana'a between opposition tribesmen and loyalist troops, where at least seven tribesmen have been killed. Nine people were killed in fighting between defected First Armored Division soldiers and loyalist troops. Shelling occurred near Kentucky Roundabout and in Hayel neighborhood. Two people were killed when Sana'a Old City was hit by shells; government officials blamed the incident on defected troops. Thousands of women gathered in Sana'a and burned traditional veils in an act of protest against the government. President Ali Abdullah Saleh spoke to U.S. Ambassador Gerald Feinstein about transitioning power.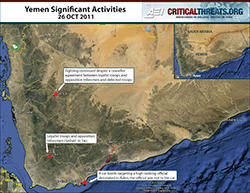 Fighting continued in Taiz. Yemen's interior ministry reported that clashes in Taiz killed three soldiers and injured seven others. At least eight civilians were killed in the fighting Tuesday.
A car bomb detonated in Aden. The car belonged to a high-ranking security official, who was not in the car. It is unclear who planted the device. Southern Movement supporters in Aden have grown in strength under the current unrest and have voiced desires to renew a push for secession from the north.
The al Qaeda-linked militant group Ansar al Sharia (Supporters of Islamic Law) that has seized control of Abyan governorate released a news report. The report noted Ansar al Sharia's successes in Abyan, particularly in Dofes and Zinjibar, against the Yemeni military. Militants claimed to have seized "DC-type" cannons, anti-aircraft guns, along with tanks and armored vehicles. (Post obtained and translated by SITE.)
The ongoing political crisis in the capital has placed the Yemeni state at risk of a broader armed conflict. Further, the Yemeni state has been undergoing fragmentation. Al Qaeda has seized control of territory in south Yemen and the current situation has increased the organization's operating space in the country.
Please sign up for the Quick Take to receive these updates by email.