The conflict over control of Yemen is not only centered in the capital, but includes opposition groups in key cities, such as Taiz. Further, al Qaeda-linked militants have successfully challenged state control over Abyan governorate in south Yemen.
Al Qaeda-linked militants and Yemeni army troops continue to fight for control of Zinjibar in Abyan governorate. A roadside bomb in Lawder near a pro-government tribal checkpoint killed two tribesmen and injured seven others. In Zinjibar, four soldiers were killed and six others were injured in overnight clashes with al Qaeda-linked militants. Three of the militants were killed. Yemeni airstrikes killed ten militants in Jaar Tuesday.
Clashes in Taiz between tribesmen backing the protesters and Yemeni security forces are ongoing. Regular fighting occurred over the past two days. Yemeni government forces fired mortar shells in the city, killing seven people. The violence escalated overnight when Republican Guard troops stormed Tahrir (Freedom) Square where protesters have been participating in a sit-in. At least eight people were killed. Residents report that the Republican Guard concentrated its efforts in the Masbah, Tahrir, and al Tharbah and Jamal Street. Tanks are positioned along the city's primary roads.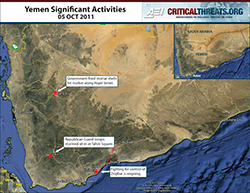 Tensions remain high in Sana'a. Mortar shells hit a market on Hayel Street, killing two people and injuring at least one other person Tuesday. Residents attribute the shelling to government security forces. Protesters continue to turn out in force in the capital and the Organizing Committee of the Yemeni Youth Popular Revolution issued a press statement asking the UN to take action. Other demonstrations continue to be held in Dhamar, Aden, Hadramawt, Taiz, and Hudaydah.
The ongoing political crisis in the capital has placed the Yemeni state at risk of a broader armed conflict. Further, the Yemeni state has been undergoing fragmentation. Al Qaeda has seized control of territory in south Yemen and the current situation has increased the organization's operating space in the country.
Please sign up for the Quick Take to receive these updates by email.