Al Qaeda-linked militants maintain control over territory they have seized in south Yemen. Security forces continue to crack down on protests, particularly in Taiz, although reporting is limited.
Fighting is ongoing between al Qaeda-linked militants and Yemeni military forces in Abyan. Ten al Qaeda-linked militants reportedly died in clashes with Yemeni army troops in Zinjibar Tuesday. Additionally, five al Qaeda-linked militants, one of whom was Indonesian, were killed by artillery shells, according to a Yemeni government official. A Yemeni security official reported that six militants were killed in fighting in Zinjibar Monday. Fighting in Bajdar area east of Zinjibar killed at least two Yemeni soldiers Sunday. It is unclear whether the soldiers were from the 25th mechanized brigade or the 119th armored brigade. A Yemeni official added that five "U.S. drone strikes" targeted al Qaeda positions in Rumeila, north of Jaar.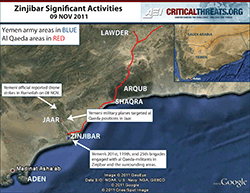 Al Qaeda in the Arabian Peninsula (AQAP) issued a statement claiming credit for the October 28 assassination of Colonel Ali al Hajji. Xinhua reported that the statement read, "Our brave fighters managed to terminate an informant of U.S. agencies in a successful operation in Aden." Militants in Azzan and Rawda in Shabwah governorate distributed the statement during Eid al Adha celebrations. Ansar al Sharia has announced a forthcoming film on Anwar al Awlaki's life, to be released by AQAP's media arm.
Residents reported continued violence in Taiz, including regular shelling. Fighting continued between soldiers of the 33rd brigade, led by Abdullah Dhabaan. Witnesses have also reported the movement of military equipment into Taiz.
Please sign up for the Quick Take to receive these updates by email.