Yemen continues to be a theater for the Iranian-Saudi regional conflict. An Iranian official threatened to increase direct Iranian military support to the al Houthis in Yemen.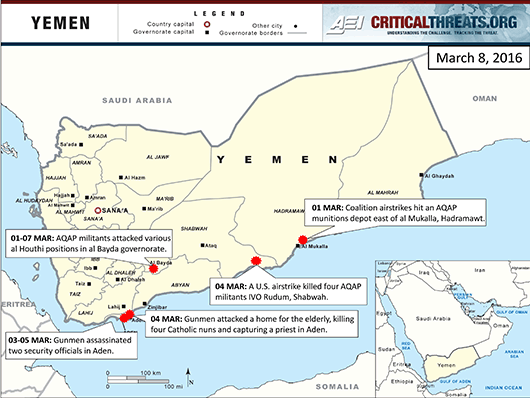 Click image to enlarge.
Yemen continues to be a theater for the Iranian-Saudi regional conflict. An Iranian official threatened to increase direct Iranian military support to the al Houthis in Yemen. The al Houthis, meanwhile, sent representatives to Abha, Saudi Arabia for the first direct negotiations between the al Houthis and Saudi officials.
The regional Iranian-Saudi conflict may escalate in Yemen. Iran's deputy chief of staff of the armed forces, Brigadier General Masoud Jazayeri, suggested that Iran could replicate its support for the Assad regime in Syria in its support of the al Houthi movement in Yemen. The statement is a message to Saudi Arabia and could be in response to Saudi pledges to commit ground troops to Syria. The Iranian statement also occurred on the same day that al Houthi representatives met for negotiations in Abha, Saudi Arabia, at the behest of Saudi officials. Saudi Arabia has never hosted peace talks for the Yemen conflict and this meeting marks a significant change in both parties' willingness to negotiate. It is not clear whether representatives from former President Ali Abdullah Saleh's faction were included or present or of the role played by representatives from President Abdu Rabbu Mansour Hadi's government in the negotiations.
Al Qaeda in the Arabian Peninsula (AQAP) denied any connection to the attack on a nursing home in Aden. Gunmen raided a Catholic-run home for the elderly in Aden and killed 15 people, including four nuns, on March 4. The militants also captured an Indian priest during the attack. Yemeni authorities believe that the gunmen are affiliated with the Islamic State of Iraq and al Sham (ISIS), though no claim has been issued. ISIS usually claims its attacks. AQAP denied connections to the attack and to the assassination of a local sheikh, Abdulrahman al Adeni, describing the events as not its way of fighting jihad. (Statement available by subscription through SITE.) A February 29 suicide vehicle-borne improvised explosive device has not yet been claimed by ISIS or AQAP either.
Both sides are attempting to woo the support of Yemen's northern tribes, particularly in Sana'a. General Ali Mohsen al Ahmar, a defected Saleh general recently promoted by President Hadi, met with tribal leaders in the districts of Bani Matar, al Haymah, Bilad al Rus, Hamdan, and Sanhan in Sana'a governorate. Meanwhile, Saleh representatives met with tribal leaders in Hamdan district in Sana'a governorate, amidst rumors that the area's tribes may shift their allegiance towards Hadi's government. The alliance between the al Houthi movement and Saleh supporters hinges on the willingness of Saleh supporters to commit to al Houthi objectives. Both sides in the Yemen conflict will attempt to exploit this balance of power in order to hold possession of Sana'a.
AQAP remains engaged in anti-al Houthi operations in central Yemen and continues to operate among local populations even as the coalition targets AQAP positions. Saudi General Ahmed al Asiri confirmed coalition airstrikes were targeting AQAP munitions depots east of al Mukalla, Hadramawt on March 1. The coalition expanded its air campaign in Yemen to include AQAP in February. Gen. Asiri's characterization of the fight—that the coalition does not differentiate between Saleh, the al Houthis, and AQAP—is in stark contrast to the briefing he gave on February 8 during which he described the fight against AQAP as one for the future Yemeni government when the country was stabilized. AQAP displayed its continued strength in its de facto capital in al Mukalla in a series of photographs that depicted a two-day preaching event there on March 2 and 3. Similarly, a second AQAP photoset showed popular support at an AQAP-led rally in Abyan governorate among the Marqishi tribe, the tribe of the late senior Ansar al Sharia military commander Jalal Bal'idi al Marqishi who was killed in a U.S. airstrike. The group continues to support anti-al Houthi militias, too. AQAP claimed credit for nearly two dozen attacks on al Houthi positions from March 1-7. Most of the attacks occurred in al Bayda governorate, an area where AQAP has vigorously contested al Houthi presence for months, while the others occurred in Ibb, Taiz, and Hadramawt governorates. Separately, a reported U.S. airstrike killed four AQAP militants travelling by car through Shabwah governorate on March 4. (AQAP statements available by subscription through SITE.)
Militant Islamists and southern secessionists are exploiting the security vacuum in Aden to fuel instability. Gunmen assassinated two security officials this past week as part of a recent uptick in attacks targeting security forces. Gunmen killed a popular resistance leader from Abyan in a drive-by shooting in Aden on March 3, and gunmen assassinated a district police chief in Aden's Mansoura district on March 5. Southern secessionists look to capitalize on the Hadi government's inability to provide effective security in Aden, while ISIS in Yemen and AQAP both benefit from the absence of regional political strongmen. Many of the attacks in Aden are unclaimed, making it difficult to determine which groups are conducting them.
The Iranian offer to increase its military support for the al Houthi-Saleh alliance will likely affect the negotiating positions of the Saudis and the al Houthis in talks. It is unlikely that the two sides will be able to reach an agreement that resolves the conflict in Yemen, and neither side has full control over the militias fighting on its behalf. The continued mobilization of Yemeni populations against the al Houthi-Saleh alliance and/or Hadi's government creates the conditions that AQAP has exploited to expand.