The offensive in Taiz city by forces backing Yemeni President Abdu Rabbu Mansour Hadi against the al Houthi-Saleh forces may cause the al Houthis to recalculate their negotiating positions but is unlikely to collapse the al Houthi-Saleh alliance.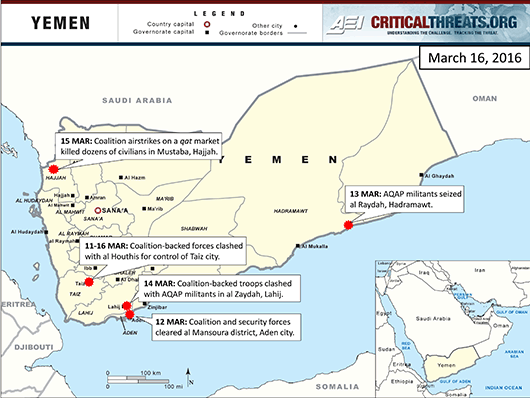 Click image to enlarge.
The offensive in Taiz city by forces backing Yemeni President Abdu Rabbu Mansour Hadi against the al Houthi-Saleh forces may cause the al Houthis to recalculate their negotiating positions but is unlikely to collapse the al Houthi-Saleh alliance. Al Qaeda in the Arabian Peninsula (AQAP) continues to expand along Yemen's southern coastline, despite the start of coalition forces targeting AQAP positions near Aden.
Coalition-backed forces broke the stalemate in Taiz city and are seeking to capitalize on the momentum to gain control of the city. Popular resistance forces are participating in an ongoing offensive against al Houthi-Saleh forces in Taiz that began at the western entrance to the city on March 11. They captured Old Airport Camp in western Taiz on March 11 and proceeded to take control of al Thawra Hospital in the center of the city that same day, delivering the first aid shipment of 2016 to the hospital. Popular resistance forces also captured Wadi al Dahi, an important entry point to Taiz's southern limits, and fought al Houthis for control of Thu'bat and several other neighborhoods in eastern Taiz city. Armored reinforcements arrived in Taiz city from Aden on March 15 to buttress the popular resistance's advance and the coalition conducted airstrikes on al Houthi positions in al Janad military camp, an al Houthi stronghold east of the city. Al Houthi forces have maintained a presence in Taiz city since late 2014 and the city has served as the fulcrum for al Houthi operations in southern Yemen.
AQAP may be playing an active role in the fight for Taiz. Ansar al Sharia News, AQAP's media arm, claimed credit for a series of attacks in Taiz city and al Bayda governorate in a March 12 Telegram statement. (Statement available by subscription through SITE.) The statement included a description of targets the group captured in Taiz city, including Old Airport Camp, which coalition-backed forces also claimed to capture. The statement designated the operations as "joint attack[s]" without specifying other forces involved. A BBC documentary from late February reported that AQAP militants were operating alongside coalition-backed forces against al Houthi-Saleh forces in the battle for Taiz. Coordination between AQAP's Ansar al Sharia fighters and tribal militias is already occurring in al Bayda and is probably increasingly occurring in Taiz. Pragmatic relationships with local groups will enable AQAP to expand its influence in Yemen.
Al Houthi-allied political and religious leaders support the peace talks with Saudi Arabia. Issam al Emad, a disciple of late al Houthi leader Hussein Badr al Dina al Houthi, released a fatwa, or an official religious pronouncement, on his Facebook page on March 8 that called for reconciliation between the al Houthi movement and Saudi Arabia . The fatwa contradicts a January 20 fatwa issued by Zaydi cleric Mohammad al Mata' that called for jihad against President Abdu Rabbu Mansour Hadi and his supporters. Former president Ali Abdullah Saleh's General People's Congress (GPC) party announced its support for the talks the next day. Saudi Arabia began hosting peace talks with the al Houthis on March 7 in Saudi Arabia, after a successful prisoner exchange initiated a ceasefire along the Saudi-Yemeni border. Al Houthi and Saudi units reportedly collaborated to remove mines along the border in Yemen's Sa'ada governorate. General Ahmed al Asiri, the spokesman for the Saudi-led coalition, reported that the ceasefire was still active as of March 15, despite an earlier infraction by al Houthi militants. However, a devastating March 15 coalition airstrike on a marketplace in Hajjah governorate may provoke an al Houthi-Saleh response. The Saudis have not negotiated with the al Houthis directly since the al Houthis seized control of the Yemeni government in Sana'a. The talks remain focused on further prisoner exchange deals, but the UN Special Envoy to Yemen may seek to capitalize on newfound momentum to re-engage on a nationwide ceasefire.
Coalition-backed security forces are countering AQAP's influence in southern Yemen as the group continues to expand. Coalition-backed security forces in Aden launched a major clearing operation targeting likely AQAP militants in Aden city's al Mansoura district on March 12. Security forces spread through the district and erected checkpoints while coalition helicopters dropped leaflets urging civilians to stay in their homes. Fighting broke out when militants reportedly bearing an al Qaeda flag fired at the helicopters, sparking a battle between the militants and security forces on the ground while the helicopters fired missiles at several buildings. Coalition-backed forces also attacked an AQAP cell that reportedly was preparing to attack al Anad airbase in al Zaydah, just south of the governorate's capital city al Hawta, which militants, most probably linked to AQAP, seized on January 25. AQAP militants expanded eastward along Yemen's southern coastline, taking control of al Raydah city east of al Mukalla, Hadramawt. AQAP established control of key populated centers along a major ground supply route from al Hawta, Lahij, to al Mukalla, Hadramawt, between December 2015 and February 2016.
The al Houthi movement maintains its independence in decision-making from Iran. Abu Malik Yusef al Fishi a senior member of the al Houthi movement's political arm, Ansar Allah, urged Iran not to "exploit" the Yemeni situation on March 9. Iranian officials recently hinted at possible military involvement in Yemen through the deployment of military advisors similar to Iran's support for the Syrian Bashar al Assad regime. The statement was likely in response to the Saudi's pledge to deploy troops to Syria as Saudi-Iranian tensions remain high. The al Houthis probably seek to prevent their movement's full subordination to Iranian interests. Saudi foreign minister Adel al Jubeir commended the al Houthi movement for distancing itself from Iran in this regard. Al Houthi leadership has consistently accepted material aid from Iran and has accepted the presence of Lebanese Hezbollah in assisting al Houthi commanders in Yemen.
Divisions within Abyan's southern resistance movement indicate a divide over the movement's goals. Two senior officials in Abyan's Council for Resistance in the South announced their resignations on March 14. Nasser al Fadhli, the reported military leader of southern resistance troops in Abyan, and Abu Mashal al Kazmi, another high-ranking leader, insisted that they will continue to work toward the future of a free southern Yemen, with Fadhli citing the fragility of the council as a reason for departure. Fadhli also voiced his concerns over insufficient security in southern Yemen, especially Aden, and said he wants to rid the area of militants. Southern resistance groups and Hadi supporters in Aden are increasingly at odds with each other, as clashes between security forces and suspected southern militia groups grow more common. Southern resistance leaders have attempted to ally themselves with the Hadi government in the past and remain committed in the fight against the al Houthis, but Aden's deteriorating security situation is increasing calls from southern leaders to break from a unitary Yemeni state under Hadi.
Talks will continue between the Saudis and al Houthis, even as al Houthi-Saleh forces continue to lose territory in Taiz city, though it is unlikely these talks will generate a nationwide ceasefire because key parties, including Saleh, are not represented. Competing visions for the future Yemeni state among the anti-al Houthi-Saleh factions in southern Yemen, particularly in Aden, will challenge the Hadi government's and the coalition's ability to secure Aden.