Saudi Arabia is leveraging Yemeni President Abdu Rabbu Mansour Hadi's government to advance Saudi regional objectives to limit Iran's influence.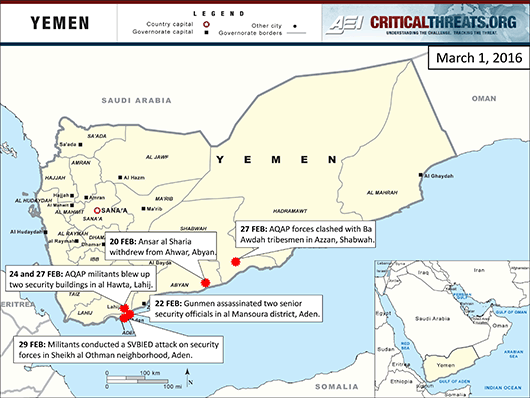 Click image to enlarge.
Saudi Arabia is leveraging Yemeni President Abdu Rabbu Mansour Hadi's government to advance Saudi regional objectives to limit Iran's influence. The issue of Hezbollah support for the al Houthis is now a talking point for Saudi and Yemeni officials, likely in reaction to events outside of Yemen. Al Qaeda in the Arabian Peninsula (AQAP) is also pushing global messages on jihad in Syria and Somalia as it seeks to retain gains made in early February.
Recent Yemeni and Saudi allegations of Lebanese Hezbollah's involvement in Yemen probably are driven by Saudi Arabia's interests with regard to Iran and the Syria peace talks. Yemeni President Abdu Rabbu Mansour Hadi and his government's messaging most likely reflects the Saudi position because the Hadi government relies on the Saudi-led coalition for support again the al Houthis. The Saudi-Iranian conflict has been escalating, and Saudi Arabia continues to take retributive actions for the January 2016 attack on its Tehran embassy and to contest Iran's strength in Syria. Hadi government officials accused the Lebanese Hezbollah on February 24 of providing logistical and physical aid to al Houthi militants and noted Yemen would submit a formal complaint to the UN Security Council. The U.S. Department of the Treasury sanctioned Hezbollah operatives in November 2015 for providing materiel support to the al Houthis. Saudi Arabia's state news agency released a video later that day, purportedly showing Hezbollah operatives in a planning session with al Houthi fighters from May 2015. Saudi Arabia also cut diplomatic ties with Lebanon after Lebanon sided with Iran in protest over the execution of a prominent Shi'ite cleric and then announced a halt in its $4 billion aid shipments to Lebanon.
Anti-al Houthi armed groups that had allied with the coalition in 2015 may now be pursuing their own objectives in Aden. Gunmen assassinated the commander of Hadi-aligned forces in Abyan governorate, along with the deputy director of Aden's security forces on February 22. Gunmen also assassinated a high-ranking military officer on February 26. Meanwhile, local militia in support of President Hadi clashed with Aden security forces near Aden's presidential palace on February 29 because of a dispute over medical treatment for the wounded. A week earlier, pro-Hadi military forces arrested two senior officials in Aden's Ma'ashiq Palace on February 21, on charges of corruption. While it is possible that Salafi-jihadi groups conducted some of these attacks, it is more likely that other armed factions, such as southern secessionists, are seeking to oust the Hadi government in order to establish an independent South Yemen.
A suicide vehicle-borne improvised explosive device attack against Yemeni security forces in Aden may be the resumption of offensive AQAP attacks in Aden. The February 29 attack in the Sheikh al Othman neighborhood remains unclaimed. The Islamic State of Iraq and al Sham (ISIS) generally claims attacks by the next day or in its al Bayan radio statements. AQAP has generally not targeted the Hadi government or coalition forces operating in Yemen after the outbreak of civil war and has instead dedicated significant energy to developing robust relationships with local tribal groups and expanding its influence in southeastern Yemen. The resumption of offensive attacks may be in reaction to the coalition's targeting of AQAP positions in recent weeks and to what is likely coalition-supported tribal resistance in Shabwah. There are reports that AQAP clashed with Ba Awdah tribesmen in Azzan city, Shabwah near an AQAP checkpoint, as well as in al Hawta, Shabwah on February 27. AQAP militants also blew up a security building in al Hawta, the capital of Lahij, on February 24 and again on February 27. AQAP took control of al Hawta on January 25 as part of a bid to reestablish control in areas that once constituted its "emirate" in 2011-2012. It is not clear whether the February 20 tribal negotiations in Ahwar, a town in Abyan, for the withdrawal of Ansar al Sharia, AQAP's insurgent arm in Yemen are linked to the activity in Shabwah.
AQAP is projecting itself as a leader in the global jihad. A senior AQAP member, Khaled Batarfi, exhorted Salafi-jihadi fighters in Syria to work with foreign fighters and local populations in an audio statement released on February 24. (Statement available by subscription through SITE.) Al Qaeda's leadership has messaged the requirement to unify the jihad in Syria to defeat the Assad regime. Ibrahim al Qosi, a former Guantanamo detainee and current spiritual leader for AQAP, praised jihadists in Somalia in a February 25 audio statement and alluded to attacks made by the country's most prominent group, al Shabaab. (Statement available by subscription through SITE.) Batarfi and al Qosi's references to Salafi-jihadi movements in other regions reaffirm AQAP's commitment to a global jihad, and highlight the group's wish for unity among the world's Sunni population.
The coalition and Hadi government will face increasing challenges to their control of Aden as allied factions begin pursuing independent objectives. AQAP will probably adapt to localized resistance against it in order to preserve its expanded area of operations in Yemen.