Recent statements from Yemen's vice president and a prominent cleric affiliated with the al Houthi movement show increasing signs of entrenchment by the warring parties, particularly a growing undertone of sectarianism.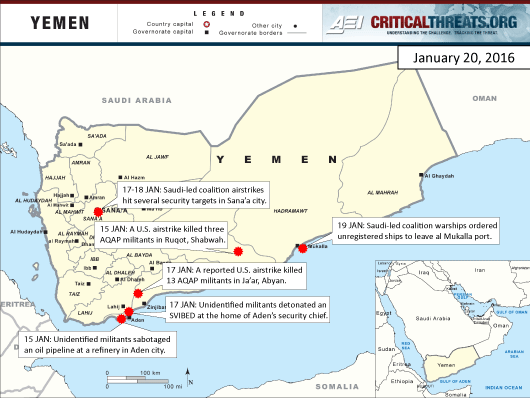 Click image to enlarge.
Recent statements from Yemen's vice president and a prominent cleric affiliated with the al Houthi movement show increasing signs of entrenchment by the warring parties, particularly a growing undertone of sectarianism.
Rhetoric from high-ranking individuals on both sides of Yemen's war has become increasingly bellicose and casts the conflict in an increasingly sectarian light. Prominent Zaydi Shia cleric Mohammed Mohammed al Mata'a issued a fatwa on January 14 calling for jihad against President Abdu Rabbu Mansour Hadi and his supporters, describing them as "infidels." Meanwhile, Yemeni Vice President Khaled Bahah held a press conference in Abu Dhabi on the anniversary of Yemen's coup. Bahah reiterated his hope that the Yemeni government would return to Sana'a "peacefully… through political consultations," but then cast unprecedentedly bellicose accusations at Iran and the al Houthis, saying that Iran must "give up the culture of violence" and describing the al Houthis as worse than AQAP or the Islamic State of Iraq and al Sham (ISIS). Bahah also described challenges facing the government, which he claimed controls 80 percent of the country, saying that Yemen needs the Gulf states to present a "Marshall Plan" to rebuild Yemen's infrastructure. It is not clear whether Bahah included the al Houthis under the umbrella of "extremist groups," which he cited as incompatible with the peace process.
The Hadi government's inability to secure Aden city exemplifies the challenges that lay ahead. Local militant groups, including AQAP, ISIS, secessionists, and others, continue to operate in the city and will attempt to prevent the central government's reconstitution. Militants, probably AQAP, attempted to assassinate Aden's security chief Shalal Ali Shaye'a on January 17, less than two weeks after Shaye'a and the governors of Aden and Lahij survived a similar attack. Militants, possibly secessionists or Islamists, also sabotaged an oil pipeline at Aden's oil refinery on January 15, two weeks after pro-Hadi security forces clashed with suspected Islamist militants for control of the nearby port. Aden's insecurity will probably keep Hadi's government weak, giving factions time to position themselves favorably for Yemen's political future.
Coalition forces and U.S. counterterrorism operations may be increasing pressure on AQAP, which has operated with relative impunity in Yemen since the outbreak of the conflict last year. Reports indicate that coalition warships entered al Mukalla port on January 19 and ordered all unregistered ships to leave the port. AQAP controls al Mukalla and benefits from the ability to move resources through the port. The coalition's presence may signal intent to contest AQAP's control of Hadramawt's capital city. Oman closed its border with Yemen in early January, possibly in a similar effort to put pressure on AQAP, which relies on smuggling routes that pass through Oman's historically open border. Meanwhile, the U.S. continued its air campaign in Yemen with three reported U.S. airstrikes targeting suspected AQAP militants in eastern Yemen. A January 15 airstrike killed three AQAP militants in Shabwah traveling along a road that leads to al Bayda, where AQAP-linked Ansar al Sharia militants are supporting anti-al Houthi groups along the frontline of Yemen's conflict, as well as to Abyan, where AQAP is reconstituting its former safe haven. A January 17 airstrike reportedly killed 13 suspected AQAP militants in Jaar city in Abyan, where AQAP is re-establishing control. A January 19 airstrike killed two militants in Sayun in Wadi Hadramawt, where AQAP has been operating. These are the first reported U.S. airstrikes since December 22, 2015. Targeted airstrikes may disrupt AQAP movements, but are unlikely to roll back gains in central and southern Yemen.
The Saudi-led coalition remains focused on degrading the al Houthi-Saleh coalition's strength in order to re-establish a pro-Saudi central Yemeni government in Sana'a. The coalition launched numerous airstrikes on al Houthi-Saleh targets in and around Sana'a city from January 17-18 and incurred high civilian casualties. The coalition increased the frequency of its attacks in late December 2015 and early January 2016 in response to al Houthi-Saleh cross-border attacks, including ballistic missile launches. The frequency of ballistic missile attacks has dropped significantly in the last two weeks, indicating that the coalition may have succeeded in degrading some of the al Houthi-Saleh forces' missile launch capabilities. However, the coalition's bombing of Sana'a has continued, even as coalition-backed forces remain fixed along current frontlines. The coalition will likely continue to target positions in the al Houthi-held capital as the stalemate continues on the ground, ultimately prolonging the conflict and continuing to distract from the counter-terrorism fight.
Yemen's increasingly sectarian conflict will continue to produce conditions conducive to AQAP's expansion as long as its territory remains uncontested. The group will probably reconstitute its safe haven Jaar and Zinjibar in Abyan, conduct anti-al Houthi operations in al Bayda and Shabwah, and maintain its base in al Mukalla in the absence of effective opposition from the Hadi government or its coalition backers.
Jon Diamond contributed research to this piece.