The Saudi-led coalition mounted a new offensive to secure northern Yemen from the al Houthis as its offensive in southern and central Yemen stalemates.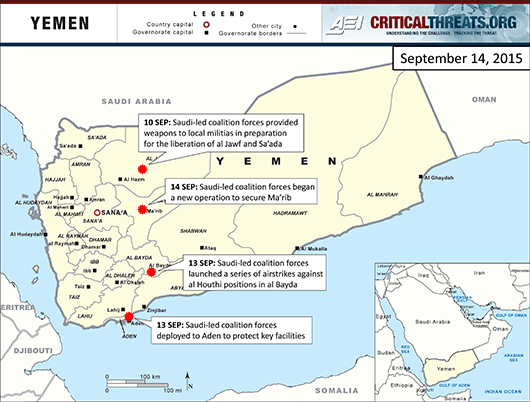 Click image to enlarge.
The Saudi-led coalition mounted a new offensive to secure northern Yemen from the al Houthis as its offensive in southern and central Yemen stalemates. Al Qaeda in the Arabian Peninsula (AQAP) and the Islamic State in Iraq and al Sham (ISIS) continue to leverage the coalition's victories to increase territorial control and recruitment. AQAP's control of territory in eastern Yemen remains uncontested.
Saudi-led coalition forces launched a new operation to secure Ma'rib and are preparing to mount operations in al Jawf and Sa'ada. On September 10, the spokesman for the Saudi-led coalition, Brig. Gen. Ahmed Asiri, stated that the recent bombing campaign in northern Yemen sought to weaken the al Houthis as part of its plan to secure Ma'rib. Coalition helicopters, aircraft, and troops provided air and ground cover for the movement of several military vehicles into Ma'rib over the weekend. Local sources also reported that several Emirati armored vehicles transferred from Hadramawt to Ma'rib, signaling a further shift in coalition interests toward Ma'rib. A coalition source reported that Saudi forces launched a new operation, entitled "The Revenge of Ma'rib," to defeat and disarm al Houthi militias in Ma'rib. Separately, popular resistance spokesman Sinan al Iraqi reported that coalition forces supplied his fighters in al Jawf with new military equipment "in preparation for the liberation of al Jawf and Sa'ada." A tribal source reported that coalition forces transported several military vehicles and troops between Saudi Arabia and the al Rayyan area along the Ma'rib-al Jawf border on September 13. Coalition troops and popular resistance groups continued to contest territory with the al Houthis in Ibb, Taiz, and al Bayda, though the fight appears to have stalemated.
Saudi-led coalition forces and Hadi's government are attempting to improve Aden's security. Saudi-led coalition troops deployed to Aden to curb criminal activity and protect the city's key facilities on September 13. Government sources reported that Yemeni Prime Minister Khaled Bahah and other Yemeni government officials would return to Aden to implement a new security plan in the next few days. Another government source claimed that Bahah's office director Mohammed Saleh al Awadi is preparing for Bahah's arrival in Aden.
AQAP is portraying itself as a key part of the anti-al Houthi opposition to build legitimacy for its desire to participate in Yemen's post-conflict government. AQAP senior member Khalid Batarfi asserted that AQAP's support for the anti-al Houthi opposition and the Hadhrami Domestic Council should justify the mujahideen's inclusion in local governance projects in a September 4 interview. An AQAP mid-level commander, Sa'ad bin Atef al Awlaki, also praised all Yemeni opposition groups that have supported AQAP's operations against the al Houthis in a September 12 video. (Source available on request.)
ISIS seeks to increase recruitment and increase its military strength in al Bayda. The ISIS Wilayat Aden media office released a photoset depicting the distribution of religious pamphlets to Muslims in Aden. The ISIS Wilayat Shabwah media office released a video calling for Muslims to celebrate ISIS's recent creation of a new currency and other achievements. The ISIS Wilayat Hadramawt media office released a photoset that featured ISIS militants conducting different military training exercises. Separately, pro-ISIS Twitter accounts reported that ISIS Wilayat Aden transferred military trainers to al Bayda to train ISIS fighters; al Bayda is ISIS's second most active theatre in Yemen. (Sources available on request.)
The withdrawal of Abdu Rabbu Mansour Hadi's government from the upcoming peace talks in Oman scuttled talks before they began. On September 13, Hadi's government stated that it would not negotiate with the al Houthis in Oman unless they accept a UN resolution to withdraw from occupied territories and surrender captured weapons. The al Houthis have steadfastly refused to implement the terms of UN Security Council Resolution 2216, a plan to end the current crisis in Yemen, without guarantees that their interests would be protected in the future.
The Saudi-led coalition's overt shift to Ma'rib indicates that the coalition will maintain its strict focus on the al Houthis. It is unclear whether the coalition still plans on liberating al Mukalla from AQAP or supporting local forces to do so. AQAP and ISIS will continue to benefit from the conflict as long as the coalition's stability operations are limited to select areas of Aden.