Al Qaeda in the Arabian Peninsula (AQAP) continues to exploit the recent successes of the Saudi Arabia-led coalition's "Operation Golden Arrow" to increase its territorial control in Yemen. The Saudi-led coalition appears to be preparing for a third offensive as part of "Operation Golden Arrow" to secure northern Yemen.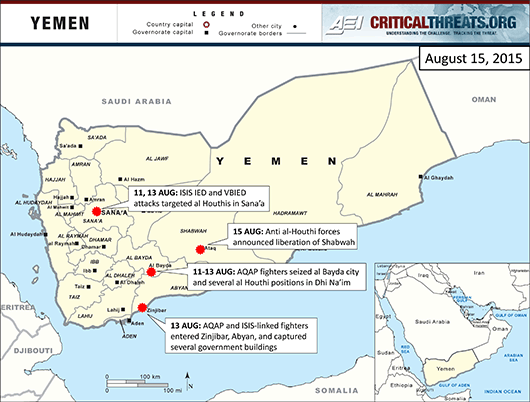 Click image to enlarge.
Al Qaeda in the Arabian Peninsula (AQAP) continues to exploit the recent successes of the Saudi Arabia-led coalition's "Operation Golden Arrow" to increase its territorial control in Yemen. The Saudi-led coalition appears to be preparing for a third offensive as part of "Operation Golden Arrow" to secure northern Yemen.
AQAP leveraged Operation Golden Arrow's successes to expand its territorial control in southern Yemen. AQAP's insurgent arm, Ansar al Sharia, expanded its area of operations after the Saudi-led coalition's August 11 liberation of Abyan governorate. Ansar al Sharia militants began contesting al Houthi control of Lawder, which controls the road from Abyan into al Bayda and Shabwah, on August 10. Anti-al Houthi coalition forces later seized Lawder on August 11. Ansar al Sharia leader Jalal al Marqishi, who commanded the Ansar al Sharia forces that controlled Abyan in 2011, praised the group's role in liberating Zinjibar and protecting Abyan's Sunni citizens in an August 12 video. The next day, AQAP militants, including Marqishi and pro-AQAP tribal sheikh Tariq al Fadhli, and ISIS-linked fighters entered Zinjibar and seized government buildings, according to local reports. Separately, AQAP militants reportedly seized the al Nuqba triangle, an area southeast of Ataq city that serves a key juncture for transportation networks between Abyan and Hadramawt, in Shabwah after an August 12 al Houthi retreat.
AQAP is exploiting the recent series of al Houthi defeats to rally tribal support for its cause and cut off the al Houthis' remaining transportation networks between southern and northern Yemen. Ansar al Sharia is building on the success of anti-al Houthi forces in Ibb, who took control of central Ibb on August 12 and cut off the al Houthis' alternative paved supply route between northern and southern Yemen. Ansar al Sharia militants and tribesmen launched a military campaign to do the same in southern al Bayda on August 9, which would prevent the al Houthis from being able to reinforce positions in Lawder, Abyan, and in Shabwah. Militants and tribesmen raided al Bayda city, seizing several government and military buildings on August 11 as al Houthi-allied forces retreated. Anti-al Houthi forces and foreign AQAP militants have attempted to counter al Houthi efforts to circumvent al Bayda city by mounting a series of attacks on secondary supply routes east of the city from August 10 to August 12. AQAP militants seized several al Houthi military positions along the main supply route north of al Bayda city in Dhi Na'im on August 13. AQAP's recent successes appear to have galvanized local tribesmen to resist the al Houthis in central Bayda. Tribesmen and popular resistance forces exchanged fire with al Houthi militants in al Sawadiyah district on August 13. Tribesmen from the adjacent districts of al Taffah and al Malajim traveled to reinforce the anti-al Houthi forces in al Sawadiyah. If Ansar al Sharia militants and affiliated tribesmen can maintain this pressure on the al Houthis' main supply route, then the anti-al Houthi coalition could make significant inroads in southern al Bayda. Saudi-led coalition forces captured the Yemeni 117th Brigade camp in Mukayras, east of al Bayda city, on August 11. Southern Resistance spokesman Ali Shaif al Hariri stated that coalition forces captured Mukayras city and had surrounded the pro-al Houthi al Majid Brigade and several nearby al Houthi sites on August 14.
Anti-al Houthi coalition forces consolidated their control of southern Yemen. In addition to the gains in Abyan, Taiz Popular Resistance Coordination Council spokesman Rashad al Shar'abi called for the remaining al Houthi forces, including troops loyal to former Yemeni president Ali Abdullah Saleh, to withdraw from Taiz city and surrender their weapons on August 12.  Shar'abi stated popular resistance groups would focus on liberating Taiz and restoring the government institutions of Yemeni President Abdu Rabbu Mansour Hadi. A dozen pro-Saleh soldiers surrendered to Popular Resistance group leader Sheikh Hamoud al Mikhlafi in Taiz city on August 13. Al Houthi militants and pro-Saleh forces responded by shelling the city. Hadi asserted that "Taiz is on its way to freedom" in a phone call with 35th Armored Brigade Commander Brig. Gen. Adnan al Hamadi on August 13. Popular resistance groups secured northwestern territory near the Taiz's borders with Ibb and Hudaydah and seized more al Houthi positions in Taiz city on August 14 and August 15. In Ibb, popular resistance groups seized al Sha'ar district and the central part of Ibb city on August 11. Popular resistance groups announced they are close to the complete liberation of Ibb on August 12. Saudi-led coalition airstrikes struck the pro-al Houthi Yemeni 55th Brigade headquarters in Yarim on August 13, one of the al Houthis' few remaining strongholds in northern Ibb. Popular resistance groups continued efforts to eliminate the remaining al Houthi pockets of resistance in southwestern Ibb by capturing 20 al Houthi militants in al Udayn on August 14.
Yemeni president Abdu Rabbu Mansour Hadi continued efforts to rebuild his government in southern Yemen. Hadi's government appointed new governors for Lahij and Abyan on August 10. The Yemeni government's Minister of Tourism, Minister of Justice, Minister of Water, and Minister of Transportation arrived in Aden on August 11.
Anti-al Houthi militias and foreign troops are allegedly preparing to mount a military offensive in eastern Yemen. Unconfirmed reports claimed that Saudi and Yemeni militaries established a training camp for tribal forces in the desert part of Ma'rib near Hadramawt on August 11. These reports contained photos of United Arab Emirate officials, including Emirati Chief of Staff Major General Mohammad Ali al Maqdishi, allegedly visiting the training camp and the Safir oil fields in Ma'rib. An anti-al Houthi tribal militia source in Ma'rib reported that anti-al Houthi militia and tribal leaders were meeting with foreign military commanders near the Yemeni-Saudi border on August 14. These groups discussed plans for liberating Shabwah, Ma'rib, al Jawf, Sana'a, and Sa'ada governorates. Sa'ada governorate is the al Houthis' stronghold and the al Houthis have governed there since 2011. The tribal source stated that these three groups would liberate Shabwah and then transfer several anti-al Houthi forces and military equipment into Ma'rib and Shabwah to prepare for an offensive on Sana'a and Sa'ada. The anti-al Houthi forces currently stationed in al Rayyan in central al Jawf and unspecified desert parts of the province would form four resistance brigades, which would be led by four unnamed tribal leaders. The anti-al Houthi forces in Ma'rib, Shabwah, and al Jawf would then wait for Hadi's call to begin the attack on Sana'a. In Shabwah, local sources reported that al Houthi militants and pro-Saleh soldiers retreated from Ataq city and all of their remaining positions on August 15. Pro-Hadi military officials announced Shabwah's complete liberation on August 15.
The Islamic State in Iraq and al Sham (ISIS) attacked Zaydi Shi'a al Houthi sites in Sana'a to inflame Sunni-Shi'a tensions and boost recruitment. ISIS Wilayat Sana'a, ISIS's most active cell in Yemen, detonated an improvised explosive device (IED) near an al Houthi Criminal Investigative Department patrol through Masik near the Siyah police department in Sana'a city on August 11. The explosion destroyed the vehicle and killed all of its passengers. ISIS Wilayat Sana'a detonated a vehicle-borne improvised explosive device (VBIED) near an al Houthi-controlled building in the Jawla Amran area in Sana'a city on August 13. An ISIS Wilayat Sana'a Twitter statement claimed that the explosion killed and wounded a number of al Houthi militants, but local Yemeni news sources only reported damage to the building. ISIS Wilayat Shabwah, a cell that became active in late spring and went inactive following ISIS's seizure of Ramadi in Iraq on May 18, released a photo report on one of its ISIS black flag production factories in Shabwah on August 13. (Sources available by request.)
The Saudi-coalition's success in rolling back al Houthi gains is creating space for AQAP to expand. It is not clear that there is a plan to backfill the al Houthis in recently cleared territory other than to reinstall Hadi's government in Aden and move pro-Hadi individuals into the formal government structure. AQAP's expansion will challenge the authority of a future Yemeni state.