CTP's Threat Update series provides you with a weekly analysis and assessment of the al Qaeda network and Iran
[Notice: The Critical Threats Project frequently cites sources from foreign domains. All such links are identified with an asterisk(*) for the reader's awareness.]
Below are the takeaways from the week:
IRAN
The Iranian regime might violate the nuclear deal in the near future. Tehran *announced that it will quadruple its low-enriched uranium production rate on May 20. This production increase does not violate the deal. Iran could quickly exceed its mandated uranium stockpile limit, however, which is a violation. The regime previously *announced that it no longer recognizes the stockpile restriction. Europe could reimpose sanctions if Iran exceeds the stockpile limit.
Review our edition from the Iran File from earlier this month.
YEMEN
The al Houthi movement  is targeting Saudi and Emirati interests as part of an Iranian-backed campaign against the US and partners in the Middle East. Al Houthi drones attacked a Saudi pipeline on May 14 shortly after likely Iranian-linked actors attacked tankers off the Emirati coast. The al Houthi movement then announced a campaign against military sites in Saudi Arabia and the UAE and launched ballistic missiles into Saudi Arabia.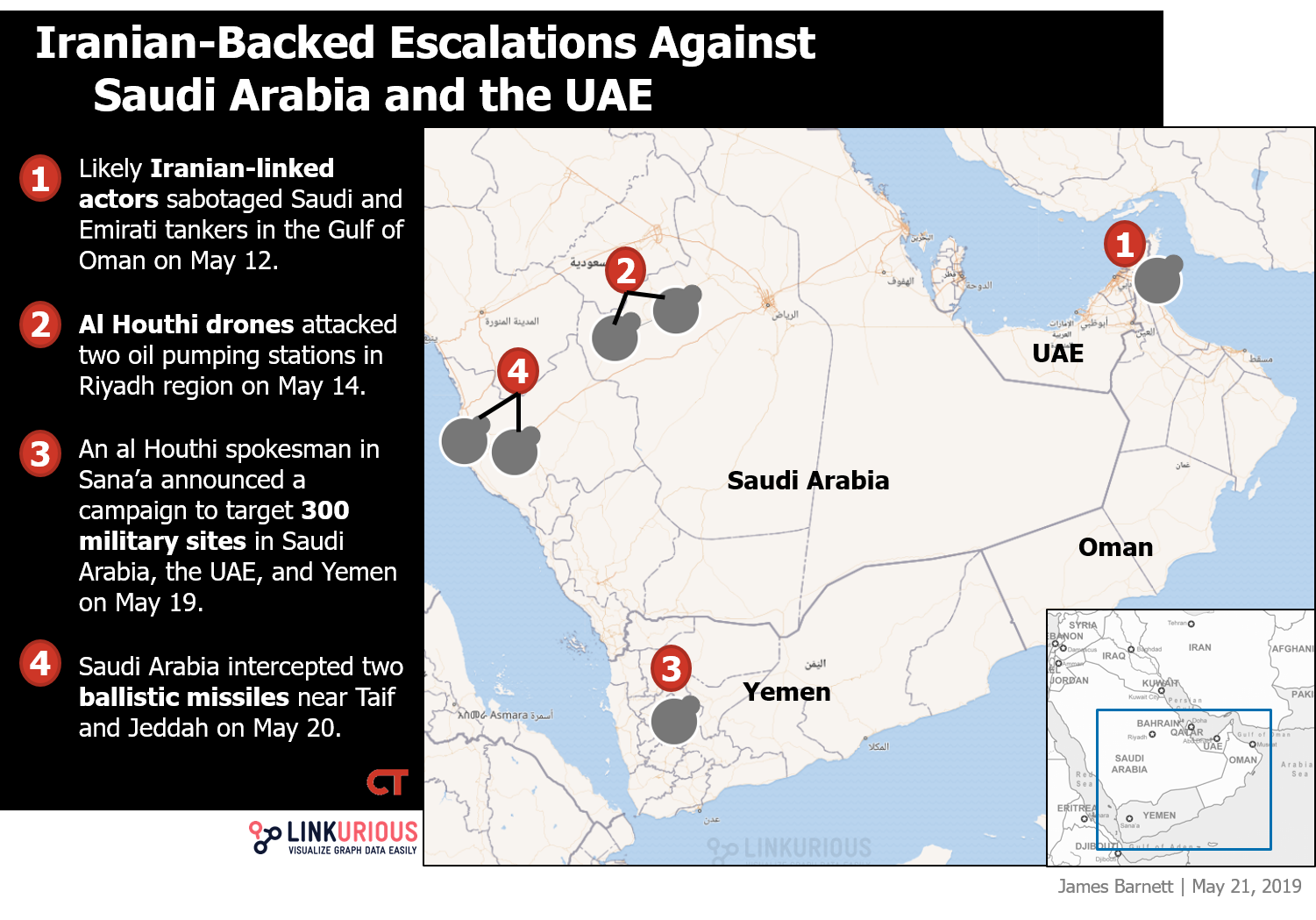 HORN OF AFRICA
Al Shabaab is increasing attacks  on Somalia's capital, Mogadishu, and Kismayo port city as part of a surge coinciding with Ramadan. The recent repositioning of Kenyan forces in southern Somalia may have reduced pressure on al Shabaab and allowed the group to adopt a more offensive posture around Kismayo. Al Shabaab may attack Christians in neighboring Kenya during Ramadan to exacerbate ethnic tension and expand support among Kenyan Muslims.
WEST AFRICA
Security forces in  Burkina Faso initiated a new counterterrorism campaign that will likely drive ethnic Fulanis to support local Salafi-jihadi groups. The campaign disproportionately targets Fulani, who already face significant abuse from Burkinabe security forces. Local Salafi-jihadi groups have adapted their messaging to appeal to Fulani grievances.