May 22, 2015
What Does Mohsen Rezaei's Return to the IRGC Signify for the Regime?
Former Islamic Revolutionary Guards Corps (IRGC) Commander Major General Mohsen Rezaei appears to have officially returned to active duty. Rezaei left the IRGC to pursue politics (he ran for president in 2009 and 2013), and regime laws forbid IRGC personnel from entering the political arena. His return to uniform likely signifies the end of his political activities, but it is less clear what else it signifies.
Rezaei has claimed that ongoing regional crises, specifically the deteriorating situations in Iraq, Syria, and Yemen drove him to return to the IRGC to educate future generations responsible for Iran's security from the faculty of the IRGC's Imam Hossein University (IHU). This explanation is not plausible.  Rezaei could certainly teach at IHU without regaining his formal rank and active status—regardless of any requirements of the university for particular kinds of faculty.  His return to active duty at the rank of major general—the highest in the IRGC, and the same rank held by current IRGC Commander Mohammad Ali Jafari—raises serious questions about his future role in the organization, however.  It is easier to imagine that he is being positioned for a possible leadership shuffle than to believe that he has so publicly returned to duty in order to teach.
Figure 1: Rezaei at Imam Hossein University,May 20, 2015 (Defa Press).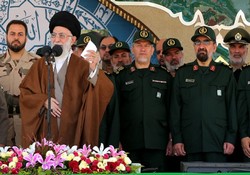 The first time we observed Rezaei wearing a uniform with rank insignia, nevertheless, was on the occasion of Supreme Leader Ayatollah Ali Khamenei's May 20 address to graduates of IHU in Tehran (see figure 1).  He has previously been seen wearing an IRGC uniform, but without rank—an affectation that former IRGC members often manifest—see figure 2.  His prominence near the Supreme Leader, in full uniform, as an IRGC major general, is an ostentatious display of his renewed role as a senior leader of the IRGC.
Figure 2: Rezaei at Qods Day rally in 2014 (Defa Press).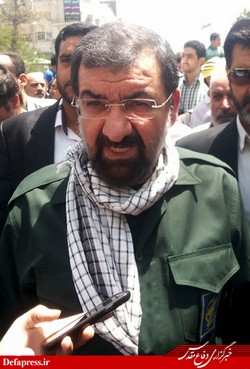 Rezaei is a towering figure in the history of the IRGC.  He took command of the nascent organization in 1981 in the desperate struggle against Saddam Hussein's invasion.  He steered it through that war, into a complex post-war period when the shape and role of the organization was in serious doubt, and into the 1990s.  He resigned only in 1997 after 16 years in command and despite Khamenei's desire to keep him in the post.
Nor has he remained in retirement.  In addition to running for president, Rezaei currently serves as Secretary of the Expediency Discernment Council, an important but obscure body whose primary responsibility is, at least in principle, to reconcile disputes between the government headed by the president of the republic and the Guardian Council, the Islamic jurists who vet candidates for office and approves legislature passed by the Parliament. It is not yet clear whether Rezaei will retain this important post during his return to active duty.
Mohsen Rezaei is an important and powerful figure within the Iranian regime and the IRGC.  His reinstatement to active duty may allow him to solidify his support within the Guard, possibly at the expense of other leaders or potential leaders of the organization.  It could also be a move to position him (and possibly others in turn) for a leadership reshuffling in anticipation of Khamenei's death.  It is certainly an interesting development that merits careful watching.